Heads up! We're working hard to be accurate – but these are unusual times, so please always check before heading out.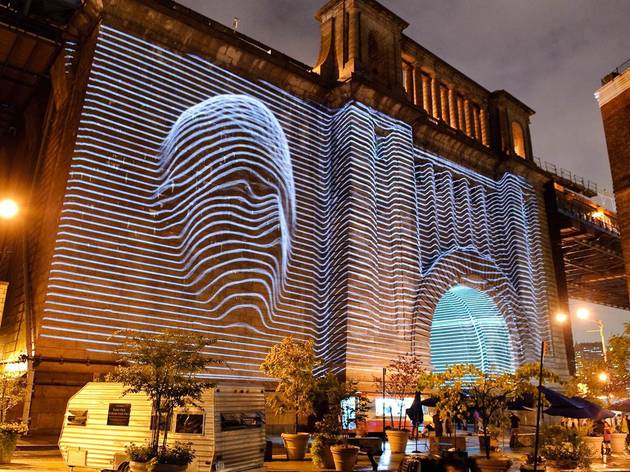 101 things to do in New York City: Fall 2012
Your essential guide to the season's best things to do in New York City—festivals, parties, hot new spots and more—makes like a leaf and drops.
It's not too hot. It's not too cold. In fact, the temperature's just right. Find out how to take advantage of fall in New York with these essential things to do in New York City. We've got events and activities that range from wholesome county fairs (pig-racing anyone? We've got a monkey on the pot-bellied swine.), to a veritable army of women your mother warned you about at the New York Burlesque Festival.
With the help of the Public Art Fund, the Japanese artist is building a living room atop the monument in Columbus Circle. The elevated platform will give the public a previously unseen view of Central Park and midtown, along with the opportunity to look the statue in the eye, recline on couches to watch TV and admire Nishi's custom-designed wallpaper of American pop-culture icons. Tickets are free but must be booked in advance for the chance to climb six stories to the home away from home. (Elevator access is available for those who require special assistance.) Registration opens September 12 via publicartfund.org.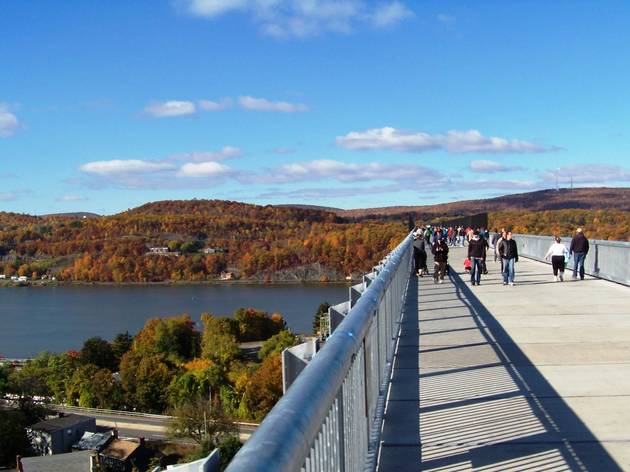 Photograph: courtesy Walkway Over the Hudson
Go upstate to see the autumn leeeeeeaves (of red and gooooold)
Less than two hours' drive from Manhattan, Walkway Over the Hudson (87 Haviland Rd, Highland, NY; 845-454-9649, walkway.org) is Poughkeepsie's answer to the High Line. The former railroad overpass is more than a mile long, making it the world's longest elevated pedestrian bridge. And smack dab in the middle of that walkway—perched 212 feet above the Hudson River and surrounded by the Catskills—is where you'll find a spectacular, 360-degree view of fall in all its colorful glory along the banks of the river. If hoofing it isn't your style, board the Rip Van Winkle (1 East Strand St, Kingston NY; 845-843-7472, hudsonrivercruises.com; ten-person minimum, $15 per person) for a two-hour narrated Fall Foliage cruise. Your guide will also point out some of the area's stately mansions, photoworthy lighthouses and other historic sites. Find more places in New York state to see fall foliage.
As the Mayan calendar counts down and humanity prepares to (maybe) clock out, don't put off taking part in this huge masquerade—it could be the last. Every parade begins with a procession of macabre puppets, and organizers are certainly tempting fate with this year's theme of time. While the spectacle is still being finalized, expect plenty of clocks with wings (time flies—ha!) and white rabbits frantically checking watches. The puppets and creations are made by famed groups such as Superior Concept Monsters, the Madagascar Institute, the Puppeteers' Cooperative and Basil Twist's studio, and music comes courtesy of the Hungry March Band. Sign up via halloween-nyc.com now to volunteer to be a puppeteer or a performer in the procession. Spots are filling up faster than usual so hurry—tick-tock, tick-tock.… If time runs away with you, just turn up in costume on the night to walk with the throng up Sixth Avenue (start at Sixth Ave between Canal and Spring Sts; Oct 31 6:30–8:30pm).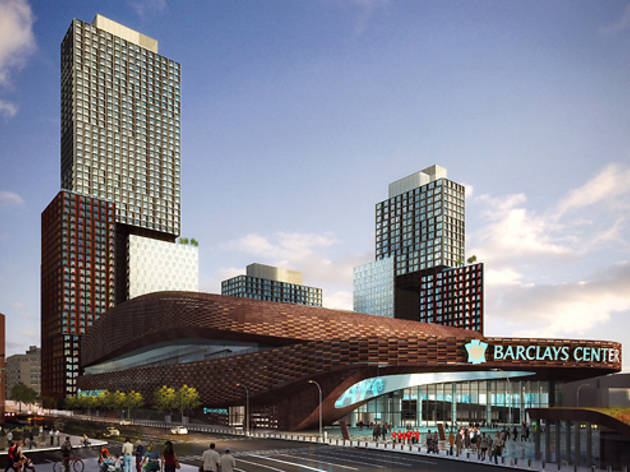 Some may have railed against the controversial Atlantic Yards development, but we must admit we're getting excited, especially for the first Brooklyn Nets home game against the Knicks on Nov 1. Jay-Z opens proceedings with a string of sold-out shows, and should challenge the Guinness World Record for the number of times an artist can say "Brooklyn" during a concert. Other highlights on the schedule include Kentucky versus Maryland in the stadium's first collegiate basketball game, the Atlantic 10 Men's Basketball Championship, Ringling Bros. and Barnum & Bailey Circus, and concerts by Bob Dylan, Leonard Cohen, Justin Bieber, Journey, Rush, Barbra Streisand and Italian tenor Andrea Bocelli (the possibility of highbrow fare presented by BAM is also a big plus).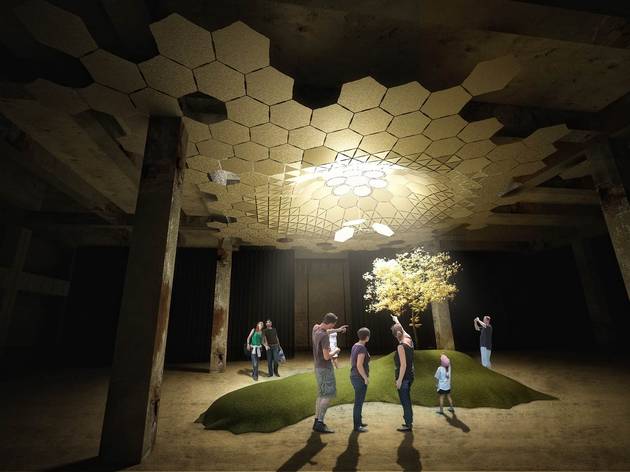 It's a daring idea: Build the world's first underground park in a disused trolly terminal on the Lower East Side, using technology that funnels sunlight below street level so plants can photosynthesize. Since announcing the proposal, the project has raised more than $150,000 through Kickstarter (it met its initial target of 100 large in one week), signed up Audi as a corporate sponsor and got the city and the MTA's ear, taking an important step towards saving us from death by Morlocks. This fall, it unveils "Imagining the Lowline," demonstrating the solar technology it plans to employ with a small-scale indoor park in Essex Market Building D, an abandoned warehouse space. A range of programming is planned, including talks and a pair of indoor street fairs (Sept 16, 23) featuring local businesses. There will also be a companion exhibit, "Experiments in Motion" by Audi and Columbia University's School of Architecture, proposing new methods of urban transport and displaying a 50-foot-long model of Manhattan's current subway system. Various times, see thelowline.org/exhibit for details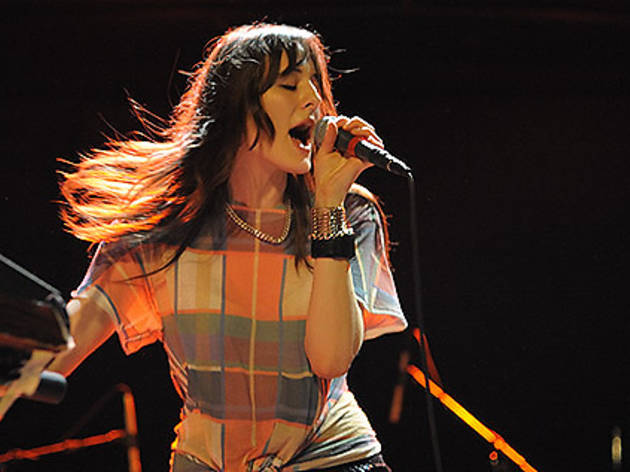 For five days in October, the CMJ Music Marathon hosts more than 1,000 gigs throughout the city, offering music lovers a chance to see bands on the verge of a breakthrough. The initial lineup for this year's onslaught is very promising. On the up-and-comers front, we suggest checking out King Tuff, a Cali outfit that delivers infectious garage-tinged songs and fun, sweaty live shows, and Baltimore's grungey-rock crew Roomrunner. The fest also draws already-established favorites like local indie-rock heroes the Walkmen and upbeat folkies the Mountain Goats.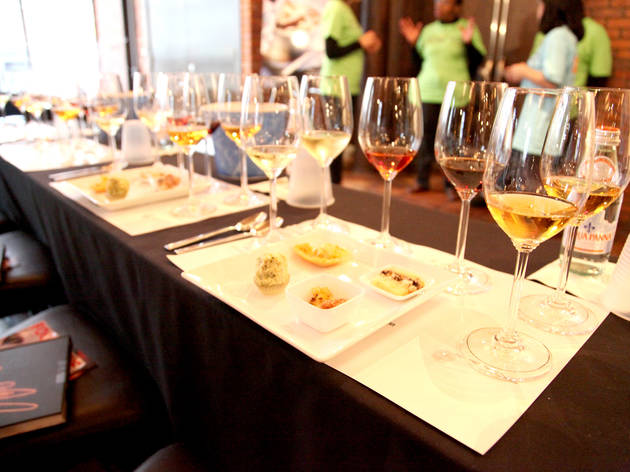 Food Network celebs join a slew of NYC's top toques for this annual celebration, which consists of a nonstop stream of tastings, workshops, lectures and parties. Book now for sure-to-sell-out marquee events such as the Burger Bash with Rachael Ray (Oct 12; $225), Meatball Madness with Giada De Laurentiis (Oct 11; $175), Trucks and Tracks with Andrew Zimmern (Oct 14; $150) and the star-studded Grand Tasting (Oct 13, 14; $195 per day). Many of the panel discussions cost as little as $20, but if you've got cash to burn, the festival's dinner series is as high-profile as ever: Feast on Korean barbecue prepared by Roy Choi with Jean-Georges and Marja Vongerichten (Oct 12; $300), or collect autographs at the Bouley Alumni Dinner, which features a dozen chefs including Dan Silverman, Anita Lo, Kerry Heffernan and Dan Barber (Oct 11; $400).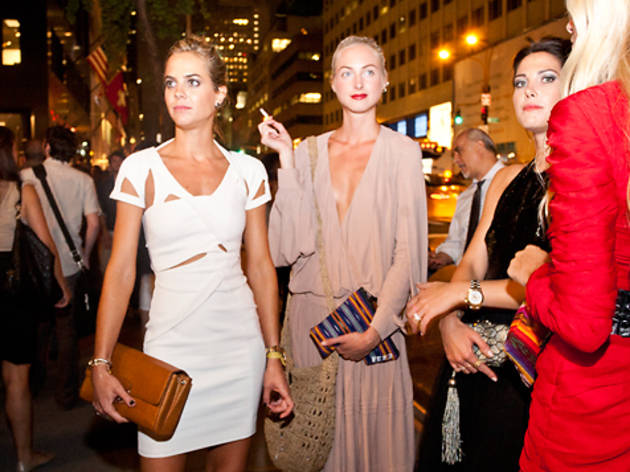 Photograph: Virginia Rollison
Cavort with the beautiful people at Fashion's Night Out
For one night a year, shoppers can stay out late and mingle with some of the biggest names in fashion: More than 700 local shops will keep their doors open late, hosting sales and events, and enabling celebrity sightings ranging from Kim Kardashian to Anna Wintour.
The cream of the burly-Q world converges upon Gotham for this tenth annual four-day festival of tease. Visiting tassel-twirlers include Australia's Imogen Kelly, Japan's Cherry Typhoon and Italy's Guiditta Sin, but there's plenty of local talent to leer at, including Gin Minsky, Darlinda Just Darlinda, Harvest Moon and Angie Pontani. The action kicks off with the Teaser party at the Bell House (Sept 27 at 8pm; $15, advance $10), then moves to Brooklyn Bowl for the Premiere Party (Sept 28 at 8pm; $10), hosted by Scotty the Blue Bunny. Murray "Mr. Showbiz" Hill comperes the supper-clubby Saturday Spectacular at B.B. King Blues Club & Grill (Sept 29 at 7:30pm; $30, advance $25; VIP $70, advance VIP $65), with 40 performers and a live jazz big band. The feathered fest ends with the Golden Pastie Awards at Highline Ballroom (Sept 30 at 8pm; $30, advance $25; VIP seating $45, advance VIP seating $40), hosted by Miss Astrid and featuring an appearance by Tempest Storm, a burlesque icon of the 1950s and '60s.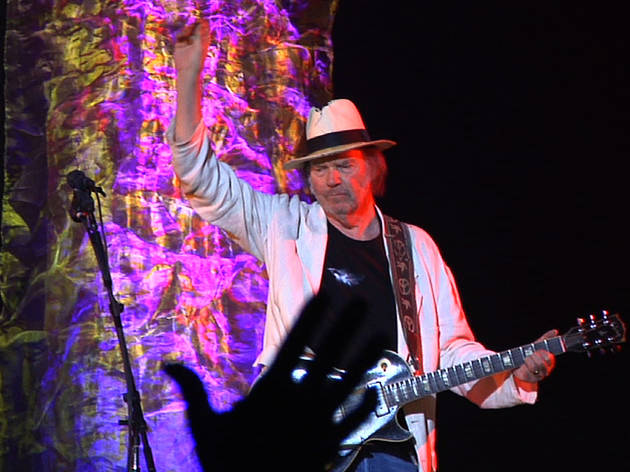 Global Festival 2012 takes a novel approach to the benefit concert. Fans who want to see Neil Young, the Foo Fighters, the Black Keys, Band of Horses and rapper K'Naan in Central Park need to help out the Global Citizen Project, which combats extreme poverty, for a chance to win tickets. Register at globalcitizen.org to find out what the campaign wants you to do, such as watching an awareness-building video, sharing material on social media, donating to an affiliated nonprofit, signing a petition or writing a letter to Congress. Each deed earns you credits, and three credits enters you into a lottery to win a pair of tickets to the gig. Increase your chances by continuing to rack up credits—every five points yields one more entry into the lottery. If you're cash rich but time poor, VIP tickets are available ($189.50–$489.50).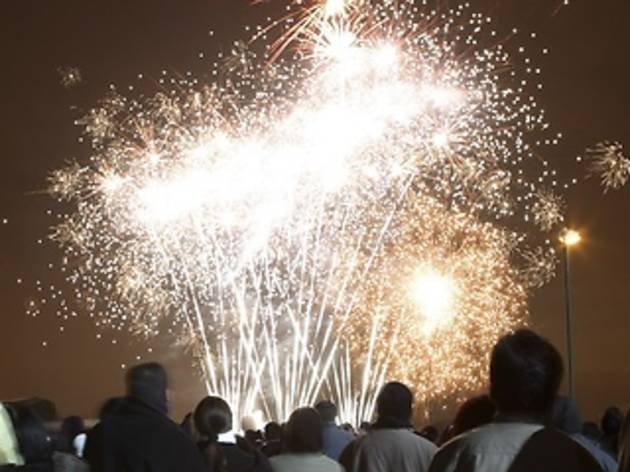 Commemorate the end of Hindu king and deity Rama's 14 years of exile alongside hundreds of local Indian-Americans during this annual extravaganza that culminates in a spectacular fireworks display. Fashion, music, food, educational programming and other activities make this one of the largest culturally Indian events in the city, and it has been going strong for more than two decades.
After Thanksgiving, the indie market moves back to the spacious, regal Art Deco digs of Skylight One Hanson lobby and basement, so you can pick through vintage duds, funky jewelry, quirky furnishings and more handmade fare from a variety of local vendors without freezing to death. To find out who's selling that weekend—as well as what food vendors will be on hand—check Brooklyn Flea's site the Friday before doors open.