The best Sunday sessions in Sydney
Stave off the Monday blues with beers and sunshine for a rollicking good time
Sunday fundays have become something of a Sydney social staple. With the late night good times taking a bit of a hit in recent years, day drinks are on the top of the agenda now. To help you out we've scoured the city to find the places that'll stretch out the weekend just a little bit longer. Want more? Why not get breakfast beforehand or head to one of Sydney's best waterfront bars for a kick-on.
Sydney's best Sunday sessions
1
While you may have to shell out a few extra dollar for a Spritz or a vino, IDRB's famous views are totally worth it. Drink up as the sky turns a pastel palette behind the cyan blue pool and chruning ocean, and if you're not ready to go home yet DJs spin lounge-house tunes into the late evening.
Read more
2
This famous waterfront restaurant is getting it's groove on on Sundays with a fun, snacky menu of Cubano sandwiches empanada, oysters, cheese, a casual Scotch egg and caviar for the high rollers. Line them up with a jug of Spritz, wines and DJs to take it away until you're ready for bed.
Read more
3
There ain't no party like a rooftop party and the Coogee Pav does a damn good one. It's the perfect destination following a summer dip at Coogee or Gordons Bay, and during summe rthey book cracking party sets from Pnau, Luke Million, Basenji, Nina Las Vegas, Sampology and Remi.
Read more
4
Sundays on Kensington Street are getting a rose coloured makeover with an a la carte brunch menu at Kensington Street Social, accompanied by Frosé or bottomless rosé for $35 per person. If you really want to do the turn you can kick back until 4pm when live music kicks off int he Old Clare Hotel bar next door.
Read more
5
This inner city cellar door hosts local party crews and record label showcases so that you can farewell the weekend with a boogie. Turns out vinyl mixes, cheese platters and rosé from the party wine label is a great way to spend your day of rest.
Read more
6
Sydney might be struggling to keep the late-night vibes pumping, but there's a rebel force of party people and most weekends they are congregating at the Lord Gladstone. There's always a Sunday session, but it might be disco tunes at Completely Sundays, or perhaps it's an afternoon of hip hop and live graffiti at Sunday Walls.
Read more
7
The Courthouse is the nucleus of the Newtown community. The outdoor space is at least twice the size of the indoors, and the beer garden is where you want to be when the sun is shining and jugs of cider are the order of the day.
Read more
8
This neighbourhood bar always has an inclusive feel and Sundays are no different. Cure your hangover with $10 Bloody Marys and a rollicking live band.
Read more
9
Head to the insular peninsular and pretend you're in the Hamptons for a day at the Newport. Stunning water views, oysters and slushies are a strong sell generally, but in the summer months they book an impressive line-up of bands for evening party sets. We're talking primo tunes from Montaigne, Client Liason, Jarryd James, Ngaiire and the Bamboos.
Read more
10
An afternoon spent by the harbour in the Watsons Bay's beer garden is like taking a mini break without having to leave the city limits. Get in early for prime seats by the bannister, which is all that separates you and your Spritz from the shoreline.
Read more
11
If your idea of a perfect Sunday night is a quiet night with a pizza then probably give Frankie's a miss... Frankie's is much more of a trudge-home-at-three-am-and-call-in-sick-on-Monday kind of Sunday session. Load up on pizza by the slice, cheap tinnies and frozen Margaritas, or duck back to the Fun Room and prop yourself up at the bar for some whisky and mischief.
Read more
12
Young Henrys is all about the inclusive afternoon sessions and on a weekend you'll want to shake a leg in order to secure one of the prized high tables at the brewery cellar door. Drink like a local with a frosty Newtowner, down a Real Ale for a proper, English-style bitter or secure serious summer refreshment with the perennially popular cloudy cider.
Read more
14
It's not hard to see why the Manly Wharf Hotel is obscenely popular. There's just something about drinking with harbour views that makes everything seem a little brighter. On Sundays this place is a bit of a scene so dress up for some waterfront drinks.
Read more
15
77 William St was once the essential venue for grimey dance music in the late 2000s. A lot has changed, but on Sundays the dark red neon lighting creates a dingy Eastern European dive bar vibe and a fresh young crowd packs the dancefloor into the early hours. Expect sets from local talents including resident DJ Kato and the Motorik crew.
Read more
Want more? Check out Sydney's best beer gardens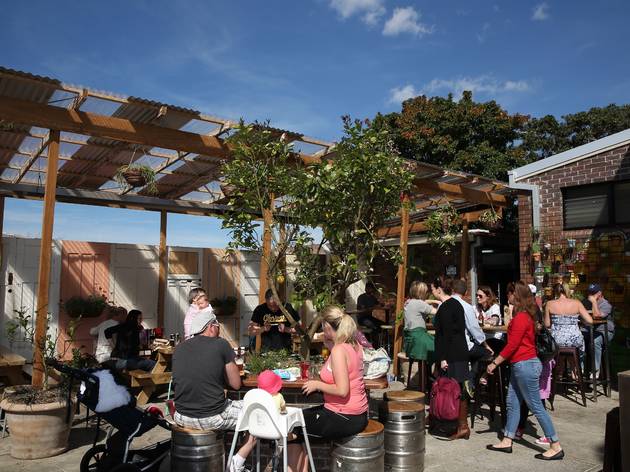 Sure, we're good at swimming and rugby, but what Australians excel at is kicking back in the leafy courtyard of our local, sinking some beers and chewing the fat with our mates. Beer garden sessions should really be our national sport, and here's the best places to do it.
Read more