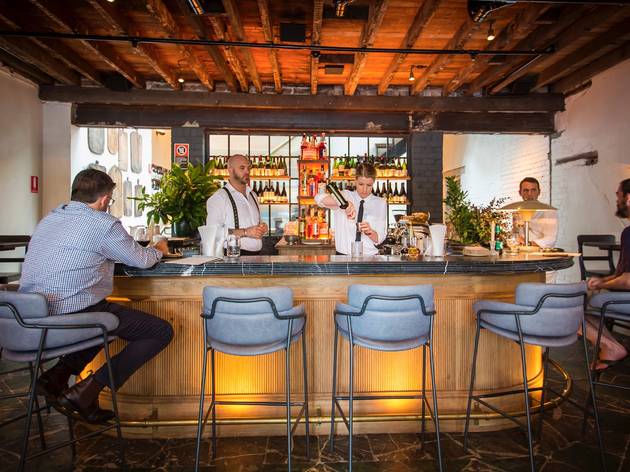 Cheap hacks for fancy places
How to access fine dining on a budget in Sydney
Cheap is a relative term, we hear you. Some people might not blink at a $25 glass of Coravin-accessed wine (those people probably know how much the bottle goes for), but for others $25 is food for two (especially if it's an El Jannah chicken). But fine diners aren't necessarily the exclusive domain of yore – there are ways in for fewer dollars if you know the terrain. Bar menus provide access to the talents of the kitchen without having to cough up for the full multi-course experience; lunch is often cheaper than dinner; and many high-end chefs also dabble with easier access exploits like markets stalls, side projects and at-home offerings. For those of you who fancy a bit of finery without breaking the bank, this list puts the happy back in happy hour. Follow these cheap hacks for fine dining on a budget in Sydney, and we'll have you leaving the most lauded dining rooms in the city with a full belly and change in your pocket.
Working on a shoestring? We've also unearthed the 50 best cheap eats in Sydney, and the best free things to do in Sydney.
RECOMMENDED: The 50 best Sydney restaurants.
Cheap hacks for fancy places
Hack: Breakfast
Scoring a reservation at Fred's can be challenging, but for a glimpse at the magic (and a taste of their canelé) head here Saturday morning between 8-11am. Farm to Fred's, as the breakfast slot is called, is an opportunity for the pastry chefs to test new creations: perhaps orange and almond cake or caramelised pear galettes.
Hack: Fish and chips from the Fish Butchery
Chef Josh Niland once let us in on a little secret: fish and chips is not actually a cheap dish to make. At least, not the way he does it, with beautiful pink ling fillets from the NSW coast, proper potato chips with the skin still on and a yoghurt tartare. But it is undeniably a lot cheaper to get the takeaway version from the Fish Butchery than it is to dine in at the elegant seafood counter of his award-winning restaurant Saint Peter next door.
Hack: Happy Hour
Give yourself an early mark and head to Hubert's happy hour, where from 5-6pm Monday to Saturday, the $12 Negronis will have you feeling like top dog in no time. There's also $6 wines, Gin and Tonics and Dubonnet Highball⁠s to help take the edge off. Add some snacks like rillettes, sausage, a burger, parfait, or freshly baked butter cakes and you've had a French fling for fewer francs.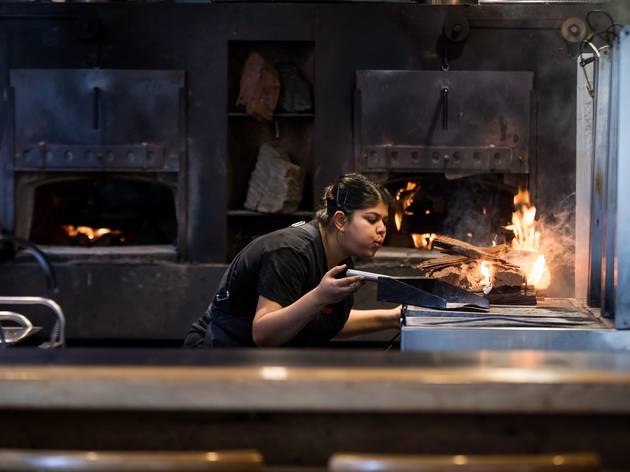 Photograph: Anna Kucera
Hack: Fireshop
Let's do the maths. A set menu for one at Firedoor is $140. The most recent dinner box from Fireshop is $98 for two, providing the restaurant quality building blocks for two very fancy burgers, plus a Caesar salad and dessert. You can't argue with the savings, even if it does mean grilling your own beef over gas or electric instead of apple and cherry wood at the restaurant.

Hack: The bar
This famous Sydney beauty is an expensive date, especially when you get a little cavallier with the impressive wine list after a few Spritz. But if you want a bite of the fancy cherry without going all in, try and nab a seat at the bar (overall caapcity is 85 people right now so competition for seats is fierce). Here you can order a primer of the very same ziti caccio e pepe that they serve in the dining room, pair it with a drink and then be on your merry way, possibly for under $50 if you play your cards right.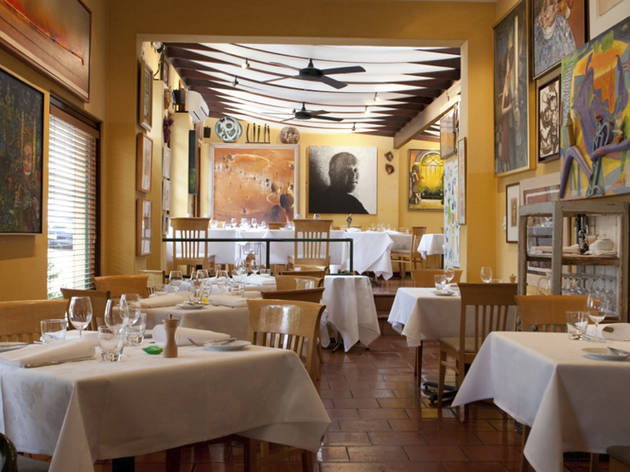 Photograph: Supplied
Hack: The Thirsty Horse
A big part of the appeal of this long serving ristorante in leafy Paddington is the wild art collection the adorns the walls. You might not be up for the whole hog at a venue with $55 mains, but for a sample of the Lucio's experience you can now attend free wine tastings in their newly established wine shop and deli called the Thirsty Horse. The tastings run from 2-5pm and space is limited. While you're there you might feel inspired to purchase a bottle for home, or perhaps a bottled blood ornage Negroni to go with the take-home pasta sauces and pre-made meals in the deli.
Hack: Lunch
If you want to shave a few dollar signs off one of the most consistently creative fine diners in town, head to Belntley for lunch, when two courses is an indulgent, but not outragous $75. You can wind it back even further bu opting for the bar menu, where you can order the very same wagyu short rib that appears on the lunch menu on its own for $60. Then you can spend what you save on excellent wine to match.
Want more?
This is the definitive, ranked list of where to eat in Sydney right now. We hope you're hungry because you're going to want to sample every one.