Heads up! We're working hard to be accurate – but these are unusual times, so please always check before heading out.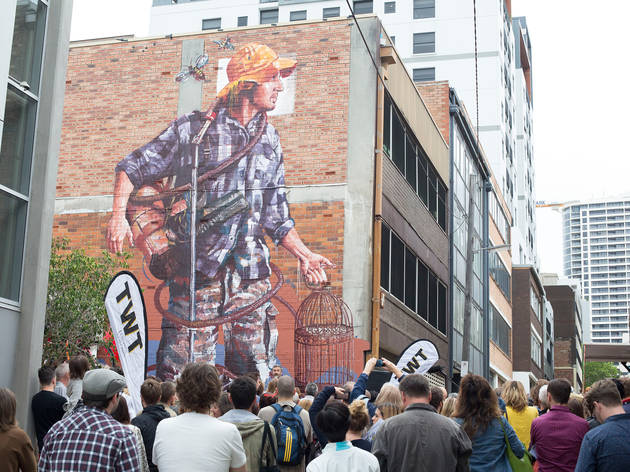 Sydney's best laneways
Move over, Melbourne. We've got heaps of weird and wonderful lanes to explore
We know our friends in the south have the claim when it comes to laneway culture, but we think we can give Melbourne a run for its money. Sydney has little shopping lanes, hidden streets with excellent food and drink venues, and alleyways that have been taken over with street art and green-thumbed community spirit. Trust us, you'll be surprised by what you find.
Want to explore more? These are our favourite public artworks hiding in plain sight.


12 Sydney laneways to explore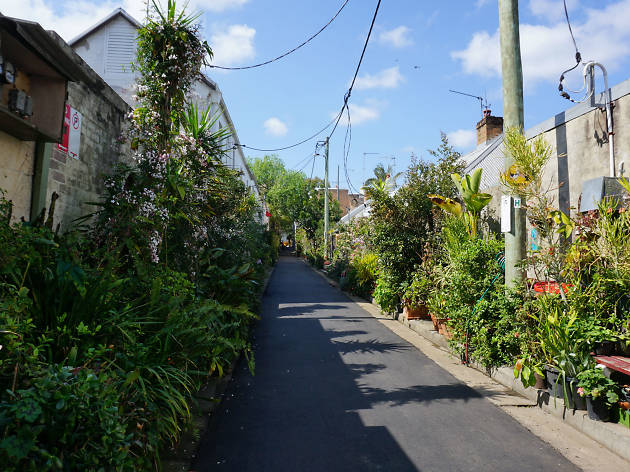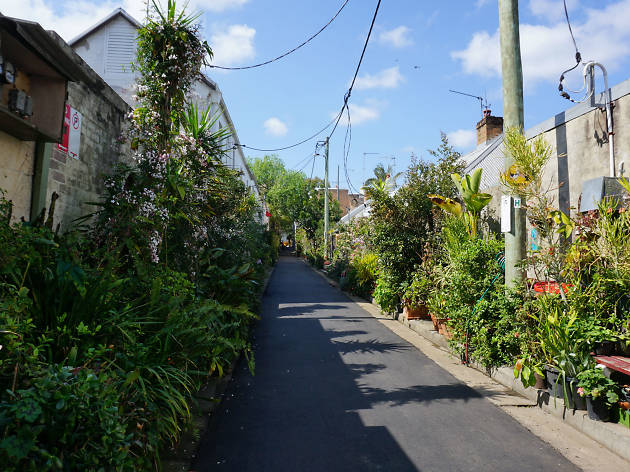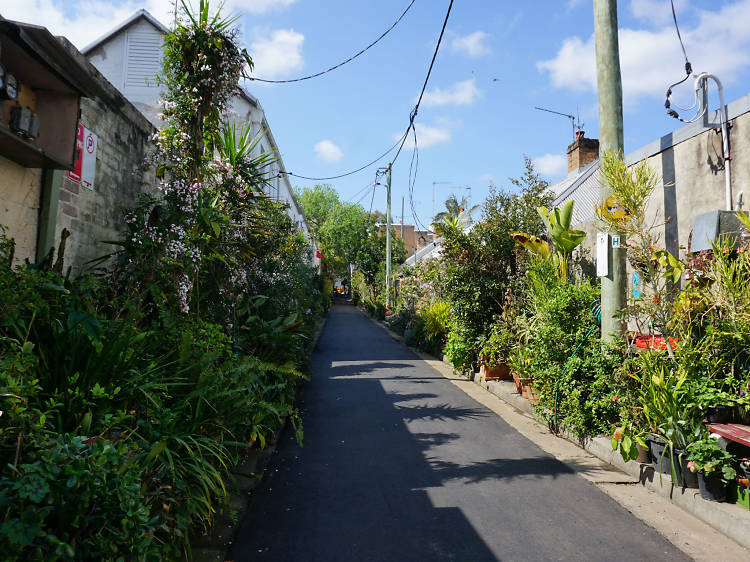 Photograph: Larissa Shearman
McElhone Place, Surry Hills
The first thing that hits you is the smell of flowers in bloom as you round the corner into McElhone Place. It's a small lane in Surry Hills which has taken urban gardening to the next level. What started by one colourful window box display in an attempt to break up the concrete monotony, has become an all-resident rebellion against the grey. Every homeowner now actively decorates the front of their houses with pot plants, trellises, and every colour of flower imaginable. This slice of paradise in the middle of the city has flourished over time, complementing the bold blue and bright red paint jobs of a few of the houses. Locals know this lane as 'Cat Alley', and while we didn't spot any cats when we visited, there were water bowls aplenty to satisfy the furry locals. It feels like you could be in Provence or beside a cute cottage in the English countryside. There are a few plaques and awards from the City of Sydney that commend residents on their green space, and rightly so. Sit down among the flowers on a sunny day and enjoy this incredible community effort. Melbourne currently has a few laneways that have begun a greening process, but they have nothing on McElhone Place.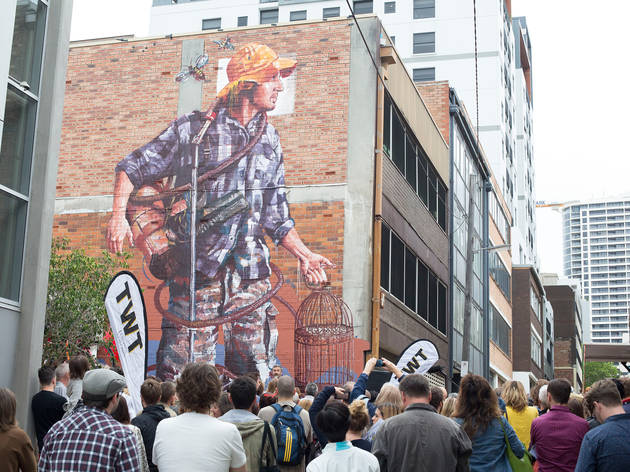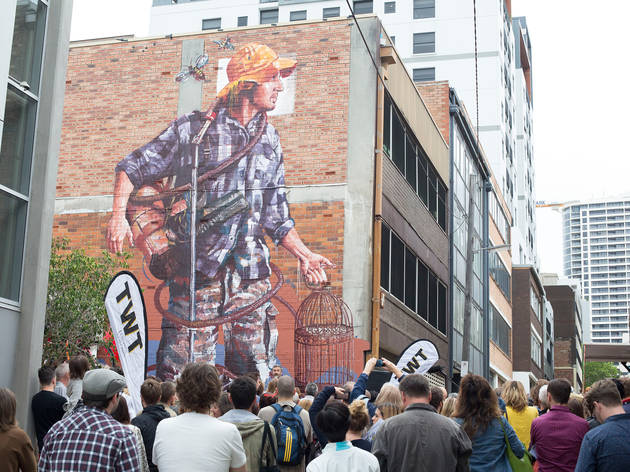 Atchison Lane, St Leonards
A real surprise ten minutes walk from St Leonards station, this laneway is a great place to scope out a couple of striking murals and cute shops. One of these is the shopfront of bicycle repair shop Cicli Spirito, its red and yellow aesthetic is reminiscent of colourful painted buildings in South America. You don't need a broken bike to have an excuse to walk down this laneway, though. The street art towards the Oxley Street end is worth the trip in itself. The space is home to a handful of pieces, including a three-storey high painting of a homeless man, which is in homage to Sydney's rough sleepers by artist Jodee Knowles, and a large mural of a seemingly mentally unstable man by internationally recognised artist Fintan Magee. It seems to be a local secret with only a handful of residents walking through.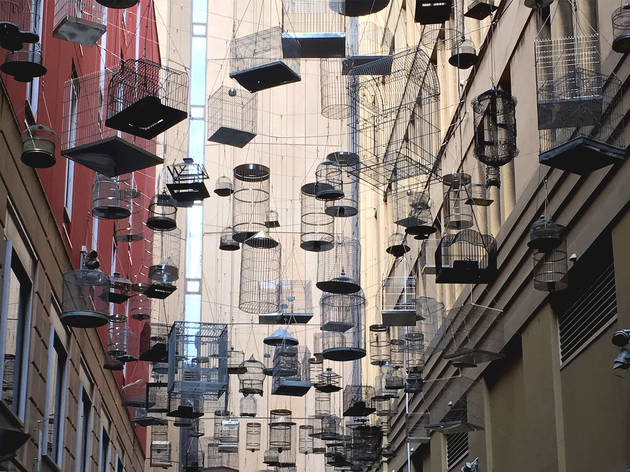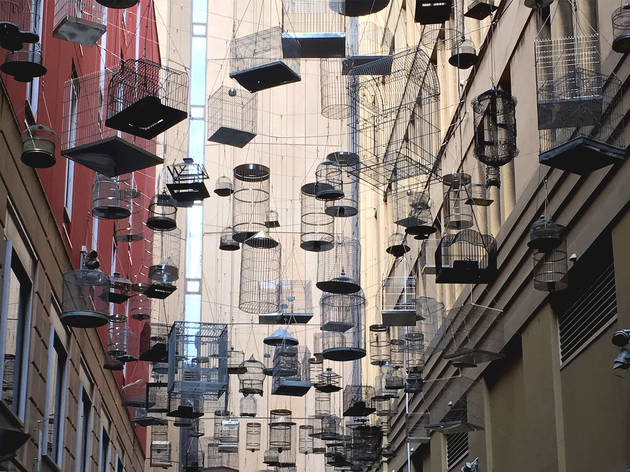 Photograph: CC/Geoff Dude
Ash Street and Angel Place, CBD
Tucked just off Martin Place, these two laneways are a part of the Ivy precinct, a buzzing collection of restaurants with alfresco dining alongside the 'Forgotten Songs' art installation – an installation made up of a mass of empty bird cages strung high up above the street. Michael Thomas Hill's artwork features bird calls representing 50 birds that were displaced during colonisation, reminding those who walk under it aware of what has been lost. The individual bird names are on the ground in the pavers, and the types of birds you'll hear depends on the time of day. Ash Street feels like a little slice of Europe, with Parisien wine bar Ash St Cellar, Spanish eatery Mercado and French restaurant Felix lining the pedestrian walkways. It's like Degraves Street in Melbourne without the wait time. Look closely and you'll find remnants of Chisholm Lane, a series of Sydney laneways built in 1888; look up to the top of the buildings and you'll see bricks and sandstone that were here when the area was a meeting place for musicians at the turn of the century. There's a plaque at the entrance of Ash Street paying homage to the history of the area. It makes for a really cool incorporation of the old and the new.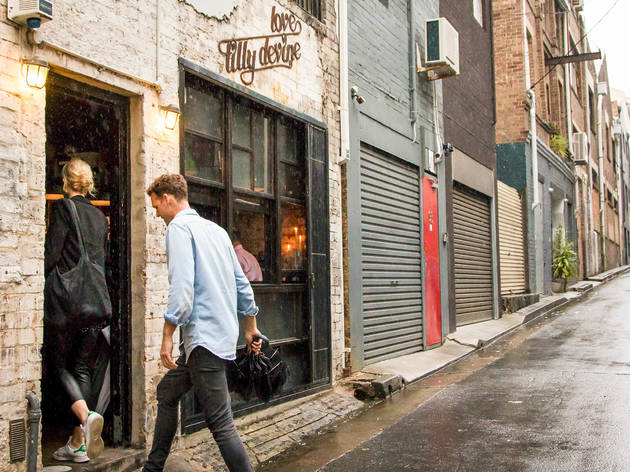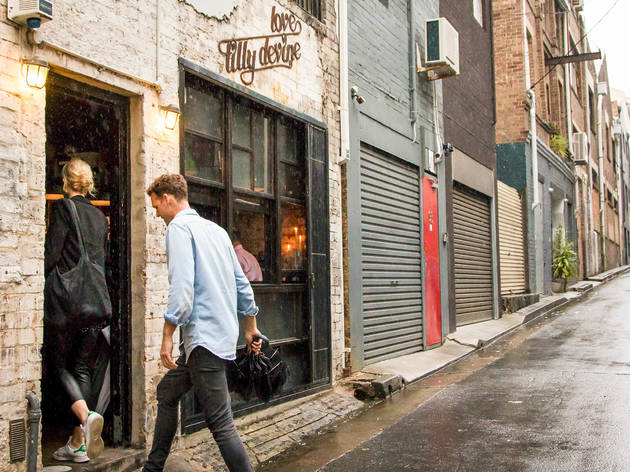 Photograph: Anna Kucera
There is more than meets the eye to this Inner East laneway off William Street. It contains two of Sydney's most treasured hidden gems: first you'll find long serving wine bar Love, Tilly Devine, second you'll find the not-so-secret addition to Red Lantern on Riley Street, Red Lily cocktail bar. You'll find the entrance below the red and black sign jutting out of the wall, and the interior is warm and inviting. Come for Asian-inspired drinks and snacks, which seem like they could have been lifted straight from the streets of Hanoi. With unassuming entrances leading to an incredible night out, Crown Lane does battle with Flinders Lane in Melbourne. And as with many good things, this laneway is best saved for when the sun goes down.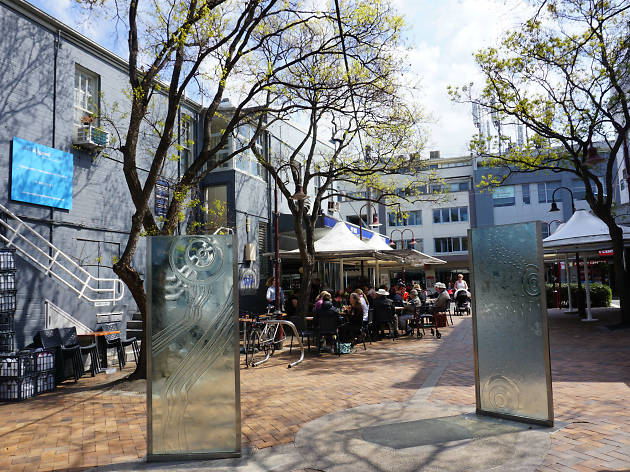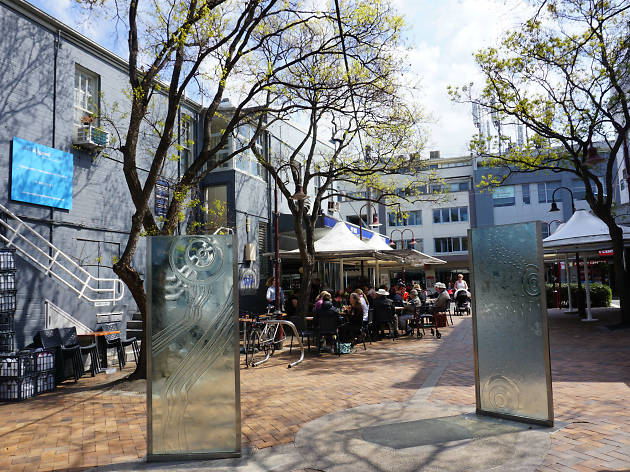 Photograph: Larissa Shearman
Cammeraygal Place, Cammeray
A lovely suburban stretch between busy Miller Street and tree-lined Miller Lane, Cammeraygal Place has a couple of great little cafés for those wanting a spot of brunch on Saturday morning. Thanks to the car park at the entrance, the laneway is easily accessible by car and easy to find. Once in the laneway, the glass panels sticking up in front of you are hard to miss. This is an art installation called 'Message Sticks' by Tim Moriarty and North Sydney-based Indigenous art organisation Balarinji. The panels and the circle motifs on the pavement represents the Cammeraygal people who inhabited the land before colonisation.
Tucked off the main road, the entrance to May Lane is unassuming but worth snooping around to see the colourful art on the walls and garage doors. From the street you can see stacked brick chimneys in the distance, but some very expensive terrace houses back onto the lane itself. You can expect to find a mix of portraits, motifs, animals and poetry on the walls, as well as a few gems hidden in places, so have a good look around (and try to spot the terracotta soldier Storm Trooper). Follow the smell of burnt bread and you'll walk into neighbouring Caroline Lane, where you'll find some political street art. Only authorised street art is allowed in these laneways, which is reminiscent of Hosier Lane in Melbourne, but so much better here there isn't anyone to disturb your perfect Instagram shot, bar the locals walking their dogs.
Mary's Place is named for the survivor, Mary Shalala, of a sexual assault and beating in this laneway in January 1996. It has since become a sort of pilgrimage for queer and straight folk alike, with the Lamp for Mary installation and inscription on the side of the Beresford Hotel as a stand against homophobic vilification. Though it is now surrounded by gentrified Surry Hills, it's still quite a dingy laneway, but – alongside a power station and an old church around the corner – it is all part of the social heritage of this area. According to the plaque on the wall, this was the first project to arise from a governmental plan to combat street violence. The current artwork replaced the original, which was installed here in 1997, and is beautiful and unassuming way to reflect on something horribly violent in Sydney's not so distant past.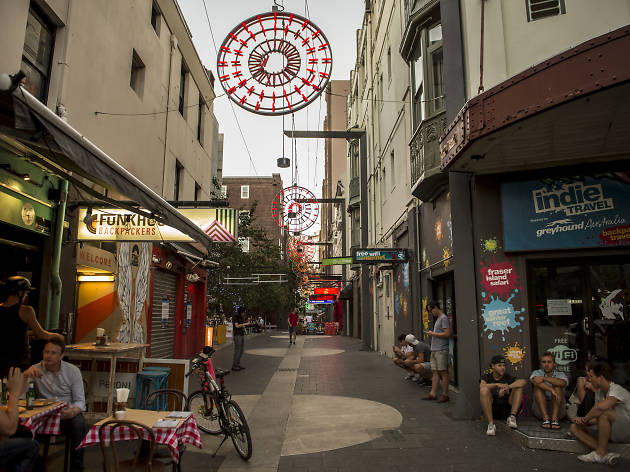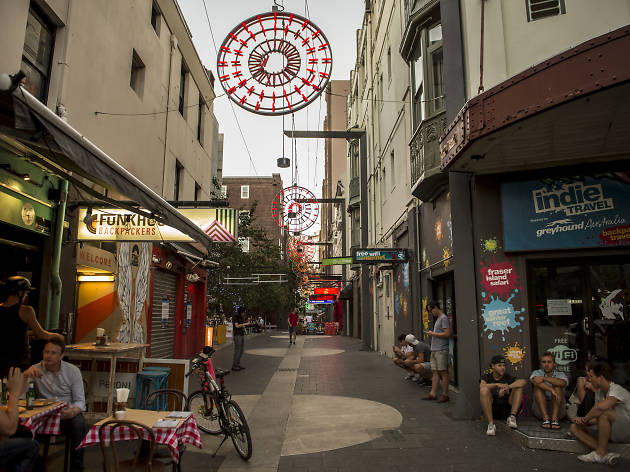 Photograph: Cassandra Hannagan
Llankelly Place, Potts Point
Found off Darlinghurst Road in Kings Cross, this laneway is one for the history buffs. This laneway has been home to fruit shops, delicatessens, bakeries owned by European migrants, as well as theatres and nightclubs that the area has been renowned for in recent years. It also was the site for Sydney's first 24-hour restaurant aptly named Hasty Tasty, a diner which was said to be popular with American servicemen during WWII. If it was a commercial hub back then, it is now a slightly quieter version of its past, with just a couple of businesses and cafés with seating tumbling onto the pavement, including modern offerings Room Ten and Joseph Hyde. There's also wine bar Dear Sainte Éloise on the corner of Orwell Street, housed in a black and white Victorian-style terrace. As well as those culinary delights, there is the Cross Arts Project, an art gallery which specialises in local and Indigenous art. The street lights lining the path continue the arty theme, providing a colourful art installation during the day. This laneway and adjoining Springfield Mall were done up by the council in 2003, making for a more subtle tribute to the colourful past of Kings Cross.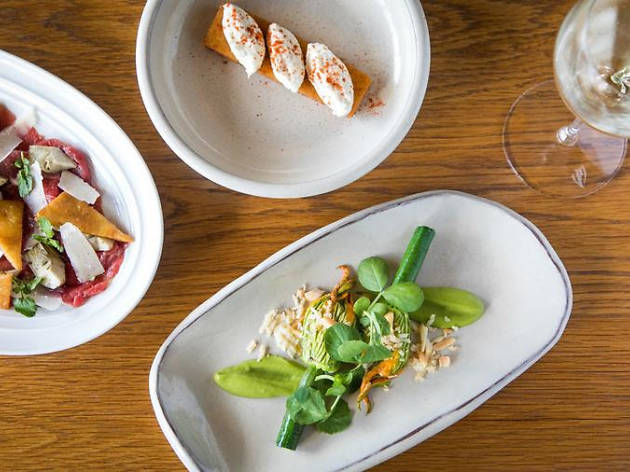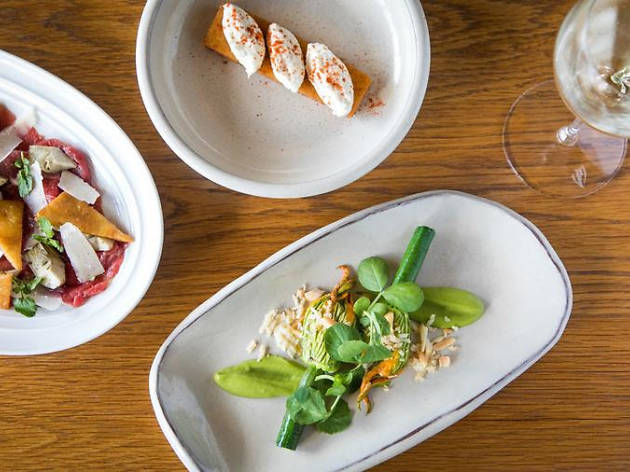 Photograph: Supplied
Cronulla is undergoing a hipster upswing. It's as if the cool culture of Bondi paddle-boarded down south and planted itself at North Cronulla Beach in the form of bougie cafés and restaurants. There is no greater materialisation of this trend than Surf Lane, a surprisingly long laneway off Cronulla Mall. Drive down on a Saturday morning and you'll find this place buzzing with tanned beach bums and their puppies. Local favourites include Blackwood Pantry, a passion project from three Shire boys (one of whom is head chef Rob Lechowicz, who has had a few years practice in Michelin star restaurants Château Cordeillan-Bages near Bordeaux and the Greenhouse in London). Right next door is Bok Bok, specialising in Thai Street food. Just down the lane is the new home of Grind, a local institution which has been open for over a decade. The new fit-out is retro and complete with 'I'd Rather Be at Grind' postcards on the walls from die-hard fans. Surf Lane is only one street back from the beach, so it's almost a necessity to pop by after your swim for some sustenance. Melbourne has St Kilda, but we have Cronulla.
Photograph: CC/Kay Adams
Many people know this little laneway as 'Nurses Walk', but that actually refers to the entire historical precinct behind George Street in the Rocks. At the time the Suez Canal was constructed, this area used to be a slum of disease and poverty. Now, this whole area is full to the brim with tourists and extremely well maintained by the government in order to give visitors a sense of those early days of colonisation. The laneway itself is, at most, two people wide (we recommend one at a time), with motifs on the wall of characters who used to frequent this passage. A self-guided tour is well worth your while, with maps and informative plaques all over the complex, and it gives Little Lonsdale Street's dark past a run for its money. This area is very touristy (for good reason!) so avoid peak times if you'd rather not share the extremely cramped space.
The local council commissioned murals across the 23 buildings making up Park Lane and the surrounding area for Walk the Walls, a weekend festival, in 2018 – and the government initiative seems to have stuck. Established street artist Phibs oversaw the project, which has become Sydney's largest street art project (it brought colour to Cronulla in 2019) created in a bid to counter increasing illegal graffiti. On the walk down from the station, you'll be greeted by a striking image of a woman surrounded by flowers by artist MAID. Take a left after the women's health centre and you'll wander past the backs of the shops on the Kingsway, spotting street art on every surface. You'll find angry magpies, huge dinosaurs and tiny shadowy figures hidden in corners. The beauty of having over 30 local and international artists involved is you now have the most incredible mix of expressive motifs and enlightening social commentary with a local perspective. The organisers of the project have taken into account the shape of every building and so the additions truly elevate the former dank and dodgy laneway. Check out a street art map of the area here.
This quiet, unassuming laneway in Campbelltown hosts an art installation of ten community leaders. The artworks are the product of local talents Marakit Santiago and Pho Nguyen among others from community youth groups around the area. The entrance to the laneway is found at the beginning of Lithgow Arcade, and the black and white depictions were put up as a government-led pilot project which they hope to expand in the future. For now, you can go see the faces of Indigenous leader Uncle Ivan Wellington and mental health advocate Sandra McDonald among the chosen representatives. The current use of the space is a complete contrast to the reputation of violence and crime that the these backways used to have, and it is well worth having a look.
More lanes we love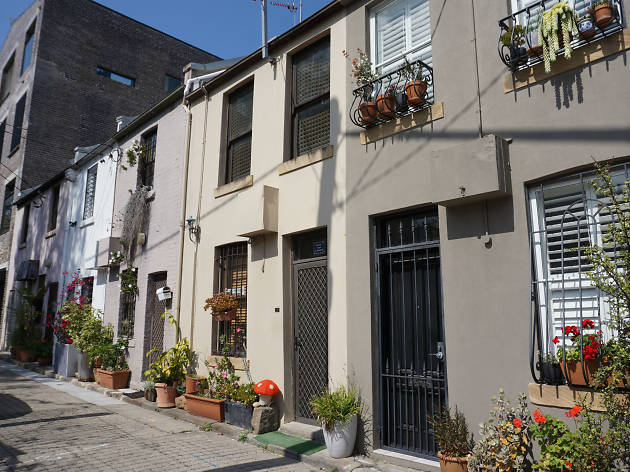 Photograph: Larissa Shearman
Berwick and Palmer Lanes, Darlinghurst
With neat and beautiful terraces which have been done up and ready for your Instagram feed, this area is slightly reminiscent of the pastel wonderland that is Notting Hill in London, but with a more subdued colour palette.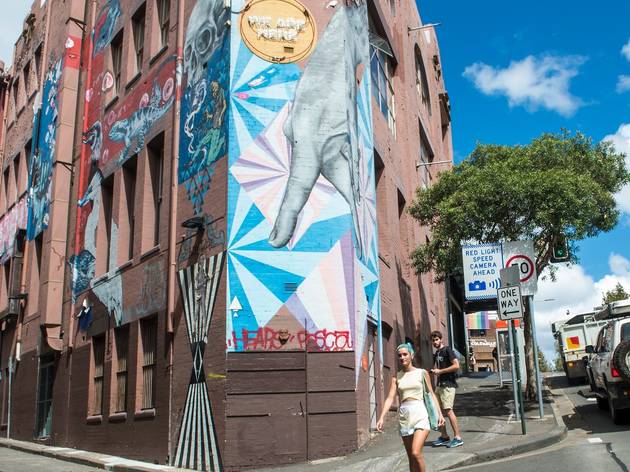 Photograph: Cassandra Hannagan
Foley Street, Darlinghurst
Tucked away in Darlinghurst, Foley Street offers something unexpected in the shadow of those tall three-storey buildings on Oxford Street. You'll spot street art of mixed-mediums (similar to Melbourne's Presgrave Place), which makes it a cool place to visit after dark.
All the different smells of the restaurants that back onto Kimber Lane mingle below the hanging spirits of 'In Between Two Worlds', an installation by Jason Wing. The blue-lit laneway offers solace as you duck in from the hustle and bustle.
Seek out more of Sydney's best sights
These tried-and-tested tourist attractions around Sydney range from thrill seeking adventures to scenic tours of our city's peaceful gardens and parks.