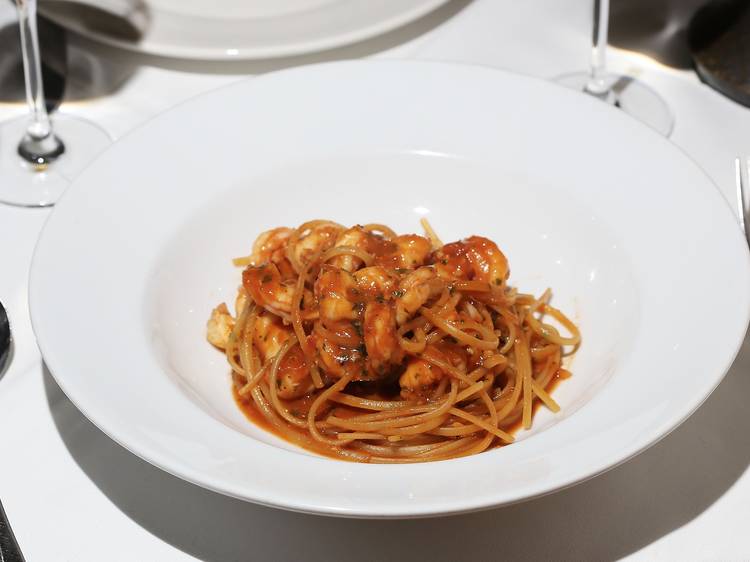 Photograph: Graham Denholm
Don't be fooled by the flashing neon sign out the front - Pars Kebab (25 Fitzroy St) is far from just another kebab shop in St Kilda. A newcomer to the Fitzroy Street dining scene, Pars Kebab is already a firm favourite among locals, specialising in Persian street food – think fresh lamb, chicken and falafel wraps, platters, salads, pita bread and hummus, with picnic packs to share.
Manu of Manu's Bistro (17 Fitzroy St) took the plunge by opening at the beginning of Melbourne's first lockdown, thinking he would ease into his new venture after working as head chef at some of the world's top restaurants. Needless to say, his homemade international cuisine has been exceedingly popular – choose from herb-scented gnocchi with roasted butternut squash and walnuts, authentic Sri Lankan lamb curry with freshly grilled roti or a Mexican corn fritter burger, among many, many other breakfast, lunch and dinner options. The one-man band makes the entire menu by himself and bakes fresh bread and other goodies from scratch every morning.
Blu Oyster Co (45A Fitzroy St) is another St Kilda newbie, an oyster bar already highly rated by locals, shucking and serving fresh Blackman Bay oysters and Mooloolaba prawns to order and eat on the spot or take home for dinner. Pick up a dozen to enjoy on St Kilda Beach at sunset, with your drink of choice from St Kilda Cellars next door.
If it's silver service you're after, St Kilda also delivers in spades. Melbourne fine-dining institution Café Di Stasio (31 Fitzroy St) blends exceptional service with its gritty Fitzroy Street charm as part of restaurateur Rinaldo Di Stasio's exploration of "Italianality", creating an ambience you will find nowhere else in Melbourne. Similarly, Stokehouse (30 Jacka Blvd) offers excellent Australian-inspired beachfront fare, with an awarding-winning wine list to match.