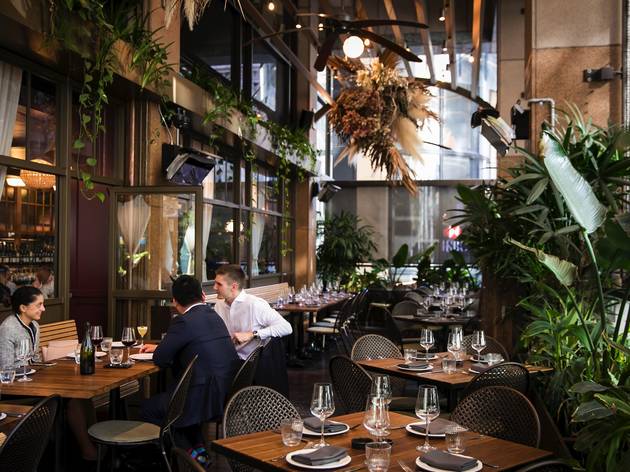 What's good in the neighbourhood: Wynyard
The new light rail is the main artery to the heart of each neighbourhood and its offerings. Look beyond the busy business folk, be rewarded with inner-city gems and discover more along the light rail route
You'd be forgiven for thinking Sydney's Central Business District is all work and no play. But take a closer look around and you'll find delicious bites, unbeatable cocktails, and awe-inducing sculptures hiding in the shadows of the looming skyscrapers.
While you're at it, take our quiz to find out what neighbourhood best matches your personality. Or, explore the other exciting areas along the light rail route.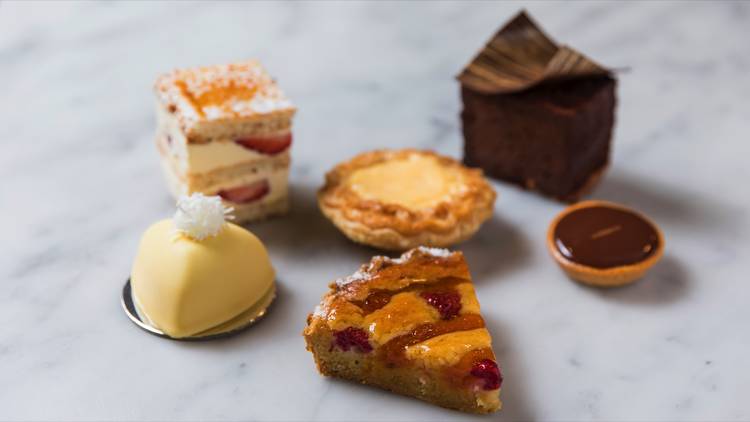 Lorraine's Patisserie. Photograph: Anna Kucera
Eat this
Whether you're in the mood for a fancy wine-and-dine or want something delicious but cheap, Wynyard has got you covered. Try reinvigorated Mediterranean grills at Bopp and Tone – the dining room has elegant eats to match their lavish and leathery interiors. Revel in large share plates of octopus with romesco, pomegranate caramel and fennel, or split a whopper one kilo Bistecca alla Fiorentina with a round table of steak knife-wielding mates. For an upmarket riff on Thai, try Long Chim, where we recommend tackling their affordable nine-course tasting menu. If you're more of a bargain laksa forum poster, then add Malay Chinese Takeaway to your online noodle soup place of worship – it's truly one of the best. For sweets, run don't dawdle to Lorraine's Patisserie for an ethereal cheesecake that will linger in your dreams.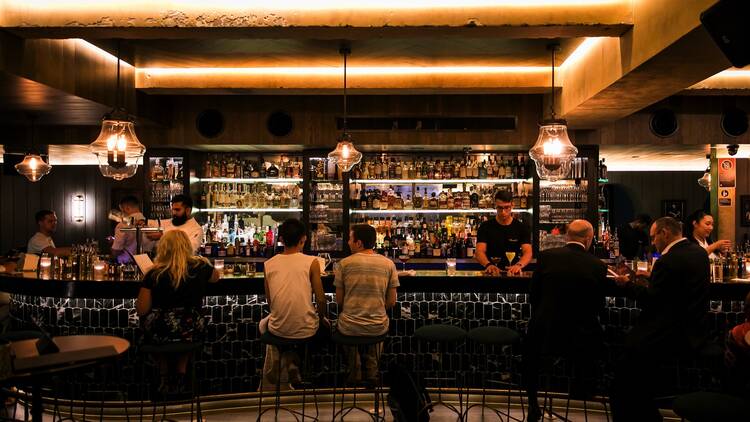 Employees Only. Photograph: Anna Kucera
Drink this
For daytime-appropriate drinks order from the extensive liquid menu at Regiment. Coffee is king here but try a few other selections from the royal court, perhaps a strawberry and rose organic soda or a gut-friendly cup of their berry kombucha on tap. Once the sun sets head downstairs to the red-light imbued Uncle Ming's, find a booth and enjoy one of their ample whisky picks – or perhaps a sake-based cocktail called Matcha Do About Nothing is more your jam. Seek out a faux-dressmaker's shopfront and you'll find the subterranean Stitch Bar – try one of their experimental barrel-aged cocktails to ignite your curious palate. Finish your Wynyard evening with a visit to Employees Only and get a forecast from their in-house tarot-reader while you sip on a deep purple cocktail. If you're lucky enough to still be loitering around closing time (3am most evenings) they'll see you on your way with a soothing and delicious cup of chicken soup.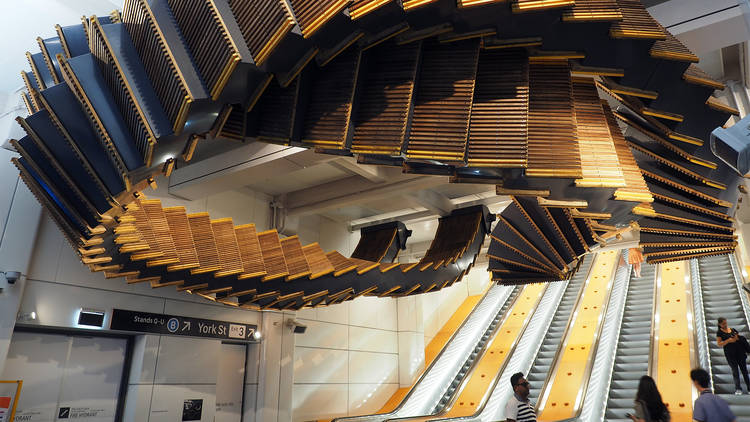 Interloop. Photograph: Creative Commons
See this
Look beyond the chrome and greys of this inner-city enclave and reward your eyes with some stellar public art and installations. The massive 'Interloop' at the train station is a tangled 50 metres of repurposed wooden escalator that will have your eyes bulging. Try to spot bronze children called 'The Youngsters' dotted in laneways around Martin Place; peep under their hoods and you'll find coal and quartz instead of faces. For more traditional aesthetic appreciation, take a spin around the Art Gallery of NSW. The beautiful old building houses huge collections of First Nations, European, and Asian art with exciting temporal exhibitions to boot. To continue your journey into the past, check out the artefacts housed in the Museum of Sydney and cop an eyeful of stunning harbour views while you're there.
Sorry Thanks I Love You. Photograph: Joey Clark
Do this
Go for old-school glamour and take in classical melodies at the City Recital Hall, Sydney's dedicated space for absorbing live orchestra euphoria. There's also loads of independent shops perched amongst the chain stores; head to Sorry Thanks I Love You for stock devoted to making your gifts seem more meaningful. For action that's a little more physical, have a go at the most accessible form of scuba around with Shark Dive Xtreme at the aquarium. Be literally plopped in amongst the sharks, turtles, and stingrays in one of the tanks, it's exactly as it sounds – terrifying and awesome in equal measure. Stay following the CBD shoreline and join the vital Barangaroo Aboriginal Walking Tour where you can learn about the incredible fisherwoman who the area is named after and the cultural significance of the land to the first people who lived there.
Remember to play it safe around light rail.
---
---