1/3
Photograph: Destination NSW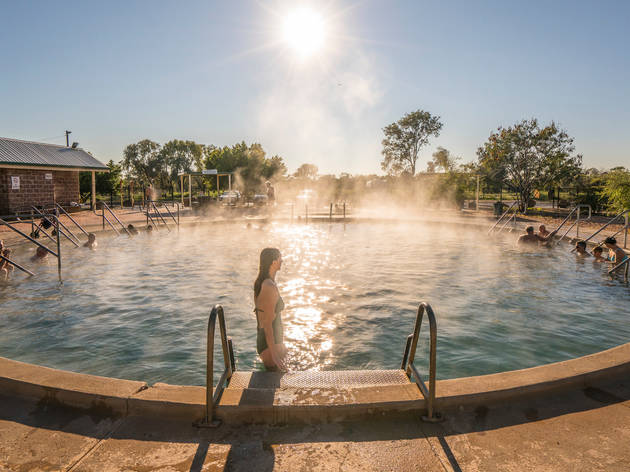 2/3
Photograph: Destination NSW
3/3
Photograph: Destination NSW
The best hot springs to visit in NSW
From the Blue Mountains to Lightning Ridge, head to where the spring is king
The people of New South Wales are an outdoorsy bunch – and can you blame us? With our fantastic beaches, glorious national parks and stunning natural wonders, it's no wonder we're crazy for camping, kayaking, hiking and generally being out amongst all that nature.
Until the chillier months roll around, that is.
Compared to the colder countries of the world, NSW's winters may not be exactly what you'd call Arctic, but let's just say our tolerance for low temps isn't famously high – we tend to rug up with the chunky knits and winter coats as soon as it dips below 20. Which is why the state's naturally heated hot springs make for the perfect winter or autumn destinations, where you can stay blissfully warm in the great outdoors, regardless of how low the mercury dips.
The majority are quite a drive from Sydney, mostly in the state's far north, so why not make them the focal point of a getaway? Now all you have to do is choose which of the best hot springs and bore baths in NSW to visit first.
The best hot springs in NSW
Hit the road
Pack the boot, roll down your windows and let gorgeous scenery whizz past – be that soaring coastal cliffs, native bushland, or towering alpine forests. Trust us, no one will be asking if you're nearly there yet.