The 12 best pies in Chicago
The best pies in Chicago range from fruity creations to seriously rich chocolate versions. Here's where to get a slice.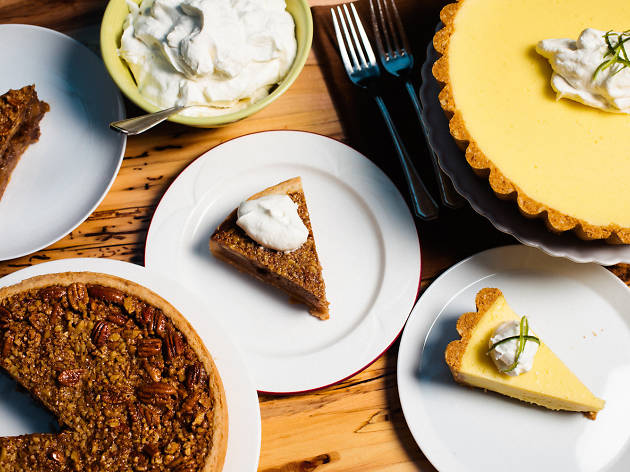 Whether you like it lean and packed with apples and cinnamon or towering with swoops of toasted meringue, the best pies in Chicago are worth tracking down. You'll find some of our favorite slices in obvious places—like the finest bakeries in Chicago—as well as some unexpected spots, including one of the best seafood restaurants Chicago has to offer. The bakers on this list fill their crusts with creamy key lime custard, spiced pumpkin purée, rich chocolate ganache and tart seasonal cherries. Celebrating Thanksgiving in Chicago? Be the hero of the holiday when you pick up one of the best pies in Chicago.
RECOMMENDED: The best desserts in Chicago
Best pies in Chicago
Travel back in time (if only for an hour) at this charming Humboldt Park pie and soda shop that's outfitted with old-timey barstools and beautiful vintage accents. Despite its decor, the pies on offer aren't stuck in the past: Diners can choose from imaginative flavors like yuzu-matcha meringue, s'mores, lemon-lavender and key lime-hibiscus. Order a slice and a house-made soda, hunker down in a booth and transport yourself to a simpler time.
Former fine-dining pastry chef Paula Haney made a name for her pies at farmers markets and coffee shops. Now she sells seasonal creations (from strawberry-rhubarb in spring to apple and pumpkin in fall) and signatures (like her incomparable banana-cream and the Malört-inspired "Chicago Sunrise"), along with Metropolis coffee, at her tiny, retro pie shop. The pies are, in a word, extraordinary.
The flavors at Bang Bang rotate regularly, offering a taste of seasonal produce and funky flavor combinations concocted for special holidays. Come summer, diners might be able to grab a slice of lemon pie with tangy lemon cream, frothy lemon mousse and lip-smacking lemon curd. In the winter months, keep an eye out for more indulgent creations, like the chocolate-caramel pie with shortbread cookie crust. Key lime is available all year for good reason—it's an excellent example of what the little shop can do. Citrusy custard pools in a graham cracker crust before being topped with a dollop of fresh whipped cream. It's spectacularly simple yet inexplicably divine.
4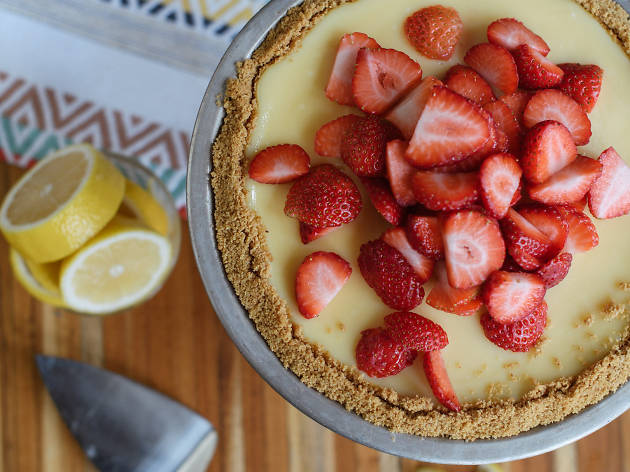 Photograph: Caroline Taft
Maya-Camille Broussard launched Justice of the Pies as a way to honor her late father, a criminal defense attorney and a self-proclaimed pie aficionado. Though the business doesn't have a brick-and-mortar location, you can find Broussard and her delicious slices at Chicago Build Coffee, One Eleven Food Hall and various farmers markets throughout the city. The sublime lavender-lemon pie tastes even sweeter when you find out that Justice partners with nonprofits to positively impact the lives around them.
Let's be honest: You're probably not going to Joe's explicitly for the pie. But maybe you should. The dessert menu is stacked with tough decisions: Key lime or banana cream? Chocolate fudge or peanut butter? Old-fashioned apple or Boston cream? There's not a bad choice in the bunch, but we're suckers for the banana cream. The River North restaurant also features a Pie it Forward seasonal slice, with $1 going to charity.
Maybe it's the giant pie sculpture in the window here that seduces you and draws you in. Or maybe it's the fact that eating at this charitable café is an easy way to support an organization that provides hunger relief. Whatever it may be, it certainly doesn't hurt that the pie is expertly crafted in classic varieties like French silk, chocolate cream, Michigan sour cherry and key lime. Inhale the shop's brilliant aroma and feel good about giving back.
We love tucking into an order of chilled crab claws at Shaw's, but we're always sure to leave room for dessert. The seafood restaurant's key lime pie is arguably the best option on the menu and is crafted with an almond-graham cracker crust and buttery-smooth filling. If your taste buds are aching for something a bit more indulgent, order the sinful southern pecan pie, which comes with a hot fudge chaser.
If you want to show up your entire family at Thanksgiving, bring a pie from Vanille Patisserie, a French pastry shop with locations in Lincoln Park, Chicago French Market, Lakeview and Hyde Park. Every year, the bakery puts out a roster of tempting seasonal confections, like pumpkin with cinnamon whipped cream and chocolate Nutella French silk. Place your order in advance—these pies go fast for good reason.
Stephanie Hart turns out a number of "down-home delights" at her bakery, many of them smacking of the shop's eponymous ingredient. Fans flock to the shops two locations—one in Park Manor, the other at Navy Pier—for Hart's famous laser pie, which is stuffed with sweet potato chunks and topped with caramel, chocolate and nuts. Don't tell your granny we said so, but her sweet potato pie is one of the best we've ever had.
By employing homeless and otherwise at-risk youth and training them to enter the hospitality workforce, this nonprofit café doubles as a social venture. That's all the reason you need to walk through the front door, but after just one bite of their key lime or dark chocolate pecan pie, you'll be a repeat visitor for years to come.
Between the bourbon, the live music stage and the disturbing mannequin of a cowboy urinating in the women's bathroom, one could make a lot of bad decisions at this River North barbecue joint. Here's one you won't regret: ordering a slice of chef Doug Psaltis's pie for dessert. The Peanut Butter Chocolate Delight—made with Valrhona chocolate ganache and house-made peanut butter—is positively insane, a marriage of comfort food and unimpeachable finesse. Psaltis's secret: his wife, Hsing Chen, the former pastry chef at the Peninsula, who he says taught him everything he knows about pie.
As its name suggests, this Lincoln Park bakery is as sweet as pie—and luckily, the menu offers a laundry list of actual pies to boot. Nine-inch whole pies come in flavors like apple, pecan, peanut butter chiffon and Oreo. Just don't be surprised when you leave the store with a box of whimsical cookies, brownies and cupcakes; the pastry case at Sweet Mandy B's is irresistable.