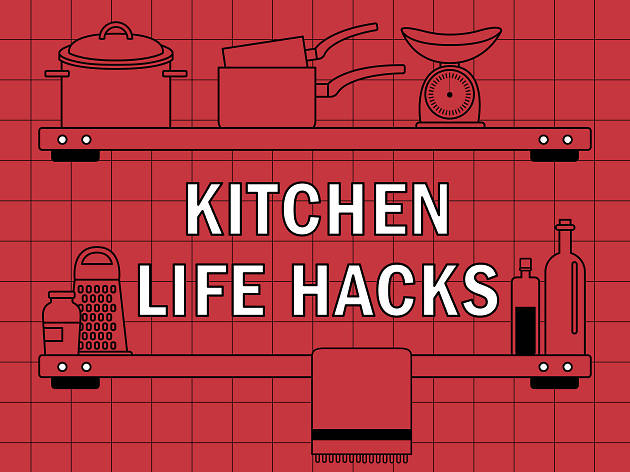 Top 11 Hong Kong kitchen life hacks
Get the most out of your dinky kitchen with these space saving lifesavers
Size matters, especially when it comes to Hong Kong apartments. And sure, Hong Kong has many great restaurants to try, but sometimes you just want to cook at home. Even if you're not endowed with the largest of kitchens – often the room that gets squeezed the most in our SAR – the important thing is how you use it. Our guide to tiny kitchen life hacks will help you maximise the space in your culinary coffin, so you can enjoy cooking at home and cut down on your Foodpanda bill.

And if all these tips aren't enough, or you're just not a kitchen person, be sure to check out our guide to Hong Kong's top 10 life hacks.
Top 11 Hong Kong kitchen life hacks
Counter space is always at a premium in any Hong Kong kitchen, so don't waste it by piling it with your drying pots and plates. Hang your drainer over the sink so that it drips straight down and keeps your counter clutter free.
The old chopping board over the sink trick
This one's a classic. Simply place your chopping board over the sink if you don't have the counter space for it. Secure it with a wet cloth under the edges.
Seasonings on a tray (and off the counter)
It's tempting to keep your most often used oils, seasonings and condiments out on the surface where they're always to hand. However, this look messy and takes up valuable counter space. Place them on a tray instead and just bring it out when you plan on cooking, then stash the whole thing back when they're not being used.
If Hong Kong is a lesson in anything, it's that there's space to be found by building up. With this in mind, take a look around your kitchen and maximise its vertical potential. Put up rails, hooks and shelves wherever you can and get over your hang ups.
Look for your kitchen's hidden pockets of space. The sides of cabinets, the insides of cabinet doors, backs of the door. Anywhere there's a spare inch, hang something or stick a shelf on it.
A good trick is to stash your plastic bags in an empty tissue box, keeping them organised and out of the way.
Magnetic knife rack for more drawer space
A magnetic knife rack can free up drawer space and also helps keep your knives sharper for longer. Leaving knives bouncing around in a drawer, rubbing up against other utensils blunts them extremely quickly. They'll look great stuck to the wall and are always to hand too.
Rather than a bulky spice rack taking up room in one of your cupboards, why not invest in some magnetic spice jars and stick them to the fridge. You can also get creative with other magnetic storage solutions.
Get a kitchen cart for portable worktop/storage
Adding a portable element provides more flexibility to kitchen space. A storage cart can be wheeled into a cubby hole for storage or brought out as another surface when the kitchen is in use. Or hey, pretend you live in a hotel. Simply cover your kitchen trolley with a bedsheet and serve yourself breakfast upon it.
Invest in some fold down counter space
Similar to above, add another counter that can be folded away when not in use. If you wish to continue your fantasies from the previous tip, now pretend that you own a bar and climb under the counter to serve friends' drinks.
Not interested in cooking at home?