The best vegetarian and vegan restaurants in Hong Kong
Keep it green and clean with the best veggie and vegan offerings in town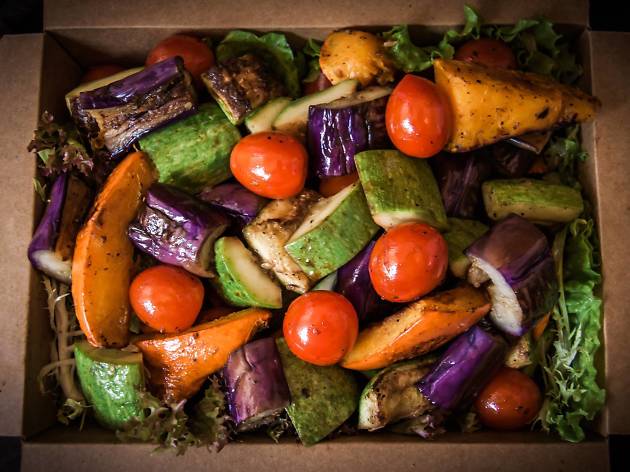 There are always new restaurants opening in Hong Kong and an increasing number of them are vegetarian and vegan-friendly eats, which is awesome. Green and clean bites from veggie burgers to meat-free dim sum, can be found all over the city. From the old stalwarts to the newcomers, these are the best vegetarian and vegan restaurants in Hong Kong. By Sam Sinha
Hong Kong's best vegetarian and vegan restaurants
This buddhist-run not-for-profit serves up their vegan Chinese food in a homely setting. Located in Tin Hau, it's a good option as a break from a day trudging around the overcrowded shops. In terms of value, it can't be beat, with the lunch buffet setting you back just $56 or dinner at $68. 1/F, Potek House, 9 Tsing Fung Street, Tin Hau, 6575 6052.
Sourcing unprocessed, organic and sustainable produce to create innovative and healthy meals bursting with flavour, Grassroots Pantry combines great food with a relaxed environment. A modern, sleek design is made more inviting by a wall of leafy green plants, reminding us to be thankful for the bounty of nature. With a key that includes BF for Buddhist-friendly and R for raw dishes, they try to cater to everyone and the menu is almost entirely vegan. The 'fried chicken' is a must-try – you won't believe that it's actually made from a hedgehog mushroom. The perfect diet-conscious brunch and dinner spot. 108 Hollywood Road, Sheung Wan, 2873 3353.
Green Common is a restaurant concept from the same American brand of health/whole/natural food stores. The speciality is the Beyond Burger, made from pea protein and purported to be much better for you than the minced beef equivalent. There are three delis, serving a range of meat substitute-based dishes: Landmark in Central, Harbour City in TST, and a relocated cafe in Wan Chai. On the menu are the vegetarian beef spaghetti in black pepper sauce ($75) and The Big MATT ($60) – mushroom, avocado, truffle-egg and tomato. 17 Nelson Street, Mong Kok, 2110 0194.
Greenwoods Raw Café does exactly what it says on the tin. None of the food is heated above 41 degrees which, they claim, helps to preserve beneficial enzymes. They use local, organic produce as much as possible, and the menu is entirely vegan-friendly. It's a tough ask to produce tasty food without actually cooking it but they pull it off with innovative dishes like raw lasagne, and courgette noodles. The café is open for lunch during the week and lunch and dinner on Saturdays. 13/F, 2 Carnarvon Road, Tsim Sha Tsui, 6575 6052.
Wan Chai's Happy Veggies serves up simple but well put together vegetarian fare in the manner of a local canteen. Popular dishes include the mapo tofu ($60) – stir-fried with peppers and mushrooms in a chilli sauce – and the assorted vegetable hotpot ($82) – braised rice vermicelli and mushrooms with spicy fermented bean paste. They are virtuous veggies: the business is a not-for-profit social enterprise, which actively recruits staff from the deaf community who are extremely helpful and friendly. 1/F, Bayfield Building, 99 Hennessy Road, Wan Chai, 2529 3338.
Only someone very brave opens a vegetarian Japanese restaurant in Hong Kong. The guys at Isoya have and it's a winner, with clean, calm surroundings and friendly service. You won't miss the fish one bit thanks to the cucumber seaweed rolls and tamago (Japanese omelette). They make the bean curd in house as well. You'll pay around $350 for a set dinner, excluding drinks and service. 9/F, 83 Wan Chai Road, Wan Chai, 5500 8812.
A very dependable veggie indian, Khana Khazana makes no apologies for leaving meat off the menu. While the food isn't groundbreaking, it certainly is authentic and cooked with care. When available, try the tandoori cauliflower – the oft-maligned brassica spiced and roasted to perfection. Meal for two without wine and service costs around $250 while the the lunchtime buffet is a very reasonable $99. 1/F, Dannies House, 20 Luard Road, Wan Chai, 2520 5308.
'Lock' means happiness, enjoyment and fortune and we think Lock Cha fulfils the first two of these promises. Situated in the beautiful green retreat that is Hong Kong Park, the spot provides a calming atmosphere all Hongkongers can appreciate. With its fantastic vegetarian dim sum, like the vegetable pot stickers ($28) and an extensive range of teas to choose from, Lock Cha is the perfect place to grab a vegan-friendly bite and relax. The KS Lo Gallery, Hong Kong Park, Admiralty, 2801 7177.
Located in the tranquil haven of Chi Lin Nunnery, but accessible from Central in 45 minutes, this vegetarian eatery is well worth the trip. Its excellent vegetarian dim sum is best enjoyed as one of the set menus. The pine seed, ginger and mushroom fried rice and veggie dumpling noodles are favourites. Expect unfussy service bordering on rude but good, homecooked food with all proceeds going back to the nunnery. You'll pay around $100 for a meal without drinks or service. 60 Fung Tak Road, Diamond Hill, 3658 9388.
With a strong focus on sustainability and responsible sourcing, Mana's menu is devised in order to minimise its environmental impact. This means no meat, minimal dairy and being 100 percent organic. It serves up middle-eastern style burgers and flatbreads with plenty of gluten-free options available. The signature burger is a tasty tower of grilled halloumi, tofu, roasted veggies, portobello mushroom and pickled cucumber. 8 Tai On Terrace, Sheung Wan, 2347 8555
Show more
Thirsty now?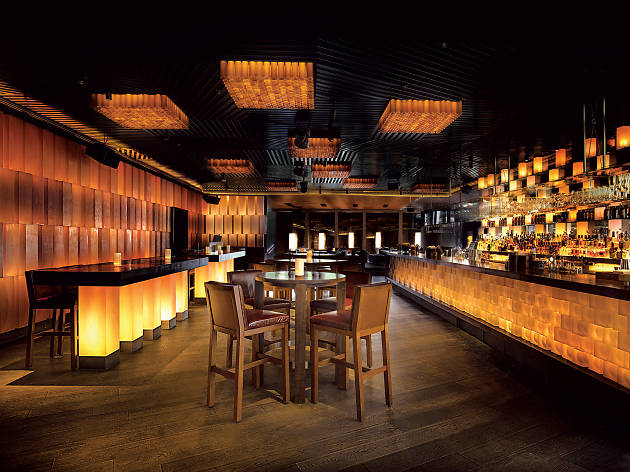 Whether your prefer to relax over a craft brew, a single malt, a glass of red or a classic cocktail, Hong Kong has an amazing bar guaranteed to have you ordering 'just one more round'.