Heads up! We're working hard to be accurate – but these are unusual times, so please always check before heading out.
Epic waterfalls you have to see in Hong Kong
For those who want a little natural refreshment
Waterfalls capture the imagination like nothing else, transforming the landscape from merely beautiful into something straight out of a fairytale. With the current situation, it's easy to feel a little cooped up, so below are six waterfalls in Hong Kong for some nature inspiration. Even if not wanting to take public transport and head out right now, merely looking into these falls and the hikes required to reach them will perk you up and give you something to look forward to! Read on and feel refreshed, inspired, and in awe of some natural beauty.
RECOMMENDED: For those wanting to get away from people to HK's great outdoors, check out this list of Hong Kong hikes.
Chasing waterfalls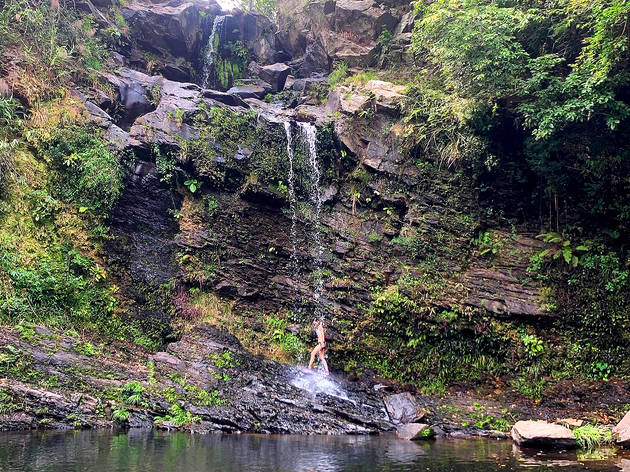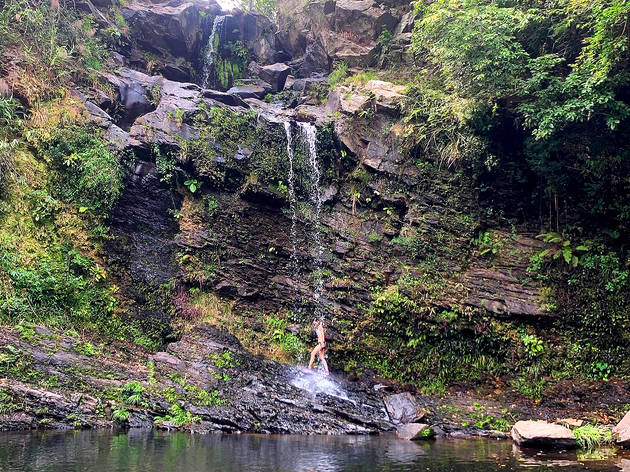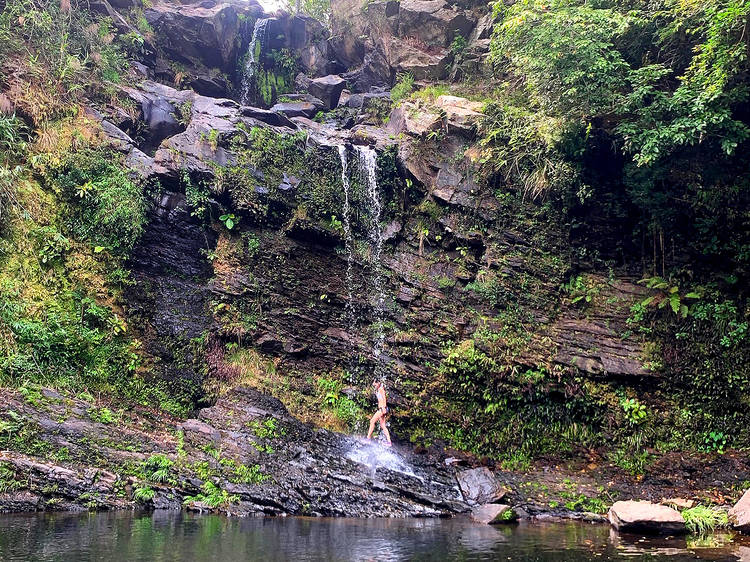 Photograph: Courtesy Cindy Ng
This is truly one of Hong Kong's most beautiful natural features, but it's not necessarily easy to get to, especially for Hong Kong Island dwellers who will have to endure around 1.5 hours' public transport to be rewarded with this gem of a waterfall. The area itself is a stunningly beautiful nature spot, and it's not uncommon –especially at weekends – to see people around the iconic pool chilling with a picnic, and families swimming in the water.
Get there:
From Tai Po Market Station, take the 20C minibus to Tai Mei Tuk, from where Bride's Pool is a hike or a taxi away. Alternatively if going at the weekend, take the 275R bus directly from Tai Po Market to Bride's Pool bus terminus.
View this post on Instagram
Ribbons mark the entrance to this beautiful and remote stream, and whilst walking along it, you can enjoy being immersed in nature whilst taking in some beautiful waterfalls! The hike itself isn't too difficult, but does require caution and use of hands in some areas. There are various pools for swimming and even jumping into along the hike, and also big, rocky places to sit down and chill.
Get there:
From Fanling Station, take a minibus or taxi to Nam Chung children's playground. From here walk south along South Bay Road until a little bit past where the Nam Chung Country Trail begins to the Ping Nam stream.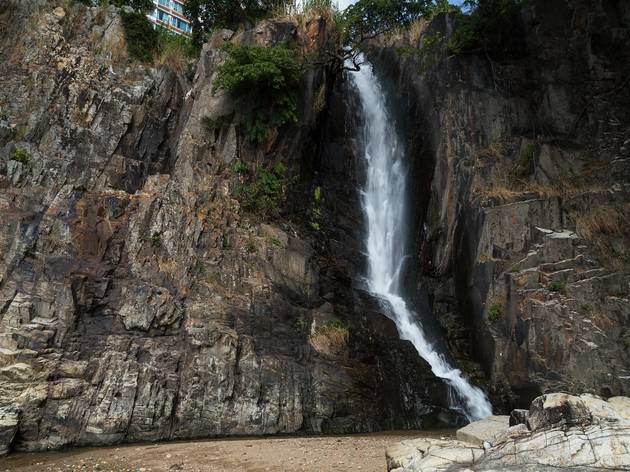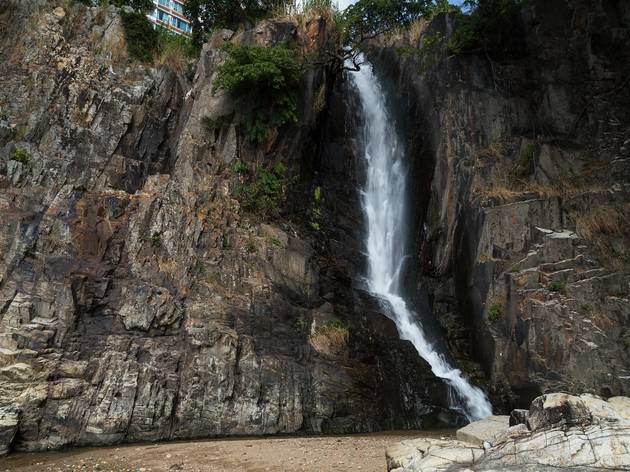 Photograph: Shutterstock
Waterfall Bay Park Waterfall
Waterfall Bay in Pok Fu Lam is a beautiful feature of southwestern Hong Kong Island, and can be reached easily by getting a bus to nearby Cyberpoint Waterfront Park. The hike to the waterfall is easy – 3.5 kilometers and flat – and can be done with infants. Bear in mind, however, that the route is not pet or pram friendly. Meander past picnic areas along the way. After a little while, you'll arrive at the waterfall and see it in all its beauty.
Get there:
Take public transport to Cyberpoint Waterfront Park.
View this post on Instagram
This one is not too far out of civilisation, but can be a little tricky to get to for first timers. From Mui Wo ferry terminal walk through the village and meandering trails to eventually get to this natural beauty after about 30 minutes. From here you can continue along a stream and through nature on a 2-hour hike that will eventually lead you back to the ferry.
Get there:
Take a ferry to Mui Wo and then walk.
Photograph: Courtesy Cindy Ng
Waterfalls and freshwater river pools abound along the Sheung Luk Stream, located in Sai Kung, just beyond the beachside village of Sai Wan. The circuit to get to the stream and back to Sai Wan Pavillion takes around three hours of relatively easy hiking with a few extended ascents and descents, and along the way, you'll enjoy taking in views of the High Island Reservoir as the trail winds through the East Country Park.
Follow the Luk Wu trail from the Sai Wan Pavillion to the crossroads at Chui Tung Au, where the path connects with the MacLehose Trail. Here go straight ahead and descend into Sai Wan Tsuen, where you can enjoy a simple beachside meal. After this keep walking a little way to Sai Wan Beach, and then take the sandy path to an intersection with a bridge over Sheung Luk Stream on the right.
Trudge through the thick forest trail along the river past a few small pools and then keep going upstream until you get to a bigger, deeper river pool with a waterfall crashing into it. Take a dip in the clean, refreshingly cold water. Some adrenaline junkies enjoy jumping off the northern rock face into the water, but we recommend being very careful when sampling around on the rocks, as they can be extremely slippery.
To get home, continue up past the pool and head up the bank to the right. Soon you'll come to the Luk Wu trail, which will lead you back down to the Sai Wan Pavillion.

Getting there:
Grab a taxi from Sai Kung village to Sai Wan Pavillion (25 minutes, around $1500). Follow the Go back on yourself a few metres and you'll come to the paved Lok Wu nature trail.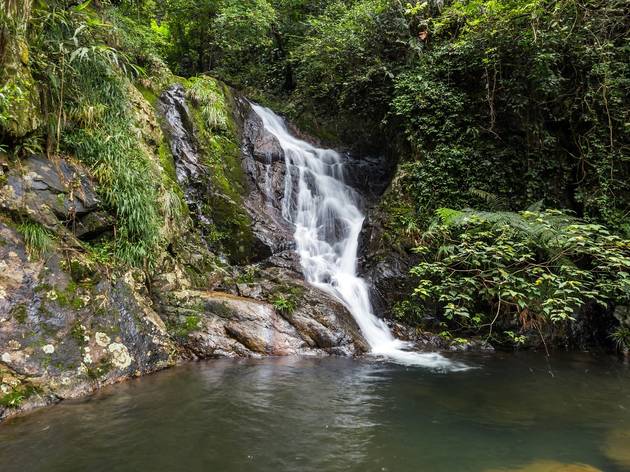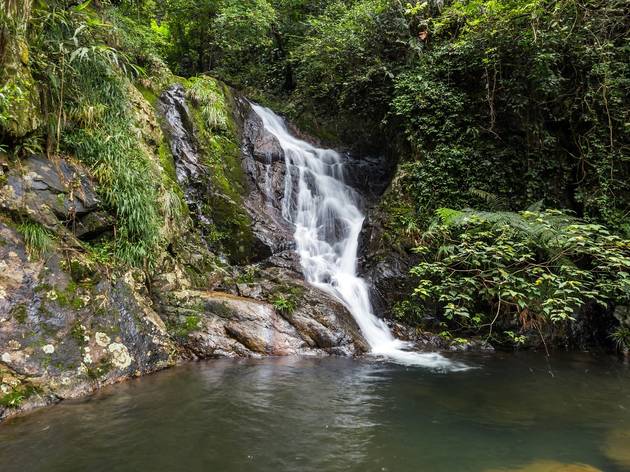 Photograph: Shutterstock
Nestled in the Lam Tsuen Valley, the Ng Tung Chai Waterfalls is a great and remote hike that will get you some refreshment in Hong Kong's hot and humid summer months! The hike is the better part of 6km roundtrip, and is steep in places – so pace yourself. After getting off the bus at Chai Kek, walk uphill until you see signs for the waterfall. The hike is not for beginners, but those who are relatively fit should have few problems. On this hike you'll pass a total of four breathtaking waterfalls, and at number two, you can jump in the water for a cool and invigorating paddle.
Get there:
From Tai Wo Station take the 64K bus to Chai Kek, from where the hike begins.