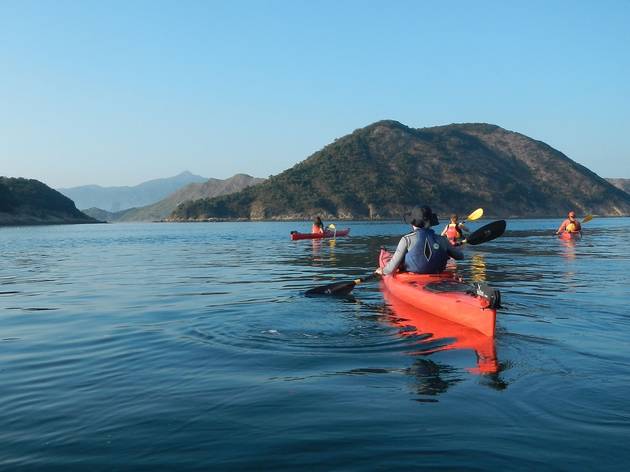 Best kayaking spots in Hong Kong
We break down the best spots in Hong Kong to get out on the water and paddle to your heart's content
The summer heat is really kicking in, and with temperatures soaring, sometimes taking a hike, or even just lying on the beach is unbearable. The solution? Head out onto the water! What better way to see the seas of Hong Kong than grabbing a kayak and paddling around to your heart's content. Whether you're into exploring sea caves, finding unique rock formations, or you're just after a casual day on the sea, here are our top picks for where and how to go about kayaking in Hong Kong. By Yu An Su

RECOMMENDED: Prefer to go under the sea instead? Check out the best diving sites in Hong Kong.
Best kayaking spots in Kong Kong
Preparation before you go
All kayak tours and most rentals will also supply you with life jackets. However, knowing how to swim and tread water is obviously extremely important whenever you go out onto open water.


Water conditions are easily affected by the weather and the elements. Be sure to keep an eye on the weather forecast and the wind so the conditions are favourable.


If you're doing a rental, it's a good idea to get the number of the owner, just in case of an emergency.


Kayaking is tiring and leaves you exposed to the sun. Accordingly, bring plenty of water and food, and protection from the sun. A waterproof bag will come in handy also. Some rental places might let you leave your things there, but it's usually a good idea just to have a waterproof bag to store your valuables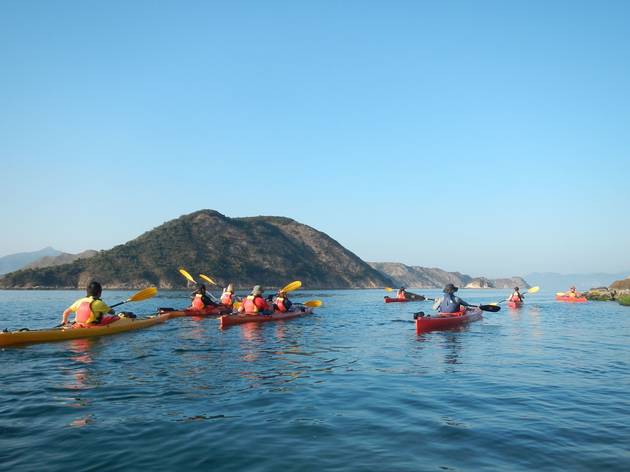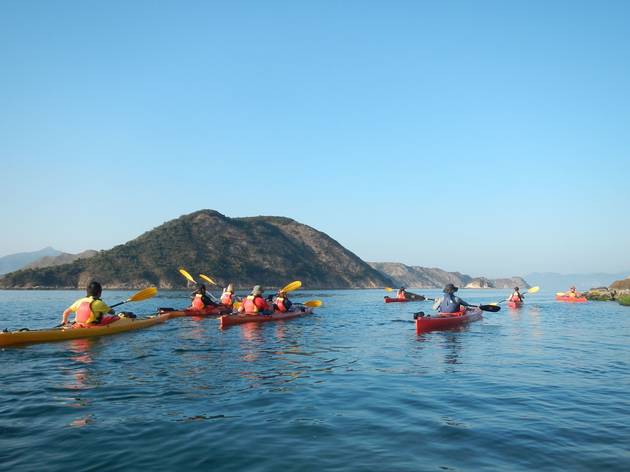 Photograph: Courtesy SeaKayak Hong Kong
It's been said many times before, but Hong Kong really is so much more than just a concrete jungle, and our UNESCO GeoPark out in Sai Kung is arguably the perfect example of this. Featuring exquisite volcanic rock formations and some of the bluest waters in Hong Kong, the GeoPark is the perfect retreat to escape from the chaos of the city. We heavily recommend taking a guided tour if you're planning on exploring the far-flung islands like Sharp Island, Tiu Cheung Island, Bluff Island and more. Wild Hong Kong and SeaKayak (see Group Tours section below) do great programmes, where you'll be able to explore the rock formations safely with an expert.
If you're renting privately from Ah Kwok at Sha Ha Beach, the safe option is to just opt for one of the close islands, like Pak Sha Chau. The folks at Ah Kwok are also super helpful and will give you recommendations on where to go depending on the weather.
How to get there:
Take the MTR to Choi Hung, and then the 1A minibus into Sai Kung Pier. From here either take the 99 bus three stops to Muk Min Shan, or walk 15 minutes along Wai Man Road.
Contact:
If renting privately, give Ah Kwok Water Sports Centre a call or message to reserve kayaks at 9170 7513. Information for guided tours starting at Sha Ha are given at the bottom of the article.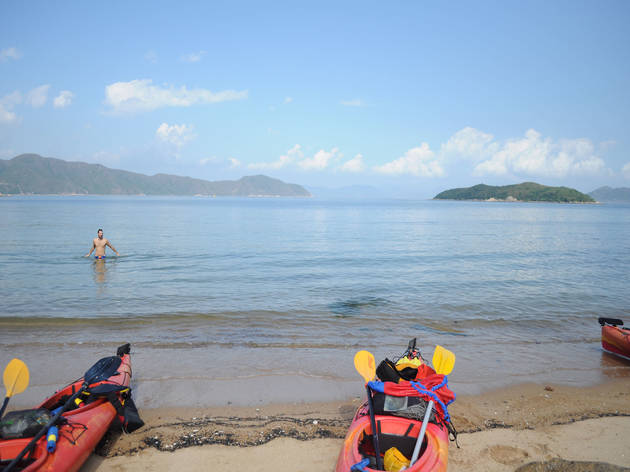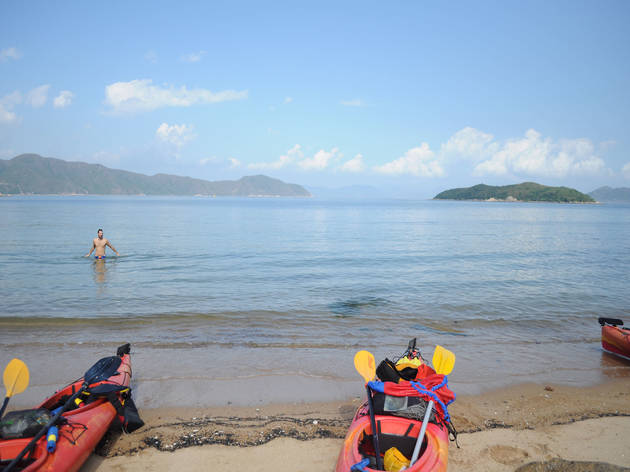 Photograph: Courtesy SeaKayak Hong Kong
Deep within the GeoPark itself is Hoi Ha village, a quiet place home to a marine park. Only a 20-minute minibus ride from Sai Kung town centre, you'll find an oasis of clear water ready for you to explore on your kayak. The waters around Hoi Ha are protected and all relatively calm, which makes it perfect for beginners, and it's recommended to just stick close to the shore, as the water is plenty clear enough without venturing out too far. You'll also see many people snorkelling in the area, with Hoi Ha being the perfect place to try and spot some marine wildlife.
How to get there:
Take the same MTR and minibus to Sai Kung, then take the 7 minibus to Hoi Ha to the end of the line. Walk straight through Hoi Ha village to the waterfront where there will be a couple of vendors.

Contact:
The vendors don't have contact numbers, but Hoi Ha tends to be quieter anyway, meaning you don't usually have to worry about reserving a kayak. They're also all quite easy to find, either on the path through the village to the beach or alone the beach itself.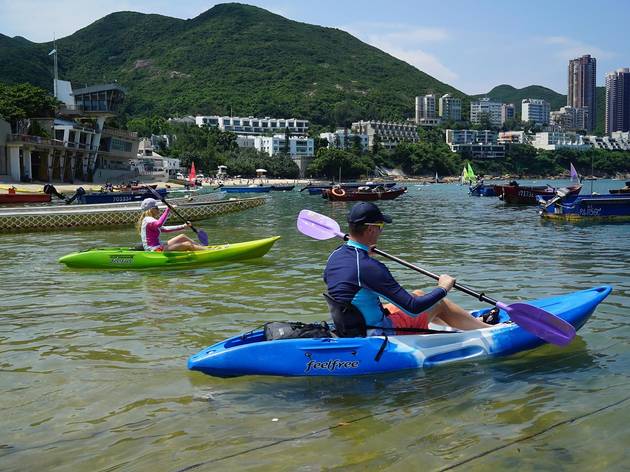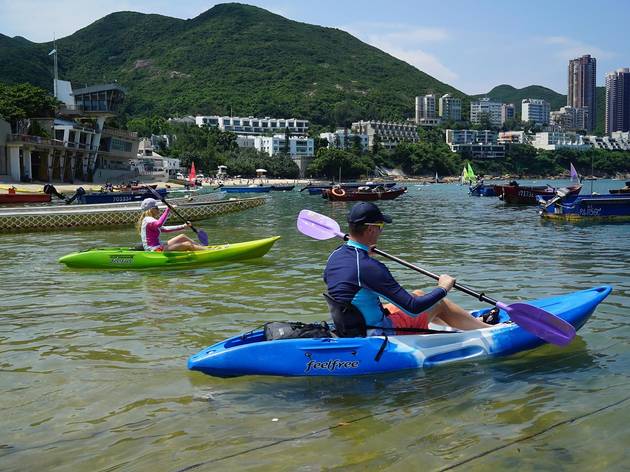 Photograph: Courtesy Aqua-Bound Water Sport Centre
A mainstay for Hong Kong Island residents seeking a tranquil escape, Stanley main beach is also full of places to hire water sport equipment. Aqua-Bound Water Sport Centre has kayaks for rental starting at $80 per hour for a single kayak, and $150 per hour for a double kayak. They also offer guided kayak tours around the Stanley coastline, suited for those that haven't navigated the seas around these parts before. You'll be able to see the buildings on Stanley fall into the background, and experience the nature surrounding this developed enclave. Stanley is also home to many great shops and restaurants, which are perfect after a day of kayaking.
How to get there:
The easiest way is to take busses 6, 6A, 6X, or 260 from Exchange Square Bus Terminus in Central. They all go through parts of Admiralty and Wan Chai, so you can also get on along the way.
Contact:
Aqua-Bound Water Sport Centre is unmissable on the coast of Stanley Main Beach, and you can call them at 8211 3876 to reserve if you like.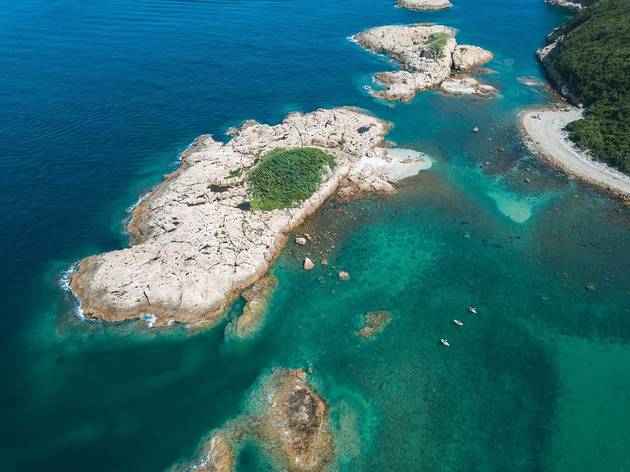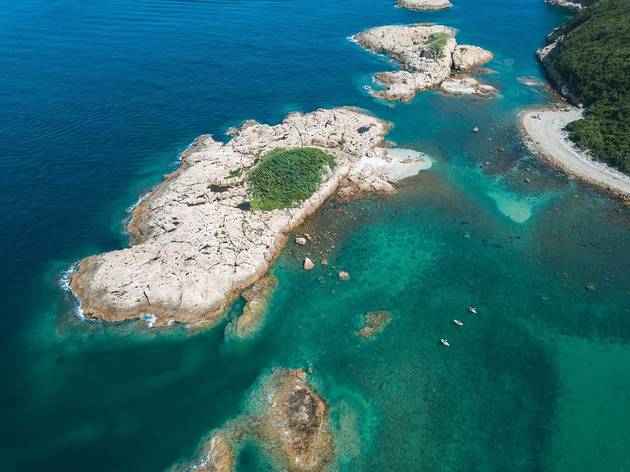 Photograph: Courtesy Sheung Sze Wan
Far into Clearwater Bay, Sheung Sze Wan Kayak Rental does everything its name promotes. A popular destination for those setting off from here is the aptly named Green Egg Island. The prices start at $150 for a single kayak and $250 for a double kayak on weekdays, with prices going up to $50 on both on the weekends.
The staff are super friendly and if in the mood will accompany you to Green Egg Island at no extra cost! Seasoned water sport enthusiasts can even venture out to Tiu Cheung Island to admire the sea arches, but it's a long journey and will require experience to do safely. Even if you choose just to paddle around the neighbouring waters, Sheung Sze Wan is a great choice for a casual day on the water.
How to get there:
This place is actually pretty isolated, so your best bet is to take a taxi directly from Hang Hau MTR. The trip should take about 25 minutes. Say to the driver 'Sheung Sze Wan Tsuen (village)' and look for a sign for 'Hiu Po Path'. Tell the driver to follow that path to the end and you will end up at the coast. Alternatively, you could take minibus routes 103 from Kwun Tong MTR, 103M from Tseung Kwan O MTR, 16 from Po Lam MTR, or KMB route 91 from Diamond Hill MTR. All will stop at Sheung Sze Wan junction, where you'll have to walk an extra 20 minutes to get to the shore.
Contact:
WhatsApp 5540 4445 to reserve kayaks. Their weekends fill up soon, so it's recommended to reserve kayaks for the weekday.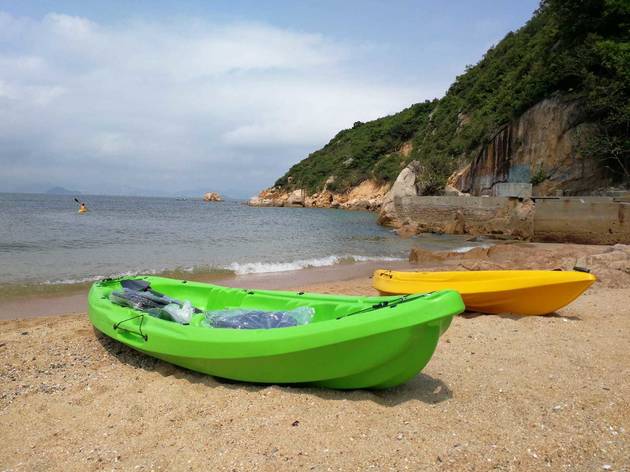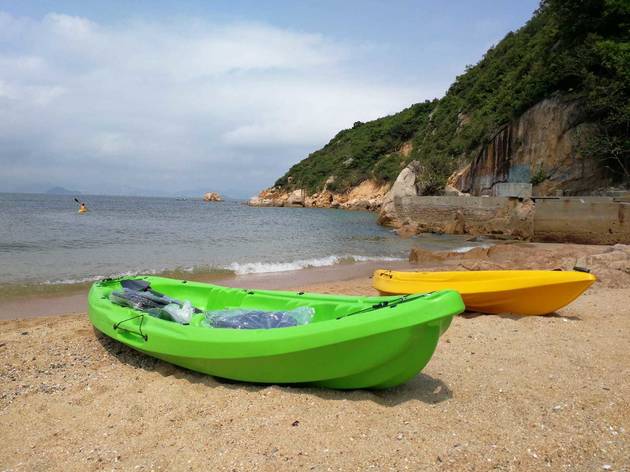 Photograph: Courtesy Hing Kee Beach Store
Close to the popular Tung Wan Beach on Cheung Chau is the quieter Kwun Yam Wan Beach, where the Liu family has run the Hing Kee Beach Store for 70 years. Prices start at $80 for a single kayak and $140 for a double, if renting for an hour. They also offer tours around the island for $400 per person, with a minimum of three people a tour. There's markedly less to see at Cheung Chau, but the water tends to be calmer so you could always just paddle out and relax.
How to get there:
Take the ferry from Central pier five to Cheung Chau. Walk towards then past the Warwick Hotel, then take the five-minute walk to the coast, where Tung Wan Beach will be. Turn to the right and after an eight-minute walk, Kwun Yam Wan Beach should be in sight.
Contact:
Hing Kee Beach Store is our preferred vendor, WhatsApp them at 9262 6736 to reserve kayaks.
As we said earlier, if you're looking to explore the most interesting and far-flung places in Hong Kong, you should definitely seek out guided tours. They'll be able to help you admire stunning rock formations and natural beauty, while also keeping you safe with their years of expert knowledge. The ones below both offer tours through the Hong Kong GeoPark, and Wild Hong Kong also offers tours through Hoi Ha.
Wild Hong Kong:
Call 6087 1439, message them on their Facebook page or email contact@wildhongkong.com
SeaKayak Hong Kong:
Call 5506 3620 or email info@seakayakhongkong.com
These companies will help you to organise a great day out on the water, adjusting to your experience level, weather, and sights to see.


More things to do outdoors
See nature without the exertion
Some of the city's best hiking experiences come when the sun's down
Get a sweat on in some of these beautiful spots around the city