Heads up! We're working hard to be accurate – but these are unusual times, so please always check before heading out.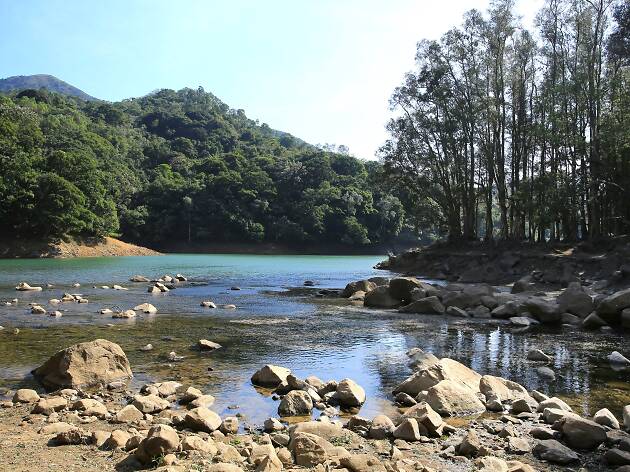 Top 10 quiet places in Hong Kong
Finding some zen in the SAR isn't as hard as you think...
It's no secret that Hong Kong is one big stressful city. Just manoeuvring around in one of the world's densest urban hubs can elevate anyone's blood pressure. Not to mention, the challenging working hours and rising living costs. The list goes on for the things that fill Hongkongers with rage. If you've been complaining about these things at least once every hour, seems like you're actually crying out for some quiet time. Thankfully, our beloved city has plenty of places, like the Hong Kong Victoria Peak Garden and scenic outlying islands like Tap Mun, where you can enjoy escaping the craziness for some peace of mind.
RECOMMENDED: If all else fails, there's always booze. Drink your stress away at one of Hong Kong's best bars.
10 quiet places in Hong Kong
Hoi Ha Wan is one of four protected marine parks in Hong Kong, renowned for its 60 types of hard coral and 120 species of coral fish. Venture out to the marine park via minibus 7 from Sai Kung Pier and rent kayaks and snorkelling gear from a shop in the tiny village of Hoi Ha when you get there. Once you're there, you can really soak in the calming, clear waters and feel all your stress melt away.
This tranquil public park looks like an illustration taken from a page of a Tang Dynasty artwork. Calm waters and rocks abound as you head towards the unmissable red Zi Wu Bridge and stunning gold Pavilion of Absolute Perfection. Just a short walk away from the garden sits the famous Chi Lin Nunnery, which is also worth a visit.
Surrounded by rolling green hills and vast open blue waters, Tai Mei Tuk is one of the most scenic areas in Hong Kong for outdoor barbecues and cycling. For those wanting to work up a sweat while simultaneously relaxing, cycle along the Plover Cove Reservoir and admire the majestic peaks of Pat Sin Leng. Alternatively, relax at one of the cafés by the shores and bask in the quietness in the idyllic seaside village.
Head on a fairly low-impact hike starting from Wong Nai Chung reservoir and be rewarded with an incredible view of the lush grassy hills and the smooth, glass-like surface of the water. Providing unparalleled tranquility, the reservoir is also home to koi fish and turtles. Aside from the view, the hike itself makes for a relaxing jaunt.
Siting off the coast of Sai Kung Country Park, Tap Mun is also known as Grass Island. It's easy to see why – the 1.7sq-km island is composed of rolling, grassy hillocks complete with wandering cows. Spend an afternoon here by taking a stroll along the paved 2km footpath that starts out at the fisherman's village by the pier and ends up on the hilltop in the middle of the island. The path offers panoramic views and a refreshing breeze, even on the hottest day.
Hong Kong tycoon Li Ka-shing's massive $1.5-billion Tsz Shan Monastery is the perfect locale to buy you some peace. The 500,000sq-ft compound, nestled in Tai Po's Ting Tsz hills near Tai Mei Tuk, is home to a 76m-tall white statue of Kwun Yum (The Goddess of Mercy), a striking Bodhi tree, sweeping gardens and a 'brilliance pond'. Doing a round at the compound can make you the most chill person.
The Sai Wan Swimming Shed is the only swimming shed in Hong Kong still open to the public. Carefully tucked away from the sprawl of nearby high-rise buildings, this gem offers a picturesque view of calm waves to help keep the ever-present demons at bay. Make a visit during sunset to take the tranquility to the next level.
Head up the hills to take in the wide expanse of clear skies and fresh waters of the reservoir. There are several hiking trails near and around the reservoir, including The Pineapple Dam – easily recognisable by the unique exposed tree roots along the streams – and Tai Mo Shan (Hong Kong's highest mountain). You'll be greeted by serenity whichever route you pick. Though do avoid the wild monkeys in the area – your stress levels will surely rise again if you pick a food fight with them.
An oasis in the middle of Hong Kong, Victoria Peak Garden is often overlooked since the Peak can be a tourist-ridden nightmare. But the twisting paths that navigate around the lush lawns and pagodas are large enough to make the garden a lovely spot for relative solitude.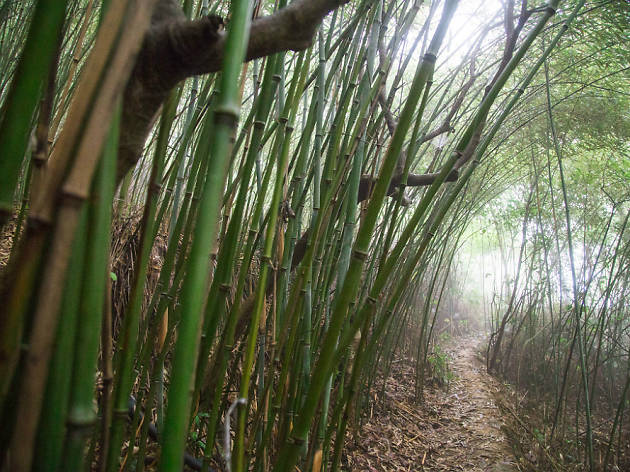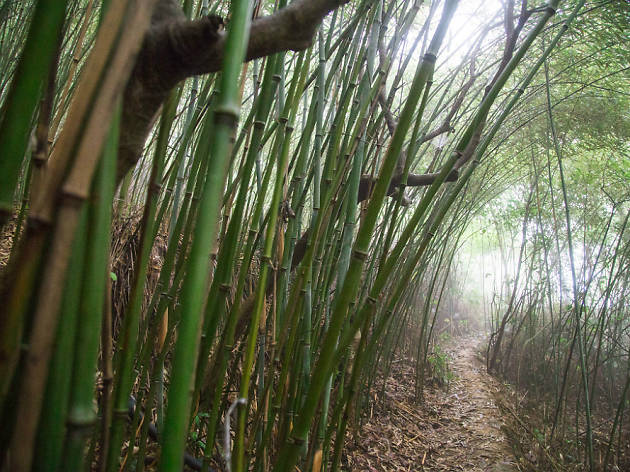 Tai Po's Bamboo Tunnel
Head up to Yin Ngam《燕岩》, a pleasant little village outside of Tai Po, to discover the famed bamboo tunnel. Far away from the city's bustle, this natural gem not only looks cool on the 'gram, thanks to the bamboo's slightly bent tips, but the area is also drowning with fresh air. Even better, more tranquillity awaits at Hong Kong's highest waterfall, Ng Tung Chai, which is just a 20-minute walk away.
Need more de-stressing?