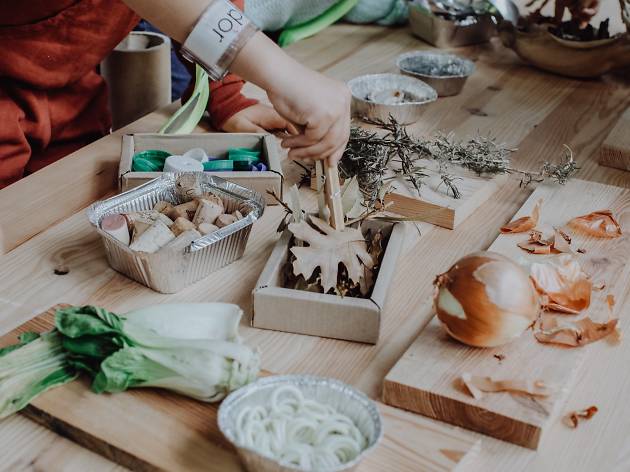 Free things to do with kids in Lisbon
Here are some activities for you to wear out your kids' energy without digging deep into your wallet.
Staying home with the kids is not an option, but often neither is spending a pretty penny on them. If the previous conundrum seems too hard to figure out, put that negativity aside. Just rack your brain a bit and find simple yet fun activities. Firstly, remember that many of the best possibilities are on the streets, a real open-air museum for all ages. But the list goes well beyond urban art. That is why we present you this list of free-of-charge activities for kids - going to a museum, climbing trees or discovering plants and animals in a garden
Free things to do with kids in Lisbon
Wood, aluminium, plastics, cloth and paper, all inside a renovated former hothouse in the middle of the Marechal Carmona Park in Cascais. Ohficina is a place for children to explore by themselves or in the company of an adult. Weekend workshops for kids and parents are paid, but visits to the open area are free.
Quinta das Conchas has a vast, well-kept garden where kids can play freely. Parents may join them for a ball game or they may prefer to relax under a tree. Saturday mornings there is a bio market, where producers directly meet consumers. You only have to spend money if you want to.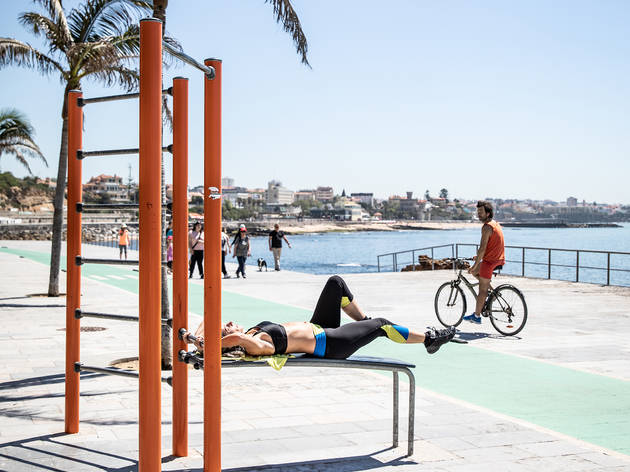 Fotografia: Joana Freitas
Just bring the bikes. Take the kids to the riverside area between Docas and Belém and bike down the Marginal. The path is closed off to cars, wide and paved. There is plenty of space for you to ride next to your kids, with a view to the river, the Lisbon sun - and a fine sporty afternoon.
In a nice bit of irony, the Museum of Money has free admission. Make the kids feel like kings by minting a coin with their likeness. You can also hold a 12-kilo gold ingot, visit temporary exhibitions and take part in Saturday family activities. All of that without spending a cent.
As long as it doesn't rain, Lisbon weather is always good for parks, and parks are good for picnics. This is a way for kids to replenish some of the energy they will expend. Take them to the Tapada das Necessidades, bring a blanket and a basket, and lie under the sun while they feast on the delicacies you prepared.
Every Sunday after 2pm, the Gulbenkian museum has free admittance, and it is a great place for a family Sunday. This is a good excuse for a walk among the Gulbenkian gardens; keep your eyes peeled for art, since there are many temporary exhibitions there. While the kids are running around the garden, look out for the bird and tree of the month, announced at the Gulbenkian Foundation's website.
The architectural shapes of the Museum of Art, Architecture and Technology made an impact in the city in 2016, drawing big crowds to the Belém area. The crowds remain thick. Even if your kid is not yet old enough to take pictures of the beautiful curved building in the sunset, there is plenty for them to do there. Especially considering that those younger than 18 get in free of charge.
Even when there are no stars in the sky, you will find them in the Planetarium. Inside the 23-metre tall dome you will see constellations, stars, moons, planets, nebulas, galaxies and other wonders of the cosmos. Free admittance for children aged 0 to 3.
Always free for children, on Sunday mornings parents don't need a ticket either. Beyond temporary exhibitions, the permanent collection has treasuries of Portuguese archaeology and enigmatic Egyptian artefacts waiting to be discovered.
Entering a bookshop is free, no matter how trendy the bookshop is. If you haven't taken your kids to Ler Devagar, inside the Lx Factory compound, we suggest you do it quickly. We can't promise you they'll turn into bookworms, but at very least they will ask about riding the flying bike.