London's best American restaurants
Are you craving an all-American feast? Tuck into hearty, meaty and mouthwatering food at these restaurants flying the star-spangled banner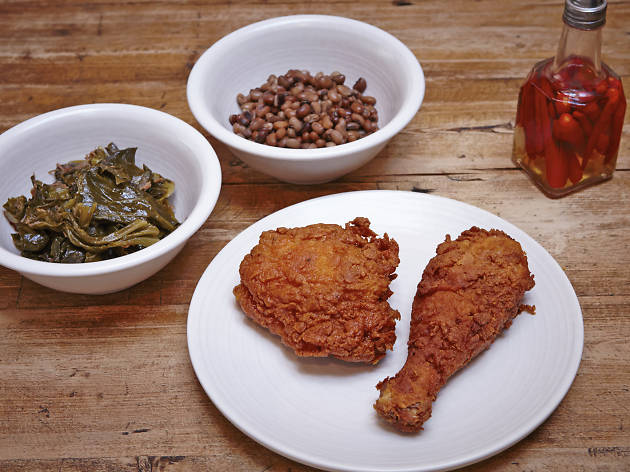 American restaurants in London bring out the best in the sought-after cuisine of the US. Think burgers, barbecue, hot dogs, ribs and other delicious forms of meaty goodness and you're on the right track. But read our list below and you'll discover there's so much more to US cuisine, especially when it's done to a tee in London restaurants. Can't find your favourite in our list? Let us know in the comment box below.
RECOMMENDED: The best restaurants in London for...
Find the best burgers in London
The burger bandwagon rolls on and on. But which ones are the trailblazers, leaving the rest for dust? Here are the best ten in town (excluding the bigger chains, and in alphabetical order). Do you agree with the choices? Use the comments box below or tweet your suggestions.
Read more
Sponsored listing
Tang London
Tucked in between the Central YMCA and 24-hour diner VQ, Tang is a blink-and-you'll-miss-it Singaporean noodle joint specialising in dairy-free broth. You can choose between rice, glass or wheat noodles: a nice touch. Chinese newspapers plaster the walls and chef Chen Ng serves straight to communal wooden tables once diners have ordered at the counter.  The rich, spicy broth in a bowl of 'prawn tang' came with a generous dollop of caramelised onions and fat king prawns, though another bowl of gingery 'chicken tang' sadly lacked depth. Portions are huge but expensive (around £11 a pop), so it's best to forgo the pimp-my-soup protein extras (pulled pork ribs, six-minute-egg). If you're really starving, there are generous starters such as crisp battered black bean tofu, which comes piping hot with a tangy, homemade white miso dip; it's a moreish combo. On my Wednesday lunchtime visit, the place was deserted, but staff were sweet-natured and more accommodating than that YMCA next door.
Venue says: "The heat is coming in quickly! Don't worry, pair one of our local Juices from Kent with a cold noodle salad for under £10!"