London's best restaurants for business lunches
Plan a business power lunch or impress a client at these sophisticated London restaurants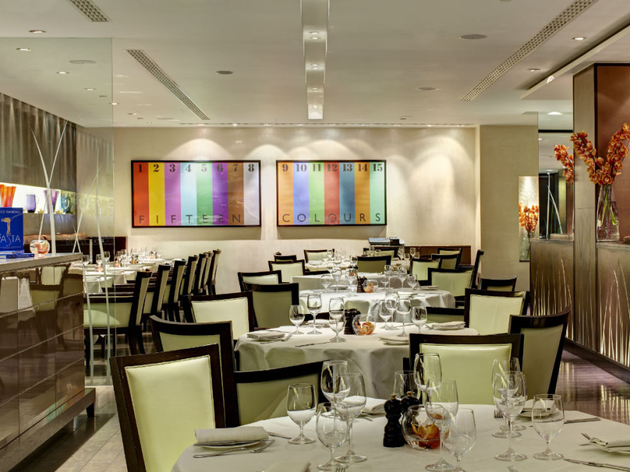 Looking for a place guaranteed to impress a boss or client, or a discreet destination to eat while discussing a deal? Here's our pick of the best places to wine and dine when there's business on the menu. Do you agree with the choices? Use the comments box below or tweet your suggestions.
Venue says: "Club Gascon special offers. Six-course dinner, £80. Two-course lunch, £32.50. Three-course lunch, £39.50."
It's not uncommon to hear big deals being discussed here. The food here is traditional to and inspired by the south-west of France
Book now
Read more
This Covent Garden brasserie offers a good balance of unpretentious food and highly-polished service
Book now
Read more
Venue says: "Best Italian Restaurant of the Year from the London Restaurant Awards."
You'll be in good hands at this hotel restaurant, which offers a menu of simple, produce-led Italian dishes
Book now
Read more
This Baker Street bistro, with its dark-panelled walls and classic French cooking and service, is a charming spot for lunch
Read more
This Russian-owned, New York-styled steakhouse in Mayfair is a classy destination for clinching deals over red meat and red wine
Book now
Read more
This is the place to impress business partners and clients, as the refined modern French dishes are consistently brilliant
Book now
Read more
This Covent Garden steakhouse is a top joint for power lunching, with its extensive menu of meaty delights
Book now
Read more
Find more recommended restaurants in London
Sponsored listing
Mimmo La Bufala
It's just as well portions are large here, as we enjoyed every last flavoursome bite of our meal. Mimmo La Bufala specialises in southern Italian food, with a bias towards mozzarella (of course) and fish. Daily specials might include classics such as osso buco. A starter of sautéed king prawns was deliciously fresh and juicy. Then followed a memorable pasta dish of orecchiette with fresh spinach, creamy ricotta and tangy sun-dried tomatoes – a perfect mix of complementary flavours. The long pizza list includes all the classics as well as seasonal variations such as tomato-free 'biancis'. We opted for 'Mimmo's pizza', named after the ebullient proprietor. In true southern Italian style, its thin base was topped with juicy tomatoes, smoky provolone and melt-in-your-mouth buffalo mozzarella before being baked in a wood-fired oven. This oven links the restaurant's two dining areas: a small but airy front room in white with shopfront-style windows, mirrors and chandeliers; and a larger, cosier space at the back with less natural light and a grand piano for occasional entertainment. Our main gripe is the lack of wines by the glass (only house red or white), but it's the food that is the draw.  
You might also like