London's best restaurants for pizza
Discover where to find seriously good pizzas in London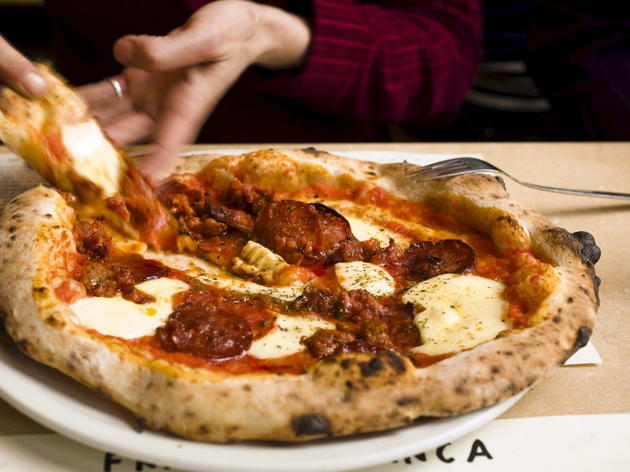 This delicious staple has been elevated far beyond its humble roots in London's Italian restaurants and beyond. So we've tried and tested the very best pizza to give you our top London pizzerias. Do you agree with our choices? Use the comments box below to let us know, or tweet us your suggestions.
Find more great fast food in London
The burger bandwagon rolls on and on. We've seen the rise and fall of hot dogs, ribs and kebabs, but the cravings for burgers in London never seem to die. Here, in our humble opinion, are the best burgers in town.
Read more
Sponsored listing
L'Oro di Napoli
There's a focus on traditional Neapolitan techniques at this pizzeria on Little Ealing Lane, in south Ealing. The dough is made by hand to a passed-down family recipe and pizzas are cooked in a wood-fired oven.   Toppings range from simple margheritas and marinaras to a Sophia Loren (tomato sauce, mozzarella, aubergines, olives, grilled peppers, olive oil and basil), a Maradona (Neapolitan sausage, wild broccoli, smoked scamorza and olive oil) and a calzone del Vesuvio filled with tomato sauce, mozzarella, ricotta, Neapolitan salame, ham, olive oil and basil.  Italian ice cream also features, alongside own-made tiramisu and profiteroles. Beers are from Moretti and Peroni, and the wines are all from Italy, too.