London's best restaurants for pizza
Discover where to find seriously good pizzas in London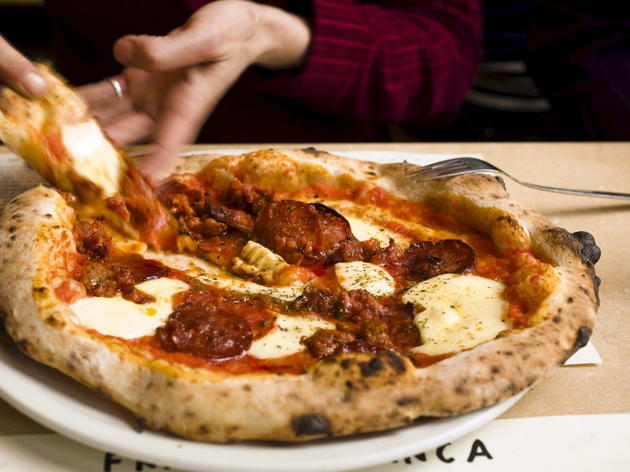 This delicious staple has been elevated far beyond its humble roots in London's Italian restaurants and beyond. So we've tried and tested the very best pizza to give you our top London pizzerias. Do you agree with our choices? Use the comments box below to let us know, or tweet us your suggestions.
Find more great fast food in London
The burger bandwagon rolls on and on. We've seen the rise and fall of hot dogs, ribs and kebabs, but the cravings for burgers in London never seem to die. Here, in our humble opinion, are the best burgers in town.
Read more
Sponsored listing
Lokhandwala
An Indian tapas restaurant from the team behind India's biggest food festival, The Grub Fest. The decor is extravagant, with big mirrors everywhere, elaborate decorative moulding and chandeliers.  This contemporary take on Indian dining is served on small sharing plates, but there are also a few intriguing mains to choose from, such as cottage cheese and cashew sauce pie, 'mish mash bun' with a mix of seasonal vegetables, and Yorkshire pudding with a cashew crust. Drinks come hot and cold, with boozey beverages encorporating spirits and wine mainly, with a ahdnful of beers and cider. If you're feeling adventurous or a bit rough, have a health shot – but these aren't the kind you get from the doc – these are like tiny smoothies containing almond milk, gooseberries, turmeric, ginger, poppy seeds and the like.
Venue says: "Brand new Indian tapas style restaurant and cocktail bar, open in Fitzrovia for lunch, dinner and cocktails!"