London's best restaurants for pizza
Discover where to find seriously good pizzas in London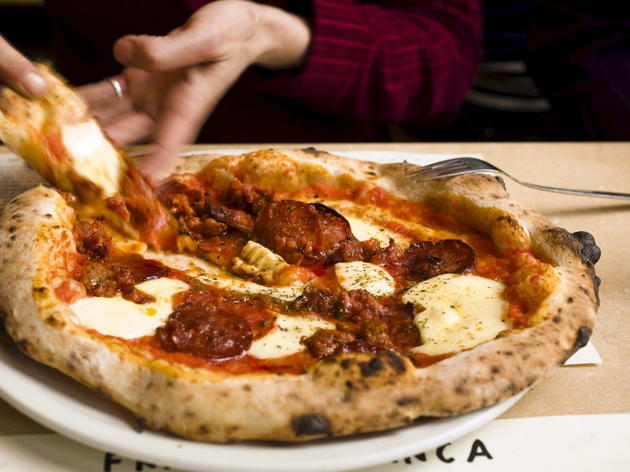 This delicious staple has been elevated far beyond its humble roots in London's Italian restaurants and beyond. So we've tried and tested the very best pizza to give you our top London pizzerias. Do you agree with our choices? Use the comments box below to let us know, or tweet us your suggestions.
Find more great fast food in London
The burger bandwagon rolls on and on. We've seen the rise and fall of hot dogs, ribs and kebabs, but the cravings for burgers in London never seem to die. Here, in our humble opinion, are the best burgers in town.
Read more
Sponsored listing
Wedge Issue Pizza
Neapolitan style-pizza and craft beer combine at this spacious Clerkenwell Road restaurant and bar. It's a combination that should do well around here. And the name? No idea. Answers on a postcard, please. The pizza selection looks good - think margharitas, quattro formaggis and calzone alongside Clerkenwell vegans (with peppers, courgette, aubergine, onions and artichoke) and a Calabrese with n'duja sausage, peppers, chilli and mozzarella. Gluten-free bases and pizza salads are available, too.   The beer selection is broad, too. Expect drops from Anspach & Hobday, Weird Beard, Pressure Drop and the East London brewery. Keep an eye out for three-hour happy hours, with beers, wines, soft drinks and starters all half price.