London events in June
Planning June in London? Here's your guide to the best events, exhibitions, parties and pop-ups taking place around the city in June 2018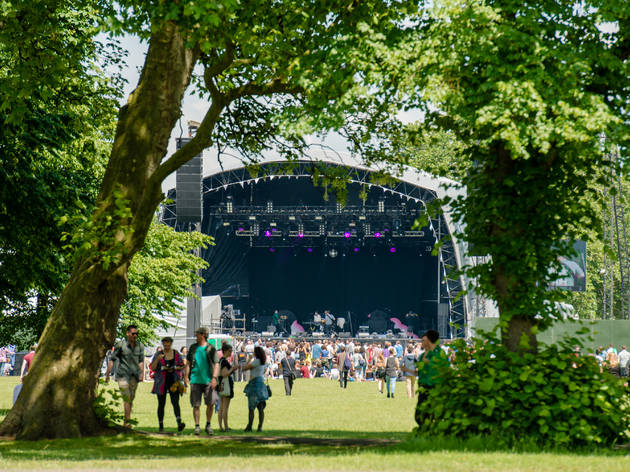 June is a downright joyful time to be in London. The sun (should be) officially out, our city's parks are lush and green and the music festival season is kicking off with many a great London festival proudly repping the capital. Even if you're not into glitter and glow sticks, there's still loads going on. In fact, there's enough to make you wish you had more than just 30 days to take it all in. Check out our June highlights below and we'll see you out there.
RECOMMENDED: The definitive London events calendar
June 2018 event highlights
This exhibition is dedicated to the incredible collection of personal artefacts and clothing belonging to iconic Mexican, Frida Kahlo. The items had previously been locked away for fifty years following the artist's death and none of them have been displayed outside of her native country. Expect some exceptional dresses and envy-inducing possessions.
Read more
You lucky Londoner: you don't need a tent or even a pair of wellies to get the full music festival experience.
Read more
Tina Turner has gone from R&B singer to 'Mad Max' movie star to living legend. Now, her life's being turned into a musical that's written by leading playwright Katori Hall.
Buy tickets
Read more
Over the last decade Field Day has slowly become one of London's very best music festivals. This year, for the first time in its history, it won't take place in east London's Victoria Park. But, they're bringing an absolute glut of stars down to Brockwell Park, for their first year in the south.
Buy tickets
Read more
This three-day festival has some jaw-dropping names acting as headliners: Bjork, LCD Soundsystem and The XX. Boom. Then there's the All Points East Presents series (June 1-3) – three one-day concerts led by three different acts: Nick Cave And The Bad Seeds, The National and Catfish And The Bottlemen. In between there are four days of community-driven entertainment on the site, with comedy, film screenings, street food and much more.
Buy tickets
Read more
Here you'll find a collection of over 100 objects ranging from futuristic smart appliances, satellites, and iterations of artificial intelligence to the more cutting edge aspects of internet culture. The intention is to showcase where we may be in the near future.
Read more
London Nights looks at the city after dark through contemporary and historical imagery, from the 19th century through to the present day. The exhibition will look at how photographers have captured the aesthetic of the city at night, present imagery depicting the darker side to capital and how Londoners live their lives after hours.
Read more
See Rodgers and Hammerstein's swoony love story set in 1860s Bangkok, where the King of Siam falls for his children's strait-laced Victorian governess. This Broadway revival comes to London with an impressive crop of reviews.
Buy tickets
Read more
Go on a journey back in time and study the stories behind the design of the most impressive ocean liners the world's ever seen. The Titanic, the Normandie, the Queen Mary and the Canberra all feature and the exhibition explores how and why these huge maritime feats of engineering and form still carry so much weight in our collective imagination.
Read more
This exhibition explores the early 'radical moment' of postmodern British architecture, focusing on works by key protagonists like Terry Farrell, Piers Gough and Jeremy Dixon and their buildings such as MI6, China Wharf in Bermondsey, and No. 1 Poultry in the City.
Read more
See four collaborations between artists and scientists, which are giving shape to intangible ideas. Installations by Martina Amati, Daria Martin, Maria McKinney and John Walter, will explore how artists can give shape to the human experience and provoke ideas about our senses.
Read more
This one's for everyone who's ever complained there's not enough 'proper drama' on the West End. This new bilingual version of Moliere's comedy from Christopher Hampton is set in Trump-era America.
Buy tickets
Read more
This opera mixes extravagant, challenging tunes with some riotous jazz numbers. So it's little wonder that Opera North's 2015 production landed some strong reviews for its mix of backstage silliness and sheer vocal power. Now, it's coming to ENO.
Buy tickets
Read more
Show more
Find great things to do all year round
London is a treasure trove of brilliant days out and activities worth boasting about. Find great new ways to fill your free time with this list of our favourite things to do in the capital.
Read more
Sponsored listing
Bar Story
You know those Shoreditch bars that have undergone a costly makeover to look so deliberately dump-like, it just seems desperate? They're everything Bar Story is not. This rough-around-the-edges dive bar tucked beneath Peckham Rye station doesn't care about pretence, and that's what makes it so damn great. It's not the biggest of boozers and the loos are a bit ramshackle, but boy, has this place got atmosphere. The spacious outdoor seating areas make it – I'd imagine – an ideal spot for alfresco drinking when the sun's out. That said, when we visited, cosy indoors environs filled with candles and low-lit lamps made it a welcome shelter from the snow. Cocktails are the main event, and I was piddled after just two of them. A Hemingway daquiri packed a fruity punch, while a whisky sour was refreshing and bitter-sweet. They're modestly priced between £6 and £8, or go between 6pm and 7pm and you'll snap up an extra drink for £2. Warm, freshly baked sourdough with olives and hummus was pretty tasty, but I had my eye on the thin-crust pizzas being devoured by other punters – a steal at no more than £9 each. Be warned though: service is slow and happy hour queues assemble quickly. It's not much to look at, but Bar Story is trendy without being stuck up, and its charm has clearly made it a go-to haunt for locals. If you're after booze, a buzz and a distinct lack of the posers you may get in other parts of town, this is a great place to start.