London events in June
The low-down on the best events, exhibitions, parties and pop-ups taking place around London in June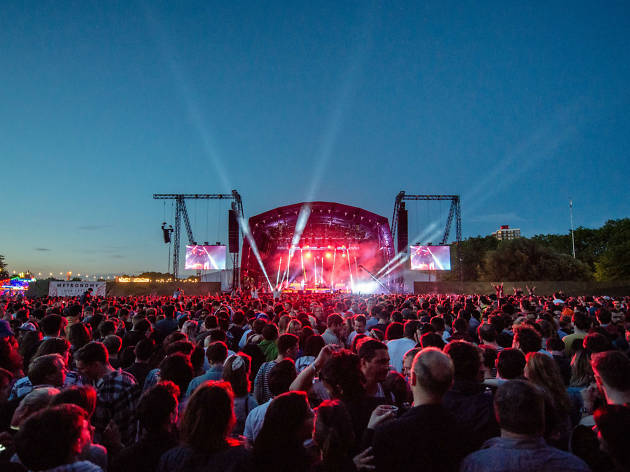 June is a downright joyful time to be in London. The sun is officially (hopefully) out, the Wimbledon Tennis Championships are in full force and the music festival season is kicking off, with plenty of great London festivals proudly repping the capital. But even if you're not into tennis balls or festival leggings, there's loads more going on – so much more. In fact, there's enough to make you wish you had more than just 30 precious days to take it all in. Check out our June event highlights below and we'll see you out there.
RECOMMENDED: The definitive London events calendar
Our June 2017 event highlights
Original concept art and models from Godzilla, Stargate and Dark City, original manuscripts by Jules Verne, new commissions and music, film and contemporary art come together in this huge summer exhibition capturing sci-fi as we know it. Objects from beloved films, including pieces from the Ray and Diana Harryhausen Foundation, tell the story of how the genre went mainstream, and how the sci-fi imagination has changed for the 21st century.
Read more
Over the last decade Field Day has slowly become one of London's very best music festivals, with a consistently excellent booking policy covering the world's finest alternative acts. The festival is more streamlined for 2017, pouring all the programming into one day – the Saturday.
Read more
Part of the Tate's ongoing shift towards showcasing artists from outside the well-trodden West, this is a retrospective of a Turkish artist who lived across 90 years of the twentieth century and travelled extensively across Europe, Asia and America.
Read more
Wow: based on the title on this exhibition, it sounds like Grayson Perry's feeling mighty full of himself. Or is it meant with a touch of irony? The cross-dressing artist – and one of Britain's most unlikely national treasures – tends to be either denounced as a twee middlebrow populist, or a razor-sharp commentator on the foibles of our society.
Read more
A protest against oil dependency and the way the cult of the car dominates contemporary life, World Naked Bike Ride Day is also an unfettered celebration of individuality of the bare body. Many people opt to go au naturel and bike in the buff, though full nudity is optional. But remember: while clothes are discouraged during the event, no one should get naked before the official start of the ride.
Read more
Compared to the rest of the city, the west London music scene sucks… right? Not necessarily – check out this nifty one-day festival, spread across five Shepherd's Bush venues that (unless you're a local) you've probably never been to. Break out of the north/east London rut and give it a go.
Read more
Taste of London is a sprawling restaurant festival, where visitors can stuff themselves with food from a selection of 40 up-and-coming new eateries and popular old-hands. There's more to be announced, but restaurants already confirmed include Kricket, Oldroyd, Aster, Pizarro, Roka, Vanilla Black and Ember Yard, with appearances by chefs as auspicious as Tom Kerridge, José Pizarro and Vivek Singh.
Book now
Read more
These giants of UK music bring their baggy indie swagger to London for raucous Madcunian dance rock anthems. Expect to hear all the classics and some newer tunes to boot.
Read more
Open Garden Squares Weekend returns for 2017, once again featuring more than 200 gardens across 27 boroughs for visitors to enjoy. Lose yourself in some gloriously green London spaces that are normally hidden away.
Book now
Read more
If you're planning to pamper and preen dad then you've come to the right place, or if the best way to treat your old man is with gourmet grub, we've got more suggestions than you can shake a triple-cooked chip at.
Read more
The Thameside arts institution will be hosting an olfactory extravaganza this summer, bringing together a number of contemporary perfumiers who are pushing their scents in new, exciting and occasionally rather whiffy directions. Within the show there'll be a perfume laboratory, where visitors can not only see various fragrances being made, but also concoct their own.
Read more
Dutch designer Jongerius will be created an installation-based exhibition that builds on years of her company's research into how we see, encounter and process colour.
Read more
Art exhibitions this June
Gigs in London this June
Brilliant Anglo-Hungarian jazz songwriter Williams leads this regular classy jazz and R&B vocal night, with high profile singing stars dropping by for the odd guest spot. Always a fun atmosphere, it's a great night to check out the iconic Soho club and hear some always-virtuosic vocal displays.
Read more
Abba. Junk food. Watching Jeremy Kyle. Thwacking dawdlers on Oxford Street over the back of the head with a copy of Time Out. We've all got our guilty pleasures, and this hugely fun night celebrates the musical side of them. It's a high-quality but ultimately cheesy party of pop, disco, dance tracks, R&B and soft rock, where you can hear anything from Hanson to Haim to Soft Cell to Whitney to Beyoncé, accompanied by dancers, live acts cabaret performers, balloons and a lot of glitter Leave your hipster credentials at the door, dress up and get guilty!
Read more
Over the last decade Field Day has slowly become one of London's very best music festivals, with a consistently excellent booking policy covering the world's finest alternative acts. The festival is more streamlined for 2017, pouring all the programming into one day – the Saturday. Aphex Twin has already been announced as the headliner, playing his first live show in the UK in almost a decade. The bill regularly incorporates everything from weird pop and indie up-and-comers to underground dance producers and folk musicians. Book now: it usually sells out. Line-up includes: Aphex Twin, Run The Jewels, Arab Strap, Death Grips, Flamingods, Nicolas Jaar, Nina Kraviz, Slowdive, Mura Masa, Abra, Clams Casino, Lasy Leshurr, Thee Oh Sees
Read more
The award-winning singer-songwriter and guitarist performs songs from his third album Divide which is out on vinyl.
Read more
The Big Daddy of UK festivals is back, taking over a chunk of Somerset with music, mischief, hippies, healing and a lot of cider. It's difficult to convey quite how vast Glasto is, with whole worlds of activity taking place outside the arena as well as an awe-inspiring musical line-up ranging from pop to reggae to rock to dubstep to metal to folk to techno. The big headliners are Radiohead, Foo Fighters and Ed Sheeran. But if you're lucky enough to have bagged a ticket then bring an open mind and a sense of humour, and prepare for the usual transcendent dose of mayhem, madness and (did we mention already?) mud. RECOMMENDED: Read our guide to getting Glastonbury tickets   
Read more
Axl Rose and his merry crew return. They'll be playing cuts from their most recent release but of course it's the classics that'll really get the place hopping. 'Paradise City', 'Sweet Child o' Mine', 'November Rain' and 'Mr Brownstone' will certainly be amongst the highlights, as will the fact that Rose has left his white cycling shorts at home.
Read more
These giants of UK music bring their baggy swagger to London for raucous Madcunian dance rock anthems. 
Read more
Jazz-funk night, each week welcoming different special guest sets upstairs at this infamous jazz club.
Read more
Erol Alkan, Horse Meat Disco, Levon Vincent, The Black Madonna, Matthew Herbert, Helena Hauff. Hidden away in the lush Welsh woodlands, this boutique dance effort continues to go from strength-to-strength. Now in year eight, it continues to offer a stellar mix of DJs and artists for anyone who likes their beats and bass to be strictly alternative. Get ready to roam through the forest and dance long into the night, accompanied by a delightfully eclectic soundtrack (anything from deep house to disco to Afrobeat to electronica). Those who want a little luxury can even shell out for boutique camping.
Read more
The Camden Crawl is long gone (RIP) but there's still a festival where you can catch loads of bands turning it up to 11 across north London's sticky-floored rock 'n' roll wonderland. Camden Rocks is a newish hard rock and metal festival which brings more than 200 bands (a mix of big names and underground talent) to 25 venues around NW1. This year's line-up includes The Damned, Orange Goblin and Ruts DC.
Book now
Read more
Kit Hesketh Harvey, three-decade veteran of Kit and the Widow, is back with his accompanist, the composer-pianist James McConnel. Prepare for erudite Cowardesque ditties, impeccable delivery and a dash of filth.
Read more
Calling all techno heads: this newish festival returns for 2017 to push your party buttons, hard. Junction 2 is a meeting of some pretty serious minds (London Warehouse Events, The Hydra and Adam Beyer's Drumcode label) and takes place in Boston Manor Park in Zone 4, which has never been used for a festival before. The initial line-up includes Tale Of Us, Planetary Assault Systems and a live set from Recondite – check back soon for more names. This year Sonus Festival will bring their Croatian know-how as hosts of the main stage this year plus a new fifth stage has been announced to focus on new talent. And if you're left wanting more at the end of the festival - don't worry, there's an afterparty over in East London.
Read more
You don't need to be a soft rock aficianado to adore Phil Collins' ability to crack out a winning tune. Big Philly will kick off  British Summer Time 2017 by firing through his canon of hits including 'Another Day In Paradise', 'Easy Lover', 'Against All Odds', 'A Groovy Kind of Love'. Just imagine the groundswell of emotion as 'In The Air Tonight' plays out across Hyde Park. Take a lighter.
Read more
Show more
Find great things to do all year round
London is a treasure trove of brilliant days out and activities worth boasting about. Find great new ways to fill your free time with this list of our favourite things to do in the capital.
Read more