London events in June
The low-down on the best events, activities and cultural happenings taking place around London in June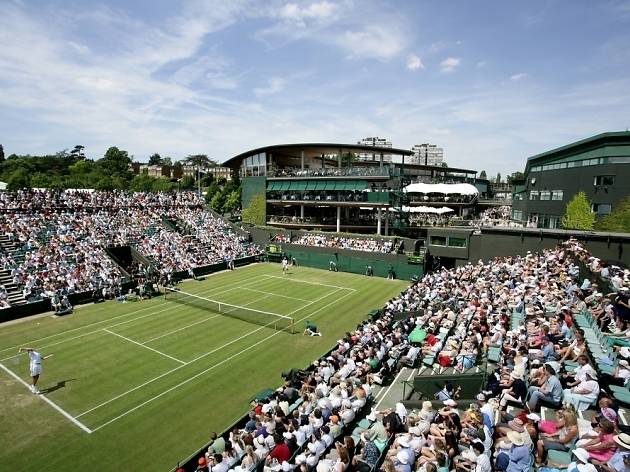 June is a pretty joyful time to be in London. The sun is officially (hopefully) out, the Wimbledon Tennis Championships are there to be enjoyed – in person or at one of the city's outdoor sports screens – and music festival season is kicking off, with plenty of great London festivals proudly repping the capital.
And even if you're not into tennis or festivals, there's more going on – so much more. In fact, there's enough make you wish you had more than just 31 precious days to take it all in. Check out our highlights below.
RECOMMENDED: The definitive London events calendar
Our June highlights
1
Over the last decade Field Day has slowly become one of London's very best music festivals, with a consistently excellent booking policy covering the world's finest alternative acts. The festival is more streamlined for 2017, pouring all the programming into one day – the Saturday. Aphex Twin has already been announced as the headliner, playing his first live show in the UK in almost a decade. The bill regularly incorporates everything from weird pop and indie up-and-comers to underground dance producers and folk musicians. Book now: it usually sells out. Line-up includes: Aphex Twin, Run The Jewels, Arab Strap, Death Grips, Flamingods, Nicolas Jaar, Nina Kraviz, Slowdive, Mura Masa, Abra, Clams Casino, Lasy Leshurr, Thee Oh Sees
Read more
3
At first glance, Wolfgang Tillmans's photographs look almost throwaway. His subjects are so varied – friends, foliage, oceans, genitals – that you'd be forgiven for thinking he doesn't give them any thought. But take a step back, and you realise you're looking at one of the most distinct bodies of photographic work of contemporary times. Tillmans asks fundamental questions about how we perceive and deal with the world – and recently, with the pro-Remain posters he created ahead of the EU referendum, the political urgency in his work has come to the fore. This Tate blockbuster is one you won't want to miss.
Read more
4
If you're planning to pamper and preen dad then you've come to the right place, or if the best way to treat your old man is with gourmet grub, we've got more suggestions than you can shake a triple-cooked chip at.
Read more
5
Wolfgang Buttress' 17 metre high, 40 tonne installation already wowed audiences in Milan and now it's setting up home in Kew Gardens for the summer. Visitors can stand, lie or sit within the massive lattice structure as thousands of LED lights flicker and an orchestral arrangement plays, triggered by the activity of bees in a nearby hive. The music has been specially composed to mimic a bee's singing voice, namely in the key of C.
Read more
6
Compared to the rest of the city, the west London music scene sucks… right? Not necessarily – check out this nifty one-day festival, spread across five Shepherd's Bush venues that (unless you're a local) you've probably never been to. Break out of the north/east London rut and give it a go.
Read more
7
These giants of UK music bring their baggy indie swagger to London for raucous Madcunian dance rock anthems. Expect to hear all the classics and some newer tunes to boot.
Read more
8
The Camden Crawl is long gone (RIP) but there's still a festival where you can catch loads of bands turning it up to 11 across north London's sticky-floored rock 'n' roll wonderland. Camden Rocks is a newish hard rock and metal festival which brings more than 200 bands (a mix of big names and underground talent) to 25 venues around NW1. This year's line-up includes The Damned, Orange Goblin and Ruts DC.
Book now
Read more
9
Calling all techno heads: this newish festival returns for 2017 to push your party buttons, hard. Junction 2 is a meeting of some pretty serious minds (London Warehouse Events, The Hydra and Adam Beyer's Drumcode label) and takes place in Boston Manor Park in Zone 4, which has never been used for a festival before. The initial line-up includes Tale Of Us, Planetary Assault Systems and a live set from Recondite. And if you're left wanting more at the end of the festival - don't worry, there's an afterparty over in East London.
Read more
10
Officially confirmed as the eigth Harry Potter adventure, 'Harry Potter and the Cursed Child' picks up immediately after 'Harry Potter and the Deathly Hallows' this epic two-part stage play by JK Rowling, Jack Thorne and John Tiffany is the eighth official Harry Potter adventure, and follows the adventures of both a middle-aged Harry and his son Albus as starts life at Hogwarts.
Read more
11
Axl Rose and his merry crew return. They'll be playing cuts from their most recent release but of course it's the classics that'll really get the place hopping. 'Paradise City', 'Sweet Child o' Mine', 'November Rain' and 'Mr Brownstone' will certainly be amongst the highlights, as will the fact that Rose has left his white cycling shorts at home.
Read more
12
Following on from the popular Gin Journey Shoreditch tour comes its Bermonsey-based sister. Join mixologist Leon Dalloway on an exploration of Bermondsey's connection to Mother's Ruin from its turbulent history to its vibrant present. Visit state of the art distilleries Jensen's and VICTORY Gin, drink in hidden bars, sample premium gins and crafted gin cocktails, and pick up loads of gin-based knowledge. Advance booking required. See venue website for details.
Read more
13
Open Garden Squares Weekend returns for 2017, once again featuring more than 200 gardens across 27 boroughs for visitors to enjoy. Lose yourself in some gloriously green London spaces that are normally hidden away.
Book now
Read more
14
Nothing prepares you for the sheer impact of 'The Lion King's opening sequence. With the surge of 'Circle Of Life' reverberating through your chest, Julie Taymor's animal creations march on, species by species. For a global blockbuster, 'The Lion King's absolute theatricality is astonishing.
Book now
Read more
15
The latest play from the bogglingly prolific and talented team behind 'The Play That Goes Wrong' is their best and funniest work yet. A genre pastiche, screwball comedy and classic farce that's as clean and clear as its brassy branding, it spins with a manic energy from Two Ronnies-esque wordplay through surreal set-pieces to slapstick stunts prepped to bring the house down.
Book now
Read more
16
You know that fantasy you have when life gets difficult, the one about running away to the circus? Yes? Then I'm afraid I have some bad news: joining the circus is really, really hard work. The workshops offer a taste of circus basics. The acrobatics session begins with the dreaded star jumps and culminates with handstands against a wall. The big draw for most people is the trapeze. Turns out the circus is no place for a fitness-phobe. For less lazy types, though, this is a fantasy come true.
Read more
See what's happening this July
Art exhibitions this June
Find great things to do all year round
London is a treasure trove of brilliant days out and activities worth boasting about. Find great new ways to fill your free time with this list of our favourite things to do in the capital.
Read more
Sponsored listing
Apollo
New restaurants are opening all the time in Stoke Newington, and here's another: an authentically Neapolitan pizza place on the High Street. When it comes to pizza, Londoners are an educated bunch these days – a stuffed-crust meat feast doesn't quite cut it. If you don't have the requisite brick wood-fired oven, the sourdough crust, the imported tomatoes and cheese, cook something else. Here in Apollo, the owners have done their homework. The oven, shipped from Naples, probably took the bulk of the refurbishment budget. And you might think they had to pinch pennies on decor –  the restaurant takes the DIY look to new levels. But you probably won't notice the bare plasterboard walls or the functional cable ducting, because the pizzas are so good. The chefs use their Neapolitan hardware to great effect, turning out thin, flash-cooked pizzas with still-runny tomato sauce and minimalist toppings (quality sausages, pecorino, porcini and chestnut). And they're surprisingly inexpensive. A couple of local craft beers, some prosecco and wines, and a few classic Italian aperitivo mixes make up the drinks. There are a couple of salads and starters, too. And there's very jolly service. But the eyes will be on the pies (and the prices).
"Pizza brunch? You heard right! Sat and Sun, 10.30am to 4pm. Enjoy new dishes like our shaksuka pizza pie plus, of course, bloody marys."
Stoke Newington
Online booking