Cheap Melbourne: Kids
Treating the young 'uns to a fun day out doesn't need to break the bank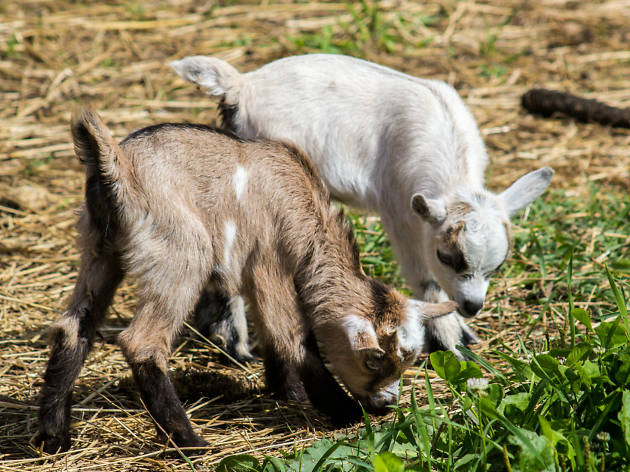 Despite being only half a human, kids take an awful lot of money to raise. And that's before you even start thinking about all the extra-curricular costs. At least you can entertain your kids on the cheap. Around Melbourne there are plenty of free and inexpensive activities to delight the little ones. Vanquish the cries of "I'm bored" without having to break the bank with these top cheap children's activities.
While you're at it, check out the best playgrounds in Melbourne, plus 25 things to do for under $25 in Melbourne.
Cheap kids activities in Melbourne
The first Sunday of every month is all about free family fun at ACMI, where young movie buffs and budding filmmakers can learn to wield lightsabers, create animations and videos and watch films in the cinema.
Attractions, Parks and gardens
Located in the patch of green where the former Children's Hospital lived, this park is overrun by rocky terraces, slides, swings and climbing ropes, perfect for little monkeys. Bonus: there's beautiful trees, gullies and grasslands to explore, plus some pretty nice city views.
Admission is free for kids on weekends and the school holidays – so what's stopping you from hanging out with the orangutans, elephants, butterflies, lions and reptiles?
Entry to Melbourne Museum is free for children meaning they can check out the specially designed Pauline Gandel Children's Gallery for zip, zilch, nada. They'll need an adult to accompany them of course which will set you back $14 but also gives you access to the entire museum.
This rural oasis hidden in inner Melbourne gives kids the chance to milk cows, pat guinea pigs and learn about the day-to-day running of a real farm. Entry for children is $5 and $10 for adults, or get a family ticket (two adults and up to four children) for $20.
This huge playground features a flying fox, trampolines, a wooden maze, giant ship and a castle. There's a barbecue area so bring a picnic and make a day of it.
Things to do, Classes and workshops
At this fun story time session, toddlers aged 18 months to three years get involved in bringing books to life with songs, music and games. Stompers runs sessions across libraries throughout the city – visit the City of Melbourne website for the full list.
Take your northside rugrats to Fitzroy Adventure Playground, known to locals as Cubbies. This was the first adventure playground built in Australia (it dates to 1974) and is a haven for inner city kids who don't have access to a large backyard to play freely in. Plus it's free to enjoy.
Kids enter for free at Spotswood's interactive children's museum, designed to instil a lifelong fascination for science and technology. It's well worth paying extra for a mind-expanding planetarium show as well.
Or sit them down with a hot chocolate
Fed up with tuts every time you park your pushchair at a latte dealer's? Here are six cafés happy to see you...
More thrifty thrills in Melbourne
No money? No problem! We've pinched our pennies to bring you the ultimate guide on how to eat, drink and have a great time in Melbourne on a budget.