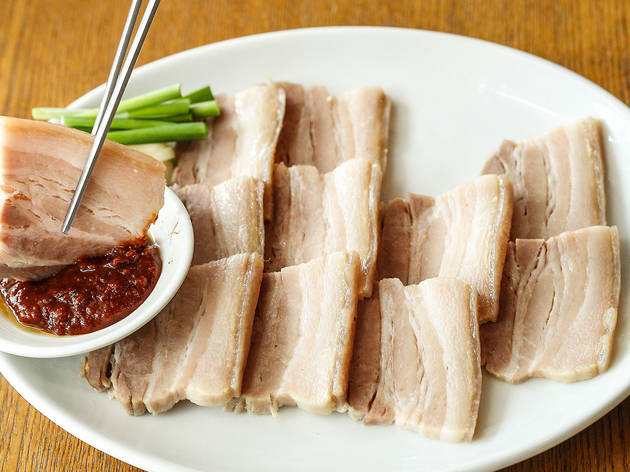 Best Cheap Eat: Time Out Food Awards 2019
Be initiated into the ecstatic secret of real Korean pork-based comfort food
First, an apology to Mr Lee's cult of devoted followers. Anointing it our cheap eats champ of 2019 is only going to increase the queues outside this unassuming little Ringwood East shop, which means you'll probably have to get there even earlier to grab the first of 20-odd seats at service kick-off. We are sorry. But we are equally not sorry. Greater Melbourne deserves to know what lies within these walls.
And sorry, vegos, because this one is most definitely not for you. A housemade soondae (Korean blood sausage), steamed pork belly and dwaeji guk bap (pork soup with rice) are the only things on offer on the menu of owner and chef Young Ju Lee. Mr Korean Real Deal, he only recently started offering a menu in English and doesn't bother with modern affectations such as a website, so busy is he with his restaurant and wholesaling to Korean grocers. It's reason to love him immediately, but when you get into the soondae you'll love him even more. This South Korean contribution to the blood sausage canon results in fragrant slices of mild-flavoured, bouncy sausage with steamed slivers of liver and fatty intestine riding shotgun, ready to be dipped in a roasted sesame salt or an umami bomb of salted, fermented baby shrimp.
Sound niche? You must be a pork fan, certainly. But to try it is to be delighted. And if you're more at the gateway drug stage of Korean food appreciation, go for the steamed pork belly to dip into doenjang (soy bean paste) luscious with sesame oil, or to freshen up with garlic chives and shavings of raw garlic. Or the soup, which is pure Korean penicillin with milky pork broth and wheat noodles. Whichever road you take, Mr Lee's puts extra bang in your buck with bottomless side dishes of kimchi and chillies. There's a whole new world waiting at the end of the Eastern Freeway. Broaden your horizons.
See all the winners
The Time Out Food Awards lets us celebrate Melbourne's champions of the restaurant scene – and throw a party to remember. Here are all the winners from the hospitality scene's night of nights.
Best selling Time Out Offers