Best Cheap Eat: Time Out Food Awards 2018
Our 2018 cheap eats champ brings a new flavour to Melbourne: the 24-hour diner that doesn't suck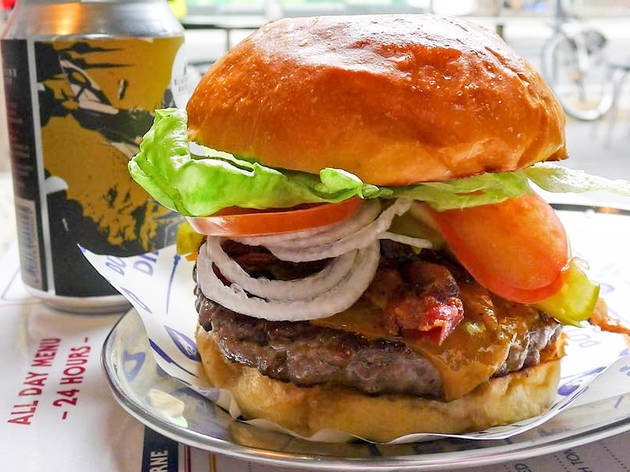 You can get a thoroughly decent cheeseburger at Butchers Diner. You can eat your fill of springy offal yakitori or Sichuan duck, twice- cooked to extreme crunch, the fat cut with chilli sauce and pickles. The blood sausage and lightly curried egg tucked into a soft bap roll makes for a deeply satisfying combination. But the best part? They're yours for the ordering at 3pm or 3am. Brought to a grateful city by Con Christopoulos, a man blessed with unnatural perspicacity when it comes to predicting the whims of the public, Butchers Diner never closes and just keeps singing its sweet song in the key of meat around the clock. Can't be bothered looking out the door to check if it's day or night? A hint: if they're serving buttermilk pancakes with maple syrup chased by filter coffee, it's probably morning. But the appeal of a steak sandwich chased by charry, tahini-lavished broccoli defies the construct of time. What's more, eating here won't break the bank. A cheese toastie is $7. Most dishes provide an excess of calories and comfor t for sub-$20. Yes, it's been a good year for Melbourne as we rise to become Australia's city that never sleeps.
We also love...
Take the tom yum challenge at this Thai street-food paradise – and win eternal boasting rights.
A spice-tastic southern Indian menu brings new life to the Rochey.
Still vegan, now Italian. Pass the faux parmesan (parmasham?).
See all the winners
The Time Out Food Awards lets us celebrate Melbourne's champions of the restaurant scene – and throw a party to remember. Here is all the winners from the hospitality scene's night of nights.