Things to do in Melbourne in December
December's best events in one place – it's your social emergency saviour for fun things to do in Melbourne in December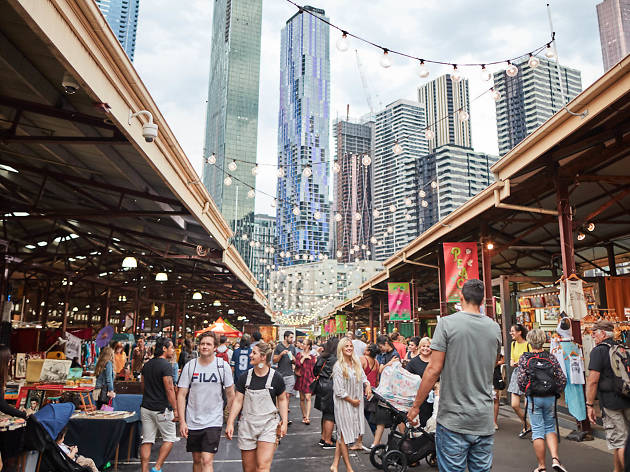 Wondering what to do in Melbourne in December? We can help. Check out our guide to all the fun things to do in Melbourne, from free events to exhibitions, theatre shows, live music and more. For rainy days, consult our guide to Melbourne's best indoor activities instead.
Kids, Exhibitions
Melbourne Central, Melbourne
Did you know that 2018 marks Mickey Mouse's 90th anniversary? To celebrate this major milestone, Disney has announced a big art exhibition opening in Melbourne this summer that will honour the cartoon mouse's legacy. The Mickey-inspired art exhibition will be unveiled at Melbourne Central's Shot Tower on Saturday, November 17 and stick around all summer. The exhibition will include the work of 90 different artists who have created 90 original pieces all celebrating Mickey and his ongoing footprint (or should we say ear-print?) The exhibition has been produced by Radio Velvet and includes work from a host of local and international talent. For the super fans, there will also be a range of Mickey-inspired merchandise for sale at the Arthouse.
Kids
Royal Botanic Gardens Victoria, Melbourne
Summer in Melbourne means a few reliable things. It means the Boxing Day Test at the 'G, it means there will be a run of unbearable weather, it means the British backpackers turning a pleasant shade of tomato on St Kilda Beach, and for Melbourne's children, it means The Wind in the Willows at the Royal Botanic Gardens. The Australian Shakespeare Company's production of The Wind in the Willows has been playing in the same spot since 1987, and Melburnians who saw it as children are now bringing their own kids along to enjoy the timeless classic. Children can participate in the show, with Head Chief Rabbit teaching young attendees how to become rabbits themselves by waggling their ears and wiggling their noses. There are singalong songs and participation aplenty, so even the smallest theatregoers will be charmed. Pack a picnic and start creating a tradition for your own kids to tell their kids about.
Kids
Arts Centre Melbourne, Southbank
Something very long, very colourful and very hungry is coming to the Arts Centre Melbourne for a limited season. The Very Hungry Caterpillar Show brings Eric Carle's classic children's picture book to life on stage in a masterful theatrical performance. Tots and tykes will watch wide-eyed as the Arts Centre Melbourne uses a veritable menagerie of colourful puppets (there's 75 in total) to recreate the much-loved book. Since it was first published in 1969, the gluttonous caterpillar has delighted children as it ate its way through one apple on Monday, all the way through to its junk food feast on Saturday. As well as watching Carle's famous caterpillar eat and (spoiler alert) grow into a beautiful butterfly, The Very Hungry Caterpillar Show also enchants children with faithful adaptations of three more of the author's picture books: The Artist Who Painted a Blue Horse, The Very Lonely Firefly and Mister Seahorse. The Australian-made theatre production lifts Eric Carle's dainty, tissue-paper collage illustrations off the page with the help of New York puppet studio, Puppet Kitchen. The show has been created by Jonathan Rockefeller (a past protégé of Australian director Baz Luhrmann) and directed by Naomi Edwards (who previously directed a children's opera titled When Moon Dust Falls). The Very Hungry Caterpillar Show will take to the stage at Playhouse for five days only from November 28 to December 2. The 50-minute show is best suited for children aged three to eight. Th
See what's on this weekend in Melbourne