Things to do in Melbourne in December
December's best events in one place – it's your social emergency saviour for fun things to do in Melbourne in December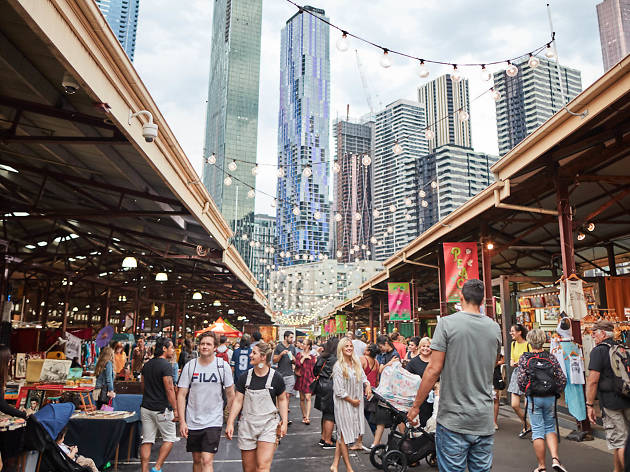 Wondering what to do in Melbourne in December? We can help. Check out our guide to all the fun things to do in Melbourne, from free events to exhibitions, theatre shows, live music and more. For rainy days, consult our guide to Melbourne's best indoor activities instead.
Things to do, Classes and workshops
The Cake Bake and Sweets Show is a weekend for keen bakers, pastry cooks and cake decorators to share their talents and treats. The Melbourne Convention and Exhibition Centre will be buzzing with live demonstrations by celebrity chefs showcasing their signature desserts using state-of-the-art baking technology. Incredible professional bakers will teach visitors how to recreate some absolutely jaw-dropping sweets, with techniques such as fondant rolling, cake painting and creating edible figurines. At Kids in the Kitchen, budding bakers can also pick up a trick or two. If you're less of a baker and more of an eater, you will be able to shop for your favourite treats to take home.
Things to do, Food and drink
If you've got a while to go before payday but you're craving some fine food then let us introduce you to Burma Lane's Cheap Date Mondays. Every Monday Burma Lane do two-for-one 'feed me' banquets. That means you get enough food for you and a mate on Burma Lane's $39 or $50 lunch menus, or on their $69 or $85 dinner menus. It's one of the best ways to indulge in fun modern Asian dishes without blowing your budget. Start your week right with a cheap dinner date at Burma Lane. To take advantage of this economical offer make sure you mention it at the time of booking.
See what's on this weekend in Melbourne
Fitzroy's Laundry Bar is a stalwart of Melbourne's late night club scene and their Thursday night party – fittingly titled No Frills – will have you Drake-dancing into the wee hours of Friday morning. This mid-week party boasts free entry and drinks specials including $5 vodkas and $15 jugs. They'll be playing the best rap, R'n'B and hip hop going round, so expect anything from top 40 bangers to old school sing-a-longs.
Did you know Bon Jovi formed 35 years ago? The hair rockers have been performing just about nonstop since 1983 and never say goodbye. And they are returning to Australia in December in support of their latest album, This House is Not for Sale. They were last here in 2013, though without founding guitarist Richie Sambora, quit the band in a huff during the Canadian leg of the tour. Sounds like bad medicine to us. He was replaced with Phil X, who will be performing during this tour and is now an official member of the band. In 2013 Bon Jovi played Etihad Stadium (soon to be Marvel Stadium), which has a capacity of about 50,000 people. This time they're kicking it up a notch, playing the world-famous Melbourne Cricket Ground, which can hold 100,000. The 2013 setlist included plenty of bangers, including of course 'You Give Love a Bad Name', 'Bad Medicine', 'Livin' on a Prayer' and 'Lost Highway'. Fingers crossed this show will be just as rocking. Keep the faith.
The late '90s and early noughties was the golden age for dance anthems and for a lot of us, those Ministry of Sound mixes still have a very special place in our hearts. Admit it, you've probably got hazy memories of dancing to The Shapeshifter's 'Lola's Theme' or waiting for that drop in Tiesto's version of 'Adagio for Strings' (I don't care what you say, it's a massive tune). The Ministry of Sound-era hits may not be getting much airtime in clubs these days, but these certified bangers will be getting a 'classy' upgrade this summer at Ministry of Sound's Orchestrated concert, where your favourite club tracks from the past 25 years are going to be performed with a live symphony orchestra. The Orchestrated tour will be landing in Melbourne on December 9 at Margaret Court Arena. Expect to hear dance anthems by Fatboy Slim, Eric Prydz (wear your best leotards for that one), and Robert Miles. The show will feature guest vocalists including Sam Sparro ('Black and Gold'), Alison Limerick, and Crystal Waters. The first run of Orchestrated concerts last year sold out, so you'll want to get in quick when general public ticket sales open at 10am on Monday, August 6.
See what's on this weekend in Melbourne