Things to do in Melbourne in March
March's best events in one place – it's your social emergency saviour for fun things to do in Melbourne in March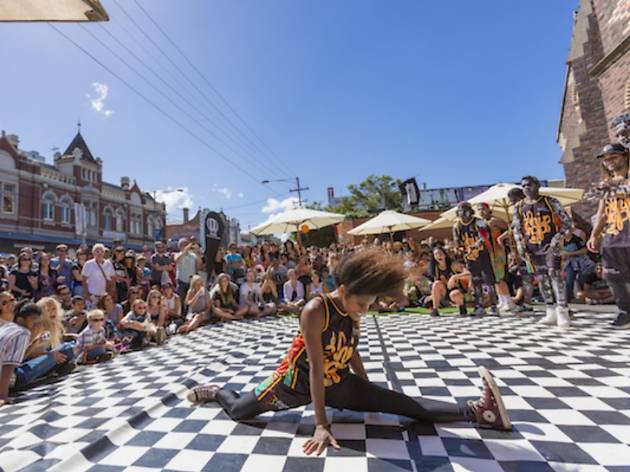 Wondering what to do in Melbourne in March? We can help. Check out our guide to all the fun things to do in Melbourne, from free events to exhibitions, theatre shows, live music and more. For rainy days, consult our guide to Melbourne's best indoor activities instead.
At long last Melbourne muggles will be able to get a glimpse inside JK Rowling's Wizarding World with their own two eyes: Harry Potter and the Cursed Child is headed to the Princess Theatre. After becoming the highest selling play on both Broadway and the West End, Melbourne is the third stop on the Hogwarts Express. The official opening is set for February 23, 2019, but there'll be preview performance from January 16. The preview schedule will be announced soon. If you don't know a lot about the play, then here's the lowdown: it's a sequel to the series, based on a story written by Rowling herself and adapted for the stage by Jack Thorne. It's presented in two parts, which you can watch on the same day or across two consecutive evenings. We won't give too much away about the plot, but audiences can expect to find the gang 19 years on from the Battle of Hogwarts. While Harry himself grapples with the troubles of his past, his son Albus deals with living in the shadow of his famous father. The play won a record-breaking nine Olivier Awards in London and six Tony Awards in New York. It's also received rave reviews from just about every major publication in both cities. Time Out New York said: "Harry Potter and the Cursed Child is haunted by death and pain; it is often suspenseful and sometimes downright frightening. Yet amid the cinematic tumult and dazzle of the densely action-packed plot, Thorne and Tiffany carve out quiet scenes of intimacy and tenderness. Great car
Muriel moved from Porpoise Spit to the big lights of Sydney for her world premiere in November 2017 and now she's finally headed to Melbourne's Her Majesty's Theatre from March 2019, before heading back to Sydney in June. The musical was adapted for the stage by PJ Hogan, who wrote and directed the original 1994 film starring Toni Collette. It features an original, Helpmann Award-winning score by Kate Miller-Heidke and Keir Nuttall, which Time Out Sydney described as "irresistible" (seriously, we challenge you to leave without humming one of the tunes). But ABBA fans needn't worry about the prospect of an original score – the Swedish supergroup's songs and spirit are threaded through the whole show. Casting is still underway for the upcoming tour. Maggie McKenna, who played Muriel in the original Sydney production, has recently scored a role in the US tour of Dear Evan Hansen. She won't be reprising her role, but other actors are expected to return. The original production of Muriel's Wedding The Musical was produced by Sydney Theatre Company and Global Creatures, who were behind the Strictly Ballroom and King Kong musicals. We fell head over hells in love with the show when it premiered and we're willing to bet Melbourne will too. To put it simply, it's the best Australian musical to premiere in years. It's distinctively homegrown but with plenty of flair and great laughs. And it's directed by Simon Phillips, who did Priscilla, Queen of the Desert and just about every ot
Last in Melbourne in 2009, Broadway smash Jersey Boys is back in 2018 with an Australian cast led by Bernard Angel (playing Frankie Valli), Cameron MacDonald, Thomas McGuane and Glaston Toft (reprising his role as bassist Nick Massi). In our 2010 review, we wrote: A loving recreation of the beginnings of the band, their hits, their behind-the-scenes antics and bitter rivalries, it's a riveting and tightly worked homage. More importantly, it's an engrossing story that traces the story of four boys from New Jersey through their struggle for recognition, underworld entanglements and exponential rise to stardom. It also covers the deep rifts that formed over money, women and personal differences.For long-time fans the tunes and attendant storyline will be familiar, but it also works as an introduction for yet-to-be fans – it may be a surprise to younger audience members that 'Oh, What a Night' is sung by the same band as 'Can't Take My Eyes off You' and 'Walk Like a Man'. It may also surprise that their clean-cut image masked some gritty realities – this may have been the era of Leave it to Beaver, but these boys have more in common with the Sopranos (salty language included). The story is in four parts, each narrated by one of the original band members. The usual pitfall with the jukebox musical is that the songs are but tenuously related to the storyline, and often come off as contrived (because they are). Using the songs of a band to tell its own fascinating story, as this
See what's on this weekend in Melbourne
The National Gallery of Victoria is bringing a world-first exhibition of works by MC Escher to Melbourne this summer. Between Two Worlds | Escher X nendo will feature more than 160 prints and drawings from the renowned Dutch artist as well as an immersive Escher-inspired environment created by Japanese design studio Nendo. We can't wait to see how they'll respond to Escher's most iconic image: the physically impossible, Hogwarts-esque staircases. Escher rose to prominence in the 20th-century art world for his mind-bending and mathematically complex works like 'Hand with Reflecting Sphere', 'Relativity' and 'Balcony'. Though he considered himself to have little mathematical ability his art has become iconic for its seamless tessellation, warped perspectives and impossible objects – like endless, connected staircases and mirrored self-portraits. The works are on loan from the Gemeentemuseum in the Hague and will be joined by an immersive experience created by Nendo design studio. By manipulating geometry, space and perception like Escher, Nendo will create a never-before-seen exhibit that will bring the artist's work to life. Cathy Leahy, the NGV's senior curator of prints and drawings says that Nendo is using Escher's playfulness to create the world-first experience. "Escher works with positive and negative space a lot and shapes transforming from one element to another. Nendo have created this space that you walk through that has some of those elements." Between Two Worl
It would really suck if you were a royal who hated having your portrait done. They've always been among the most popular subjects for artists, and the British royal dynasties are no exception. This exhibition of artworks from the National Portrait Gallery in London traces centuries of British history, from the 16th century to the present, through portraits of the royals. There are more than 150 paintings, sculptures and photographs on display – some of which have never been seen outside of the United Kingdom – with subjects ranging from King Henry VIII and Queen Elizabeth I, through to Queen Elizabeth II, Princess Diana, and Wills and Kate. There are famous artists from across the centuries, including painter Sir Peter Lely and photographer Annie Liebovitz. And there'll be fashion, armour and personal items that belonged the royals themselves.
See what's on this weekend in Melbourne