The 27 most romantic bars in NYC
Upgrade date night at New York's most romantic bars with cocktails, wine and just enough sexual tension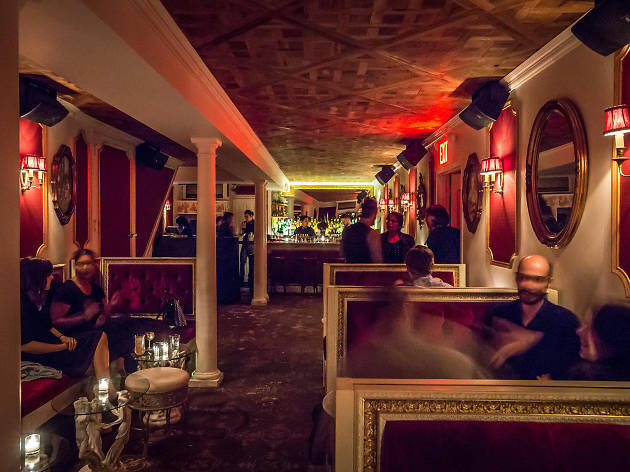 What better way to follow up a night at one of New York's most romantic restaurants than with a mood-boosting nightcap at one of its most romantic bars? Cozy up to bae at a spot that's equal parts sweet and sexy, from one of New York's best bars with fireplaces to wine bars with dark corners made for one-on-one time.
RECOMMENDED: Full guide to the best bars in NYC
Most romantic bars in NYC
1
As befits cocktail progenitor Sasha Petraske's liquid legacy, the drinks at this clubby, low-ceilinged Village rathskeller are nigh perfect. If you choose to deviate from the menu, just give the neatly attired, polite bartenders a base liquor and a hint of your mood, and they can tailor a drink on the fly. A call for rye got us a spot-on Italian twist on a Manhattan, featuring maraschino liqueur, Carpano Antica vermouth and amaro. Custom-made cocktails—no password or secret handshake required.
2
Fans of France's most detested monarch finally have a liquor-filled hideout to drown their bourgie sorrows. Husband-and-wife owners Tarek Debira and Patricia Ageheim run Chez Moi—the très charming French restaurant in Brooklyn Heights—but have recently added a much-less-quaint, Marie Antoinette–inspired speakeasy in the basement of that bistro. While the service (20 minutes to get a drink) is far from the royal treatment, Boudoir makes up for those faux pas with historical thrills, channeling its audacious queen with silver-plated chalices, neoclassical paintings and even a doorknob lifted from Marie's actual Versailles bedroom.
3
Walk through an unmarked side door at the front of Japanese restaurant Village Yokocho, and you'll find yourself in perhaps the classiest joint in the East Village. Angel's Share remains completely unknown to some of its neighbors; that duality is part of its charm. Standing around and groups of four or more are not allowed—but this is really a date place anyway, offering a stellar view of Stuyvesant Square, tuxedoed bartenders and excellent cocktails, including one of the city's best grasshoppers.
4
It's a scene straight out of Midnight in Paris—or maybe Back to the Future—all golden-age yearning and space-time shuffling. This dapper Gramercy lounge, from Raines Law Room operators Alberto Benenati and Yves Jadot, is a railroad space divided into period-piece quarters, including a tufted Victorian parlor and an ashtray-dotted hooch den worthy of Don Draper. Spend an hour at this luxe oasis and you'll completely lose track of time—no DeLorean required.
5
The cocktails are enough of an experience on their own at the Last Word without the faux speakeasy front it used to sport. Candlelight replaces now-cliché incandescent Edison bulbs as velvet curtains, along with tufted leather armchairs and love seats, add texture for all the senses. On a recent visit, we saw a nearby couple request a seat change from two armchairs to one loveseat; it was granted, and they expressed their gratitude by quickly becoming quite, um, loving.
6
You'll find classic cocktails, not accommodations, at this ultrastylish addition to the neighborhood. A curved marble bar is the centerpiece of the elegant, multiroomed hideaway adorned with vintage mirrors, black-and-white portraits and cushy banquettes. Secluded nooks are the most coveted spots for savoring libations and stirring conversations.
8
For those who crave not just great drinks, but also the culture of drinking well, there's a certain thrill that comes with encountering a bar that you want to get to know beyond the first date. The gorgeous Donna, a breezy, rum-soaked drinkery secreted away near the Williamsburg waterfront, is long-term relationship material: mysterious and sexy enough to seduce on sight, yet substantive enough to keep you coming back to dig deeper. The cocktails alone could coax aficionados from their habitual perches, but it's the transporting staging that seals the deal—a fever-dream vision of Central America that owner Leif Young Huckman says takes its inspiration from Spanish-colonial cathedrals, Art Nouveau parlor rooms and the sailor's flophouse that existed on this site in the 1800s.
9
This unmarked boîte is the sort of contrived hideout that might be cooked up by an overgrown kid with a chemistry set. The bar is littered with old vials, the cocktails are referred to as "prescriptions," and the bartenders-cum-mad-scientists are in rare form—note the cinnamon-flambéed Himalayan salt that rims a margarita.
10
New Orleans is perhaps the most protean of American cities, attracting in near equal measure folks you'd kill to break bread with and folks you'd break a commandment to kill: For every Kermit Ruffins, there's a hurricane-swilling, chest-baring trollop leaving evidence of her last po' boy in a pile on Bourbon Street. Elegantly shifting the paradigm is Maison Premiere. This gorgeous salon—its green walls fogged with a faux patina that suggests decades of Gauloises smoke—is devoted to the twin pleasures of oysters and absinthe: two French Quarter staples with plenty of appeal in Brooklyn.
Show more
Looking to grab bae flowers?
Whatever your budget, we've got the best blooms for you with our guide to finding a great flower shop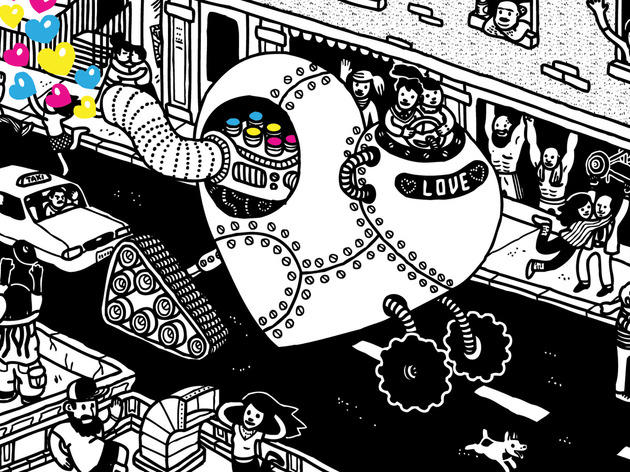 Things to do for Valentine's Day in New York
You know what's not sexy? Leaving your Valentine's Day plans to the last minute. Whether you're in love with love or anti-V-Day, we've compiled a list of the best parties, shows and things to do on this day of love/corporate blood-sucking holiday. And...