Heads up! We're working hard to be accurate – but these are unusual times, so please always check before heading out.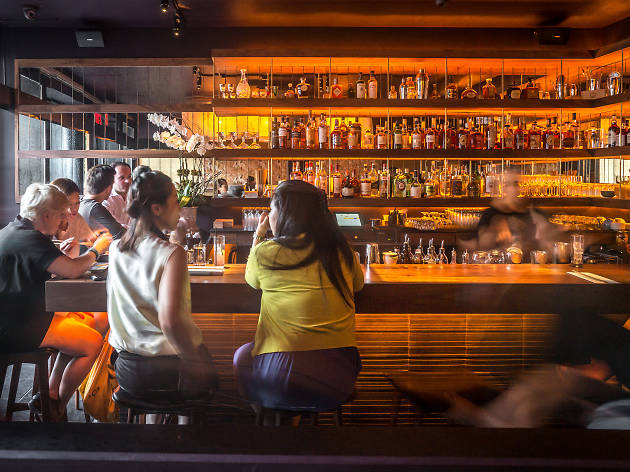 The winners of the 2017 Time Out New York Bar Awards
Raise a glass to the watering holes that make NYC buzz—here are your winners of the 2017 Time Out New York Bar Awards
Have we ever collectively needed a drink more than we did this past year? Graciously, New York City bars were more than ready to provide the soul-soothing liquid therapy we all required, but a select few spots went above the call of booze duty. Time Out New York honors such standout performers in our third annual Bar Awards, crowning the best and brightest of the 2016 bar scene, from single-focus cocktail bars to cool-kid natural wine bars to one of the most beloved and oldest bars in NYC. As is tradition, our trusty panel of industry professionals congregated at our Times Square HQ in April to discuss which barrooms, teams and individual drinks wowed them. The same voting caveats also remained: Panelists were barred from nominating or voting for their own establishment. The result? A crème-de-la-crème lineup of nine exemplary local drinkeries: a stirred mix of both aged favorites and sparkling rookies.
RECOMMENDED: Full guide to Time Out New York's Bar Awards
Meet the city's best bars
Bar Goto
We love it when the scrawny freshman graduates to varsity level. And that's just what happened to Kenta Goto's eponymous neo-izakaya, which took home Best New Cocktail Bar honors at the 2016 Bar Awards, when it triumphed over a daunting pool of far more seasoned competition this year. Few New York bars have emerged as strongly as this two-year-old Lower East Side cocktail den; even fewer have bypassed the typical growing pains and charged straight to greatness. That's thanks not only to Goto's well-honed skills and artful attention to detail—fortified over an acclaimed seven-year tenure at Audrey Saunders's Pegu Club—but also to the solidification of the bar's truly singular, hyperpersonal vision.
Goto's Japanese-accented cocktails ($15)—the Sakura Martini, swimming with junmai sake, maraschino liqueur and its signature salted cherry blossom, and the Umami Mary, a miso-splashed Bloody Mary updated with shiitake and Clamato—have transcended novelty and hit new-icon status. In any other spot, drinks this exemplary would be served with a side of haughtiness, but Goto & Co. operates with a near-selfless level of hospitality, a much-welcome appropriation of Japan's omotenashi tradition. In fusing the best of classic cocktails with Japanese culture, Goto created a joint that's, deservedly, the new big man on campus.
Runners-up: The Dead Rabbit, Employees Only, Maison Premiere
Jupiter Disco
New York's top newcomers excel in whisking drinkers away from the clamor of the city, whether to the rum-soaked playground of Prohibition-era Havana (BlackTail) or the neighborhood izakayas of Kyoto, Japan (Karasu). But none tap into everyday escapism with the gameness and gusto of Jupiter Disco, the space-age Bushwick brainchild of owners Al Sotack (Philadelphia's the Franklin Bar) and Maks Pazuniak (Maison Premiere, the Counting Room). At once nostalgic and futuristic, analog and digital, the tech-noir cocktail dive is the post-apocalyptic bunker of your dystopian dreams: Neon LED tubes hang from the steel ceiling like Jedi lightsabers, a Mos Eisley blueprint is framed above an aqua-blue booth, and scavenged machinery like reel-to-reel tape players and Atari consoles populate everywhere the eye can see.
Even the traditional paper menu gets an 8-bit boost: The cocktail lineup scrolls in green block font across two pixelated monitors. But it's the drinks featured on that frequently changing list that elevate Jupiter Disco from the necropolis of tacky themed bars. For potent proof, look to options like the Ancillary Justice, a mescal-laced old-fashioned humming with hot apple honey ($13), and the Infinite Timelines, a gin-and-sherry number made savory with tamarind cordial and Szechuan peppercorn ($12). With its time-warp gadgets and smart, well-balanced tipples, the spot proves to be the alternate universe NYC didn't know it needed.
Runners-up: BlackTail, Karasu, Suffolk Arms
Ear Inn
There are many signifiers of a good dive: craggy old men on the barstools, no doors on the bathroom stalls and just enough grime on the floors to add a little slip to your step, if the multiple foamy beers you drank haven't done that already. But the key to a true one is age, and no New York dive has growth rings quite like Soho's Ear Inn. Situated in a landmark Federal-style town house on Spring Street, the storied, low-ceilinged space has been slinging pints since 1817 without pause, even through the dry period of the Prohibition years.
Back then, the nameless saloon was known simply as "the Green Door," an ale-addled refuge for sailors in between voyages and trips to the upstairs brothel; rumors of feisty ghosts still rattle the place. Ear Inn officially got its name in 1977, when longtime patrons Rip Hayman and Martin Sheridan took over, but though salty swabs have since been traded for burger-seeking twentysomethings, not much has changed in two centuries. The barroom hasn't been historically preserved—Fraunces Tavern this ain't—but rather, it bears the affectionate weathering of a well-worn leather jacket: 18th-century wine jugs sit above the bar, crooked walls are covered in porthole paintings and antique beer signs, and tables are clothed unceremoniously in white paper. Grab a beer and a burger (still one of the best in town) within the hallowed yet humble walls, and you'll see: Some things just get better with age.
Runners-up: Lucy's, Montero Bar and Grill, Vazacs Horseshoe Bar/7B
Mayahuel
If there's one singular New York bartender who plucked agave spirits from spring-break shot glasses and turned them into real cocktail contenders, it's Phil Ward. The Pittsburgh-born drink slinger got bit by the tequila bug while working as a barback at Julie Reiner's seminal Flatiron Lounge in 2003. Ward later cultivated a taste for its smokier cousin, mescal, as bar manager of Death & Co., where he first began adding the fiery, complex-bodied spirit to composed cocktails, splashing liquid smolder into daiquiris and old-fashioneds.
But his agave-spirit affections peaked a block down from that East Village lounge: In 2009, Ward and Death & Co. owner Ravi DeRossi launched one of the city's first niche bars, Mayahuel, a groundbreaking temple of mescal devotion named after the Aztec goddess associated with the maguey plant. Inside the dimly lit tasting room, Ward is a veritable agave ambassador, unpacking the spirits' earthy, fruity and vegetal notes in cocktails both shaken and stirred, introducing fair-weather fans to small-batch supplements of their usual Patrón order and soothing unsure first-timers with dip-your-toe-in flights from the bar's discerning catalog, a roster of 100-plus mescals, sotols and añejo, reposado and blanco tequilas. There's not a single margarita to be found on the menu—but if you order one, it's guaranteed to be the best you've ever had.
Runners-up: Ghost Donkey, Mother of Pearl, Tørst
Mace
Raiding the spice cabinet is a rite of passage usually reserved for budding chefs, but French bartender Nico de Soto—who has worked at all three locations of the Experimental Cocktail Club—heartily adopted the culinary practice for his Alphabet City cocktail haunt with Greg Boehm (Boilermaker) and Zach Sharaga (Louis 649). The menu's 12 quaffs are each inspired by and titled after an exotic spice, such as spearmint, sorrel and shiso, with each seasoning showcased apothecary-style in jars lining the exposed-brick walls.
But don't expect one-note flavor. De Soto layers each starring spice with enough surprising ingredients and innovative techniques to spook a lesser barman. Peanut-butter-fat–washed cognac is paired with strawberry jam and smoked pineapple-chipotle syrup in the Chipotle ($14); gold cachaça is infused with Korean kimchi and padded with purple yam and toasted coconut in the Kimchi Pepper ($14); and the bar's namesake cocktail ($14)—referencing not pepper spray but the outer shell of the nutmeg seed—features a mace mist spritzed over a mixture of Aperol, aquavit, beet juice, orange acid and Thai coconut cordial. And as if what's in the cups isn't thrilling enough, De Soto's been known to serve drinks out of odd containers like plastic boba-tea cups and coffee mugs.
Runners-up: Genuine Liquorette, Jupiter Disco, ROKC
Dante
For more than 100 years, this MacDougal Street café has been a haven of Italian creature comforts. But where the 1915 original percolated in cappuccino culture, the 21st-century adaptation—reopened two years ago under the stewardship of Australian restaurateur Linden Pride—modernizes Italy's drinking tradition with nouveau Italian-American cooking and one of the city's most brazenly inventive Negroni programs.
Naren Young (Saxon + Parole, PUBLIC) issues 12 modifications on that time-honored fusion of gin, Campari and sweet vermouth, each $9 during the bar's civilized take on happy hour (4 to 7pm daily): The fittingly named Unlikely Negroni is a Southeast Asian subversion of Italian classicism, flavored with coconut and banana liqueurs, pineapple shrub and Thai chili tincture; the Negroni Frappé is a hard-shaken, near-frozen riff frothed with orange juice, a taste reminiscent of balmy afternoons on the Italian Riviera. And Young's most faithful rendition is poured from a beer tap. It's bold-faced progress you wouldn't expect beneath a century-old ceiling, in a restaurant that's older than the Negroni itself. But an afternoon spent with a delicate Lavender Negroni over plates of fresh burrata and ramp-pesto orecchiette should leave even the staunchest purist cheering for the next 100 years.
Dear Irving
Consider it New York's most overachieving themed bar: Where most drinking establishments stick to one visual aesthetic or reference point, Dear Irving—the dreamy Union Square parlor from the Raines Law Room team of Meaghan Dorman, Yves Jadot and Alberto Benenati—is four stunning bars rolled into one. Inspired by Woody Allen's time-traveling 2011 film Midnight in Paris, Belgian interior designer Delphine Mauroit tapped into a different era for each room of the railroad-style space, working back chronologically from the mid–20th-century sleekness of the Mad Men era to the Gallic decadence of 18th-century Versailles, France.
The "JFK room" coolly evokes its namesake, with wingback leather chairs, zebra-print walls and period tchotchkes like vintage Playboy issues and for-show ashtrays; the "F. Scott Fitzgerald room" drips with Great Gatsby glamour, all crystal curtains, mirrored surfaces and Art Deco accents. Back even farther—in both space and time—lies the "Abraham Lincoln room," with its carved dark woods, upholstered armchairs and shelves of brown liquor. And with that, the most rugged of the bunch segues to the most romantic: The "Marie Antoinette room" is a baroque blowout of tufted ottomans, floral wallpaper, oversize chandeliers and heaps of gilding. Even the more modern touches will leave you feeling like royalty: Servers are summoned via the push of a buzzer at each table.
Runners-up: BlackTail, Genuine Liquorette, Sauvage
Mother's Ruin
New York bargoers have many reasons to thank Mother's Ruin. Not only does the airy Nolita bar churn out some damn fine cocktails, but it also has played a large part in slackening the pomposity of the city's "serious cocktail" culture. Since 2011, owners TJ Lynch and Richard Knapp have positioned their bar in the overlap where cocktail temple and local dive meet, serving equal quantities of high-end professionalism and devil-may-care playfulness.
The skilled staff—which has included bar-world big hitters like Toby Maloney (Pouring Ribbons), Giuseppe González (Suffolk Arms) and Speed Rack champion Anna Wingfield over the years—combines cocktail-bar precision and high-volume output, cranking out an ambitious, weekly-changing bar program just as readily as it cracks open beer cans and pours crowd-pleasing frozen drinks (made in a slushy machine named Kathleen Turner, no less). Together, that crew coalesces to create the rare New York cocktail bar that's all bona fide, no bullshit.
Runners-up: The NoMad Bar, Saxon + Parole, ZZ's Clam Bar
The Four Horseman
You could throw a number of superlatives at the Four Horsemen, and they would comfortably stick. For one, it has the best acoustics of any bar in Brooklyn: Cedar-slatted ceilings and burlap-covered walls were designed to reduce the auditory assault of clinking glasses, popping bottles and dining-room chatter. It's equipped with the borough's hippest proprietor, as well: LCD Soundsystem frontman James Murphy, who partnered with Christina Topsøe, Randy Moon and Justin Chearno for the Williamsburg bar. And it's home to some of New York's most ambitious wine-bar eats—sea scallops with pickled sunchokes and nori oil ($18), plum-glazed ribs sprinkled with togarashi ($22)—from Franny's alum Nick Curtola.
But erase those extras and the Four Horsemen could still coast on its wine prowess alone. The minimalist bar has done ample work to help embed natural wine—that cloudier, funkier, mouthful-of-barn cousin to your more conventional bottle—into Brooklyn nightlife, with its dozen by-the-glass varieties and comprehensive selection of more than 250 bottles, each of which the savvy staff details without a drop of dogma or dismissal. Star nat-wine producers aren't name-dropped so much as casually referred by given name: "Frank" is Mount Etna's famed Frank Cornelissen; "Fabien" is Fabien Jouves of Cahors, France. It's equivalent to enjoying a glass at a friend's apartment—that is, if your friend were a rock star and had a killer orange-wine collection.
Runners-up: Corkbuzz, June, Compagnie des Vins Surnaturels
Looking for the best cocktails in NYC?
New York is full of great beer bars and wine bars, but cocktails is where the city really shines. We've got some of the best bartenders in the world reinventing and creating new, delicious libations daily. Whether you're a whiskey drinker or enjoy your martinis shaken, not stirred, we've got eveything you need to find (or make) the perfect cocktail.