Heads up! We're working hard to be accurate – but these are unusual times, so please always check before heading out.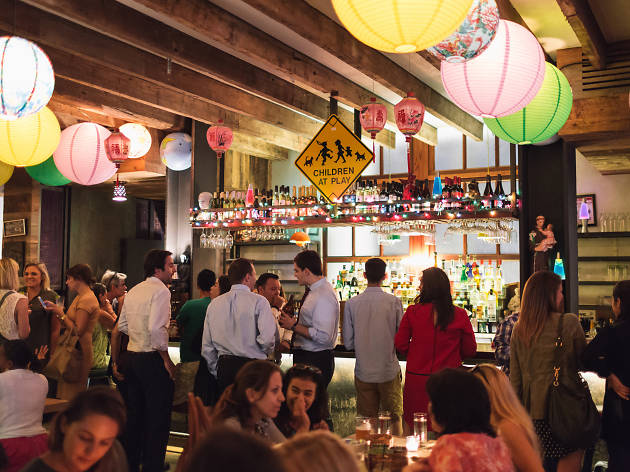 19 New Yorkers reveal their favorite first-date spots in NYC
We all love New York, but where do we go when we want to show a little lovin' in New York?
There's a reason so many romcoms are based in New York City. Is there anything more romantic than falling in love inside the Temple of Dendur room in the Met, or along the Brooklyn Heights Promenade? But first dates are a little different—you're either clamoring to woo someone or trying to GTFO. We've got you covered. Whether it's at a glamorous throw-back speakeasy or a fried-chicken restaurant, here are the best restaurants and bars for first dates, according to real-life New Yorkers.
---
"The best first date bar is by far the Auction House on the Upper East Side! It's, cozy, dark and has a downtown hip speakeasy vibe. The antique decor creates a very romantic atmosphere. The best restaurant for a first date is the Drunken Munkey also on the Upper East Side. This tiny place serves amazing Anglo Indian food and delicious cocktails. Plus there are adorable hanging monkeys both inside and outside the restaurant." — Julie Strollo Coleman
"Alphaville in Bushwick because they have moody, red-toned lighting, serve very satisfying house-made chicken nuggets and play a steady soundtrack of eighties New Wave. But most importantly, behind the bar it says 'Prove you're on a Tinder date, get a free shot.' I haven't tested it, but if I was single, I would." — Alyx Gorman, global engagement lead
"A great first date bar is on Eigth Ave off of Greenwich Ave called Art Bar. The front portion of it is a very narrow bar with some tables, but if you go to the back, its more of a lounge with couches and a cozy feel." — Nazra Khalid
"Best first date restaurant is St. Maize's Supper Club in Williamsburg, because there is also usually live music! Best first date bar is Pocket Bar! Small and they'll put a shark in your drink!" — Mary Brownlee
"The Boil. If you can't get messy you hands with a bag of shrimp and crawfish that's infused will garlic, then you're not meant to be together." — Brian Wong
"During the sunny seasons, Mominettes in Bushwick because of the small and quaint backyard, the French music and not over-the-top food portions. It's also a French restaurant and that's exotic in itself." — Gorge Gallardo, video editor
"Ichabod's, for sure. Great cocktails and delicious food (esp. the burrata). The place isn't too big so it's not too loud. Perfect lighting for a date, too." — Kris Suntornwarangkana
"Lil' Frankies in East Village. First dates over brunch are very underrated. Yummy baked eggs and a sweet three-for-the-price-of-one deal for brunch cocktails for that bit of liquid courage." — Aashna Shah, designer
"The Red Rooster in Harlem because the food is heartily delicious, the "background" DJ is awesome and the live acts downstairs will turn your musical world upside-down. Also, it's a different kind of ambiance than your usual first stuck-up restaurant date or simple bar outing and it's super awesome to see how your date deals with it all." — Anna Ben Yehuda, global content editor
"La Contenta, either location. It's got the perfect first date components: strong drinks, great bar bites and a lively, but not rowdy, atmosphere." — Christa Sully
"Lucky Dog. You can bring your dog on the date, or make friends with one there." — Andrew Frisicano, music editor
"Salvation Taco. Maybe just because it's where I went on my first date with my husband, but I love Salvation Taco. Shareable plates, a lively atmosphere and even ping pong tables made for the perfect casual setting to get to know someone." — Jake Cohen, food & drink editor
"One of my favorite date or after dinner-date spots is the Library of Distilled Spirits. It's right in Union Square and has such a comfy, romantic vibe with an array of good priced wines and cocktails." — Katie Harman
"Cask is a great, easy first date spot! Fairly easy to get a table or grab seats at the bar. Dark, romantic vibes. Good drinks and a good food, for a decent price." — Paige Alderoty
"Lombardi's in SoHo. The quaint, old-school atmosphere is fun for a first date, the pie's good and Italian food is always the way to go, in my opinion." — Danielle Valente, associate editor, Time Out New York Kids
"Sweet Chick because their cocktails are great and so is the food! Comfort food such as the chicken and waffles are well-executed and even the sides are great, such as the mac and cheese." — Raymart Dinglas
"Employees Only is great if you arrive early and get a table with nibbles. The food is excellent. The crowd is great and the cocktails amazing. There is some ' special' entertainment if you stay until midnight. Gets you in the mood!" — Siobhan Chrétien
"Summit Bar. It's on Avenue C, so it's a little hidden and makes you feel like you can loosen up a bit. Dim lighting, good cocktails, smallish space and great background music." — Lindsey Washington
"Fat Cat in the West Village for the activity-driven person. If you are like me and can't sit still on a date for more than 30 minutes, playing games is always the route to go." — Hannah Streck, senior digital producer
Or just go to one of the city's best bars
New York City is a nightlife capital, with some of the best bars in the country clustered around bustling neighborhoods like the East Village and Williamsburg. Whether you favor craft brews or serious cocktails; a beer-and-shot special or a transporting glass of wine, NYC has a game-changing bar to slake your thirst.