The best cheap hot dogs in NYC
Skip the dollar hot-dog carts and sample our picks for the best cheap hot dogs in NYC.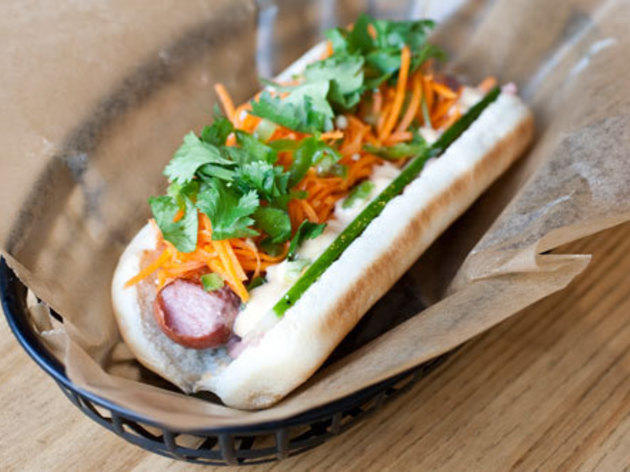 1/13
Photograph: Beth Levendis
Vinh at Asiadog
This flea-market star opened its first brick-and-mortar shop in 2011, hawking Asian-inflected franks. The most successful of the bunch is the Vinh, which gives a Schaller & Weber wiener the banh mi treatment: The bun is smeared with pâté on one side and sriracha aioli on the other, then topped with a flurry of cucumber, pickled carrot and daikon, diced jalapeños and cilantro. 66 Kenmare St between Mott and Mulberry Sts (212-226-8861). $4.50, two for $8.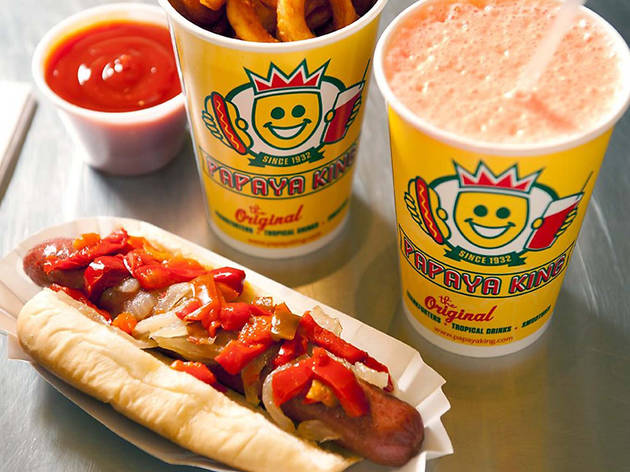 2/13
Photograph: Courtesy Papaya King
The "original" at Papaya King
Tubesteaks-and tropical-quaff purveyors are aplenty in this city, but the King is the original, an Upper East Side mainstay since the 1930s. Amidst the multicolored tiles and neon signs, find hickory-smoked hot dogs and milky papaya juice in a variety of combinations: The $5 "original" consists of two franks crowned with kraut, onions or relish alongside a 16oz sipper; or double down for a "Grand Slam," which gets you two specialty dogs (chili-and-cheddar, coleslaw-and-pickle), a papaya drink and curly fries for $9.99.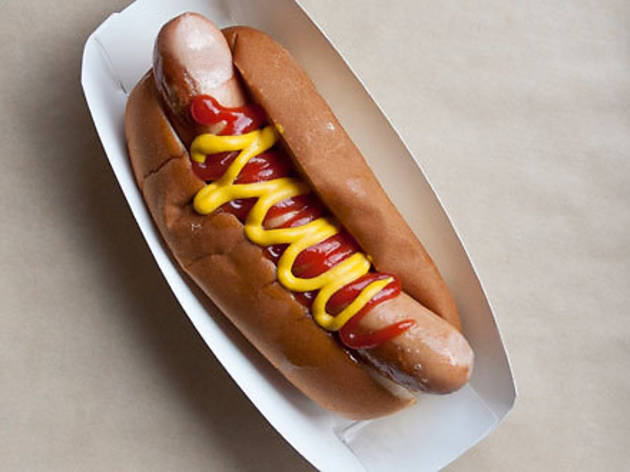 3/13
Photograph: Virginia Rollison
Classic at Bark Hot Dogs
Brandon Gillis and Josh Sharkey are trailblazers in the artisanal-wiener boom, and their simple Classic is the best showcase of their secret weapon: a snappy beef-and-pork dog made in Rochester, New York. Griddled, basted in smoked lard butter and nestled into a Pepperidge Farm bun, it doesn't need any extra flourishes to shine. 474 Bergen St at Flatbush Ave, Park Slope, Brooklyn (718-789-1939). $4.25.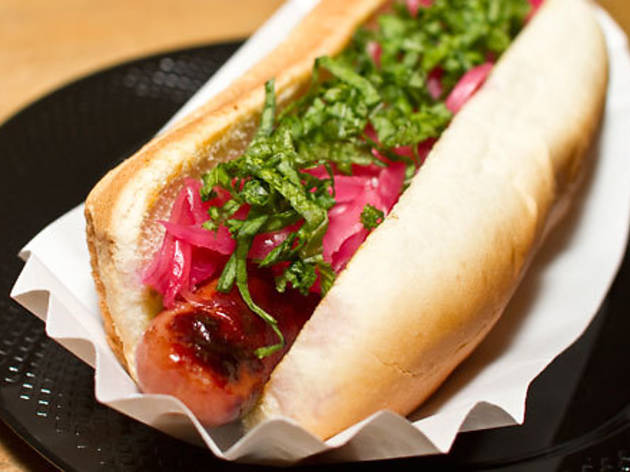 4/13
Photograph: Caroline Voagen Nelson
Van Dog at PDT
Phillip Kirschen-Clark (Vandaag) is the latest boldfaced-name toque to make his mark on this cocktail den's haute-dog menu. His Scandinavian-inflected creation is built around an all-beef wiener that's been pickled in apple cider vinegar. The tangy frank is balanced by coriander-scented sauerkraut, mustard greens and piccalilli (an English-style relish). 113 St. Marks Pl between First Ave and Ave A (212-614-0386). $6.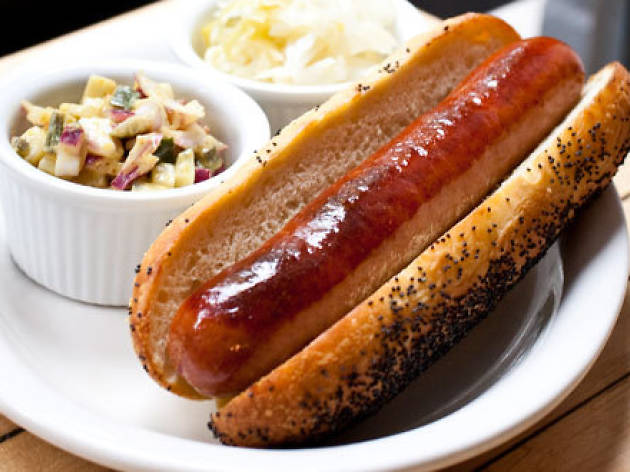 5/13
Photograph: Beth Levendis
Hoyt Dog at Mile End
This nouveau Jewish deli is best known for bringing Montreal-style smoked meat to the city, but it also makes its mark on a New York classic with its from-scratch hot dog. Each component is made in-house, from the griddled all-beef frank to the tangy sauerkraut and thick, poppy-seed–studded bun. 97A Hoyt St between Atlantic Ave and Pacific St, Boerum Hill, Brooklyn (718-852-7510). Hot dog $8, combo $12.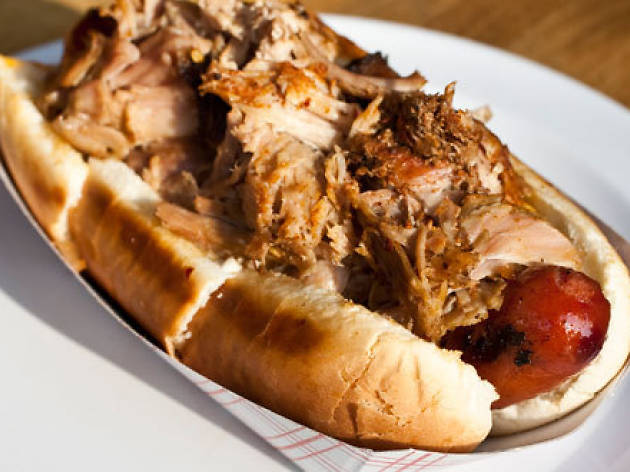 6/13
Photograph: Beth Levendis
Black Angus Dog with Pulled Pork at The Smoke Joint
The all-Angus hot dog at this Brooklyn barbecue house is deep-fried, grilled and stuffed into a toasted bun slicked with drawn butter. Swine-lovers can take it to the next level with a topping of pulled pork butt that's been smoked for 12 hours over maple and hickory. 87 South Elliott Pl between Fulton St and Lafayette Ave, Fort Greene, Brooklyn (718-797-1011). $5.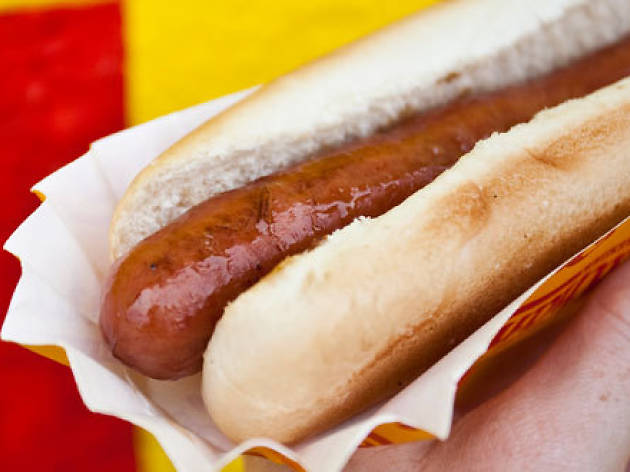 7/13
Photograph: Virginia Rollison
Original Hot Dog at Nathan's Famous
Tourists and tube-steak zealots make the trek to this Brooklyn landmark for a taste of hot-dog history. Established in 1916, the former 5¢ stand still does a roaring trade. The bun is flimsy, but in the end, it's just a vehicle for the chain-spawning wiener, which has a tight casing that gives way to a juicy interior. 1310 Surf Ave at Stillwell Ave, Coney Island, Brooklyn (718-946-2202). $3.99.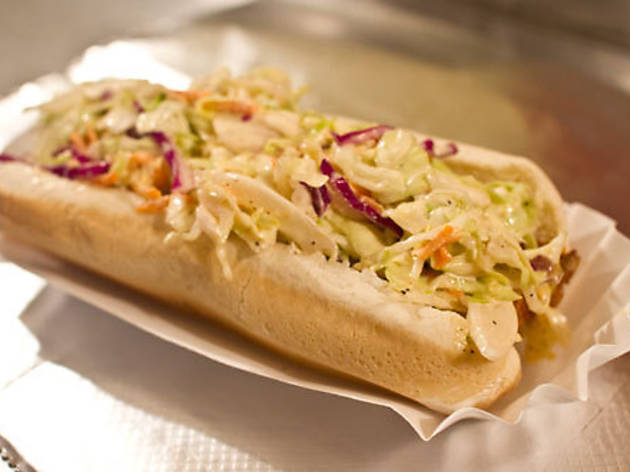 8/13
Photograph: Caroline Voagen Nelson
Spicy Redneck at Crif Dogs
The stoner-friendly offerings at Crif Dogs include this perennial top seller, featuring a bacon-wrapped dog, chili, coleslaw and pickled jalapeños. The crunch of deep-fried bacon gives way to a soft interior, and the mild chili sauce soaks into the bun, giving each bite an extra hit of meaty flavor. 555 Driggs Ave at North 7th St, Williamsburg, Brooklyn (718-302-3200). $5.25.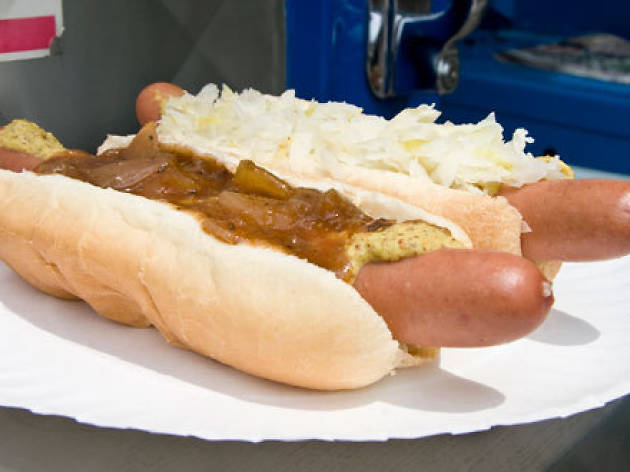 9/13
Photograph: Krista Schlueter
Hot Dog at Dominick's Hot Dog Truck
Since 1959, Queens lunchers have been lining up for the old-school franks at this food truck outside St. John Cemetery. Get the boiled natural-casing Sabrett on a steamed bun with homemade spiced and sauted onions or punchy sauerkraut, and wash it down with a soda, in flavors like black cherry and cream, from 140-year-old White Rock. Woodhaven Blvd between 65th Dr and 65th Rd, Rego Park, Queens (no phone). $2.75.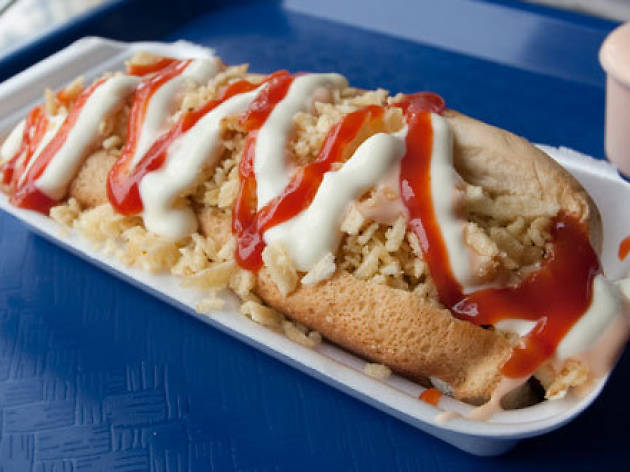 10/13
Photograph: Lindsay Maclean Taylor
Perro Mexicano at La Perrada de Chalo
This Colombian joint turns out Latin American--style hot dogs (with outr toppings like diced pineapple). Our favorite is the zesty Mexican, loaded with salsa verde, melted cheese, crushed potato chips and squiggles of ketchup, mustard and spicy mayo. 83-12 Northern Blvd between 83rd and 84th Sts, Jackson Heights, Queens (718-360-0977). Regular $3.45, super $4.35.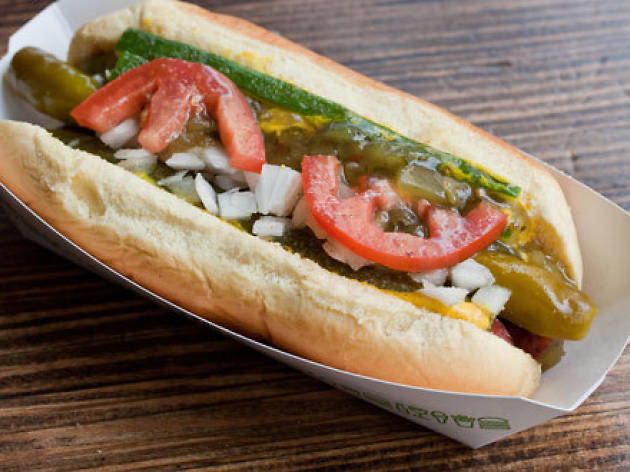 11/13
Photograph: Jakob N. Layman
Shack-cago Dog at Shake Shack
Danny Meyer's fast-food joint brings Gothamites a taste of the Midwest with this Chicago-style snack. The Vienna beef dog is split and griddled on a flattop, then nestled in a pillowy potato bun. It comes fully loaded with toppings, such as pickled green sport peppers and relish from Lower East Side pickle-maker Rick's Picks. Various locations; visit shakeshack.com. $4.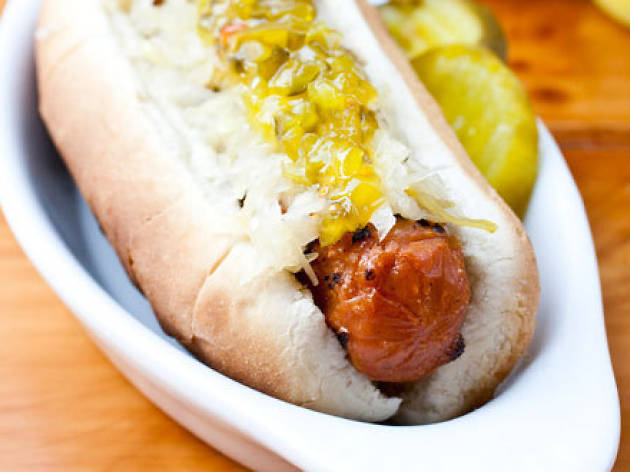 12/13
Photograph: Beth Levendis
Vegan Hot Dog at Westville
Vegans in the know get their soybean dogs at Westville, where the grilled faux franks pack a serious hit of smoke and spice. Order a single, or ante up for the special: two dogs with thick-cut pickle chips, fries, salad or one of the eatery's seasonally driven sides, like sauted kale with shallots. 173 Ave A at 11th St (212-677-2033) * 210 W 10th St at Bleecker St (212-741-7971) * Single $3.50, special $11.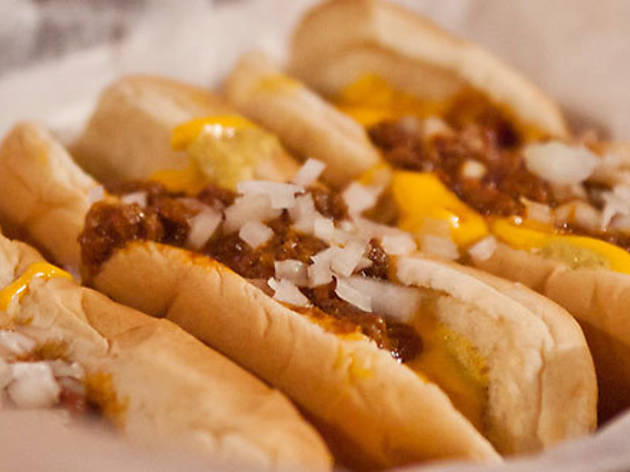 13/13
Photograph: Paul Wagtouicz
Coney Dogs at The Whiskey Brooklyn
There's nothing artisanal about these sloppy Coney dogs, smothered in mustard, pork-and-beef chili, sweet onions and nacho cheese sauce. Available nightly until 2am, they're the type of junky indulgence that's best enjoyed with a few jars already sloshing in your belly. 44 Berry St at North 11th St, Williamsburg, Brooklyn (718-387-8444). Two for $8.