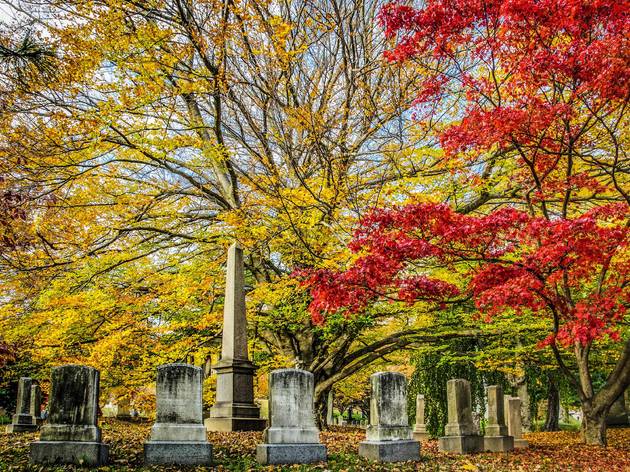 The most gorgeous cemeteries in NYC
These burial grounds across New York City offer some of the most peaceful and beautiful views.
New York City has some of the most gorgeous cemeteries in the country—their gravestones are flanked by ornate gateways, shady trees and, in some cases, views of the skyline. Some are historical, while others are simply pleasant. Sure, it's easy to be spooked by a burial ground, some of them are the spookiest places in NYC, but cemeteries used to be used like parks in the 19th century. Families would gather and picnic among the graves as if it were any other public space. You can still do this today, though you might get some looks. We've rounded up a list of NYC's most beautiful burial grounds in case you want to picnic in them or just visit and pay your respects this fall.
The most gorgeous cemeteries in NYC
This remote, historic 400-acre burial ground was established in 1863 during the Civil War, and features landscape art and mausoleums. The cemetery is the final resting place for more than 300,000 people, including literary giants Joseph Pulitzer and Herman Melville, musicians like Duke Ellington and Miles Davis, and other big names like Nellie Bly and R.H. Macy. Walking its grounds, you'll pass by beautiful foliage, huge oak trees, and impressive but somber monuments like the Titanic memorial, Woolworth's tomb, the Nathan Piccirilli Monument and the sarcophagus with an angel.
Not to be confused with the other, larger New York City Marble Cemetery a block away, the New York Marble Cemetery is the East Village's most secret garden: The half-acre landmarked oasis was incorporated in 1831 as the city's first non-sectarian burial ground and remains hidden by a small alleyway with wrought-iron gates you must pass through to get in. All 156 of its vaults are buried 10 feet beneath the lawn because there were fears tied to yellow fever outbreaks then, which lead to the outlaw of earth graves. The last internment there was in 1937. There are no markers on the ground, but marble plaques in the cemetery's walls. The monument-free, green expanse beckons you to rest in peace (for an afternoon, anyway). Though it's usually closed to the public, the graveyard opens its doors once a month during the spring and summer.
A set of gates north of the church on Broadway allows access to its cemetery, where cracked and faded tombstones mark the final resting places of dozens of past city dwellers, including signatories of the Declaration of Independence and the Constitution like Alexander Hamilton (and his son and wife), who both died from wounds received during duels. The burial ground has been the final resting place for New Yorkers since 1697. The church is also home to the Trinity Church Museum, which displays an assortment of historic diaries, photographs, sermons and burial records. Walking the grounds is a very special experience and it's incredible trees and verdant grass contrast beautifully with the stone.
A century ago, this site competed with Niagara Falls as New York State's greatest tourist attraction. Filled with Victorian mausoleums, cherubs and gargoyles, Green-Wood is the resting place of some half-million New Yorkers, among them Jean-Michel Basquiat, Leonard Bernstein and Boss Tweed. But there's more to do here than grave-spot: Check out the massive Gothic arch at the main entrance or climb to the top of Battle Hill, one of the highest points in Kings County and a pivotal spot during the Battle of Brooklyn in 1776.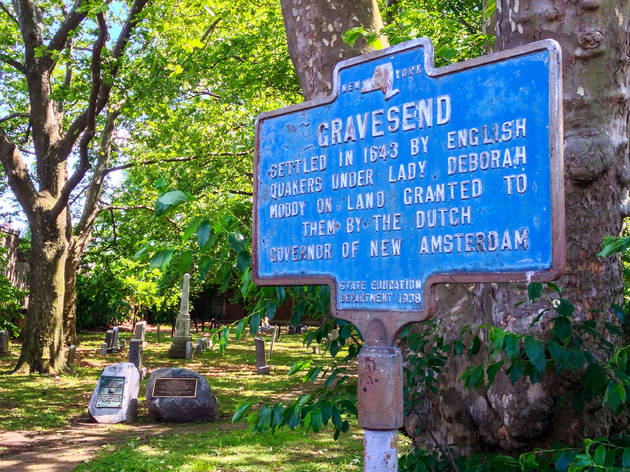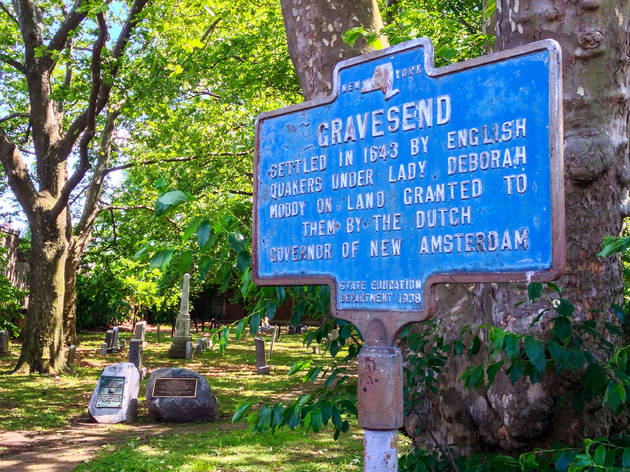 Photograph: @alexandracharitan
Gravesend Cemetery was founded in about 1658 by Lady Deborah Moody, the founder of Gravesend itself. At just under two acres, it has 379 tombstones from between the mid-1700s to the mid- 1900s belonging to early settlers of Brooklyn, Revolutionary War veterans and some say, Lady Moody. You'd recognize some of the names inside like Wyckoff, Dyckman, Van Sicklen, and Stillwell. It's a landmark, but had been in disrepair for some time until in 2019, when New York City Parks Department's Citywide Monuments Conservation Program began restoration. What you can see of the cemetery is a lot of worn but intriguing tombstones surrounded by green in the warmer months.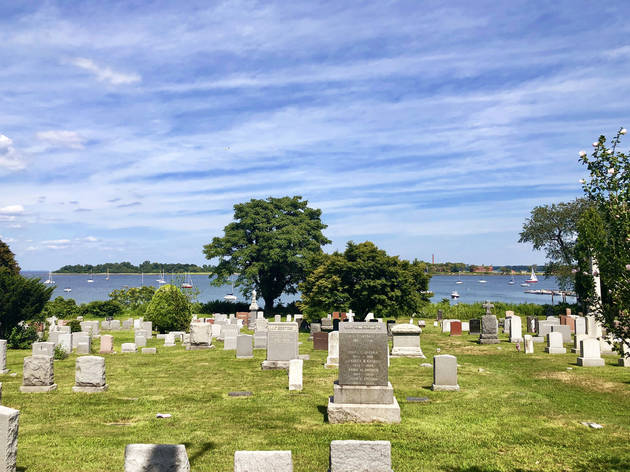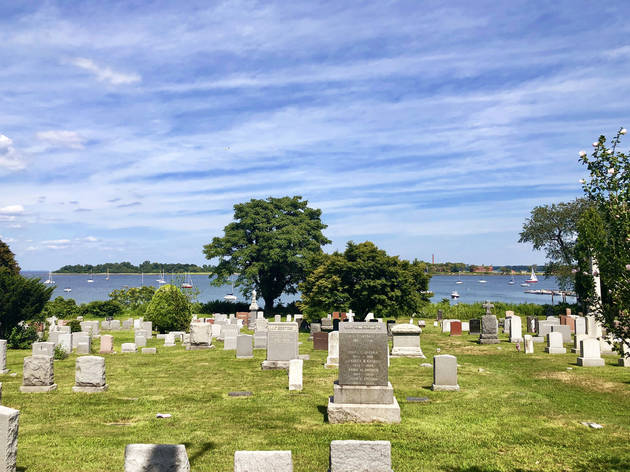 Photograph: @bridge.to.heaven
Pelham Cemetery on City Island has an incredible view of the Long Island Sound—probably the best view you'll find in a cemetery. Walking on the green grass, you'll see boats moored across the water, which is where many of its interred made their living. Many of the cemetery's tombstones are marked with nautical ranks with images of ships, sailboats, compasses, fish and anchors. While a fire burned the grounds' records, historians say it was established in the mid-1800s along the shore and has since held 2,000 graves.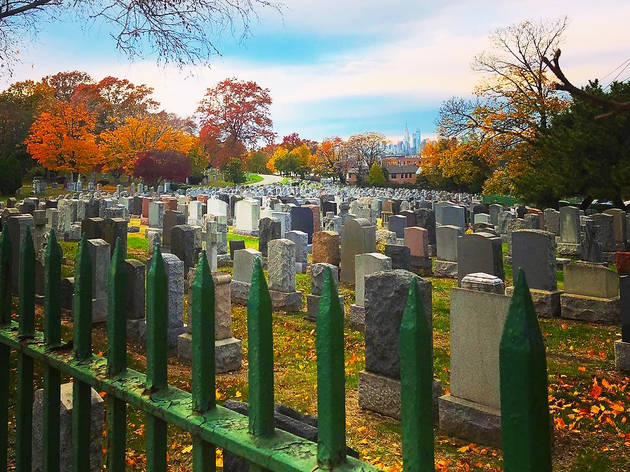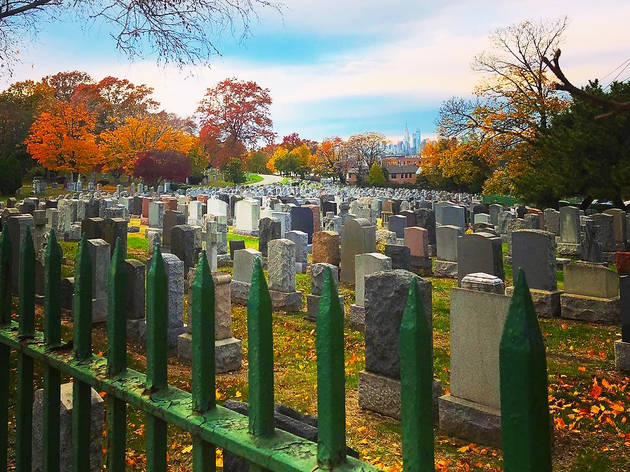 Photograph: @thezentrickster
Mount Olivet Cemetery, named after the Mount of Olives in Jerusalem, has been a burial ground in Maspeth since 1850 and used to be a popular weekend destination in the 19th century because of its view of Manhattan. Civil War vets and their wives are buried here (nearby is a Civil War memorial dedicated to "Defenders of the Union") as well as former U.S. Congressman James Maurice, Prince Georges V. Matchabelli, cosmetics entrepreneur Helena Rubinstein, and gangster Jack "Legs" Diamond. The cemetery's gatehouses are pretty enough and tombstones cover its green hills, which are perfect for getting a view of the Manhattan skyline.
Best selling Time Out Offers