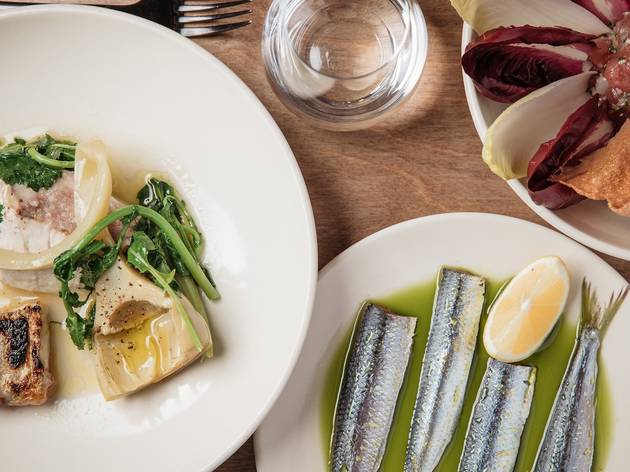 Restaurant of the Year: Time Out Food Awards 2018
Representing everything that's great about dining in Sydney right now
An unassuming Paddington restaurant heralds a new age in Australian seafood dining – and we're hooked
Josh Niland is a specialist. While other chefs were jumping from Chinese kitchens into classic French bistros, he stayed the course under mentors Peter Doyle and Steve Hodges until his seafood skills reached Jedi-like heights. Then he went and opened the restaurant Sydney needed: one devoted wholly and exclusively to the fruits of the sea. If it does not swim, crawl or breathe under the ocean, it's not on the menu here. We love Saint Peter for its singular focus. There is no dilution of the core tenet, no reluctant steak for people who are funny about fish. Hell, even their brunch menu is a pescatarian dream. While it's true that they do the finest fish and chips in town, save the safe order for another night when you're getting takeaway from their Fish Butchery up the road. Instead, order a tangle of octopus legs that are punked up with a feisty XO and silky squid ink giving those firm cephalopod limbs a luxe-goth sheen.
How do you make Murray cod feel like a Sunday roast you'd serve to a vicar? It's all down to the rosemary swimming through an earthy, wintery vegetable broth and Jerusalem artichokes cooked down until they're almost a sweet paste. On top of this rustic plinth rests the creamiest fillet of medium rare cod imaginable and together this dish produces the kind of warm trance state you enter when sitting near an open fire. It doesn't last long, because the Bass groper curry is loaded with so much Meyer lemon zest it's like an ice bath for your senses. The mix of garlic, ginger, native turmeric leaf, native ginger, pepperberry and native thyme is a 21-gun salute to strong flavours, but the secret is the whole smoked eel that is blended in for that round, rich savouriness. You're here to eat seafood, talk about seafood; rank your favourite seafood and then go home, warm in the knowledge that you just had the best fish dinner in Sydney.
Who else was a winner?
Time Out crowns the champions of Sydney's restaurant scene, from Restaurant of the Year to Best Café.
Best selling Time Out Offers