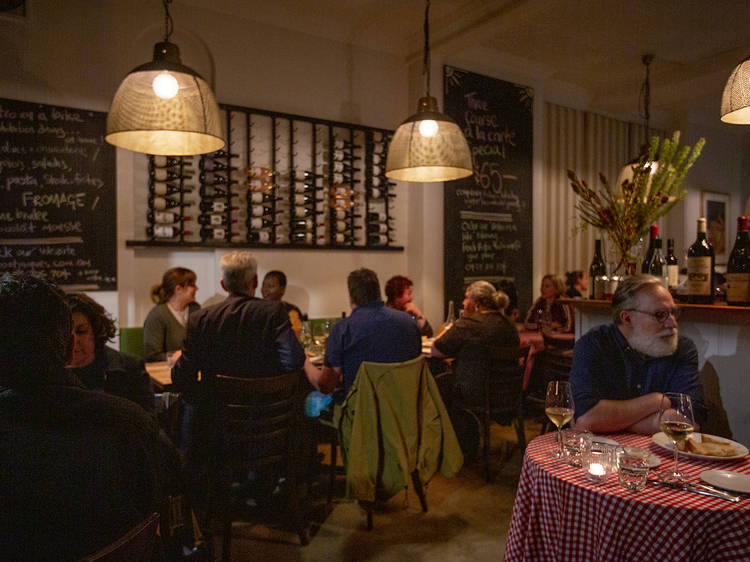 Photograph: Bistro St Jacques
Eat
Even as Redfern's dining star rises, its neighbourhood eateries have maintained a friendly, local vibe about them without succumbing to the pretension of many other culinary hot spots. Bush (55 George St) is a quirky Australiana-inspired café whose star dish is, unexpectedly, the cheeseburger, while Ron's Upstairs (133A Redfern St) owned by the same folk as a much-loved small bar down the road, Arcadia Liquors, has set up shop in what used to be an old Thai restaurant and revamped it in 70's kitsch décor which contrasts boldly with the modern, Mediterranean-inspired menu.
Moving a little further across the continent, Kepos St Kitchen (96 Kepos St) is a bustling brunch favourite and home to some of the best hummus in Sydney – which you can watch be hand-churned at your table at nearby sister restaurant, Kepos and Co (18 Danks St). While the latter doesn't get nearly the limelight of the former, it's intimate, features a more sincerely Middle Eastern menu, and looks out over an aquamarine pool that gives you the sense of dining in a Moroccan riad.
For a more European vibe, settle in for Southern French fare in a bistro setting at Bistro St Jacques (96 Pitt St) – they're serving classics like steak frites with Café de Paris butter and oysters served with Champagne vinegar – and, because we're in Redfern, even the restaurant whose cuisine is perhaps most antithetical to the idea of plant-based eating has an extensive vegan menu available.
Many of Redfern's dining charms are found in the cosiest of venues. For an excellent Sicilian-style pizza made to be washed down with (BYO!) red wine, check out itsy-bitsy pizza joint La Coppola (152 Redfern St), and for steaming hot secret-recipe ramen (a vegan option is available), check out RaRa Ramen (66B Regent Street), a tiny 28-seater joint that's usually got lines running out the door. Another Japanese eatery, Juan Bowl and Tea (94A Pitt St) specialises in elaborately flavoured bowls and a mean matcha tiramisu – but if it's dessert you're looking for, you might also want to stop by Ciccone and Sons (195 Regent St) (some say it's the best gelato in the city).