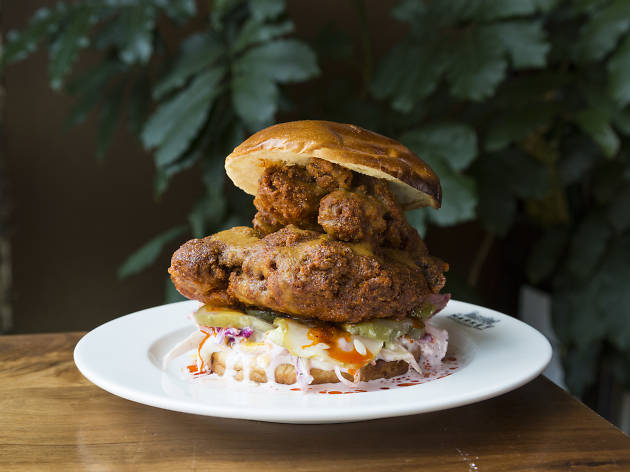 Where to find the best fried chicken in Chicago
Get your hands dirty with the best fried chicken Chicago has to offer—from Nashville hot to saucy wings
Wet-Naps at the ready! The tastiest fried chicken Chicago has to offer is easier to find than ever before. Sink your teeth into crispy poultry at old-school haunts and some of the top new Chicago restaurants. Get it doused in Nashville-style heat that will make you sweat or tossed in sweet barbecue sauce that will have you licking your fingers clean long after the meal has ended. Long revered as one of the best cheap eats Chicago has in its arsenal, fried chicken is a delicacy that we'll order for breakfast, lunch or dinner without shame. (It's a good thing it's a staple on so many Chicago brunch menus these days.) Prepare to get your hands dirty with the best fried chicken Chicago has ever seen.
RECOMMENDED: Discover more of the best restaurants in Chicago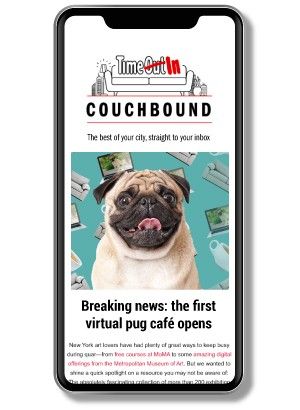 An email you'll actually love
Sign up to our Couchbound newsletter and bring the city to your sofa
Subscribe now
Best of the city under one roof
For as long as she can remember, chef Zoe Schor has loved craggy, oil-dappled fried chicken. What started out as a crowd-pleasing recipe to bring together family and friends eventually grew into a restaurant (and a stand at Time Out Market Chicago) devoted to the stuff—and it's not hard to see why. Schor's fried chicken is a study in balance: The bird-to-breading ratio is just right, and every bite shatters a crisp exterior to reveal the juicy meat within. Psst: Don't skip the buttermilk biscuit, a melt-in-your-mouth pastry that's crowned with a dollop of chili-maple butter.
Best fried chicken Chicago has to offer
Up until a few years ago, all attempts to bring Nashville-style hot chicken to Chicago were hampered by unfortunate missteps, from texturally weird breading to barbecue-tinged cayenne paste to wimpy spicing. But then came the Budlong, a growing chain of Chicago chicken shops frying up hot chicken that hits all the right notes. The chicken is briny, the breading is shatteringly crisp, and the cayenne coating will make you sweat. In true Nashville fashion, it's even crowned with a skewer of cooling pickles and served up on a slice of thick white bread that draws in crumbled crust and spicy drippings like a delicious sponge.
A trio of sauces—BBQ, Seoul Sassy and Buffalo—applied post-fryer give the chicken at this cheerful Lakeview Korean spot the power to assume multiple identities. Personally, we're total suckers for the Sassy, a sweet but not cloying concoction of ginger and garlic over a deep, dark base note of soy. The bird itself is fried to crispy, golden perfection, making every bite a home run.
The hip aesthetic all but dares you to dismiss this Avondale spot as a trend-surfing lightweight. Boy, would that be a mistake. The namesake fried chicken—a mix of bone-in drumsticks and boneless breasts and thighs—wears a hearty breading that's supremely crunchy and fragrant with smoked paprika. Slather it with the sweet, airy house honey butter, which melts and mingles with the poultry's juices, and you've got one of the city's best takes on fried chicken. Bonus: Chicken orders include petite, crispy-edged corn muffins, perfect for mopping stray butter and breading crumbles from your tray.
In 2015, our city became home to the first northern outpost of beloved Tennessee institution Gus's. Just like at the Volunteer State original, the chicken here has a kick that doesn't scorch the palette, but rather lingers pleasantly. The breading—all golden-brown ridges and nooks and delicious craggy bits—maintains its structural integrity to the last bite, while the moist chicken beneath (particularly the thigh) practically demands to be picked clean.
As its name suggests, this public restaurant within Soho House Chicago is a purveyor of all things poultry. While you can order the fried chicken as a sandwich or atop waffles, don't overlook the inconspicuous chicken nuggets. The childhood favorite is all grownup and served with secret sauce and a lemon wedge. A crispy outer shell gives way to tender all-white meat that's juicy to its core. The best part? You can pop them in your mouth while sipping cocktails—no fork and knife required.
6
Photograph: Jaclyn Rivas
The name Luella will likely ring a bell for most Chicagoans: Luella's Southern Kitchen is a beloved Lincoln Square restaurant from the same chef (Darnell Reed) as this newer Bucktown joint. The menu here is condensed to shine a massive spotlight on buttermilk fried chicken done right. Pair your bird with maple candied yams and collards, and you'll swear you're back at your granny's house for Sunday supper.
A trifecta of fats—ham drippings, leaf lard and clarified butter—endow Paul Fehribach's signature cornmeal-dredged fried chicken with richness and tremendous crunch. It's served in shareable half-bird portions, and while the smaller pieces can be overwhelmed by their crusty cornmeal encasements, the textural ratio clicks into perfect balance with the meatier thigh and breast, whose succulent strata conceal torrents of briny juice.
With locations in Lakeview, River West, Wrigleyville and the Loop, it's never terribly difficult to get your hands on the Roost's buttermilk-brined, hand-breaded chicken. The same level of care goes into the buttermilk biscuits, which are made from scratch in small batches throughout the day, so you'll never get a day-old pastry. Try both menu highlights when you order a fried chicken sandwich on a biscuit, which includes two sides (cucumber coleslaw and creamy mac are the way to go).
Fluorescent lighting and canary-yellow formica are about as much as you'll get in the way of ambience at this neighborhood favorite, tucked down a side street just off of Archer Avenue in Garfield Ridge. But that chicken, though. Fried to order (veterans know to call 30 minutes in advance), it arrives clad in a mellow gold coating (or "butter crust") that's sturdy and salty and satisfyingly crunchy—a beautiful complement to the juicy chicken beneath.
Whether you like your fried chicken solo or in a sandwich, hot or mild, Parson's has just the cure—if you're willing to wait. With a line that can easily set you back two hours, you know Parson's is the real deal. The reward, however, is worth your time (and the negroni slushies aren't a bad idea while you wait). The chicken here is best enjoyed on its own, and you can choose from two pieces, a half or whole bird or a skillet, which includes fixings. Boasting a perfectly seasoned crust and a mahogany-colored fry, Parson's chicken is just right.
This small but mighty Logan Square newcomer specializes in exactly one thing: lollipop (or tiger) chicken wings. The poultry here is known for its barely-there batter, juicy meat and a signature sticky sauce that takes hours to prepare. Get your wings with a side of jasmine rice or upgrade to musubi rice, which is studded with kimchi and hunks of Spam.
Attempting to put her finger on the essence of the chickens in her one-time home of France, Julia Child mused, "They were so good and chickeny." A similar assessment fits the fried bird at one of Chicago's most iconic dining institutions, Harold's: It's just so fried chickeny. The meat is tender, with a faint funky undertone of grease; the breading savors simply of salt and pepper, and fresh from the fryer, it boasts a pastry-like flakiness—a result, perhaps, of the beef tallow allegedly incorporated into the cooking oil. A vinegary hot sauce (or mild sauce) adds an optional acid zip.
If you crave something a little sweet to counter all that fried goodness, look no further than this South Side favorite that's located just off the 47th Street stop on the Green Line. The sunny spot serves its fried chicken alongside cinnamon French toast and sweet honey butter (which you should slather all over the chicken, too). Each bite is the perfect blend of sugar and spice, a nice option for breakfast enthusiasts who can't decide.