Ultimate claypot rice showdown
We put six popular claypot rice dishes head-to-head to see which is Hong Kong's best
As the weather turns colder, Hongkongers love to combat the chilly weather by induldging in seasonal treats like hot pot, a steaming cup of hot chocolate and of course, claypot rice. It's around this time of year that people begin flocking to areas like Temple Street, Sai Wan, Shau Kei Wan and Kowloon City, in a sort of winter migration, to acquire the best and most authentic claypot rice dishes. We scour the city and try six of the most famous claypot rice dishes to decide which can be crowned king. By Ann Chiu and Olivia Lai
Hong Kong's best claypot rice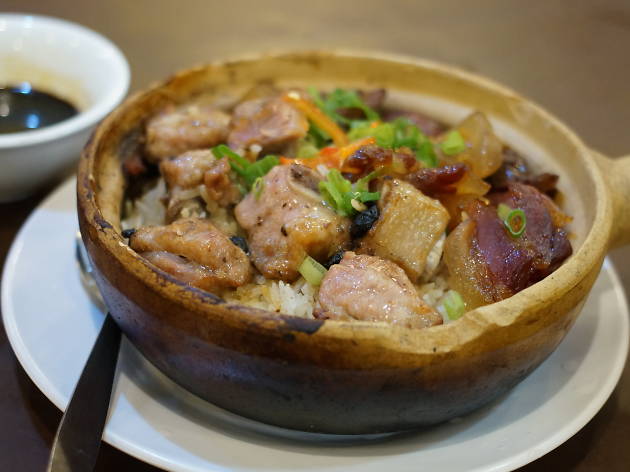 Sheung Hei is a well-known neighourhood joint in Kennedy Town, recommended in this year's Michelin Guide. The restaurant is so popular, there are queues every evening almost without fail. There are about 30 different claypot rice options to pick from at Sheung Hei. Its popularity may be down to the chef's habit of mixing fresh and leftover rice and adding a couple of drops of pig oil, which helps it achieve the perfect charred condition.
Time Out tries: Preserved meat and sparerib claypot rice ($75)

The rice is nicely crisp, cooked to a golden brown colour, and you can easily scrape off the entire charred bottom in one go. The Chinese sausage is sweet with a hint of rose while the spareribs are incredibly flavourful. The roast meat is not too fatty and pairs well with the soy sauce. All in all, a great dish and top-notch service, too.
Time Out rating (out of five)
Rice: 4
Ingredients: 5
Soy sauce: 4
Rice crispiness: 5
Total: 18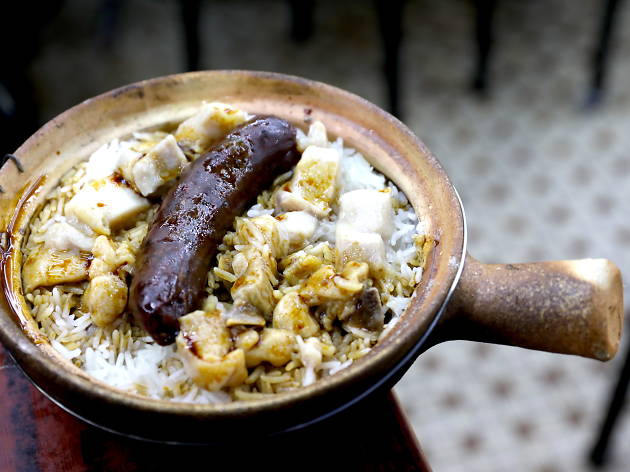 Not to be confused with the five-star hotel, Four Seasons is like the grand daddy of claypot rice on Temple Street – it's been serving the hungry folks of Mong Kok for more than 30 years. The moment claypot season hits, massively long lines start forming outside. The claypot rice is cooked using a charcoal fire and there are 30 different varieties you can select.
Time Out tries: Chicken and Chinese sausage claypot rice ($57)

Although the rice has a great aroma, the texture lacks the desired crispiness and is a tad sticky. Unfortunately, the alcohol in the liver sausage doesn't fully evaporate and the chicken, while soft, lacks flavour. Disappointingly, it's the soy sauce that stands out the most.

Time Out rating:
Rice: 3
Ingredients: 3.5
Soy sauce: 4.5
Rice crispiness: 3
Total: 14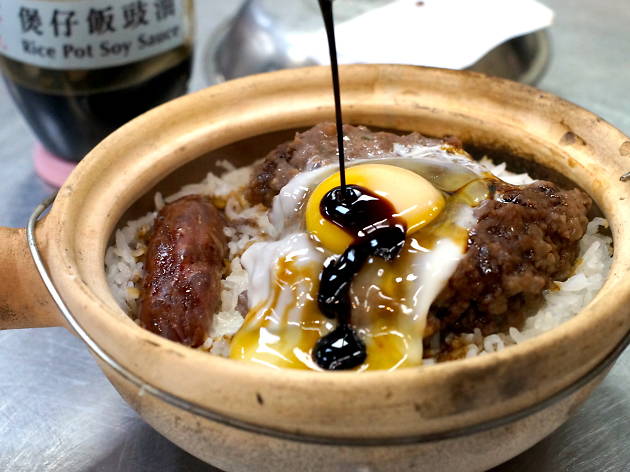 Hing Kee is another Temple Street institution with more than 30 years of history. It now spreads across two streets in the neighbourhood with six separate branches, so at least you don't have to queue for long to get a seat. Many tourists come here for the cheap and authentic local cuisine. In terms of claypot rice, there's a plethora of options that allow you to mix-and-match up to 60 different variations.

Time Out tries: Minced beef with Chinese sausage claypot rice ($56)

The texture of the rice is a little mushy while the bottom is too charred and hard. Our complaints continue: the minced beef is a bit too gamey, the Chinese sausage is too oily and tough to bite into, and the soy sauce is rather on the salty side.
Time Out rating:
Rice: 1
Ingredients: 2
Soy sauce: 2
Rice crispiness: 1
Total: 6
The don of claypot rice in Sai Ying Pun, Kwan Kee is famous for its signature charcoal-cooked claypot rice and the quality is equally good whether at this SYP branch or its flagship branch in Sham Shui Po. Reservations are a must to get a seat during dinner and be warned, you have to wait an hour for your rice once you've placed your order.

Time Out tries: Beef and egg with Chinese sausage ($100)

The rice is seriously well-cooked and evenly crisp across the entire bottom of the pot. The soft texture and flavour of the beef works well with the top quality Chinese sausage and the sweetness of the soy sauce, making for a winning formula.

Time Out rating:
Rice: 4.5
Ingredients: 4.5
Soy sauce: 5
Rice crispiness: 4.5
Total: 18.5
A trusted old name in Kowloon City with decades of history, Tim Lok Yuen not only does great noodles and regular rice dishes, but also offers 20 different claypot rice options. Signature flavours include ginger and fish belly, chan pei and fish intestine, and fish curry.
Time Out tries: Preserved duck and Chinese sausage ($80)

The rice is a letdown here – the bottom is simply burnt rather than the golden, crisp ideal. The preserved duck's saltiness is unreasonably increased by the soy sauce, leaving the dish a salty mess.
Time Out rating:
Rice: 2
Ingredients: 4
Soy sauce: 3
Rice crispiness: 2
Total: 11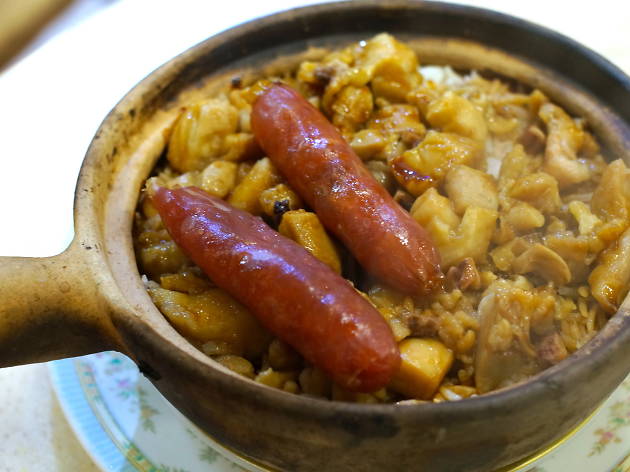 Sui Wah's owner was once a chef at the renowned – and sadly closed – claypot rice specialist New Chui Wah in Causeway Bay, so you he should be able to deliver a mean claypot rice. Pick and choose from 30 different versions of the siganture charcoal-cooked dish, with ingredients ranging from traditional ones to funky Western-fusion mixes like mushrooms and foie gras, and beef and garlic.
Time Out tries: Octopus and chicken with Chinese sausage ($75)

Unfortunately, the rice isn't aromatic or evenly crisp. The seasoning of the octopus and chicken rescues the dish, though, with the Chinese sausage striking the perfect balance between fatty and lean. The soy sauce comes with layers of flavouring and mixes brilliantly with all the ingredients.

Time Out rating:
Rice: 3
Ingredients: 4
Soy sauce: 4.5
Rice crispiness: 3
Total: 14.5
Sai Ying Pun's Kwan Kee and Sheung Hei in Kennedy Town both come out on top, seperated by a mere half-point. While one offers a stronger soy sauce, the latter serves up the ideal crisp rice, and both deserves the title of Time Out's king of the claypot rice.
Looking to chow down on more local food?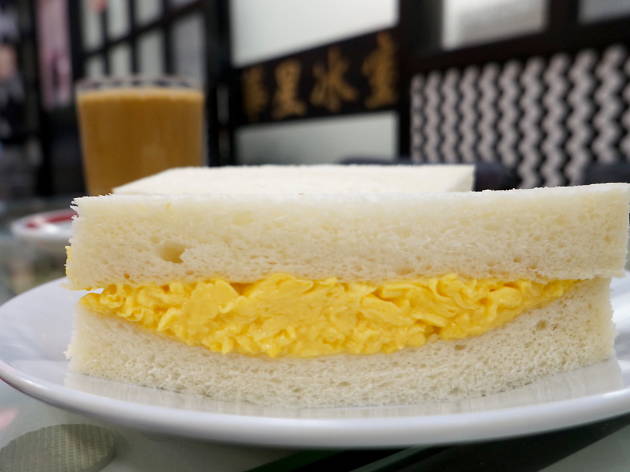 While most Hong Kong cha chaan tengs can boast egg-cellent sandwiches, we decided to go undercover and pit four of the fluffiest, creamiest egg sammies in town against one another in the hope of crowning the best in Hong Kong.