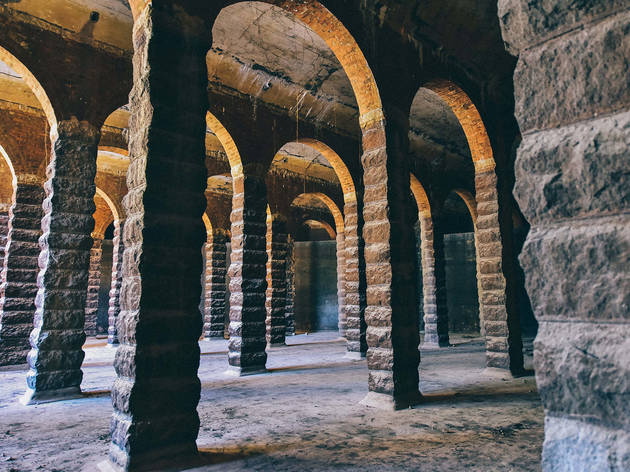 12 Beautiful places you won't believe are actually in Hong Kong
See it to believe it
Our city is instantly recognisable by its claustrophobic high-rises, neon street signs, and the iconic Victoria Harbour, but there are also plenty of lesser-known scenes and streetscapes that might surprise you to discover. From Roman baths to country parks, stunning mountainscapes to a man-made lake that will make you forget about the city, these scenic spots all exist in Hong Kong, even if that doesn't seem remotely possible.
RECOMMENDED: Looking to get in some exercise while experiencing Hong Kong's outdoors? Check out some of our favourite cycling routes in Hong Kong.
Stumbled upon a gorgeous hidden gem? Tag your photos on Instagram with #timeouthk to be featured.
Places you won't believe are in Hong Kong
View this post on Instagram
In 2017, Kam Tin village took part in a community revitalisation project, and after gathering the consent of all the villagers, different artists and volunteers began to cover the village with all sorts of vibrant wall art. There are around 40 murals or so, with some still in the process of completion, and they're dotted all around the village, so it takes a bit of exploring to find all the colourful pieces of artworks, but trust us, it's well worth your time. Just a short 15 to 20 minute-walk from Kam Sheung Road station, the Kam Tin mural village will make you feel as though you're strolling through a beautiful small town in Europe.
View this post on Instagram
Also known as the mini Grand Canyon of Hong Kong, Pineapple Hill has become an Instagram hotspot in recent years – and there are no surprises why. Located to the northwest of Tuen Mun, the 'canyon' has been shaped by nature over many years, creating lots of interesting ridges and dips. For the perfect 'grammable moment, take a picture at sunset. Do be careful though, as the ground can be rather bumpy and irregular.
View this post on Instagram
Nature's Harvest is a beautiful, peaceful, and family-friendly organic farm quietly tucked away behind HKUST, adjacent to a small beach called Park Shui Wan. You can visit the farm and get in touch with nature through the many activities available, including farming experiences, cooking and handicraft workshops, and many more. Or, you can simply just sit back and admire the beauty of the farm's surrounding greenery, and forget about the hustle and bustle of the city.
View this post on Instagram
Like a page out of a storybook rather than bustling Hong Kong, Cape D'Aguilar provides a picturesque escape from the intensity of the city's urban environment. The Cape's lighthouse isn't just the oldest one of its kind still standing in the SAR, it's also among the earliest colonial structures to be built here and was completed in 1875. The declared monument and its magnificent ocean views make for a stunning postcard-worthy photograph.
View this post on Instagram
Hong Kong is 70 percent green but it's still always shocking when we see pictures like the above. With its rolling hills marked by just one single road, this aerial shot of Tai Mo Shan is a reminder of just how much more there is to our city besides skyscrapers and shopping malls.
View this post on Instagram
Located in a 4,300sq m site at Bishop Hill in Shek Kip Mei, Sham Shui Po, the Romanesque cistern featuring underground chambers with 100 brick pillars and water pipes was discovered on December 28, 2020, while the Water Supplies Department was clearing the site in preparation to hand over to the Lands Department for other use.
Reservoirs in Hong Kong were built after World War II, but the Bishop Hill cistern shows a water pipe with '1909' written on it which dates the site during the pre-war period. Local historians believe that the century-old Romanesque underground reservoir could be a valuable historical relic to Kowloon's development.
View this post on Instagram
Few know about this Roman-style bathing pool in Hong Kong, let alone the fact that it's part of a drug rehabilitation centre that sits on a manmade island. What's even weirder, is the fact that this classic structure – featuring colonnades and stone statues, many built by recovering addicts – is surrounded by a mishmash of temples and decorative features inspired by traditional Chinese mythology. Unfortunately, if you want to witness this (bizarre) example of east-meets-west architecture, the island is closed to the public and requires a special permit to access.
View this post on Instagram
Aside from the obvious health benefits, hiking in Hong Kong can often lead you to some truly breathtaking views. This ethereal shot by eco-tour operator Wild Hong Kong is the perfect case in point. Taken from Lantau Peak, which is wrapped in morning mist, this captured scene almost seems like something out of a JRR Tolkien novel.
View this post on Instagram
You don't have to travel to Boracay for pristine, azure waters. Big Wave Bay, or Tai Long Wan, which sits on the east coast of Sai Kung is a clear-seas, white-sand paradise that doesn't require a plane to get to. Granted, you will have to do a bit of a hike to get there, but it's worth the trek to get to this relatively untouched oasis.
View this post on Instagram
Part of the Global Unesco Geopark, Basalt Island is one of Hong Kong's most spectacular natural wonders. The ridged rock formations date back to the Cretaceous period, around 140 million years ago. Aside from its ridged surface, sculpted by the wind, waves and sand, the island is also home to extraordinary sea caves and marine life that will make you wonder if you really are in Hong Kong.
View this post on Instagram
Pick any spot in Shing Mun Reservoir and chances are it'll look nothing like the Hong Kong you know. From the lush greenery that surrounds the aqua-blue body of water to the steel bridge and valve tower that stand out like ancient relics, there's plenty of interesting things to see here, making it the perfect destination for a leisurely stroll or Instagram excursion.
View this post on Instagram
To be fair, every part of Disneyland looks otherworldly in Hong Kong, but the Inspiration Lake Recreation Centre, with its New England-style architecture and 12-hectare man-made lagoon, looks particularly at odds with what we imagine when we think of our metropolis. Despite being often overrun with picnickers and people taking their graduation photos, Inspiration Lake is large enough for you to still enjoy some relative peace and quiet.
Discover more of Hong Kong
How many of these unexpected things have you done in Hong Kong?
Some nature inspiration for your next adventure.
Best selling Time Out Offers