London's best Sunday lunches
If you're looking for a traditional pub roast or a cracking restaurant serving Sunday lunch in style, you've come to the right place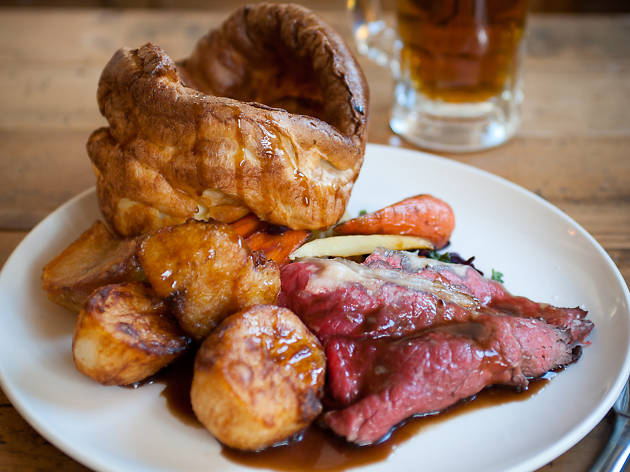 Let Time Out experts guide you through the best Sunday lunches in London – from traditional roasts in London's best pubs to meat, two veg and a whole lot more in London's best restaurants. Think we've missed a great place to have Sunday lunch? Let us know in the comment box below.
Reviews by Laura Richards, Nicola Arencibia, Tania Ballantine, Megan Carnegie, Phoebe Trimingham, Hayley Joyes, Ashleigh Arnott, Cath Clarke, Dave Calhoun, Alex Plim and Alexi Duggins.
Make the most of your Sunday
Brunch in London is bigger than ever. You can bearly set foot out your front door at the weekend without stumbling across a steaming pan of shakshuka or finding the waft of waffles in the air. So let us guide you to the best spots in town for a kick-ass weekend brunch in London, from boozy bottomless brunches to traditional Full English fry-ups and even New York-style feasts, you can start off your weekend in style.
Read more
Sponsored listing
Gillray's Steakhouse & Bar
Gillray's occupies a large site inside the London Marriott Hotel County Hall, facing the London Eye and Houses of Parliament. Get the right seat and you'll be treated to some spectacular views of both, and down the Thames. It takes its name from the eighteenth-century satirist James Gillray, and features some of his works on the walls (though wisely they've omitted 'The Gout', his grotesque take on good-living). It's mostly about steak here, with T-bones, rib-eyes, fillets and sirloins alongside an imposing-looking 'bull's head' – a butterflied prime-rib weighing in at a kilo. Pork T-bones, Barnsley chops, loins of veal and BBQ spare ribs are also on the grill, plus there are burgers, slow-cooked lamb rump and seared cod with confit celeriac, broad beans and a sorrel and razor clams sauce, too. Afternoon tea also features, ranging from the traditional to a 'gentleman's' version with unlimited ale. 
Venue says: "Offer - steak and chips for £15, available everyday between noon-3pm."