London's best Sunday lunches
If you're looking for a traditional pub roast or a cracking restaurant serving Sunday lunch in style, you've come to the right place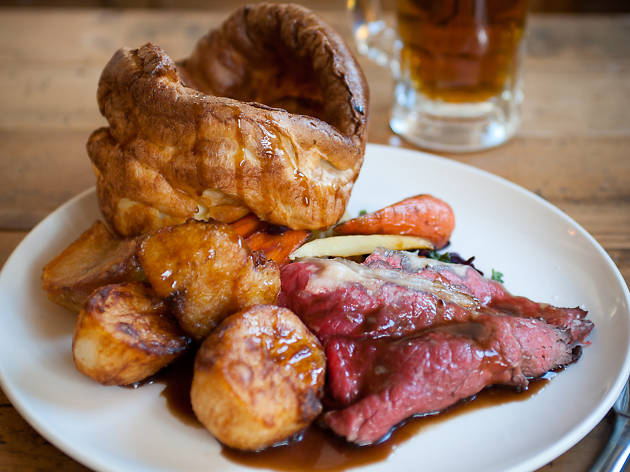 Let Time Out experts guide you through the best Sunday lunches in London – from traditional roasts in London's best pubs to meat, two veg and a whole lot more in London's best restaurants. Think we've missed a great place to have Sunday lunch? Let us know in the comment box below.
Reviews by Laura Richards, Nicola Arencibia, Tania Ballantine, Megan Carnegie, Phoebe Trimingham, Hayley Joyes, Ashleigh Arnott, Cath Clarke, Dave Calhoun, Alex Plim and Alexi Duggins.
Make the most of your Sunday
Brunch in London is bigger than ever. You can bearly set foot out your front door at the weekend without stumbling across a steaming pan of shakshuka or finding the waft of waffles in the air. So let us guide you to the best spots in town for a kick-ass weekend brunch in London, from boozy bottomless brunches to traditional Full English fry-ups and even New York-style feasts, you can start off your weekend in style.
Read more
Sponsored listing
Bars and pubs
Recommended
The Alfred Tennyson
The Alfred Tennyson was, until August 2015, called The Pantechnicon Rooms. The review below refers to the venue under this name. Time Out food and drink editors. This grand old spot was once a repository for works of art, stored in a high-ceilinged space behind Doric columns. Faithfully restored, it's now flooded with natural light and lined with oak tables and leather chairs – a place for art dealers in smart, stripy shirts to entertain and network over braised pork belly or saddle of Devon lamb. There's also an upstairs dining room with a slightly more contemporary feel. The ground-floor area is bookended by a bar, where Adnams is the standout beer. A 15-strong cocktail list includes a Moscow Mule with Belvedere vodka, while the wine list covers most bases, beginning with a Hungarian pinot grigio and a Languedoc merlot.