London's best Spanish restaurants
Explore these stylish Spanish tapas bars in London that capture the flavours of the sun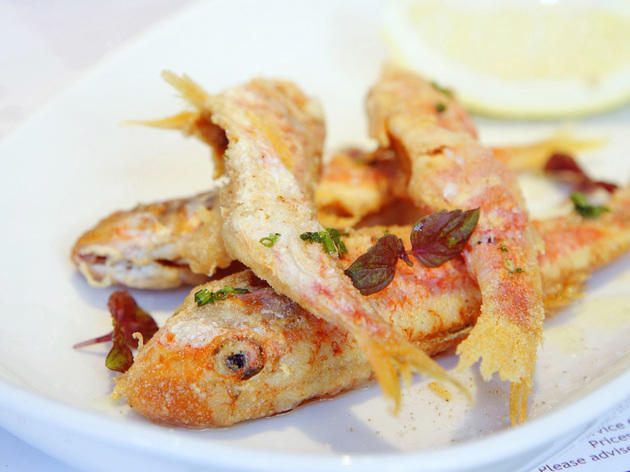 Searching for some enticing Spanish restaurants in London? From tapas to more traditional regional dishes, here are the best restaurants in London offering authentic cuisine from the Iberian Peninsula. Do you agree with our choices? Use the comments box below or tweet your suggestions.
The best Spanish restaurants in London
Save this Spanish staple for the summer months, as Aqua Nueva has a rooftop terrace to die for – you'll think you've arrived in Andalucia instead of Argyll Street. Indoors isn't quite as atmospheric and dishes are on the expensive side (patatas bravas cost a spicy £7.50), but the setting attracts some beautiful people and the flavours are as punchy as any hispanophile could hope for.
Book now
Read more
All three branches of Barrafina tapas bars in London remain vastly popular – Londoners have embraced their authentic Spanish style. The tapas, supplemented by larger specials, are truly exceptional, with careful sourcing of impeccable ingredients, especially seafood and Spanish cold meats. A list of sherries, cavas and other wines by the glass are as much of a draw as the food, and perfect for experimenting with as you nibble.
Read more
Barrica brings Fitzrovia's media crowd a taste of laidback Spain, and despite the playful decor, the drinks menu is serious: 16 sherries, all served by the glass, ranging from the intensely sweet to the bone-dry and salty. There's a wine list too: around 30 Spanish vinos picked by the bar's oenophile owner. You don't go to Barrica to get legless – it's a smart bar on Goodge Street – so order a few of the brilliant tapas dishes to keep things civilised.
Book now
Read more
The traditional and the contemporary combine to fine effect at this newbie Brixton tapas joint. The menu offers modern twists on tapas such as enjoyably slimy aubergine cannelloni, and a parsnip crisp-topped roast pork dish rendered stunningly refreshing by a little ball of lemon sorbet melting into a pool of apple sauce.
Book now
Read more
Tucked away in Regent Quarter, you'll encounter the sprawling Spanish hotspot that is Camino. The menu provides various options – tapas, platters, a tasting menu and at weekends, tempting brunches with a Spanish twist. The informal, fun atmosphere makes Camino a great place to come with a group for a lively night out.
Buy tickets
Read more
Like sister restaurant Barrica, the tapa-sized dishes venture admirably off the well-trodden tapas path. Dishes like empanadillas de carne and aubergine stew with tahini and mint show how well the tapas concept translates across cuisines. Puddings are diminutive, so you don't feel like you need to be winched out post-meal. You're encouraged to have several little glasses (copitas) from a well-informed list of Spanish wines and sherries. Service is fast and friendly, making this a valuable find in the heart of Soho.
Book now
Read more
Don't be fooled by this Basque-style tapas bar's rough-and-ready look: Donostia's street food background makes it a slick outfit. Food – the type that makes you gesture to your companion with your mouth full – arrives without fanfare. There's always somebody to refresh your drink, but you're never made to feel like you've outstayed your welcome. Expect Ibérico pork cheeks, glorious Patatas bravas and for dessert, honey-drizzled leche frita, a traditional milk-based dessert.
Book now
Read more
A looks-like-a-cocktail-bar-acts-like-a-tapas-bar kind of a place, with 22 seats, Duende is small but perfectly formed. Shiny copper counters offset dark floors and dark ceilings and there's premium spirits plus independent gins behind the bar. It's a slinky, intimate setting for some modish tapas; think trio of fried oysters and daringly pink lamb chops, seasoned with a blob of heady aioli. Staff are enormously charming and the music is moody and sophisticated. Simply put, Duende is the good kind of hybrid.
Read more
El Ganso attracts a healthy amount of Spanish-speaking customers and the rustic restaurant aesthetic – exposed bricks and Moorish tiling – suggest equally classic tapas. Dishes are served beautifully in a way that defies expectation, even the patatas bravas at our neighbouring table came pimped up in a mini frying basket. Seafood is excellent across the board and we left this neighbourhood tapas joint as if we were basking in the heat of the Med.
Read more
Show more
See more Spanish restaurants in London
Discover more lip-smacking continental grub in London
From crusty sourdough pizzas to Venetian small plates, from Michelin star restaurants to rustic eateries, tap into London's vibrant Italian restaurant scene.
Read more
Sponsored listing
North China
There certainly seems to be plenty of longevity to this Chinese restaurant on Uxbridge Road - it's been going for nearly 40 years. Throughout that time it's been in the Lou family, with Lawrence Lou - son of the original owner - currently holding the reins. The menu options are flexible, with a number of set menus alongside traditional Chinese hors d'oeuvres, soups, rice dishes, noodles and mains. Dishes include sweet and sour chicken, Peking duck, chicken in yellow bean sauce and twice cooked pork belly with chilli bean sauce. There are four desserts, too. 
Venue says: "Mouthwatering Peking cuisine with an emphasis on quality. Try our chef's choice menu for £27 per person."