Where to see flowers near Melbourne
Surround yourself with beautiful blooms at these flower gardens close to Melbourne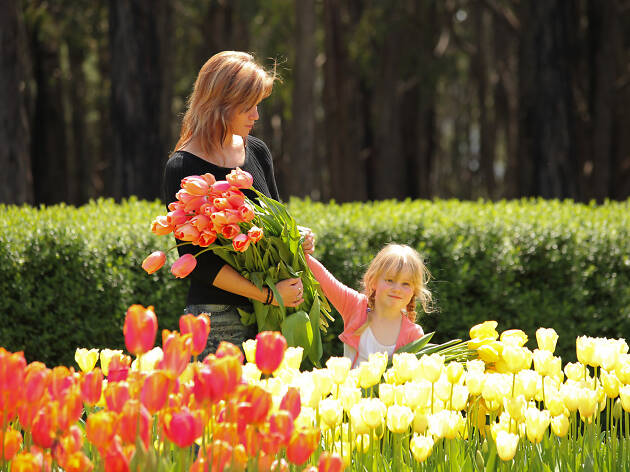 Melbourne is not only great for food and footy – it's also florally fantastic too. Just a short journey from the city's concrete jungle you can find everything from curated rose gardens to wild fields of colourful native flowers. Plus many of the city's surrounding flower farms also host open days and festivals celebrating their favourite blooms. While all these places are open to view flowers during certain times throughout the year, always make sure to ask before picking any to take home.
Closer to home check out Melbourne's best parks.
Where to see flowers near Melbourne
Attractions, Parks and gardens
Stop and smell the roses this spring at Werribee Mansion. The Victoria State Rose Garden is located on the plush grounds of the 19th century Italianate mansion and is home to 5,000 roses across five hectares (which are also shaped to resemble a Tudor rose). Some of the best performing and photogenic roses include the white 'Aspirin', peach-coloured 'Brass Band' and baby pink, lemon-scented 'Angel Face'. The gardens are open every day.
Best time to go: October and November
Attractions, Parks and gardens
Blue Lotus Water Garden is more than 50,000 square metres in size and is covered by a multitude of water lilies and lotus flowers over dozens of ponds and two lakes. Take a stroll around the gardens and peek inside the four greenhouses that grow rare plants, including the Giant Amazon Lily, the world's largest lily species. This top-notch garden is what they call a seasonal display garden, meaning it's only open for a very short time throughout the year.
Best time to go: December to April (visit the website for the exact dates)
Hot take: peonies don't get nearly as much attention as they should. See the bulbous, frilly flowers in all their floral glory at Spring Hill Peony Farm. Peonies bloom a little later than other spring flowers (around late November) so they're perfect for those who want to wait until it's warm to go picking. The peonies here are available in shades of white and pink and can be bought in punches, pots or you can opt to pick your own (BYO secateurs). Dates liable to change due to weather and updates can be found on Spring Hill's Facebook page.
Best time to go: Late November
These European-style gardens are situated in the not-so-European hills of Shepherds Flat in north-west Victoria. The farm sits on a 40-hectare property originally operated by a Swiss-Italian family who came to Victoria in search of gold. Today it boasts an incredible lavender farm, vegetable and herb gardens and an on-site cafe. Skim your hands over the building's original 1850s stone brickwork and try your best to bottle the scent for a rainy day.
Best time to go: Late summer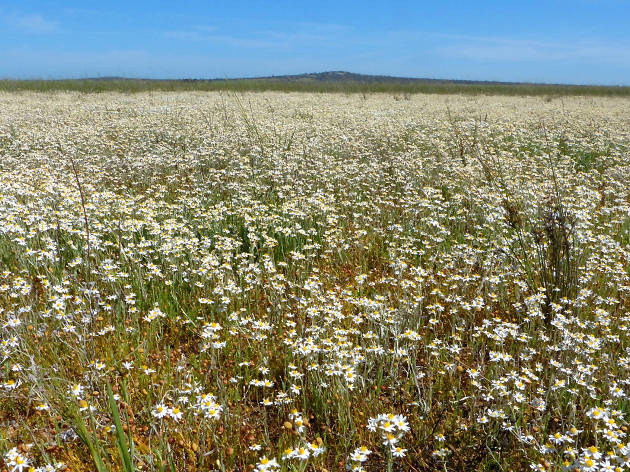 Photograph: Supplied
Fabians Block in Terrick National Park is a bit far afield (it's closer to NSW than Melbourne), but it's well worth a visit if you love daisies. The park features open plains which in the spring burst into flower. There are thousands of daisies to gaze at as well as lilies and peas. Look with your eyes, not with your hands – it's illegal to pick wildflowers in Australia.
Best time to go: September
If you're on the prowl for native wildflowers, Victoria has a few locations worth visiting. Wildflower Drive in Greater Bendigo National Park comes alive with golden wattle every spring. Anglesea Heath in the Great Otway National Park is known for its orchids (especially along Bambra-Aireys Inlet Road and Bald Hill Road), while Lerderberg campground in Lerderberg State Park has plenty of heath, orchids, wattles and peas.
Best time to go: Spring
Discover Melbourne's secret gardens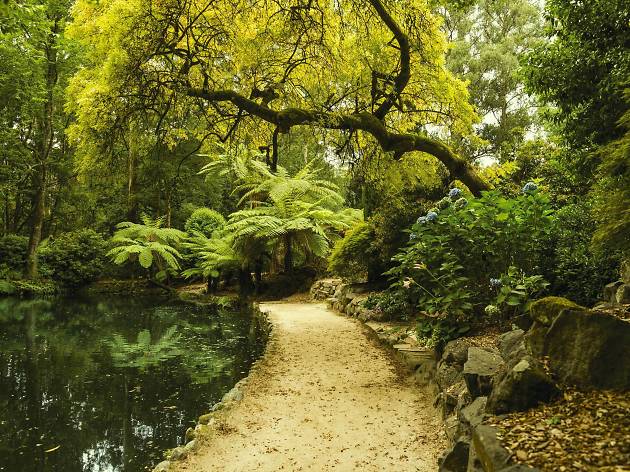 If you've seen everything there is to see at the Royal Botanic Gardens, it might be time to stop and smell the flowers at these unsung gardens around Melbourne.