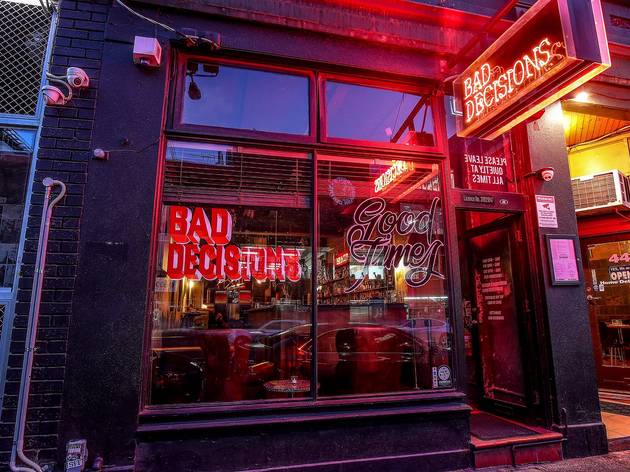 1/10
Photograph: Graham Denholm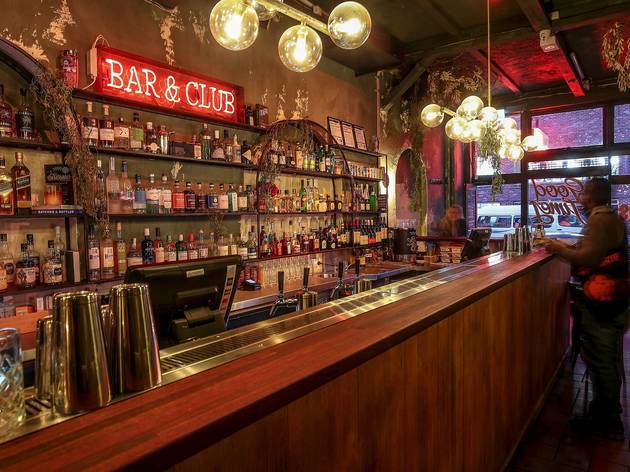 2/10
Photograph: Graham Denholm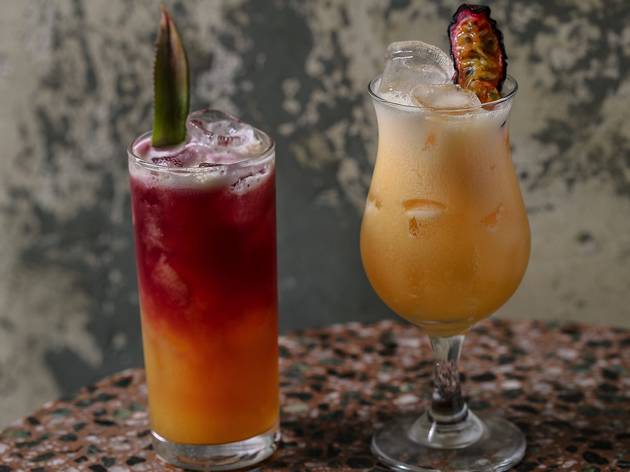 3/10
Photograph: Graham Denholm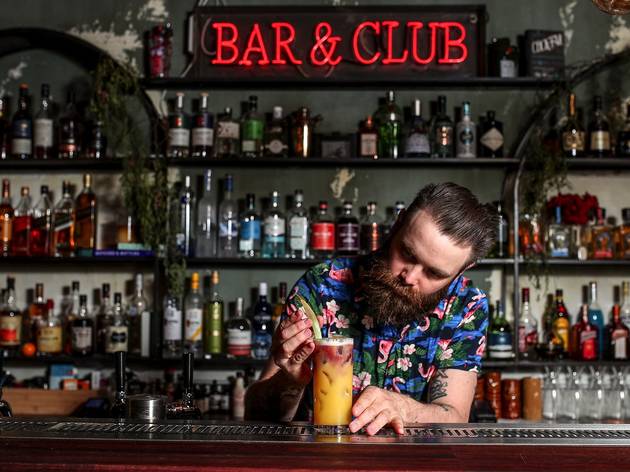 4/10
Photograph: Graham Denholm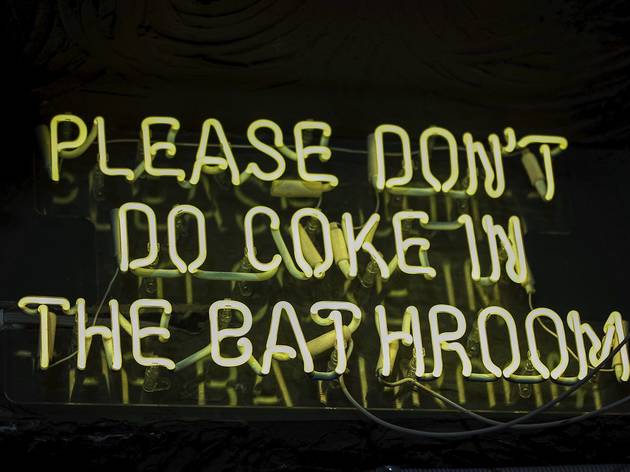 5/10
Photograph: Graham Denholm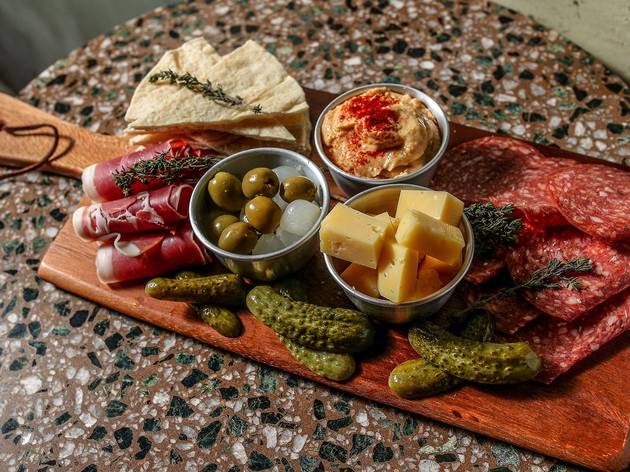 6/10
Photograph: Graham Denholm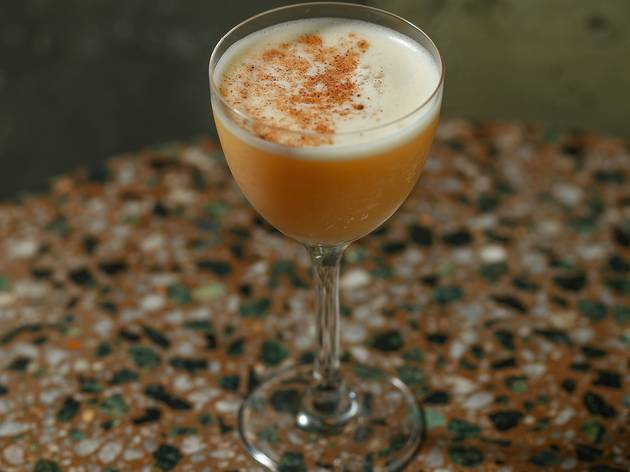 7/10
Photograph: Graham Denholm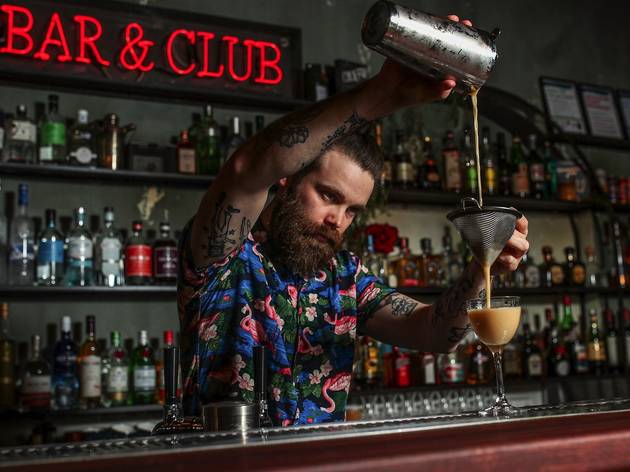 8/10
Photograph: Graham Denholm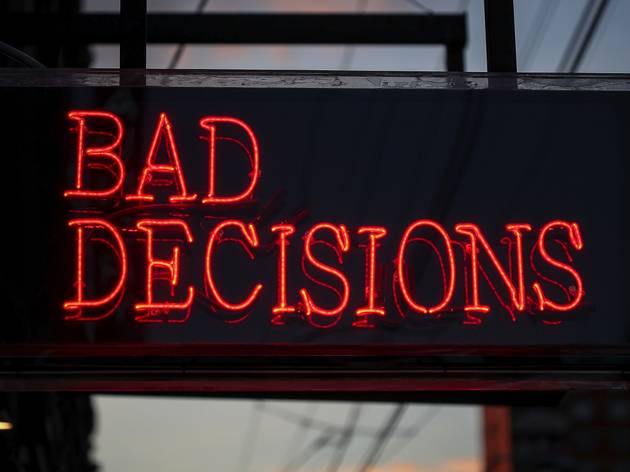 9/10
Photograph: Graham Denholm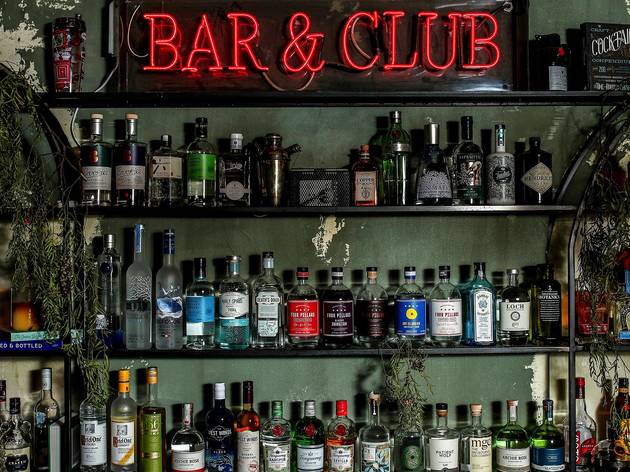 10/10
Photograph: Graham Denholm
Time Out says
A bar whose name has little truth in advertising
Fitzroy's Johnston Street could easily be host to one of the best bar crawls in the north. If you work your way towards the city from Abbotsford, you've got Bodriggy Brewing Co., Dr Morse, Lulie Tavern, Nighthawks, the Tote, Bar Liberty, the Rochester, Fitzroy Town Hall Hotel, George's Bar, the Old Bar, the Shady Lady, Laundry Bar, and finally, Bad Decisions. And that's only if you're ending at Nicholson Street before you're willing to disgrace yourself with a last-ditch drink at the Tankerville. Yep, we're spoilt.
In what used to be an old tapas bar, Bad Decisions promises good times (quite literally, with a decal affixed to the window) and possible future regrets in the intimate, narrow bar with floating terrazzo armrests jutting out of the wall, signalling that at times it is standing room only and that things get a little wild towards the later hours of the night – a neon sign on the way to the toilets unashamedly reads 'Please don't do coke in the bathroom'. However, despite Thirsty Thursdays, when all cocktails are $15, Tap That Fridays, when all tap cocktails are $10 from 6-8pm, and Whisky Weekends, which gets you whisky-based cocktails at a fraction of the price, Bad Decisions encourages responsible consumption of alcohol, if you wish to walk that path. There is a substantial list of no-booze mocktails and low-booze cocktails on their menu, which is progressive AF for a late-night bar in the party end of Fitzroy. It's certainly a mark of professionalism from owners David Barrett and Tina Barrett, who also own hip-hop club Laundry Bar and dive bar George's.
On the Thursday we visit, the music is controlled by bar manager David Watson, who plays a rock-heavy playlist featuring Queens of the Stoneage's 'Feel Good Hit of the Summer', The Stroke's 'Last Nite', Radiohead's 'Freak' with Jack White's 'Lazaretto' transitioning into the Black Keys' 'Tighten Up'. But it's not just the music he's comfortably controlling. As a lone barman at the hour we visited, he recommends and mixes drinks far above the standard you'd expect at a party bar while pouring out shots, opening beers and luring in new clientele with a friendly wave and hello. (It worked, if you're wondering.)
The Captain's Remedy is an aptly named spiced rum and amaretto-based sour constructed with aquafaba – that stanky liquid leftover in your can of chickpeas – instead of egg whites to make an entirely vegan cocktail without losing any of silky, fluffy texture you usually get from emulsifying booze into protein, and no, there is no hint of hummus. In fact, Bad Decisions is so wary of modern-day lifestyles that vegan-friendly wines are labelled as such on the menu (instead of unfined and unfiltered, which is what makes a wine vegan), and most cocktails are made vegan unless it is absolutely necessary to use animal products, which to us screams considerate quality control. Flippin' the Bird, conversely, uses a whole egg to bring together whisky, Dom Benedictine, Yellow Chartreuse and spices in a silky, complex and almost festive-tasting drink. We can't stress this enough, these cocktails and the proficiency with which they are made are way above the expectations of a late-night party bar. Juices to make cocktails like the Springtime Sanga come from a bottle rather than from fresh fruit because Bad Decisions is only open three nights a week and sometimes UHT is a better business decision, you snobs. The resulting cocktail is a tropical, pineapple and rum-based sipper offset by the tannins in a stain of malbec.
Food is pretty basic, with $20 grazing platters built with cured meats, cheese, olives, pickled onions, hummus (now we know where all those chickpeas have ended up), dill pickles and bread, which can be easily made vegetarian, and barbecue corn nuts. But we'd bet that you'd be forgiven for taking a break from the party to line your guts with the multitude of fast-food options nearby before grabbing another round of drinks. As for Bad Decisions, nah. More like no regrets.
Details
Best selling Time Out Offers