The best Northside lunches
Heading north? We've lunched our way around town to bring you the best of the boozy, cheap and power lunches.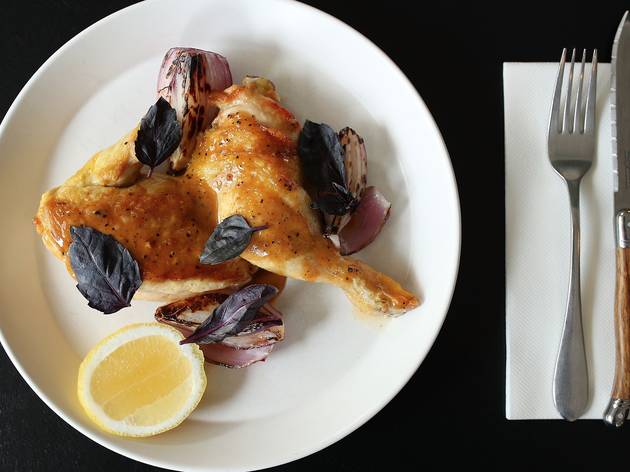 Not sure where you can get a quick and cheap meal once you jump off the 86 tram? What about where you can sink back with a glass of wine and lunch your way into dinner? No worries, we have got you sorted with our list of lunches when you trek it up north. Continue the celebration elsewhere at Melbourne's best wine bars and cap the night off at a whisky bar.
Northside lunches
1
Best for: The power lunch
For that old, European charm with service to match and delicious food, this is the place to go if you want to impress. Make a booking and the staff will take care of the rest. Use the balconies overlooking the gardens for a celebratory digestiv for when you close that deal.
Book now
Read more
2
Best for: The casual catch-up
Be surrounded by fast-paced Italians screaming over each other while tucking into a perfectly cooked plate of pasta and a glass of wine. Footpath dining makes for some excellent people watching. Expect things to get very busy during lunch time. Get in extra early or slip in for a late lunch if you don't want to feel rushed.
Read more
3
Best for: The boozy lunch
Get well looked after in this light-filled wine bar. The strength of the food here is in its simplicity, and everything from the olives to potato focaccia, daily pasta and roasted chicken is finessed and perfectly suited to the varied wine list. Desserts and digestivs aren't an afterthought, either.
Read more
4
Best for: The boozy lunch
This all-day cafe-cum-wine bar is tucked away on an often forgotten corner in Fitzroy. Napier Quarter uses the best of the season, so dishes celebrate a single ingredients like beetroot, mushrooms or persimmons at their peak. Settle back with a glass of wine or a coffee during your daytime yarn and watch the day fade away.
Read more
6
Best for: The casual catch-up
Specialty coffee roaster Industry Beans operates in an open-plan warehouse, which also dishes up some of the most interesting breakfasts and lunch in this part of town. Have a brew over a bowl of steel-cut oats dressed up with dragonfruit and a roasted pineapple mousse, or go elbow-deep into a coffee-rubbed wagyu burger with a side of polenta chips. Who said a quick café lunch had to be boring?
Read more
7
Best for: The casual catch-up
Wedged between a bunch of unions, Melbourne University and RMIT, the Lincoln is somewhere you can grab a pint and a stellar pub meal without having to feel like you have to make an effort. The food is unpretentious, but it is far from sloppy. Start with some cheddar and mustard croquettes before tucking into a chicken schnitzel topped with chicken skin butter next to a side of sticky glazed eggplant with ricotta. Take a seat in the front bar if you want to keep things super casual.
Book now
Read more
8
Best for: Cheap eats
There is truth to its name; VGF stick to the traditional Israeli take on the Middle Eastern pita wrap and platter. Options are limited to the falafel, sabih (fried eggplant), and ktzitzot (meat patties), which can be served in pita bread or on a plate of dips, pickles and salad. The falafel is exactly what it should be: still steaming hot, with a thick brown crust on the outside from a flash in the deep fryer, and bright green on the inside from the parsley-and-chickpea mixture. And of course, it's perfect eating when you're on the run.
Read more
9
Best for: Cheap eats
To the side of Lincoln square, you'll find some of the cheapest and best pizzas around town. Pietro Barbargallo has been keeping the student population of Melbourne University fed for years with his signature Neapolitan-style pizzas in his converted warehouse space. Do yourself a favour and order the gnocchi while you're there, it's the pillowiest in Carlton.
Read more
10
Best for: Cheap eats
Mario's hasn't changed anything except the prices in the 30-odd years it has been open, and that's only due to inflation. This institution is good for anything from a quick espresso to a solitary lunch or a casual date. The all-day breakfast means late risers still get eggs without feeling like they've missed the boat, but the spaghetti with mussels and meatballs make an appearance on everyone's tables for a reason.
Read more
11
Best for: Cheap eats
This bakery looks more like warehouse than bakehouse, but this no-frills Lebanese café is popular among locals for its no-fuss, all-flavour pies and wraps. Get your bread simply brushed with zaatar or load it up with a variety of cheeses and chopped onion, tomato, olives and fresh herbs to have a meal that can double as dinner – all for under $10.
Read more
12
Best for: Cheap eats
Soak in the afternoon sun from this unapologetically nostalgic sandwich bar run by the Kelso sisters. Sandwiches and milkshakes are the order of the day, so let your inner child shine through. The fish finger burger is reminiscent of school lunches, only infinitely better due to sharp cheddar, shredded iceberg and a tangy house-made tartare. All pickles are made in house, so do yourself a favour and add them to whatever sandwich you order. You can thank us later.
Read more
13
Best for: The power lunch
If BYO is your game, Sosta Cucina is best suited to you if you want to show off your well-cellared bottles. The food is classic Italian; the buttery baked scampi with hints of bottarga, range of pastas and milk-fed goat do well to complement a wide variety of wines.
Read more
14
Best for: The boozy lunch
You won't be at a loss of good places to eat on Gertrude St, but Marion is a booze-soaked crown at the top of the neighbourhood. You can order off the bible of wine that belongs to Cutler and Co in addition to the Marion wine list, designed for more new-world tastes. The food is contemporary Australian; you'll receive cured meats next to prawn and nasturtium rolls, mussels on a piece of fried bread sitting in a pool of its own liquor and laminated with nduja or a steak. Something for everyone, really.
Book now
Read more
15
Best for: The casual catch-up
It's a café setting with an all-day mentality. Breakfast serves you chia bowls next to smashed avocado or fried chicken and waffles. As lunch rolls around, a more serious braised lamb with a preserved lemon mayo or a fried fish burger makes way for a cheese selection before Archie's morphs into a bar. When they said all day, they meant it.
Read more
More of Melbourne's best meals
Here's to sandwiches, champagne and Sunday roasts. Lunch, we salute you and all of your delicious possibilities.
Read more