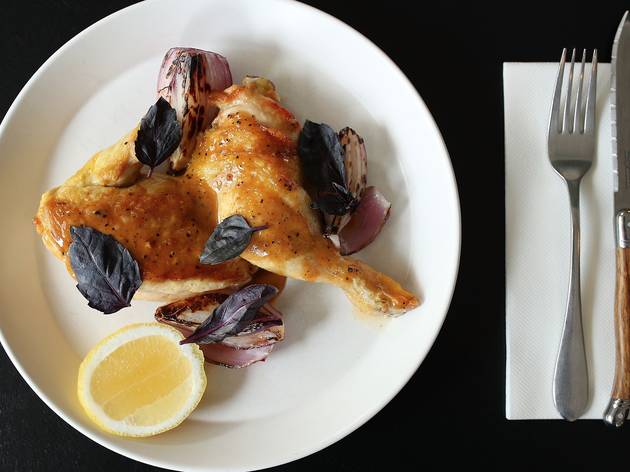 Best Casual Dining Restaurant: Time Out Food Awards 2019
Celebrating mid-priced excellence
Occupying a character-drenched bluestone on a Fitzroy corner, Napier Quarter is a dining-world unicorn – the perfect local. Perhaps we could even throw a ticker-tape parade in its honour for satisfying all dining and drinking whims from early morning to late at night. It has been here a while (since 2016, to be exact), so why is it only now being anointed our best casual diner? After spending the past few years elsewhere in the fine dining wilderness, its launch chef, Eileen Horsnell, has returned and taken it A-league.
She's come packing breakfasts of distinction (a special shout-out to the bottarga-sprinkled boiled eggs with rye toast and dill butter, the ultimate incarnation of eggs and soldiers). And once the sun is over the yardarm, her exacting eye for the kind of wine-friendly food that pushes the envelope but doesn't leave you blushing about it comes into its own. One of our favourite pasta dishes of the year (certainly the one that Instagrams the best), the housemade pappardelle lolls about in the wicked company of Parmigiano-Reggiano and thyme with a golden egg yolk cracked into its nest-like centre. Cacio e pepe, you've been served.
What you get here is the food equivalent of three chords and the truth. Nettle soup that's all liquid velvet perfection. Sardines on an agrodolce Mediterranean holiday. Veg dishes that are more than the sum of their parts. Of course, a place like Napier Quarter does not live on food alone and the blackboard wine list feels like a living thing, an ever-changing beast of lo-fi charms representing what its owners like to drink. Do we need to tell you to trust them? Please do. They have great taste.
See all the winners
The Time Out Food Awards lets us celebrate Melbourne's champions of the restaurant scene – and throw a party to remember. Here are all the winners from the hospitality scene's night of nights.
Best selling Time Out Offers