Best Casual Dining Restaurant: Time Out Food Awards 2018
Celebrating mid-priced excellence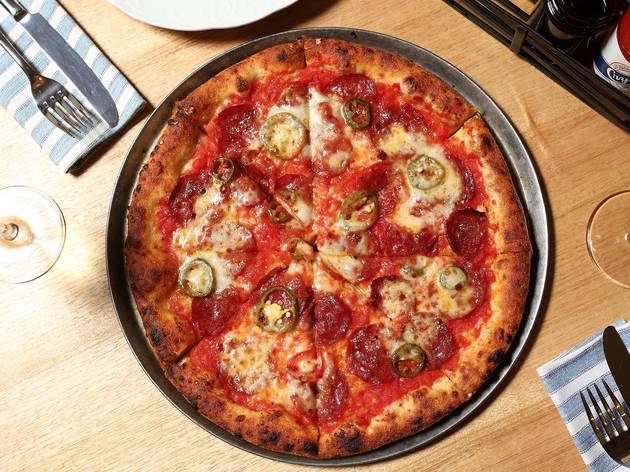 The city's still hot, the inner north is booming, but the west's got our vote. In a year
in which good dining options have spread their tentacles even further across Melbourne suburbia, West Footscray – WeFo to its friends – gets the gong as the 'burb with the casual diner to rule them all. Chef duo of Josh Murphy and Rory Cowcher, alumni of the Andrew McConnell Selective School for Over-Achieving Chefs, keeps many balls in the air. Their capable stewardship has turned Harley and Rose into the perfect neighbourhood spot (meaning: a kids' menu and no sneering at families) while also appealing to wearers of new-school tattoos and the slow creep of corporate types turning up the gentrification dial.
It's good to see a whole lot of natural wine get a run on a list that can only be described as perky. It's just as good to see a Ribena Quencher on the cocktail list. It's pretty brilliant to hear Daryl Braithwaite and Noiseworks piped into a room that would have taken out Low-key Fitout of the Year if we had such an award. And snackage is strong, from mortadella with mustard fruits to panzanella salad and charry octopus. Fluffy fingers of oven-hot focaccia arrive with a whipped cod roe that practically levitates. Lamb meatballs get their Greek on with yoghurt and risoni. Everyone's happy. And come summer there's going to be no better place to hang than the streetside picnic tables with a bubbling wood- oven pizza and Furphy Ale.
We also love...
Thi Le's modern Australian-Vietnamese food refuses to be pigeonholed (deep-fried cube of cheese custard infused with Vegemite?), but it's always toe- curlingly delicious.
This den of delicious iniquity marries a perfectly à la mode drinks list with the kinds of things you want to eat (salt and pepper veg , we're looking at you).
The heat is on the opening of upstairs restaurant Lesa, but we've still got the hots for Embla, with fire- licked fun all the way from the bread to the sublime roast chook.
4
Photograph: Supplied
Reinvented (again) into an Italian pit-stop with
a sustainable bent, Park Street delivers sunny Mediterranean flavour.
See all the winners
The Time Out Food Awards lets us celebrate Melbourne's champions of the restaurant scene – and throw a party to remember. Here is all the winners from the hospitality scene's night of nights.