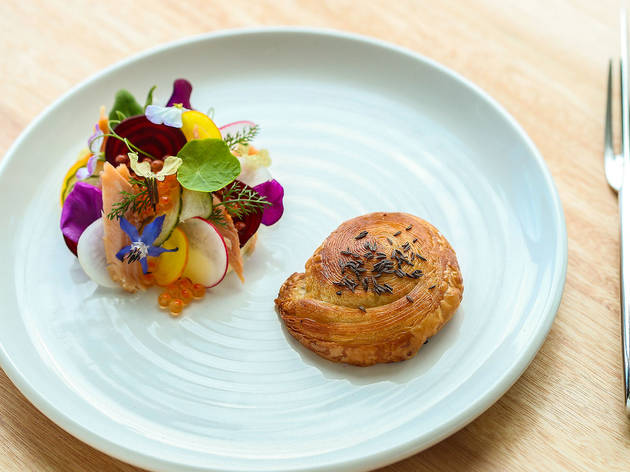 Restaurant of the Year: Time Out Food Awards 2019
Representing everything that's great about Melbourne dining
Winery dining is a bit of a thing right now. You only have to look at all the young folk colonising tables at Pt Leo Estate, Tuck's Ridge and Oakridge to realise that tumbling out of Revolver at 6am is no longer the only thing the average twentysomething aspires to on a weekend. And it can only be a good thing, right? Especially when signs are that winery restaurants are following their demographic cues. Stuffy winery fine dining (you know, with the linen and Escoffier-style sauces) is going the way of the dinosaurs, replaced by food that gently interrogates the wine, food and terroir nexus.
Which brings us to Oakridge in the Yarra Valley. A typical architectural monument to mammon surrounded by sloping hills of vines and an impressive kitchen garden, it's the home of some spectacular wines (hello, 864 Funder chardonnay) and a buzzing cellar door. But make sure you time your visit for the chance to step inside to the broad-boned dining room where floor-to-ceiling windows afford David Attenborough-worthy views. Inside the kitchen, non-hierarchical cheffing talents Matt Stone and Jo Barrett have spent the past four years honing their location-sensitive craft into something approaching peak deliciousness.
Take the sourdough, made with biodynamic wheat that Barrett mills each day. Her unwavering commitment to superior carbs is repaid in a caramel-crusted loaf served with the gentle tang of buttermilk curds from a small herd of Jersey cows who live nearby. It's a not-so-humble start to a meal that covers plenty of bases (Euro, Asian, mod-Oz and everything in between) but always keeps its feet on Valley ground.
Seize your chance to eat our national emblems. Gently peppery swatches of kangaroo salami need just a drizzle of fruity local olive oil to reach perfect appetiser status. Velvety swatches of cured emu taste like gamey beef and get sparked up with the citrus pop of the green ants hiding in a salsa verde. Going by this, the prospect that we'll be existing on insects when the eco-systems collapse is not so terrible, especially when you add cultured cream and the umami hit of cured egg yolk into the equation.
More baking excellence materialises in the form of the snail-like whorls of a caraway croissant, the flaky handmaiden to smoked trout served with a kind of haute hedgerow salad and cultured cream. Smoked quail and lap cheong smashed into a farce and cooked inside the bird's golden skin takes a gutsy Canto line, bedded alongside silken tofu and tiny yet punchy local shiitakes in an XO the kitchen makes with local trout trimmings instead of prawn heads in deference to their distance from the ocean. Finish with a Christmas pudding-y allspice ice-cream that will warm you all the way to the cockles – or gooey brie made in-house (thanks again to those Jersey cows) and old bread that Barrett pulps into a porridge and fries into giant papadum-sized crackers. It's a worthy afterlife for that best-in-show bread, and a gentle interrogation not only of winery dining but the way all restaurants should be looking to minimise waste while maximising taste. Young and old, we can all agree on that.
See all the winners
The Time Out Food Awards lets us celebrate Melbourne's champions of the restaurant scene – and throw a party to remember. Here are all the winners from the hospitality scene's night of nights.
Best selling Time Out Offers