How to stay warm in Melbourne in winter
Baby, it's cold outside. Put down that snuggie and get out there, Melbourne: these are the hottest ways to beat winter's chill
1. Hang out in the hot houses at the Royal Botanic Garden and Treasury Gardens and pretend you're somewhere tropical.
2. Beginning at Flinders Street Station, see how far you can make it underground through the CBD. Start with the Degraves Street Subway and Campbell Arcade (while you still can – it might be destroyed to make way for the new Metro Tunnel).
3. Knit yourself a woolly scarf. Thread Den, Wool Baa and Morris & Sons can help you brush up on your skills, and many wool merchants host in-store stitch'n'bitch classes so you can buddy up with fellow knitting nerds in the process.
4. Hot water, hot water, hot water. When you're chilled to the bone nothing beats a hot soak or sauna. Try Ofuroya Japanese bathhouse or Peninsula Hot Springs if you fancy a day trip.
5. Rug up, whack on your waterproof gear and go on a hike.
6. Sweat the sads away at hot yoga. Try One Hot Yoga or for those in the east head to Bikram Yoga Richmond.
7. Get your hair wet-set. The vintage crew will know what we're talking about, but for the rest of the world, it involves getting your hair in rollers and hanging out at length under a drying hood – it's a toasty experience. For a warm head and soft curls Lana Turner style head to Margeaux Valantyne at the Distinctive Dame.
8. Enjoy a brew (a tea, not a beer) at one of our fine tea establishments (like Tea Drop)
9. Enjoy a brew (a beer, not a tea) at one of our fine drinking establishments – replete with open fire – we know exactly where to go.
10. Shoot stick. Pool's the indoor sport of the gods, and there's no better time to indulge than when the weather's cruel. Head to Red Triangle Snooker Room – you can get a table of your own for a measly $18 an hour (half-price rates are available before 6pm on weekdays).
11. Get slurpy. We've ranked the best noodle soups in Melbourne – nothing like a steaming bowl of ramen or pho to warm your insides.
12. Rug up and get down to the 'G for a game of footy – hot doughnuts compulsory. Alternatively, hunker down and watch the game over a pint at one of Melbourne's best pubs.
13. Pick your day right, and the movies make for a cheap, warm, winter date. Try Mondays at Cinema Nova, Tuesdays at Lido and the Classic, and Wednesdays and Thursdays at the Astor).
14. Pick up a new skill at General Assembly, Laneway Learning or the CAE.
15. Warm the cockles of your heart with a parma.
16. Sample (read: feast on) cheese and red wine: we love Milk the Cow or any of these places.
17. Pretend you're in Europe by pulling up a stool at one of the CBD's laneway bars or cafés on a cold afternoon. Wine or espresso, your choice.
18. Embark on a marathon board game tournament at home or in a bar with board games.
19. Stomp around in your gumboots at the Collingwood Children's Farm, then head to the Farm Café for some warming baked beans.
20. Become obsessed with hot alcoholic beverages. We're partial to savouring a spicy mulled wine.
21. Bite into a slow-cooked, smoked or slow-roasted anything. We love the smoky meat at Fancy Hank's.
22. Make like a fancy lady or gent and have a spot of high tea. Scones, warm tarts and warm brews are just the thing on a cold day.
23. When all else fails, have a doona day and just hang in your PJs. Treat yourself to some swish new seats from Kip and Co.
Find more great winter activities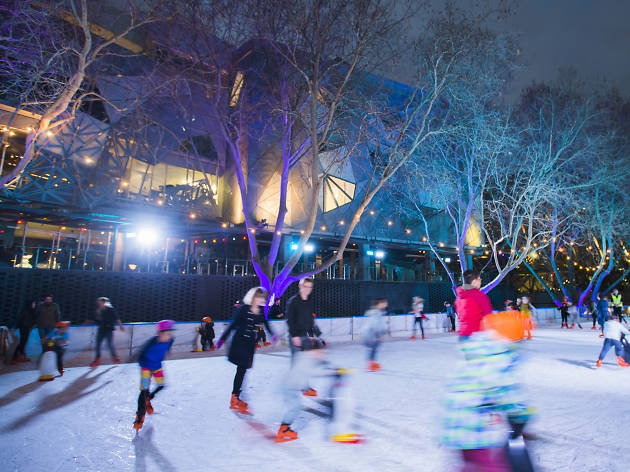 Things to do, Fairs and festivals
From all the best events in June, July and August to pub roasts that will warm you from the inside out, we'll help you have the best winter ever.