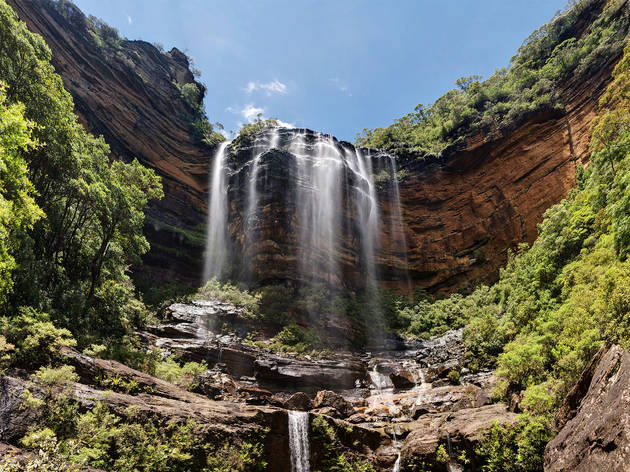 The best waterfalls in Sydney and NSW
Take a road trip to these major cascades in New South Wales
TLC were wrong. Turns out you should go chasing waterfalls in Sydney and NSW. Load up the picnic basket and take a road trip to find these cascading falls around Sydney. You'll find plunge pools you can swim in, waterfalls you can walk over and mountain walks so awe-inspiring it'll make you feel small once again. Fancy more than a ham sandwich for lunch? Order a spread from one of these picnic connoisseurs.
Waterfalls near Sydney
Can you swim in it? Yes, you can.
Can you take a picnic? Yes, there are picnic benches near the car park.
The Carrington Falls walking track and lookout point offer some spectacular views, and there are a variety of walks to choose from. And Budderoo National Park has another gem up its sleeve: Nellie's Glen. The lesser-known picnic spot connects the top of Carrington Falls with a secluded rock pool and smaller waterfall that you can swim to, shower in, and take a seat under. Park your car and first take a look at Carrington Falls from its flat top. You can walk over the mossy bedrock and sit in the plunge pool, or just stand in the small slipstreams and look out at the treetops of the Southern Highlands. There are warning signs, but it's worryingly easy to walk to the edge of the waterfall and peer over the edge – don't. Insetad, walk round to Nellie's Glen, which is around 100 metres up the hill. There's a natural rockpool that's deep enough for laps and people take turns in the shower, including young kids. Bring towels and settle in for the afternoon, watching the dragonflies and butterflies that skim the water.
Can you swim in it? No, but you can get close.
Can you take a picnic? Yes, there are picnic tables in the car park.
A short drive from Katoomba is the National Pass walking trail, which is where you'll find Princes Lookout and Wentworth Falls. Here you need to make a choice: if you want to see the falls and nothing further, have a picnic near the conservation hut and be on your way after 15 minutes. If you came for adventure, prepare for a three-hour walk through the eucalypt forest to see Wentworth Falls up close, as well as Empress, Silvia and Lodore Falls. The looped track is just over five kilometres, however, it's a hard trek and you'll want to pack a bag with water, sunscreen and snacks for the route. The mountain track hugs the cliffs, overlooking the Jamison Valley, and ends with a thigh burning Giant Staircase.
Can you swim in it? Yes, you can.
Can you take a picnic? Yes.
Park fees: $12 per vehicle, per day.
Often overlooked for the larger Wattamolla falls, Winifred Falls is the ideal spot for a peaceful afternoon of swimming during the warmer months. Located within the Royal National Park, the falls are a four-kilometre walk (it's worth it, we promise) along the Winifred Falls Fire Trail, which can at times be quite steep, so make sure to pack sturdy boots. The secluded area makes it ideal for sunbathing on the rocks, picnics and, of course, taking a dip in the calm waters of the creek. If you visit during the week or late afternoon, there's every chance you could have this place to yourself.
Can you swim in it? No.
Can you take a picnic? Yes, there are picnic tables, barbecues and a café on site.
Park fees: $4 per vehicle, per day.
Fitzroy Falls is one of the most accessible waterfalls in the Southern Highlands – and it's also one of the most impressive water cascades in the area. Found about 20 minutes from Bowral at the top of the descent to Kangaroo Valley, Fitzroy Falls has a large visitors centre, car park and café on site, which makes it a popular pitstop for tourists to the area. The main attraction – the elevated walkway that sits to the top-right of the waterfall (so close you can feel the mist) – is fully accessible for wheelchairs and very close to the car park if you're travelling with kids and need to be in and out of the park quickly. Got time to spare? Take one of the walking tracks through Morton National Park and you'll find yourself walking over less fierce, but equally impressive drops and falls as you climb and descend through seven kilometres of bushland. The East Rim walk includes eight lookout points and three smaller waterfalls to find and photograph.
Can you swim in it? Not safely. You might see people swimming in Barrengarry Creek, which is found by taking an unofficial trek to the pool in the middle of the falls.
Can you take a picnic? You could, but it's not a common spot for picnics.
It's an adventurous drive to reach Belmore Falls in Wildes Meadow. It's a 20-30 minute drive from Carrington Falls, so it's possible to visit both in one day. You'll drive up a dusty, gravel road up to the lookout, eventually reaching a creek that you need to drive over to access the car park. If it's too wet to cross, you'll need to turn back (so check the weather before you go). The falls are located in Morton National Park, and there is limited parking, toilets and a small picnic table at the top of the falls. There's a very short walk between Hindmarsh Lookout, which gives you a photo opportunity of the dramatic Southern Highlands landscape below, and the sandy, eucalypt path to the Belmore Falls lookout. It's an easy walk – a little too easy. Which is why visitors are so intrigued to see people swimming and sunbathing at the midpoint of the waterfall, at Barrengarry Creek. But how to get there is a mystery! Apparently, it is possible to follow a fire trail – which is not part of the official track and not signposted – down to the pool. There are, however, warning signs about venturing off track, and the drop is very dangerous.
Can you swim in it? No. But there is a swimming hole near the start of the trail.
Can you take a picnic? Yes, but there are no rubbish facilities, so be prepared to bring everything back with you.
The Mermaid Pools are on crown land, which means you won't find any of the facilities you'd expect in a national park, including clear signage. The trail to get to this site is signalled by small blue and yellow markers attached to trees, and it's relatively easy to get lost, so make sure you bring a friend, and provisions. This spot is where the first recorded European sighting of a koala took place, so keep your eyes peeled for the sleepy marsupials. There are two walking tracks that will get you to the pools, one high and one low. The walk to get to the pools is about five kilometres, and the track is not looped. Once you arrive, you'll see a stunning green basin, wrapped by cliffs, with the Bargo River flowing into it from above. The site is a sacred space for local Aboriginal community, the Tharawal people. Though the Mermaid Pools are sometimes described as a swimming hole, swimming is not advised as it is disrespectful of the site's religious significance. It's also downright dangerous.
Can you swim in it? You can dunk yourself in one of the puddles – but it's hardly a swim.
Can you take a picnic? Yes – in fact, it's a very popular picnic spot. There are picnic tables, and some like to take their lunch on the rocks by the water.
Park fees: $8 per vehicle, per day.
Fifteen minutes from Gosford is a peaceful hideaway, found on the eastern edge of Brisbane Water National Park. You'll find brush turkeys wandering around the car park, where there are picnic tables and detailed signs about the waterfalls and short walking tracks at Somersby Falls. You can walk at the top, middle and bottom of this waterfall – which is a steady stream of water on our visit, filling up sinkholes and cracks in the rock. At the top, the surface is smooth and flat, and people are walking their dogs over the mossy surface. At the middle, around ten minutes' walk down a paved pathway, is a cascade of water that you can walk right up to and get as wet as you like. It's 30 minutes to the bottom of the fall, where the path gets rocky and sandier under foot. You can dip your toes into the pools of water, but it's not deep enough to swim in, nor is the stagnant water all that appealing (even on a humid day). Instead, take a seat on the boulders or at the edge of the dry section of the fall and enjoy the treetop views (at the top) and tropical habitat (at the bottom).
Can you swim in it? No, you're better off swimming at the nearby beach.
Can you take a picnic? There are no picnic facilities.
Take a walk off the beaten path, away from the big beaches at Manly, and you may find yourself in a tucked-away cove that has a beach and its own waterfall. This is Collins Flat Beach – the closest waterfall to Sydney harbour and a nice little getaway from the city. It's more of a dribble than a gushing waterfall on our visit, but the best time to go is after heavy rainfall in autumn. There are no picnic facilities, but it's a perfectly secluded spot for lunch at the beach or for a romantic walk away from the crowds. It's not large enough to create a swimming pool, but the waterfall is easy to reach so you can get your feet wet if you want to. You can't bring dogs, though, as this hideaway is a habitat for fairy penguins. So leave your little buddy at home for the afternoon.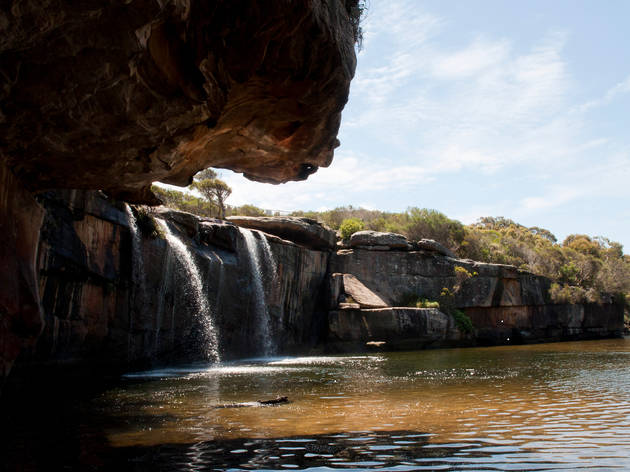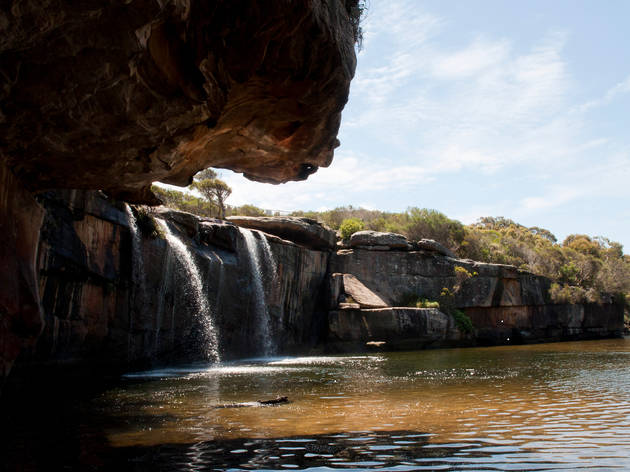 Photograph: Scott Brown/Flickr
Can you swim in it? Yes. But however tempting it might look, jumping from the top of the waterfall is strictly banned.
Can you take a picnic? Most definitely.
Park fees: $12 per vehicle, per day.
Set atop a lagoon just by the sandy stretch of Wattamolla Beach in the Royal National Park, the Wattamolla waterfall is one of the most picturesque naural beauties around. It's not without its fans either – on a warm day, the falls and the nearby picnic area are buzzing with visitors in search of a cool spot to wind down, laze in the lagoon, or firing up the barbecues for a picnic lunch. Once you've had a dip, set off on one of the hiking trails that leaves from the area – the Coast Track passes right through Wattamolla, or you can hike all the way to Marley Beach via the Marley trail
Take a hike
Coastal walks, bush walks, historical walks and inner city ambles: there are many routes where you can see Sydney from a new angle. See our 13 favourite places to wander around the city.