Apply to be a Time Out Miami Tastemaker in 2018
Want to make a difference? We're looking for a new crop of Tastemakers.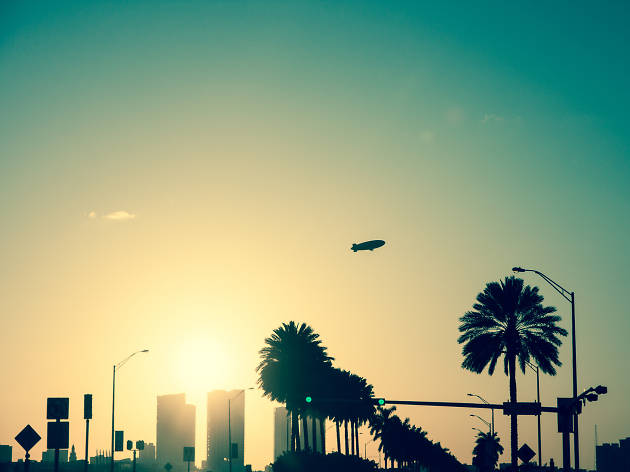 Are you always first in line at the latest pop-ups? Is your Instagram feed one big FOMO-inducing party? Was your last quiet night in some time back in 2008? You could be one of the people we're looking for.
Time Out is growing its newly refreshed Tastemaker community—a group of city-scouring explorers who'll discover the latest, greatest, most fun things going on around the globe, then share their insights with the world: our editors, on social and to their own networks. As a Time Out Tastemaker, you'll contribute tips to magazine features, have your Instagram posts shared in print and share the amazing things you're doing in the city you love. In return, we'll get you some exposure in Time Out and the opportunity to work closely with our editors.
Does this sound like you? If so, speak up! Please note this is not a job nor is it paid. We're offering an opportunity to make new friends, pursue your passions and get involved with a great community both online and off. We take on around 30 people per city per year so if you didn't make it this year, you can always apply again in 2019!
The Time Out Tastemaker Program
1) Please read the following terms and conditions (the "Terms") carefully, which form a binding agreement between you ("you" or the "User") and Time Out England Limited ("we" or "Time Out"). These Terms are effective immediately for those who have agreed by way of ticking the appropriate box to be a Time Out Tastemaker.
2) Your acceptance of our offer to participate in the Time Out Tastemaker Programme in order to become a Tastemaker is conditional upon your acceptance of these Terms.
3) By becoming a Tastemaker and being part of the Time Out Tastemaker Programme, you agree to contribute your ideas and pictures on social, as well as write reviews on the Time Out website.
4) These Terms are an extension of, and must be read in conjunction with, Time Out's standard terms and conditions (the "Standard Terms") and when you agree to become a Tastemaker, you also agree to adhere to the Standard Terms, found at http://www.timeout.com/london/terms.
5) If you do not agree to the Terms and the Standard Terms in their entirety, then you may not participate in the Time Out Tastemaker Programme.
The Reviews
6) "Site" means Time Out's websites and mobile applications.
7) "Tastemaker" means a member of the public selected by Time Out to help write user review, social content and to contribute to crowdsourced style articles on the Site.
8) "Time Out Event" means an event, gathering or meet-up that is organised and hosted by Time Out.
9) You may not appoint a substitute to produce the Reviews under these Terms.
10) You represent and warrant that:
a. You are the author and first owner of any and all intellectual property rights, including, but not limited to, the copyrights in the Review and have full right and title to grant to Time Out the rights hereby granted;
b. You are over the age of 18;
c. You have read, understood and agreed to be bound by the Time Out Terms of Service and Content Guidelines http://www.timeout.com/london/terms and agree to abide by these at all times whilst fulfilling the duties of a Tastemaker;
d. Your Review is a first-hand description of an experience that you had at a restaurant, event, bar, venue, shop, attraction or exhibition;
e. Your Review is based on your own experience and genuine opinion;
f. You have no personal or business relationship with what you are reviewing and have not been offered any incentive or payment to write the Review;
g. The materials included in the Review comply with all applicable laws and any other applicable laws, regulations, regulatory policies, guidelines or codes in each case from time to time in force, including all such guidelines and codes issued by statutory, regulatory and industry bodies;
h. The materials included in the Review do not infringe the intellectual property rights or proprietary rights of any third party;
i. The materials included in the Review are not defamatory, libellous, obscene or otherwise offensive and do not breach the privacy, confidentiality or other statute or common law rights of any third party; and
j. The materials included in the Review include information which is accurate at the time it is delivered to Time Out.
11) General guidelines that will give you an idea of what Time Out is looking for in its Reviews can be found at: http://www.timeout.com/london/tastemakers/how-to-write-a-review.
12) Reviews must not contain any links to websites or social media pages with which you are affiliated.
13) Time Out has a zero tolerance policy with regard to fake Reviews and if a Review is deemed to be untrustworthy, Time Out wholly reserves its right to remove such a Review, without further notice to you.
14) Should you come to believe that any part of the Review might attract complaints and/or legal concerns, you shall contact Time Out for advice as soon as practicable and shall provide such assistance as Time Out requires.
15) Time Out accepts no liability whatsoever regarding the Review, including, but not limited to, any unauthorised use of the Review.
16) For the avoidance of doubt, Time Out reserves the right to remove a Review for any reason, in its sole discretion.
17) By agreeing to these Terms you consent to Time Out processing your personal data for legal, administrative and management purposes related to you providing Time Out with the Review and in order to comply with legal requirements and obligations to third parties. Time Out may make such information available to its affiliates, those who provide products or services to Time Out and its affiliates, partners and third parties' service providers. You consent to the transfer of your personal data to Time Out and its affiliates outside the European Economic Area in connection with these Terms or if it is in your business interest.
Time Out Events
18) You may be required to participate in publicity whilst attending a Time Out Event, which may include having your photograph taken, or being filmed, for promotional and/or press purposes.
19) If you take any photographs or videos (the "Footage") at a Time Out Event or use the social hashtag #TOTastemaker to share them, you are hereby authorising Time Out to use them. Copyright in all Footage submitted to Time Out remains with you, however you agree that by submitting the Footage to Time Out, you are granting Time Out a royalty free, perpetual, irrevocable, worldwide licence to use and republish the Footage. This may include displaying the Footage on the Site, sharing through social media and publication by Time Out worldwide in any of its publications, websites and/or in any promotional material. You agree that we may cut, edit or arrange the Footage where appropriate to appear in print or online.
20) If applicable, you are responsible for ensuring that you are physically able to take part in any Time Out Event and for ensuring that you are wearing the appropriate attire (including footwear) when taking part in a Time Out Event.
21) Time Out accepts no liability for any loss or damage or personal injury (with the exception of death or personal injury caused entirely by Time Out's own negligence) suffered or sustained in connection with the Time Out Tastemaker Programme and/or any Time Out Events.
Your Status
22) You have no authority (and shall not hold yourself out as having authority) to bind Time Out, unless we have specifically permitted this in writing.
23) Nothing in these Terms shall render you an employee, representative, worker, agent or partner of Time Out and you shall not hold yourself out as such. Nothing that you provide to Time Out or add to the Time Out Websie ill be in the course of the provision of 'professional services'.
24) You may terminate your participation in the Time Out Tastemaker Programme at any time by sending a request to tastemakers@timeout.com, with "Termination" in the subject line.
Rewards
25) Time Out may on occasion release rewards, which could include (but which are not limited to) tickets to events, discount vouchers for restaurants and so on (the "Rewards").
26) If offered by Time Out, the Rewards will be available for you to claim and will be distributed at random by ballot.
27) Time Out is under no obligation to offer Rewards and does not guarantee that you will be given one.
28) Time Out will set out the details of any Rewards that it may offer via email.
29) If Time Out decides, at its sole discretion, to award a Reward to the User that posts the highest number of Reviews, Time Out's decision of which User gets the Reward shall be final. Should two or more Users post the same number of Reviews, one User will be selected at random by ballot and awarded the Reward.
General Legal
30) Time Out reserves the right to deny you access to a Time Out Event or terminate your participation in the Time Out Tastemaker Programme if you fail to abide by these Terms or the Standard Terms or for any reason, without notice or incurring any liability whatsoever.
31) Time Out reserves the right to modify, update, or discontinue the Time Out Tastemaker Programme at its sole discretion, at any time, for any or no reason, and without notice or incurring any liability.
32) You indemnify Time Out against any loss (including legal fees) that Time Out may suffer resulting from the breach of any representation contained in these Terms.
33) Time Out reserves the right to amend these Terms and will use its reasonable endeavours to make these known to you.
34) You acknowledge that any discussions leading up to your agreement of these Terms have been in anticipation of entering into an agreement and have had no binding legal effect. You agree that the terms specified in these Terms comprise all the terms agreed between you and Time Out and you have not relied on any promise or representation other than contained herein.
35) Each party shall comply with all applicable law including, without limitation, the provisions of the Data Protection Act 1998.
36) Any failure on Time Out's part to exercise or enforce any right or provision of these Terms does not constitute a waiver or such right or provision.
37) These Terms shall be construed and governed in accordance with the laws of England and Wales and the courts of England and Wales shall have exclusive jurisdiction over any disputes that arise as a result of these Terms.
TIME OUT PRIVACY POLICY


1 Your information

1.1 Time Out England Limited ("Time Out", "our", "us" and "we") is committed to protecting your privacy.

1.2 As a customer or a visitor to the timeout.com, including any mobile application and any social media platform (altogether, the "Website") we, and the companies that work on our behalf, collect information on you. This includes your personal information and information we may buy.

1.3 We also collect information on your use of our Website, including any forums youvisit and how you arrived at our Website in the first place by using cookies or other tracking technologies.

1.4 Some other companies also collect certain information on you when you use our Website, such as social networking sites or web analytic companies.

1.5 We will only keep information about you for as long as we need to, and we make sure that any companies that process your information on our behalf do the same.

1.6 By using our Website or submitting information to us through or in connection with our Website, you signify your consent to our collection, use and disclosure of your personal information in accordance with this privacy policy (the "Privacy Policy"). If you do not agree with this Privacy Policy, you must not use the Website or submit information to us through or in connection with our Website.

1.7 We comply with the principles set out in the Data Protection Act 1998 in the United Kingdom and any other law as applicable from time to time.

2 Notice of collection of data

2.1 By visiting the Website, you accept the practices described in this Privacy Policy and consent to the collection and use of your personal information by us for the purposes outlined in this Privacy Policy and for any other purpose reasonably necessary for the provision or proper administration of the Website and the business of Time Out.

2.2 If you do not accept the practices set out in this Privacy Policy you should not use the Website.

2.3 Time Out will consider its Privacy Policy from time to time which may develop and evolve over time, and this policy may change to reflect that. We will use personal information in accordance with the Privacy Policy under which that personal information was collected subject to any later amendments accepted by you by virtue of your continued use of the Website. You should periodically revisit the Website Privacy Policy to be sure you are familiar with the current policy. Use of the Website following any modifications to the Privacy Policy will be conclusively deemed as acceptance of the terms of this Privacy Policy and any changes to the policy both in connection with personal information previously collected and that collected following any changes to this Privacy Policy. However, we will notify you of any amendments made to our policy as a result of a change of law or where we wish to make any changes to our use of your personal information.

2.4 Please note that the Website may contain links to other websites which are outside our control and are not covered by this Privacy Policy even though they may feature the Time Out logo because of a marketing agreement with Time Out. If you access other sites using the links provided, the operators of those sites may collect information from you which will be used by them in accordance with their privacy policy, which may differ from ours. You should look for the specific privacy statement on any such co-branded page. Time Out cannot be held responsible for the privacy policies of other companies. Time Out recommends you review the privacy policy of any website that you visit.

2.5 Please also note that where Time Out makes available chat rooms, forums, message boards, and news groups any personal information that you disclose in these areas becomes public information and you should exercise caution when deciding to disclose any information on them.

3 Marketing and commercial use

3.1 When you gave us your information, you will have been offered the opportunity to sign up to our marketing communications, as well as marketing from other companies we do business with.

3.2 If you have agreed to marketing from other companies via us, we are happy to provide you with a list of those companies. Please see 'Contact Us' below.

3.3 You can subscribe to or unsubscribe from our marketing communications at any time. All marketing emails will contain a link to opt out of further communications from the Website. If you make a purchase via the Website the assumption may be made that you will be interested in similar products and you may receive emails with information about these products. For the avoidance of doubt you cannot opt out of service emails.

4 Sharing

We will only share information under the following circumstances:

• With our company group

• With government, law enforcement agencies and regulatory bodies when we consider thedisclosure to be fair, reasonable and legal.

• With credit reference agencies when we need to, companies for marketing purposes, and service providers.

5 Security

5.1 We take the security of your information very seriously, and have controls and processes to minimise the risk of a data breach occurring, though you must take responsibility when visiting other websites, even if following a link to them from our website.

5.2 In the event that a breach does occur, we will take appropriate steps to notify you if you are, or could be, affected and will make all efforts to minimise the impact.

5.3 We use some companies to process information which are based overseas and outside Europe. We ensure that they have checks and controls in place to keep your information safe.

6 Your Information

6.1 What personal information is being collected?

6.1.1 This is information that can identify you. For example, your:
(a) name and address
(b) email address
(c) telephone number
(d) payment card information.

6.1.2 If you are merely visiting the public areas of the Website, we do not collect any personal information about you, however, we may automatically collect information about your visits, such as browsing patterns. Information collected in this way does not reveal your contact details or any type of personal information. This information is only used in aggregate form to analyse, manage and develop the Website and is not linked to any individual.

7 How we collect personal information

7.1 We collect personal information from information supplied by you. Including the details provided by you:

7.1.1 if you choose to fill out any reader surveys, enter a competition, apply for an offer or make a purchase from our online shop, you will be asked to supply some information about yourself, including your name, address, phone number and email address;

7.1.2 on registration together with information we learn about you from your use of our service and your visits to the Website and other sites accessible from it. We also collect information about the transactions you undertake including details of payment cards used;

7.1.3 in connection with information you provide when giving us feedback or completing profile forms;

7.1.4 when you click on advertisements to measure interest and inform advertisers as to how many users have seen or clicked on their ads; and

7.1.5 information obtained from your social networking profile, if you log-in via a social networking site.

7.2 Time Out also uses demographic and preference information to allow advertising banners on the Website to be targeted, in the aggregate, to the users for whom they are most pertinent.

7.3 If you enter a competition you should read the terms and conditions of that promotion which will confirm how we will use any personal information submitted as part of the entry to the competition. By entering a competition or applying for an offer you may give permission for Time Out to pass your details to any third party sponsor of the competition / offer so they may contact you in the event that you win the competition or qualify for the offer.

7.4 Information that we may buy

7.4.1 If we purchase information on you from another company, such as marketing lists, we promise to take all the necessary checks to make sure your information was collected legally.

7.4.2 We may also purchase profile information from other companies to better understand our customers and our market. This helps us to provide you with better suited products and services.

8 Cookies

8.1 The Website may also use cookie and tracking technology depending on the features offered. Cookie and tracking technology are useful for gathering information such as browser type and operating system, tracking the number of visitors to the Website, and understanding how visitors use the Website. Cookies can also help customise the Website for visitors. Time Out uses cookies to track user usage on the Website. Time Out uses ad servers (such as DoubleClick) to serve advertisements on the Website. Ad servers use cookies to help target relevant ads to users. To find out more about our use of cookies and information-gathering practices follow this link to the Cookie Policy.

8.2 Personal information cannot be collected via cookies and other tracking technology; however, if you previously provided personally identifiable information, cookies may be tied to such information. "Cookies" are small pieces of information sent by a web server to a web browser, which enables the server to collect information from the browser.

8.3 We may also use uses cookies for a number of other purposes, for instance to enable us to simplify the logging on process for registered users, to help ensure the security and authenticity of registered users, to provide the mechanisms for improving and monitoring visitor's experiences mapping and to enable traffic monitoring.

8.4 Non-registered visitors of the site are sent anonymous cookies to keep track of their browsing patterns and build up a demographic profile. In addition, any visitor who has clicked on a Website advertisement on another site that links to the Website will be sent anonymous cookies that will allow us to analyse advertising effectiveness and manage our relationship with affiliate sites.

8.5 Whilst you do not need to allow your browser to accept cookies in order to browse much of our web site or to access many of our services, you must have cookies enabled if you wish to shop online at any of our stores or access any areas reserved for registered users. Most browsers allow you to turn off the cookiefunction. However, some interactive features of the Website may not work if cookies are disabled. Cookies can be disabled in your browser by following the instructions found at: http://www.allaboutcookies.org/manage-cookies.
9 Why is personal information being collected?

9.1 We collect personal information for a number of reasons. It helps us tailor and personalise your experience of using the Website and enables us to send you relevant information about products or services that may be of interest to you.

9.2 The information you provide is used to fulfil your specific request unless you give us permission to use it in another manner, for example:
9.2.1 to add you to one of our mailing lists;
9.2.2 to communicate with you;
9.2.3 to provide you with the services you have requested;
9.2.4 to personalise our service to you; and
9.2.5 to send you offers and news about Time Out Group products and services or those of other carefully selected companies which we think may be of interest to you. Your information may be passed to and used by all Time Out licensees and affiliates.

9.3 Time Out collects aggregate user information to sell sponsorships on the Website to advertisers and to monitor customer traffic patterns such as the number of users to the Website, the pages visited and the length of visit which enables us to improve the service we provide.

9.4 From time to time we may enter into a commercial arrangement with another company that is not owned by us to provide additional features. Time Out may also, from time to time, use third party suppliers to provide part of our service to you. Any personal information that you provide when signing up on a co-branded page may be shared with our third party partner.

9.5 We may also use and disclose information in aggregate (so that no individual customers are identified) for marketing and strategic development purposes and aggregate cookie and tracking information may be shared with third parties.

9.6 We may also use information for remarketing, retargeting or profiling purposes including via third parties (such as social networking websites) and we will always ask your consent prior to doing so.

9.7 In some circumstances we may share your personal information with service providers who are based in countries outside the European Economic Area whose laws provide for a different standard of protection for your personal information than that provided under UK Law.

9.8 The Website cooperates with all law-enforcement enquiries and reserves the right to disclose personally identifying or aggregate information to detect and prevent fraud and in connection with any legal demand for such information.

9.9 If you choose to post messages, reviews, comments or other content on the Website we will collect that information you provide to us. We retain this information as necessary to resolve disputes, provide customer support and troubleshoot problems as permitted by law.

9.10 We may share information with governmental agencies or other companies assisting us in fraud prevention or investigation. We may do so when:
9.10.1 permitted or required by law; or,
9.10.2 trying to protect against or prevent actual or potential fraud or unauthorised transactions; or
9.10.3 investigating fraud which has already taken place. The information is not provided to these companies for marketing purposes.

9.11 Save as explained above and subject to the provisions below Time Out will not pass on your individual user details to third parties without asking for explicit permission.

10 How do we keep personal information secure?

10.1 We have security measures in place to protect against the loss, misuse and alteration of the information under the Website's control. Only authorised employees, agents and contractors (who have agreed to keep information secure and confidential) have access to this information.

10.2 We use appropriate physical, electronic and managerial security measures to try to prevent that personal information from being accessed by unauthorised persons and to ensure that you may input personal information safely. This means that sometimes we may ask for proof of identity before we disclose personal information to you.

10.3 Only aggregate statistics about the number of users and their traffic patterns will be given to advertisers.

10.4 Individual user details will not be passed on without prior consent. If the Website ever requests that you volunteer additional information, such as financial data or age (in an online survey, for example) your response will always be voluntary and this data will only be used as an aggregate of data in conjunction with users of the Website as a whole.

10.5 Despite these efforts, the Website cannot guarantee that a hacker will not obtain access to communications between users and the Website. We will do our very best to avoid a breach but sometimes these events are unavoidable. Our promise to you is that if they do happen, we will ensure that the impact on you is as minimal as it can be.

10.6 If we discover that the security of your personal information has been breached and it could adversely affect you - and we have the means to let you know - we will do so as quickly as possible. If we can, we will tell you how the breach occurred, its nature, the steps we havetaken to rectify its adverse effects and the steps you can take. We will provide you with details of who you can contact here if you have any queries and details of the regulator – the Information Commissioner's Office – should you want to speak to them.

11 Your rights
11.1 For a copy of your information
To obtain a copy of the personal information Time Out holds about you and to contact us regarding this Privacy Policy by post please address your request to The Legal Team, Time Out Group, 4th Floor, 125 Shaftesbury Avenue, London, WC2H 8AD, enclosing your cheque or postal order for £10 payable to Time Out England Limited.
11.2 To correct your information
We want to make sure that your personal information is accurate and up to date. To protect your personal information, please contact us at privacy@timeout.com.
12 The Data Protection Act
Time Out England Limited is registered as a Data Controller under the terms of the Data Protection Act 1998 and we ensure we comply with all the protection the Act affords to you. Our registration number is ZA078189.

13 Contact
13.1 If you have a question, complaint or query around how we use your information, please contact us at privacy@timeout.com.
13.2 We will try respond to you within 72 hours.
13.3 If you have a complaint regarding the use of your information by us, you can also complain to the regulator, the Information Commissioner's Office.
More to explore