Heads up! We're working hard to be accurate – but these are unusual times, so please always check before heading out.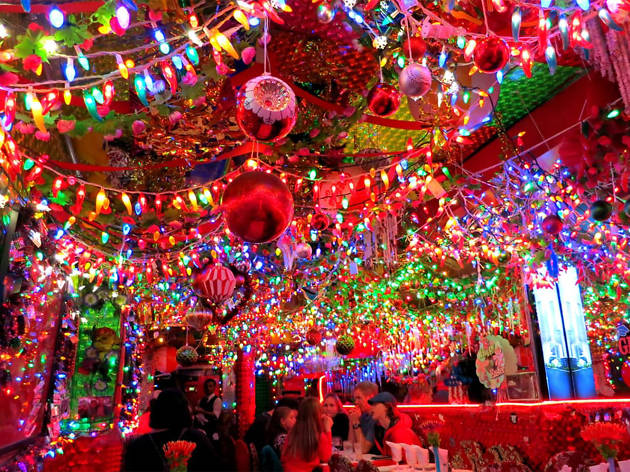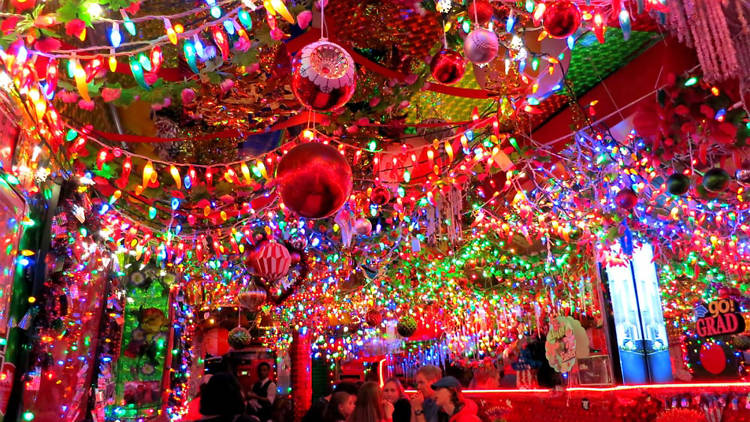 21 New Yorkers dish on the best restaurants to bring out-of-towners
Figuring out which restaurants to bring your non-NYC friends to can be stressful. Local New Yorkers are here to advise.
Hosting an out-of-town guest is a full-on chore. Of course you love your friends and you want them near you, but having someone camp out in the living room for a weekend, sharing the bathroom with you and your two other roommates can be a bit...much. And don't even get us started on where to take them out to eat. We asked our Time Out Tastemakers and editorial team to name the best restaurants for impressing friends. Maybe even so much so, that the next time they're in New York, they'll be living in their own apartments.
"I love to impress my out of town guests by taking them to Indian at Panna II Garden in the East Village. This place is super tiny with low ceilings but every inch is covered with Christmas lights and random brightly colored items. It is truly a feast for your stomach and your eyes! FYI- it's BYOB." - Julie Strollo Coleman
"Union Square Cafe for parents, since there's a 98% chance they will be paying. So go all out (within reason), since it's a no tipping restaurant. Los Tacos No 1: So cheap, so quick and everyone loves tacos. Easy call. Brooklyn Barge for the summertime and those damn views. Food Gallery 32: SO MANY OPTIONS." - Hannah Streck, senior digital producer
"Sugarfish has seriously delicious and fresh sushi. I love taking friends here. Also, the check has gratuity included, which is an added bonus." - Paige Alderoty
"Any of the Australian cafes (Ruby's, Two Hands, Bluestone Lane). Dessert: Kung-Fu Tea, Spot Dessert Bar. Korean BBQ is always a good go-to. [Ed. note: Danny particularly likes Cote]" - Danny Yu, designer NA
"Manhatta has become my go-to spot out-of-town family: There's great food, killer views of NYC and beyond and a price tag of $78 for a three-course pre-fixe. It honestly doesn't get much better than that." - Jake Cohen, food and drink editor
"Our apartment has basically been a revolving-door hotel since we arrived in NYC, so I've done a lot of taking people out to eat... 1. Rubirosa 2. Uncle Boon's Sister 3. Her Name is Han 4. NONONO 5. Morgenstern's. Always Morgenstern's. 6. Ess-a-Bagel 7. Xi'an Famous Foods 8. Russ & Daughters 9. Fette Sau or Hill Country 10. Tacombi 11. Murray Hill Diner" - Alex Plim, head of global content
"If you really want to impress, go to Peter Luger for a fancy meal! Get the famous sizzling bacon!!" - Elaine Chan
"Ascend a set of narrow wooden stairs to emerge into the soothing atmosphere of Cha-an, a tranquil Japanese teahouse lit with washi-paper lamps. After a day spent trawling the bustling streets, your friends will appreciate the simplicity of the lunch-special donburi—pick tofu, tuna or eel—accompanied by teas sourced from Japan, such as the nutty hojicha or the creamy matcha. Finish with the black-sesame crème brûlée, my favorite dessert in the city." - Courtney Duckworth, copy editor
"The Commodore. Roberta's (never Paulie Gee's). Oxomoco is a good one too." - Andrew Friscano, music editor, NA
"I always take them to Aunt Jake's. Nothing better than freshly made pasta with a bottle of wine in the middle of Little Italy. They also take reservations, so you don't have to fuss about waiting in line." - Bridget Lo
"I always take my people to Eisenberg's over Katz's for pastrami. Eisenberg's cuts theirs thin so the sandwich is far more manageable, and, fuck it, I'll say it, I think it tastes better than Katz's. Eisenberg's is a classic New York greasy spoon where you can still get an egg cream or a cherry lime rickey, once you push through their heavy door it's like you strutted back into the 1920s." - Rocky Rakovic, head of content, NA
"One of my favorite spots to bring out of towners to is OBAO! It's located in Hell's Kitchen (near the theatre district which I know is a must-see on their list) and has a great fusion of both Thai and Vietnamese food at very reasonable prices. It's Michelin recommended by Bib Gourmands as well. Also, what I love there is the ambiance. The dimly lit lanterns are beautiful and picture-worthy!" - Katie Harman
"Frankie's in Carroll Gardens offers Italian treats reminiscent of homemade family recipes. It's hands down one of the best restaurants in the city. Also, Ferdinando's on Union Street in Brooklyn (technically Red Hook, I believe). The amazing old-school Sicilian dishes are hard to find anywhere else and they're reasonably priced to boot—a few reasons why this spot has been around since 1904." - Danielle Valente, associate editor, Time Out New York Kids
"Uncle Nick's in Hell's Kitchen has amazing Greek food (get the Saganaki that's lit on fire at your table) and a cute backyard in the summer. Sauce in LES is affordable and has amazing pasta. It's cool to see all the vats of sauce cooking when you walk in too and there's a fun vibe. Il Buco in Noho is nice for a special occasion—I like to just order from the bar if I'm with a friend. If you get a reservation in advance, Manhatta has such stunning views of the city that will leave any out-of-towner you bring there floored. Rosemary's is so open and airy that you really feel like you're in the West Village when you're there, and the fact that they grow their herbs on the roof is a fun fact." - Will Gleason, staff writer
"My go-to is Dzuipla, the Polish restaurant just off of Bedford Ave. It's always delicious and there's something for very kind of eater—but the happy hour deal always amazes people that I bring. A full plate of pierogis for five dollars and super cheap happy hour drinks is always the best way to impress. (Who says Brooklyn isn't affordable?!)" - Chloe Wilson
"My friends always ask for pizza when they come to New York (and rightfully so). If they're willing to travel, L&B is always worth a trip. If not, Rubirosa, because it's close to SoHo, little Italy and the Brooklyn Bridge." - Christa Sully
"I always take out of towner's to Roberta's. The pizza is incredible, and instead of waiting for a table at the restaurant, and I like to go down the block to the take-away area, and pop over to the tiki bar in the back and eat the pizzas there at the picnic tables." - Aashna Shah, designer NA
"Quality Meats for sure—great meat and great wines with a modern take on the classic red-leather steakhouses." - Kris Suntornwarangkana
"Nom Wah Tea Parlor. The food is delicious and the aesthetic is so fun. Plus the walk through Chinatown and Doyers Street itself is always a fun thing to show out-of-towners." -Delia Barth, video editor
"A ramen run! Sometimes you can't get enough ramen so I like to bring friends/family to try some of the best places to eat ramen. Ippudo and Totto are some of my favorite go-to. One is tiny and quick as the other is more of a nicer dining experience." - Gorge Gallardo, video editor
"The Meatball Shop - if not just for the jello shots . 😊" - Robyn Cohen, production manager NA
If you're just looking for something cheap
There's never been a better time to eat on the cheap, New York! Discover how to feast like a high roller for 15 bucks or less.