The best restaurants and cafés in Katong
Heritage eats and hip cafés abound in the colourful neighbourhood of Katong
There's no shortage of things to do in the eastern neighbourhood of Katong but eating definitely steals the limelight. The heritage district is rich in local Peranakan culture and also features incredibly varied cuisines, with Vietnamese and European communities making it their home. Then, there are the ultra-hip cafés that have sprouted up in recent years to check out too, here's our guide on how to eat your way through Katong.
You haven't fully experienced Katong unless you dine at a Peranakan restaurant and Chilli Padi is as authentic as it gets. Red batik cloth drapes over the tables, a framed kebaya hangs on the wall and the restaurant is even located in a heritage shophouse from the pre-war era. Order the ayam buah keluak ($12.80/$17.80), which comes with generous chunks of chicken and whole kernels of buah keluak that have been conveniently cut to fit the length of your fork. Another must-have is the cabbage roll ($5). Homemade otah is wrapped in Chinese cabbage and then steamed before it's covered in a rich and spicy coconut curry.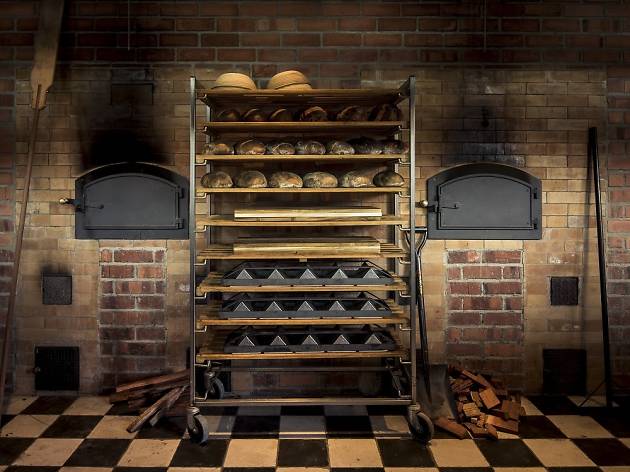 Restaurants, Contemporary European
With two custom-made woodfire ovens on-site, Firebake is extremely serious about its sourdough breads. There are four types available: white, rye, wholemeal and fruit, each made with all-natural, top quality ingredients like organic flour from Western Australia and Nordaq Fresh filtered water. It's not playing around with the food either – expect dishes like four-spice liver pate ($12) that's made with equal parts butter and liver for a luscious spread, Norwegian blue mussels cooked with lager and chorizo ($25) and prawn capellini aglio olio ($21) tossed with plenty of sakura ebi.
The classic Katong laksa place, 328 ($5.35-$7.50) lets you scoop all the good stuff into one spoonful – even the fishcake is thinly sliced so you'll get a bite of it along with prawns, beansprouts and cockles. The broth itself is thick and coconut-y, which may to too jelat for some. But not us. And while you're at one of its many outlets, don't forget to order a slice of otah ($1.40) to accompany the dish.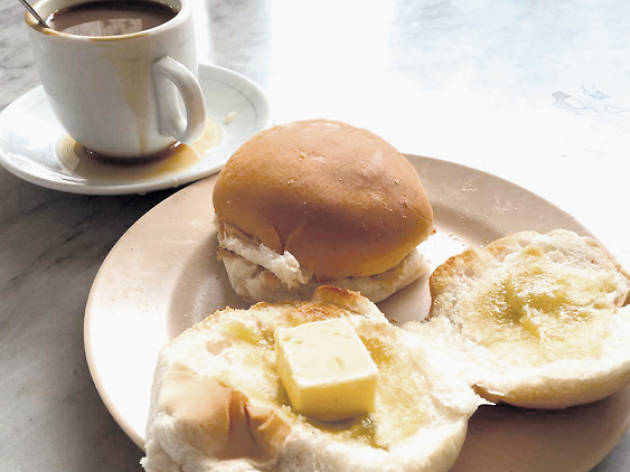 This OG kopitiam has been a breakfast institution for generations. Nothing much has changed over the years: it's still toasting kaya buns ($1) over a charcoal fire and using a sock to pull kopi ($1.10). Even the interior has remained the same. The kitchen occupies half the shop, giving the aunties who run the show ample space to bake. Every 15 minutes or so, you'll see one of them emerge from the back to put out a tray of freshly baked cupcakes. So if you ever see a batch of chocolate cupcakes ($1), grab them before they're all snapped up by bulk orders.
Expect carvery fare like candied bacon reduced into a jam atop some whipped grans padano with a truffled egg-in-a-hole toast, fried capers in a panzanella salad and some chow-worthy garlic confit in their wagyu beef dish for two at Carvers & Co. The 40-seater also stocks micro-lots of seasonally harvested single-origin coffee from small suppliers like Common Man Coffee Roasters – Melbourne's Maling Room and Small Batch Roasting Co. can also be enjoyed on request.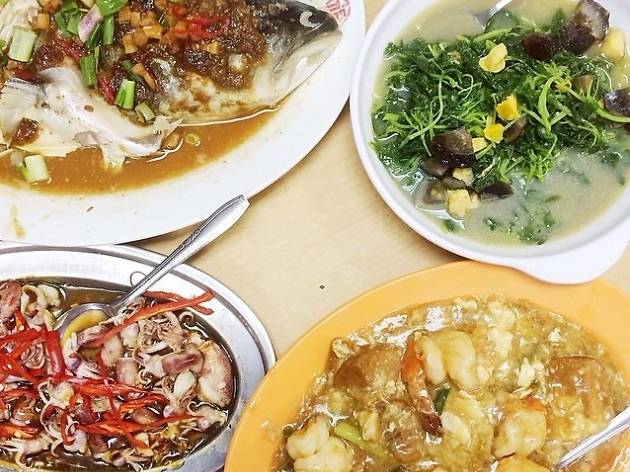 Joo Chiat may be peppered with dozens of fine eateries, but for sterling Canto-Teochew classics, Joo Hing – a zi char joint-turned-restaurant – is one of your best bets. From the lush and homey dishes on offer, we highly recommend the tofu fried with large prawns coated in a sweet and savoury sauce, and steamed song fish head basking in fermented bean paste topped with a generous sprinkling of pork lard.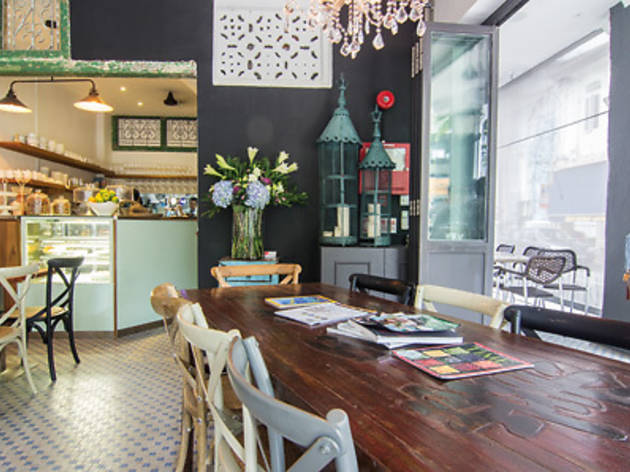 Exuding an old-world charm and tongue-in-cheek humour, Rabbit Carrot Gun is laced with black-and-white photographs, eclectic artwork, antique furniture and bright floral arrangements. Though there's a basic breakfast menu served almost daily (except Mon and Tue), the weekend is when the big players come out, with brunch classics such as eggs Benedict and the Game Keepers Shooting Breakfast of eggs, toast, pork sausage, bacon, mushrooms and tomatoes on offer.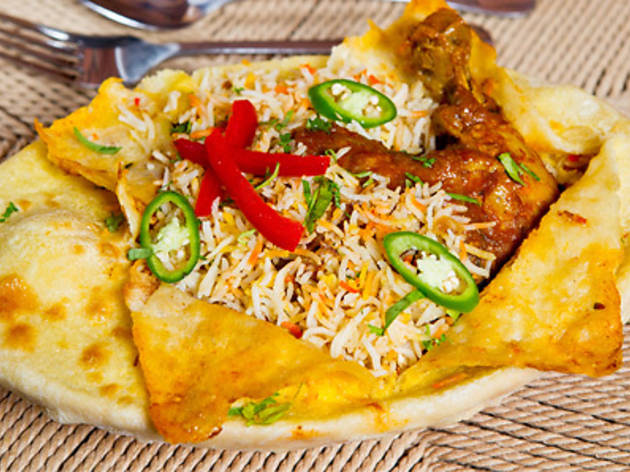 A glass-paned window box juts out at Zaffron's entrance, showcasing the chefs at work and the star of the show – a charcoal-fired tandoor oven. From the oven emerges a fragrant garlic naan ($3.50) and flaming red, seasoned boneless nuggets of dory fish tikka ($13), meaty and tender with crisp, charred edges. But the real showstopper is the dum chicken biryani ($11), a casserole of fluffy, mildly spiced basmati rice with succulent whole chicken leg, piquant au jus sauce, and perfectly cooked whole hard-boiled egg encased in a sealed naan top.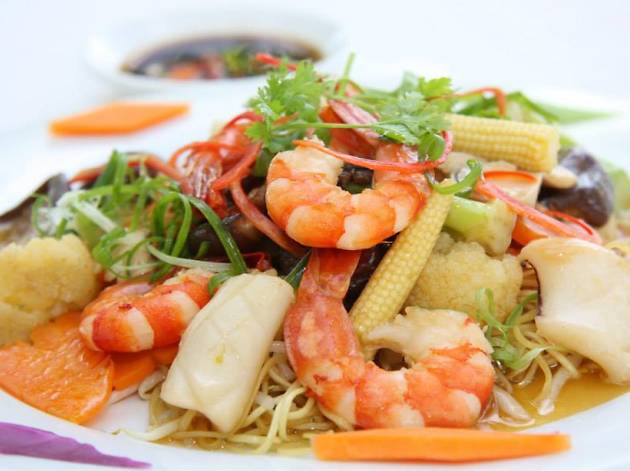 Long Phung Vietnamese Restaurant
Katong is home to a thriving Vietnamese community and you'll see plenty of eateries hawking dishes like phở, gỏi cuốn and more along the streets of Joo Chiat. Our favourite is Long Phung Vietnamese Restaurant for its affordable and consistently tasty bowls of noodle soup. Try the hủ tiếu bò kho ($7), an intensely rich and slightly spicy beef soup.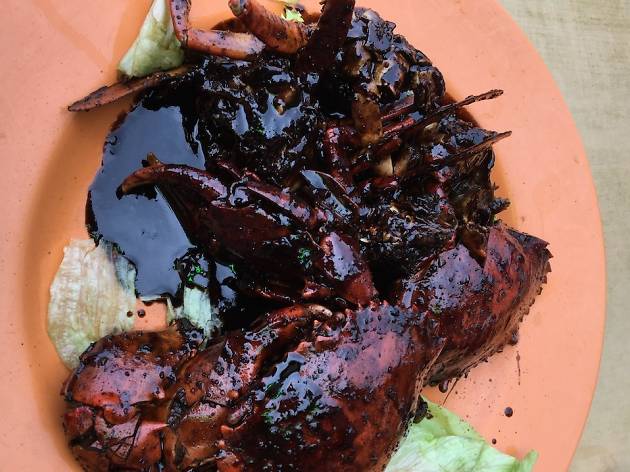 No trip to Eng Seng is complete without an order of its black pepper crabs. Come during a weekend and you'll find that queues snake for up to an hour with tourists and locals alike in line. Be sure to know your order by heart by the time you reach the front of the queue, the lady boss can be curt if she deems you've taken too long to verbalise your order. Aside from the black pepper crabs, be sure to get the mee goreng and fried you tiao too.
You won't mind the heat of dining at the al fresco restaurant when you're too busy tearing into a rack of barbecued ribs. This is the closest you'll get to an authentic American barbecue experience in Singapore – everything is marinated in its homemade spice mix, smoked in custom-made barbecues imported from the USA and slathered in a barbecue sauce that'll have you licking your fingers.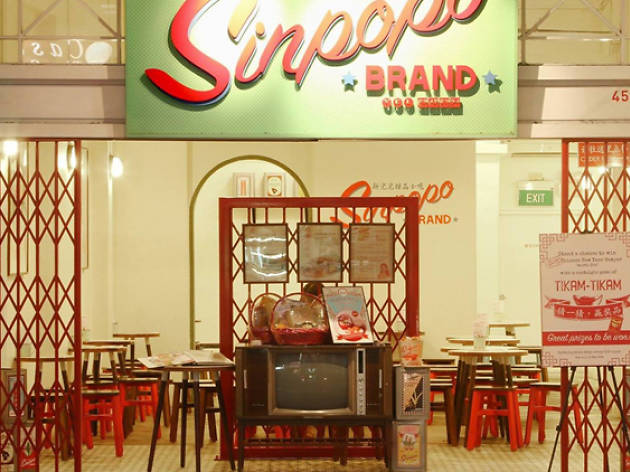 Part of the fun while waiting for your food to arrive at Sinpopo Brand is in checking out the retro features, painstakingly curated, and overhearing the older folk reminisce about days long past. As for food, a good place to start if you want a square meal is the sambal fishball, a common hawker snack sliced in half and smothered in Sinpopo's own blend of sharp and fiery sambal chilli. Then there are the requisite classics with a modern spin, like the Rojak Slaw, a traditional Malay favourite of vegetables and fruits slathered in sweet sauce.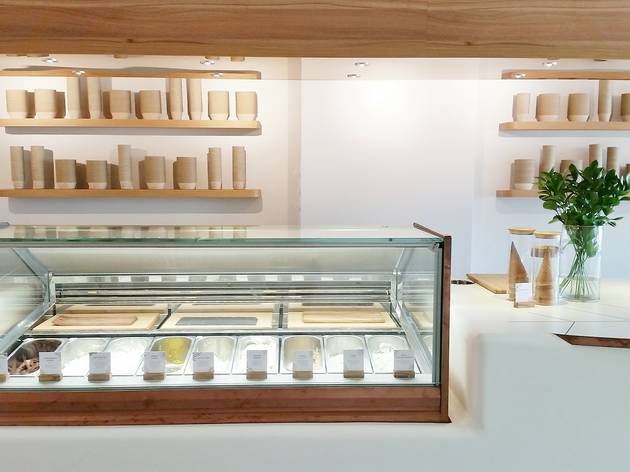 Restaurants, Ice-cream parlours
Delicately-perfumed and sophisticated, the botanical-inspired flavours at Birds of Paradise tastes like edible poetry. This tiny gelato nook along East Coast Road Road is standing room-only and perpetually packed. Flavour, texture and colour are coaxed from flowers, herbs, nuts and spices for signatures like white chrysanthemum, strawberry basil, and lemongrass ginger (from $4.70 a scoop). Even their housemade waffle-cone ($1) is scented with thyme.