Your ultimate guide to Singapore
Discover the best Singapore events, things to do, restaurants, music, film, art, theatre, nightlife and more...
What's on in Singapore this week
Margins: A season of Haresh Sharma's plays
The 14th edition of Esplanade's The Studios, a platform to showcase local theatre companies and independent artists, celebrates the works by Cultural Medallion-winning writer Haresh Sharma. See the restaging of four Sharma-penned plays, such as Fundamentally Happy and Harap, and a new WIP from the playwright.
Tsum Tsum carnival
Cute Disney characters descend upon CapitaLand's malls for the month-long Tsum Tsum carnival. Take pictures with the round-shaped figurines in recreated scenes from Disney Tsum Tsum's animation shorts. But that's not all: other activities include the Ninja Castle Challenge, making your own Disney Tsum Tsum characters from Play-Doh and racing Disney Tsum Tsum Tomica die-cast cars. Download the CapitaStar app to unlock Mission Bingo for additional rewards. 
I Want My Hat Back
Based on Jon Klassen's children's novel of the same name, the musical tells the story of Bear and his mission to find his missing hat. First performed at UK's National Theatre, I Want My Hat Back makes its international premiere on our shores, and promises to charm both the young and old with its humour and catchy tunes.
Buy tickets
Durian Fiesta at Goodwood Park Hotel
Goodwood Park's annual Durian Fiesta is back, this time with six brand new tantalising creations. There will be a total of 14 premium cakes and pastries, each made with only the best D24 or Mao Shan Wang durians. Our favourites include the D24 Starry Starry Night Ice Cream Cake (from $13), a new cake with a durian ice cream centre wrapped in charcoal sponge. Popular picks like the D24 mousse cake (from $11), D24 puff (from $9) and Mao Shan Wang ice cream tubs ($19) are also available. During Durian Fiesta, Goodwood Park's Sichuan and Cantonese restaurant, Min Jiang, will also offer D24 fried sesame balls (from $11.80), a crispy dim sum dish stuffed with warm durian pulp.
An Oriental-Peranakan Fairy Tale at Wan Hao Chinese Restaurant
The little Nyonya, Jeanette Aw teams up with Wan Hao's executive chef, Brian Wong, to create a special Cantonese and Peranakan menu. This four-course Oriental-Peranakan fusion menu features dishes like braised chicken buah keluak served with blue pea flower fried rice and double-boiled salted preserved vegetable and duck soup with bird's nest dumplings. Available for lunch and dinner all day, this exclusive menu is only available for a limited period of time so try it fast.
Buy tickets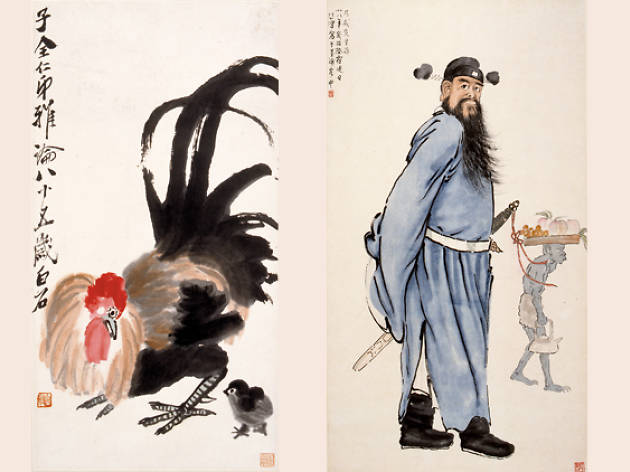 Rediscovering Treasures: Ink Art from Xiu Hai Lou Collection
The titular Xiu Hai Lou Collection is the largest private collection of ink art here and claims to be among the best in the world. Marvel at the elegant strokes of ink masters from China and Singapore, and examine the influences that shaped the discipline from the late 19th to 20th century.
See more events in Singapore this week
101 things to do in Singapore