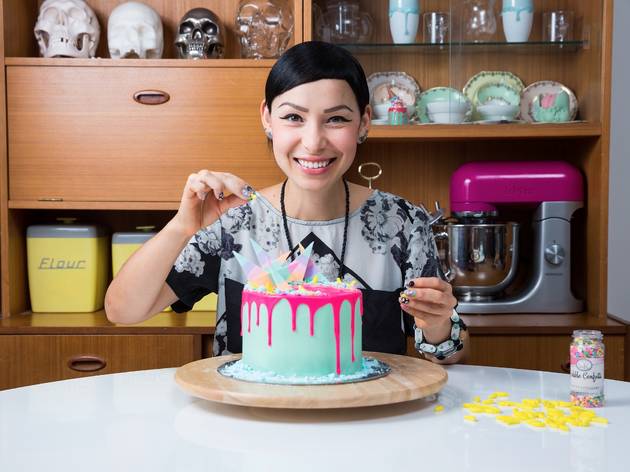 These are the Sydney chefs you should be following on Instagram right now
Make your feed a little bit more delicious
Instagram can be an aspirational black hole. We've been told our whole lives to never say never, but the reality is we probably will never amass a couture wardrobe the size of Céline Dion's or inherit Chris Hemsworth's slavish commitment to exercise. You know what we will do, though? Put our pants on one leg at a time and eat breakfast, lunch and dinner. (And probably an avalanche of snacks in between.)
That's why chefs are some of the best people to follow on Instagram – we can admire their handiwork even if we're not sitting in their restaurants, which not only makes us look forward to our next visit, but also has the power to inspire us in our own kitchens. Sydney's top culinary superstars are a multitalented and industrious bunch: gardeners, photographers, humanitarians, authors, sneaker collectors, world travellers. And while we may never be like them either, at least we have one thing in common: an undying appreciation for the beautiful and the delicious. Here are the accounts that are truly a feast for the eyes.
View this post on Instagram
Josh Niland, chef-owner of Saint Peter (@mrniland)
It would be unfair to credit the success of Saint Peter to Josh Niland's deft touch with a smartphone camera, but it's safe to say that the young chef's aesthetic has played more than a small part in the intimate Paddington restaurant's popularity. Fish eyeballs, livers, stomachs, tongues and guts have never looked so sexy.
View this post on Instagram
Dan Hong, Merivale executive chef across Mr Wong, Lotus, Ms G's, Queen Chow and the Establishment precinct (@hongsta_gram)
Looking after a handful of Merivale's busiest venues keeps Dan Hong busy. But if his 11,528 posts and counting are anything to go by, the man spends as much time eating his way across the city (and the country) as he does in the kitchen. Shout out to his adorable daughter, Namira, who regularly polishes off bowls of noodles three times the size of her head.
View this post on Instagram
Katherine Sabbath, pastry chef and cookbook author (@katherine_sabbath)
The former teacher turned baker has amassed half a million followers and one quick flick through her grid reveals exactly why: bright pops of colour, towering cakes, dizzying patterns and an equally outlandish sense of personal style. Even if you've quit sugar, K-Sab's killer aesthetic will get you buzzing.
View this post on Instagram
Peter Gilmore, executive chef at Quay and Bennelong (@chefpetergilmore)
It should come as no surprise that the head honcho at two of Sydney's finest fine-diners has an exquisite 'gram account. He offers you a front row seat to what he and his producers are growing in the garden, sneak peeks at new dishes being tested and some captivatingly beautiful food photography.
View this post on Instagram
Mitch Orr, head chef at CicciaBella (@instakrill)
There's a soothing, almost ASMR effect to scrolling through row after row of the perfectly framed plates this guy spent years putting together at ACME, and more recently at Kingdom of Rice and CicciaBella. Pasta is often the star of the show, but his collection of Nikes is pretty strong, too.
View this post on Instagram
Neil Perry, Rockpool Dining Group executive chef and restaurateur (@chefneilperry)
One of the country's great culinary ambassadors has something of a dad-like digital presence. His pictures may not be the sharpest (and neither are his captions), but he's definitely a man about town. He's often one of the first to try the hottest new restaurants, frequently supporting local favourites and, because he's also the creative director at Qantas, feasting in the world's great dining rooms.
View this post on Instagram
Brent Savage, chef-owner of Bentley Restaurant and Bar, Cirrus, Monopole, and Yellow (@brent_savage)
Helming four of the Harbour City's best kitchens means that Brent Savage is always surrounded by quality produce and constantly devising new additions to his menus. Regardless of the framework – vegetables at Yellow, seafood at Cirrus, wine-friendly share plates at Monopole or intricate fine-dining fare at Bentley – it's all immaculately plated and flawlessly shot.
View this post on Instagram
Mark Best, former chef-owner of Marque/The Final Table on Netflix (@markbest)
Sadly, Mark Best's legendary Surry Hills restaurant closed the doors in 2016 after 17 years, but the former miner and celebrity chef now spends his days travelling the world as a chef for Dream Cruises and an AEG brand ambassador. He also happens to be an extraordinary professional photographer, and his portraits are outstanding.
View this post on Instagram
Kylie Kwong, former chef-owner of Billy Kwong/South Eveleigh precinct ambassador (@kyliekwong)
Community, diversity, inclusiveness, cultural heritage and history have always been at the forefront of whatever Kylie Kwong puts her hands to – and her Instagram account is no exception. She profiles fellow chefs, growers, artists, craftspeople and philanthropists that enrich our society with earnestness, meaning and depth.
View this post on Instagram
Clayton Wells, chef-owner of Automata and A1 Canteen (@c_j_wells)
For every schmancy dish from Automata Wells posts – think coral prawns luxuriating in vibrant Moreton Bay bug roe sauce – there's a close-up of eggs Benny or an epic sanga he's putting together across the road at A1 Canteen. Casual or formal; breakfast, lunch and dinner – this feed really is the best of all possible worlds.
View this post on Instagram
Andrew Bowden, chef-owner of Saga (@andybowdy)
You probably fell in love with Andrew Bowden (aka Andy Bowdy) back when he was whipping up peanut butter and banana sundaes at Hartsyard. Or maybe you're a more recent convert to this guy's magic touch when it comes to sweets, which he's perfected at his two Saga outlets in Enmore and Darling Square. Either way, if over-the-top desserts are your jam (doughnut), this is the content you need in your life.
Hungry?
Our definitive, ranked list of where to eat in Sydney right now. We hope you're hungry because you're going to want to sample every one.
Best selling Time Out Offers