Check out 21 of the planet's most spectacular rooftop bars
Enjoy a taste of the high life with our pick of some of the world's most jaw-dropping rooftop bars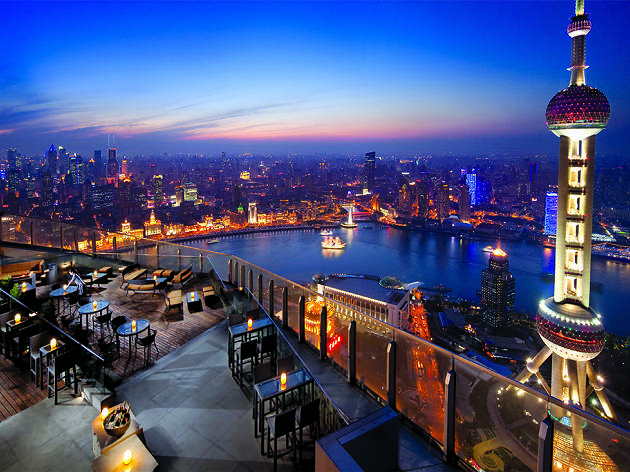 If stunning rooftops, Insta-worthy sunsets and alfresco cocktails don't get you excited for warm weather, we don't know what will. Fancy topping up your tan at a beach-side boozer in Melbourne? Or perhaps you'd rather sip martinis on an actual helipad in Kuala Lumpur? From sun-drenched views of the Hollywood Hills to sipping amongst Shanghai's sexy skyscraper-studded skyline, there's a rooftop bar for all occasions (and all weathers). So if you've got a head for heights and like your drinks served with a 360-degree panoramic view, get ready to rise up: Here are 20 of the world's most spectacular places to get high.
Set your expression to wow...
1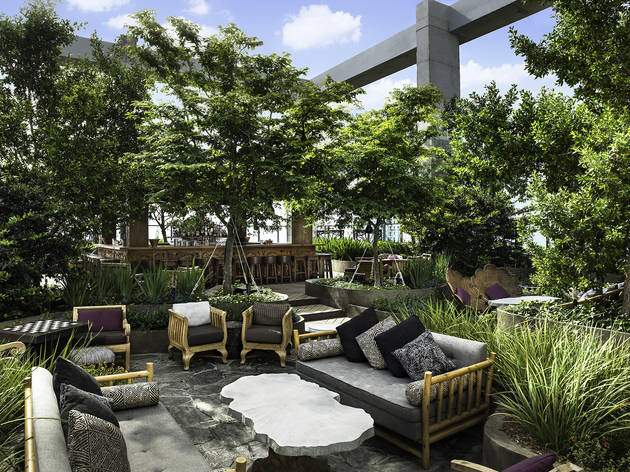 Towering 40 feet above the city and sheltered by luscious, green shrubbery, this bar is one you'd never realize existed if someone didn't tip you off. But views like this deserve to be shared, so we don't mind letting you in on Miami's worst kept secret—particularly when there are delicious Asian-themed cocktails involved.
2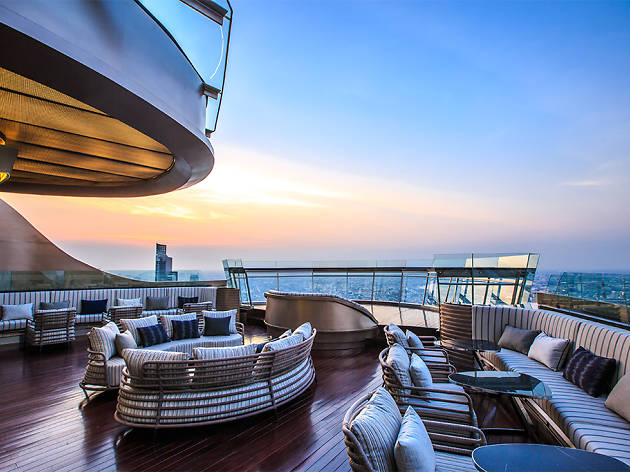 Alfresco 64 - A Chivas Bar, Bangkok
Chivas thinks its whiskey tastes better at a height, and we're inclined to think you'll agree. Designed like a luxury yacht and rising 800 feet above the bustling Bangkok streets, Alfresco 64 is said to be the world's highest whiskey bar. It serves the spirit in specially selected carafes, but you'll probably be too absorbed in the view to notice.
3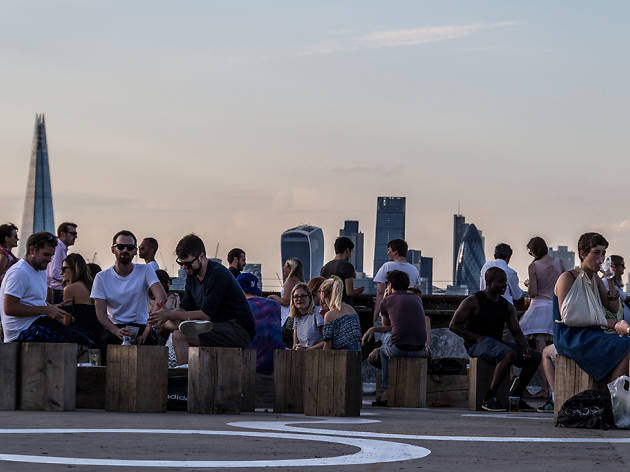 Frank's Café, London
Wondering where Londoners flock to when the sun finally decides to show up? Just follow the hip crowd to the top of Peckham's finest multi-story carpark, where you'll find the masses snapping that gorgeous sunset while sipping Aperol spritzes underneath the bar's striking red tarpaulin cover.
Photograph: Courtesy CC/Flickr/Ania Mendrek
4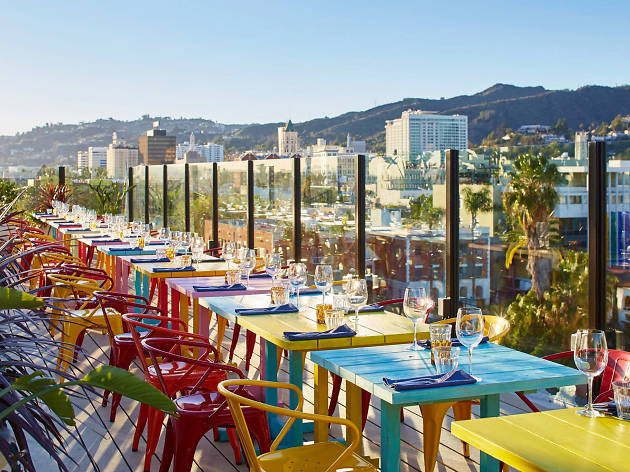 Sun seekers come to this rooftop restaurant for the rustic, home-cooked comfort food and stay for the sun-drenched views of the Hollywood Hills. Cancel that date with Netflix and spend the evening sipping signature cocktails on Mama Shelter's comfy striped sofas instead for guaranteed vacation vibes.
5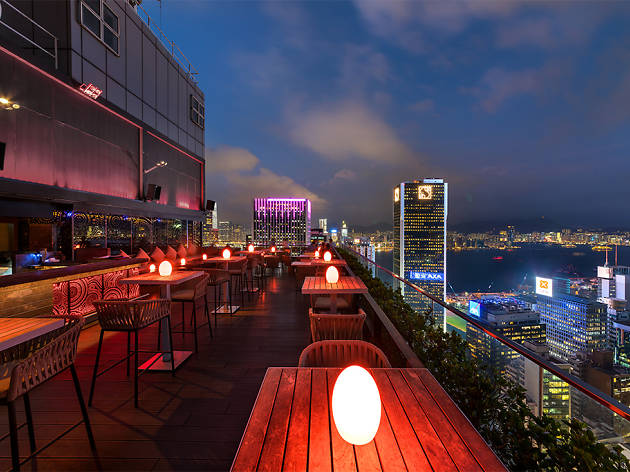 Wooloomooloo, Hong Kong
A firm fave among expats and locals alike, this chic rooftop bar with its huge terrace overlooking Victoria Harbour and the Happy Valley race track certainly has the Woo! factor. An extensive and worldly wine list should keep you occupied for the evening—if you can tear your eyes away from that powerful vista.
6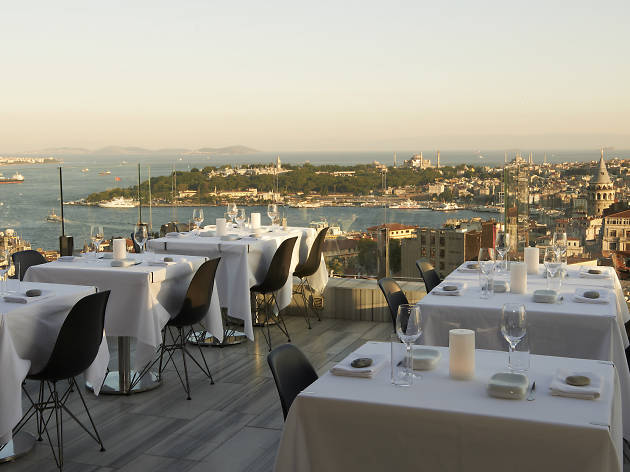 Mikla, Istanbul
Shimmering sea views over the Bosphorus aren't the only reason this rooftop bar is regularly packed out (though it probably has something to do with it). The mouthwatering Mediterranean menu secured it a place on 2017's World's Best Restaurants list and the bar serves up a banging martini.
7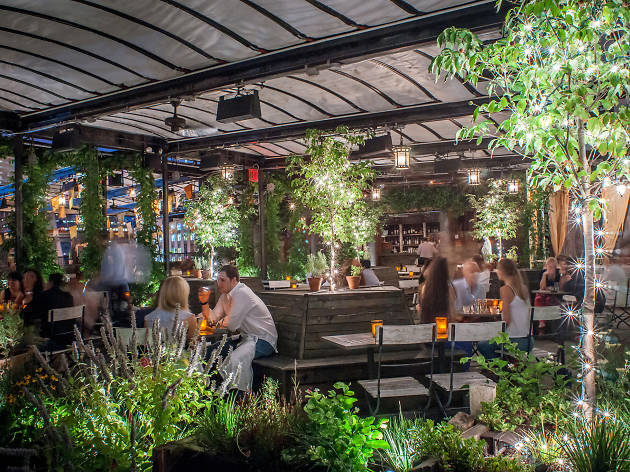 Who said rooftop bars were just for summer? The verdant Gallow Green with its fairy-lit, flower-woven trellises transforms into The Lodge during winter months, so you can still catch those stunning West Side views without catching a chill. The McKittrick hotel, on top of which the bar sits, doubles as a theatrical performance space, so prepare for your Sleep Bowmore punch to come with a side of (welcome) drama.
8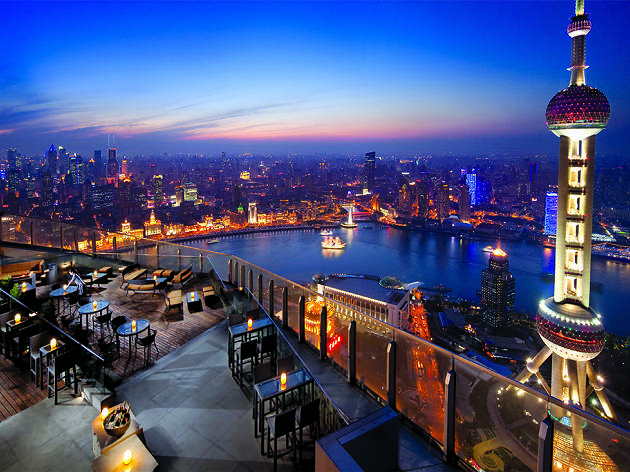 Flair, Shanghai
As far as stunning rooftop views go, it really doesn't get much better (or higher) than the sight that greets diners from the 58th floor of the Ritz-Carlton Pudong (the highest alfresco dining venue in China). With the Oriental Pearl Tower looming close by and the glittering city lights laid out before you, you can instantly forgive the steep drinks prices.
9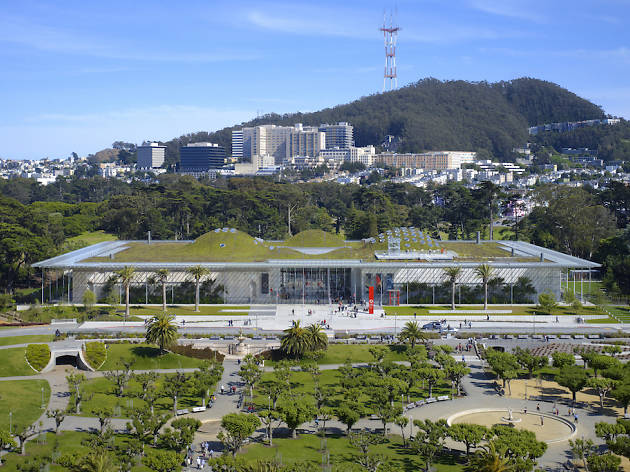 Thursday nights at this science museum are all about booze, experiments and access to the vast 'living' roof, which offers splendid views of the M.H. de Young Museum, Sutro Tower and Golden Gate Park. The rolling terrain actually represents the seven hills of San Francisco and is planted up with bird- and butterfly-luring native plants—so you can soak up the nature alongside your seasonal cocktails.
10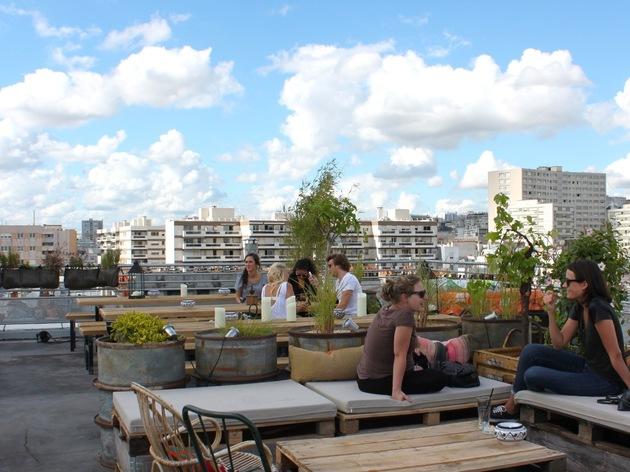 At the slightest patch of blue sky, trendy Parisians flock to this handsome rooftop in Menilmontant—and with that 360-degree view over the capital, it's not difficult to see why. Order the cocktail of the day, settle down on a cushion-strewn sofa and watch the sun set over the Sacré-Coeur for the ultimate romantic Parisian experience.
11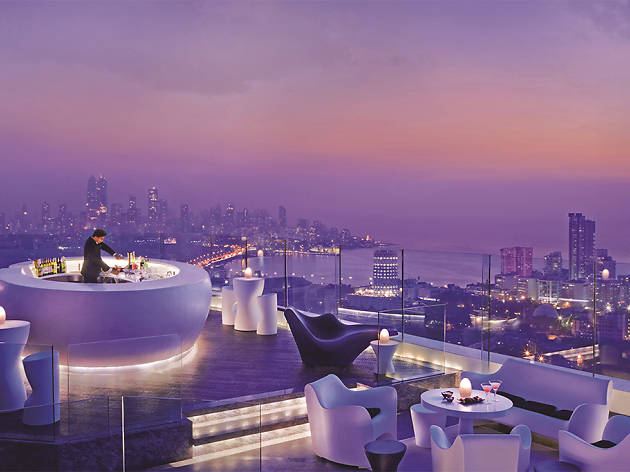 AER Rooftop Bar at The Four Seasons, Mumbai
As soon as it hits 5:30pm, a well-dressed crowd leaves the bustle of Mumbai 34 floors below and beelines for AER's Sunset Happy Hour, where two-for-one cocktails and regular DJ sets have guests partying into the wee hours. The bar encompasses the entire roof of the Four Season's hotel and there's even a handy canopy for monsoon season.
12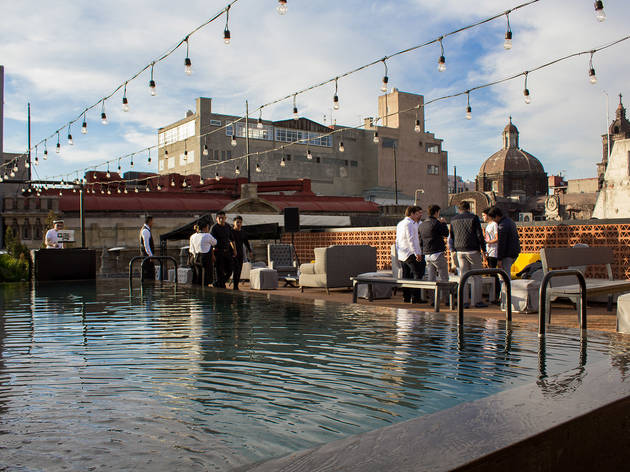 Located on top of one of Mexico City's best boutique hotels, Downtown's mixture of contemporary architecture and retro furniture oozes laidback charm. Locals head here for a fancy breakfast, the awesome live DJ pool parties and, of course, those gorgeous views of Mexico City's most beautiful buildings, such as Casino Español and Torre Latinoamericana.
13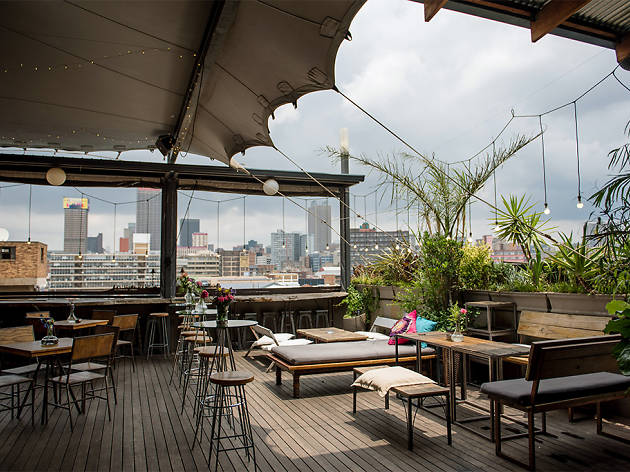 Living Room, Johannesburg
Sprouting from a rooftop in inner-city Joberg, the Living Room is an urban oasis in the sky that's all about those relaxed vibes—that is, until Sunday afternoon, when the hammock-swinging locals hit the overgrown, fairy-lit patio for an evening of DJs and cocktails.
14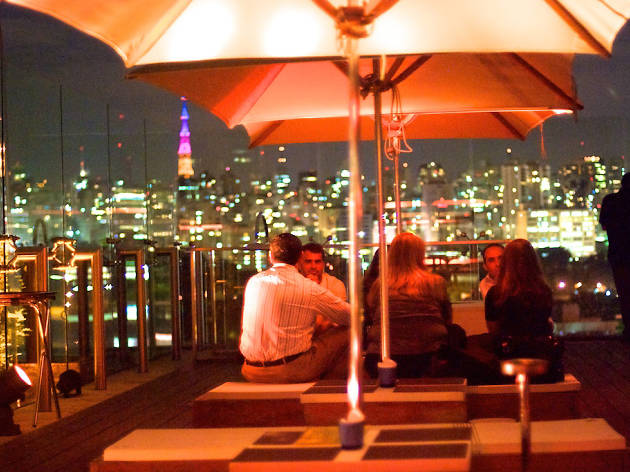 This glam bar perched atop the luxurious Unique Hotel comes with uninterrupted sweeping vistas of the Sao Paulo skyline. A stylish crowd heads here to sip on wasabi martinis and dip their manicured toes in the open-air pool, where an underwater sound system ensures fully immersive party vibes.
15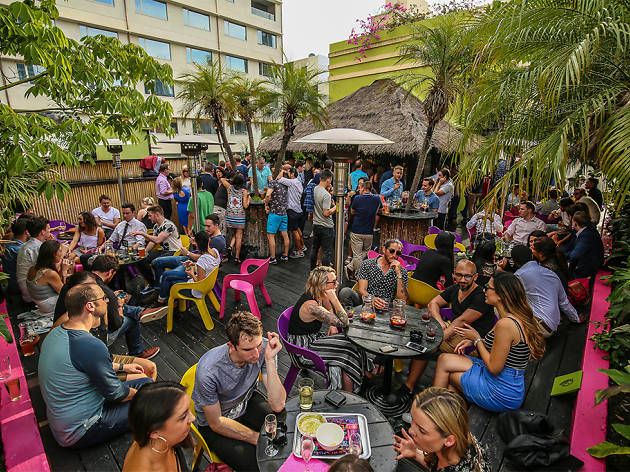 At this tropical-inspired rooftop above Melbourne's Carlton Hotel city-dwellers prop themselves up on bamboo-lined tables while sipping tiki cocktails underneath giant palm fronds. This is Melbourne via the Bahamas and it's worth climbing every step for.
Photograph: Chris Sutherland
16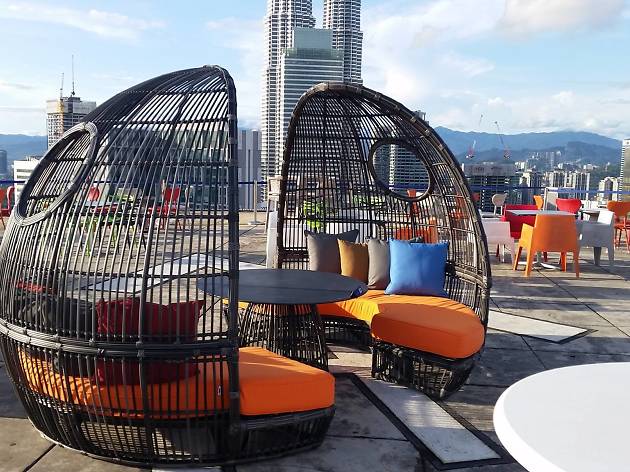 After-work drinks on a helipad? Why not! When level 34 of Menara KH isn't hosting helicopters, it's serving up stunning 360-degree views of KL city to snap-happy tourists. And there's no barriers to interrupt those Insta-perfect sunsets, so probably best not to go heavy on the booze.
17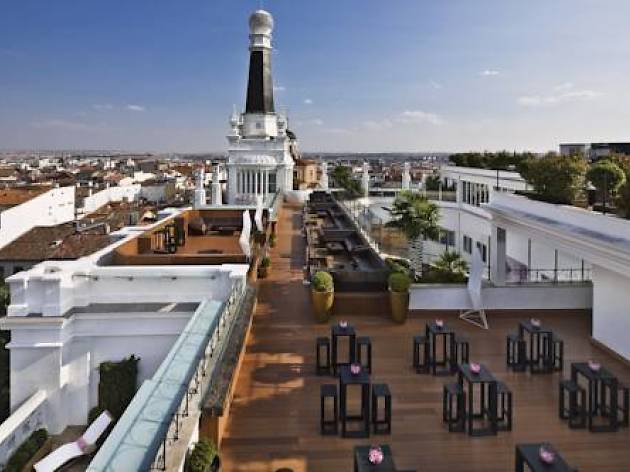 Radio at ME Madrid Reina Victoria, Madrid
You'll know you've hit the jackpot when those elevator doors open and you're met with stunning views of the Plaza de Santa Ana. Low-slung Balinese beds, candlelit table tops and a heavenly tapas and cocktail menu add Latin flair to this swanky penthouse bar, while local and international DJs keep late night revelers on their toes long after sunset.
18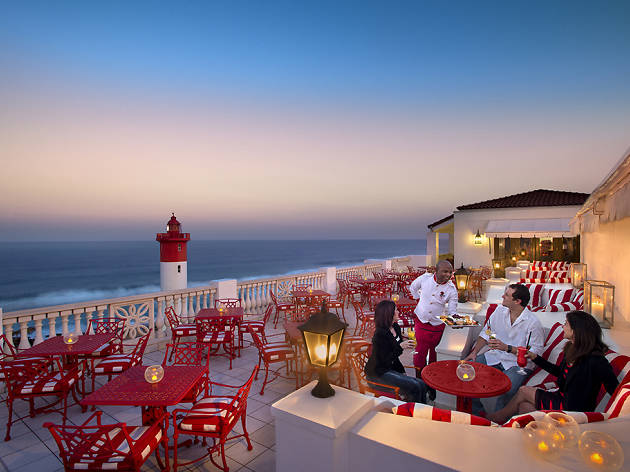 Lighthouse Bar, Durban
It's all about those glittering Indian Ocean views at this coastline bar atop the star-studded Oyster Box Hotel. Once you've secured a table, order an Umhlanga Schling served with fresh pineapple for maximum chill factor. This place shouldn't be too hard to find: Just head for the candy-striped lighthouse out front.
19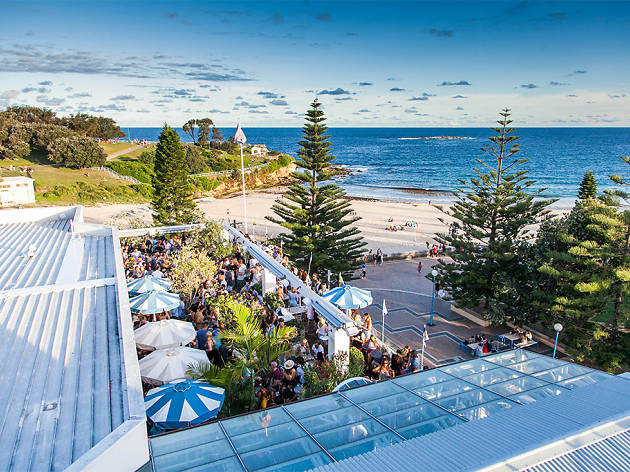 Want to top up your tan, get sloshed on fruity highball cocktails and enjoy blissed-out beach views? Of course you do! Just follow the throng of sun-kissed Sydneysiders to this lovely waterfront venue at popular Coogee Beach, where you can bask in the sea breeze thanks to the two fully retractable walls. Genius.
20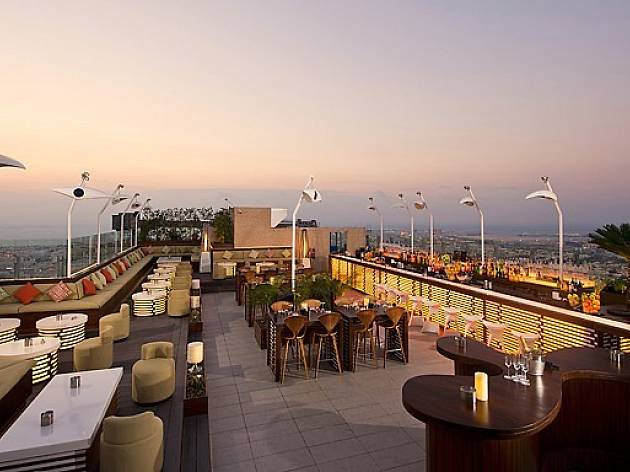 Rising out of Dubai's business district, 40 Kong is a stylish rooftop bar bordered by nothing but glass screens. Nab a high-bar seat, curl up under the free blankets and take in the bright lights of the city. When the dress code is Smart Elegant, you know you'll be clinking glasses with some high flyers, so better dig out your Sunday best for this one.
21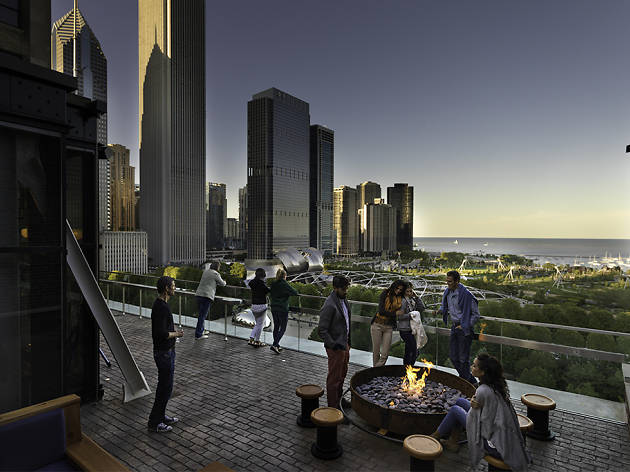 Cindy's rooftop at the Chicago Athletic Association is the city's crown jewel watering hole. Perched on the 13th floor of the restored hotel, the space boasts killer views of Millennium Park, fire pits on the outdoor terrace, incredibly balanced cocktails and family-style food options. If you have time for just one drink in Chicago, this is the place to have it.
More amazing rooftops across the world