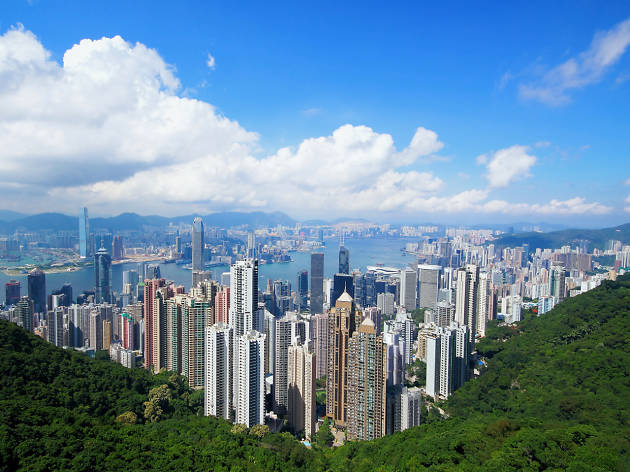 Guide to Hong Kong's Victoria Peak tram, view and gardens
Everything you need to know about the attractions and sights at The Peak
True to its name, Victoria Peak (or simply The Peak) stands at 552m above sea level and is the highest point of Hong Kong Island. It's also a massively popular tourist attraction thanks to its sweeping views of our beautiful metropolis, lush forestry and, of course, the iconic Victoria Harbour. Whether you're looking down from cliff-side at the Peak Circle Walk or over the viewing platform Sky Terrace 428 situated in the anchor-shaped building that is The Peak Tower, the view there is magnificent.
Getting up to The Peak is an event in and of itself, especially if you hop on board the historic century-old Peak Tram, which travels up the mountain at a gravity-defying steepness. That's not all, The Peak is also home to Victoria Peak Gardens, a gorgeous Victorian-style park dotted with pavilions and pagodas, as well as great alfresco restaurants to boot. Is it any wonder that Victoria Peak is one of the best things to do in Hong Kong? Without further ado, here's a guide to everything about The Peak, from where to get tickets for the tram to how to score the best views.
RECOMMENDED: Keen to discover more gems and secrets in various local districts? Make sure you check out all our Hong Kong neighbourhood guides!
Hong Kong Victoria Peak guide
If you want to head up to The Peak in style, the Peak Tram is the way to go. The historic vehicle, which has been running for over a century, rises 1,300 feet above sea level as it trolleys up a mountain and passes the city's iconic views at an almost impossible gradient. The tram runs continuously from 7am until midnight. Be warned that the queues can get extremely long and the tram journey only lasts about five minutes. It'll be worth it though! Tip: get your tickets online ($37 for single, $52 for return) instead of at the terminus to save time.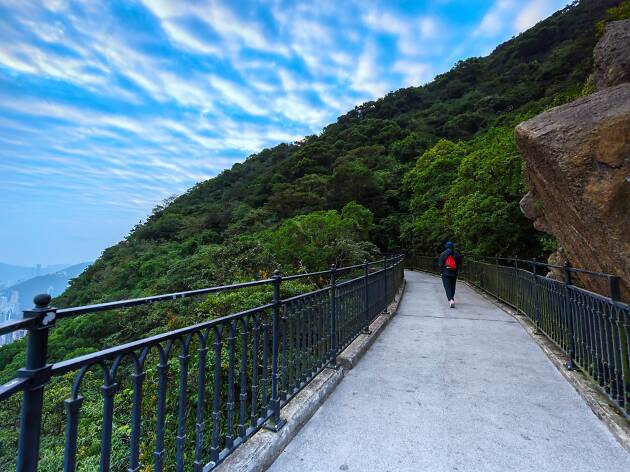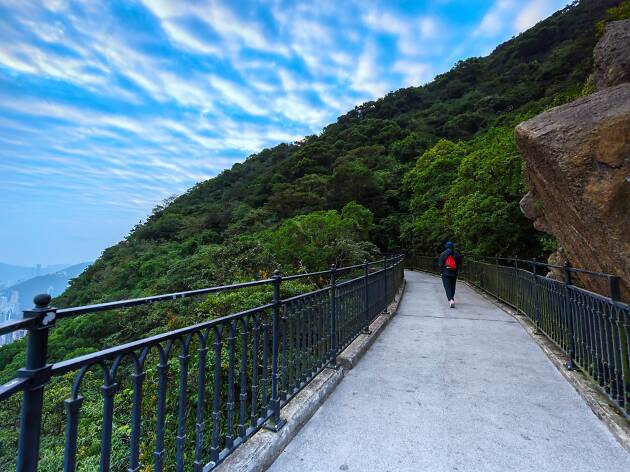 An activity to cross off for any first-time visitors to Hong Kong or anyone who's looking for an easy stroll with a view, The Peak Circle Walk winds around the top of the mountain and rewards hikers with the classic, postcard view over Hong Kong Island, Victoria Harbour and Kowloon on a clear day. It's pretty much a flat road throughout the route, though it varies from cliff-side paths to tree-canopied roads, and takes about an hour to circle back to the starting point. Best of all, it's completely free to enjoy that spectacular view.
Sitting at 428m above sea level, Sky Terrace 428 is Hong Kong Island's highest viewing platform that offers a stunning 360-degree view of the Hong Kong skyline. Come during the daytime to be treated to a vista of Hong Kong's urban jungle among the blue skies, or visit during night-time as the city's high-rises light up. Either way, it's a sight to behold especially if you're too lazy to do the Circle Walk. Tickets to the terrace are available at the Peak Team ticket office and online. Get a combo ticket ($99), which gives you access to the tram as well.
What was once the site of the Mountain Lodge – the alternate residence for the Governor of Hong Kong – has been replaced by this delightful, lush Victorian-style garden above the masses at The Peak Galleria. Twisting paths navigate around sprawling lawns and pagodas, and there are Victorian features such as sundials and wrought iron, as well as an incredible vista of Hong Kong. The ample space is also great for pets to run wild. To get there, you can either hike up Mount Austin Road from the Peak Tram terminal, although it can be pretty tough and steep. Alternatively, you can drive or order a taxi up.
The biggest celebrities and famous personalities are forever immortalised in wax at Asia's first Madame Tussauds. More than 100 wax figures are featured at the museum, a third of which are renowned Asian superstars, including Hong Kong's very own Andy Lau and Jackie Chan. Meet the royal family, strike a pose with Yayoi Kusama while being surrounded by her signature polka dots, and get up close to historical figures like Gandhi and everyone's favourite president (just kidding), Donald Trump. $232 per person; $305 (with Peak Tram return tickets).
Burnt out from all the hiking and sightseeing? This charming restaurant right by the Peak Circle Walk provides seating in either a cabin-esque interior filled with natural light or in an outdoor garden. The food here is just as good as the ambience. The extensive menu features Asian favourites, classic Western dishes, a raw bar, open-flame charcoal barbecue and great burgers. The Peak Lookout is also one of the few dog-friendly restaurants in town too.
What's a tourist hotspot without a shopping mall? Perched high at The Peak, this shopping centre is home to a range of retail shops and restaurants of the local and international variety. It's currently undergoing some major renovations right now – a limited number of businesses is still in operation – and the updated and refreshed Peak Galleria is scheduled to be unveiled in the summer of 2019.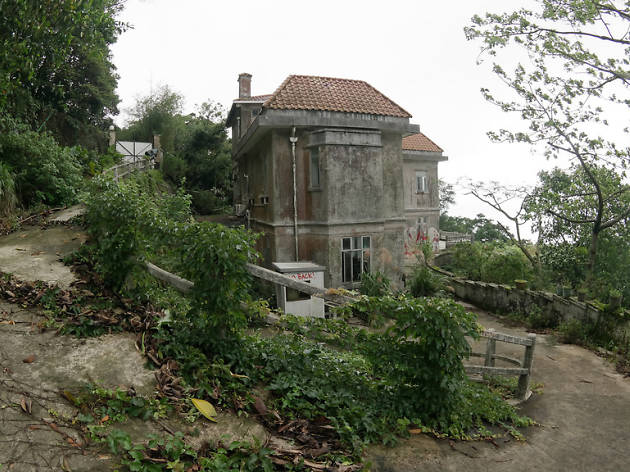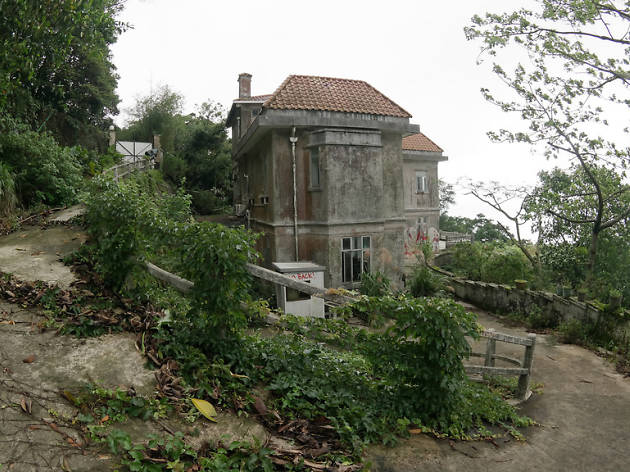 The Peak may boast some of Hong Kong's most expensive real estate but it also happens to be home to a haunted house too. The Dragon Lodge, which sits on the hill of Lugard Road, is a decrepit mansion that saw seven nuns executed during the Japanese occupation. Previous owners have also regularly complained of strange noises. The creepy abode was supposed to have been redeveloped but restoration plans fell through, leaving the building to sit eerily abandoned. If you fancy a look, do be careful. 32 Lugard Road, The Peak.
Okay, so this is not actually opened yet but you can look forward to visiting the world's first Monopoly-theme attraction this coming autumn at The Peak Galleria. The attraction will take up 20,000sq ft of indoor and outdoor space, and be equipped with AR, hologram and 4D interactive game technology. Even if you can't afford the sky-high prices of properties at The Peak, you might be able to snap up some houses in this game.
Get the best views of Hong Kong