King's Cross restaurants
Discover the top restaurants and gastropubs in King's Cross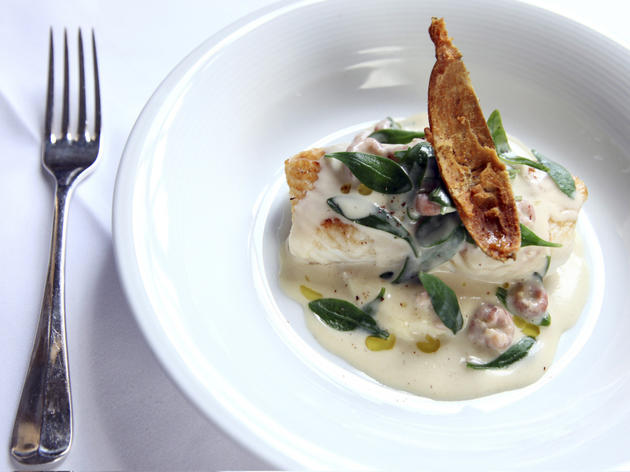 Going out for a meal in King's Cross should be so much more than grabbing something at a station stall before catching your train, though you'll need to know where you're heading to find something special. This list of recommended restaurants near King's Cross St Pancras will help. Think we've missed a great restaurant in King's Cross? Let us know in the comment box below.
The latest branch of Bill Granger's sunny-side-up chain, this time with more emphasis on dinner items, and alfresco seating
Read more
Venue says: "Looking for a late night dinner spot? Dine from 9.30pm and enjoy a main and glass of wine for £15."
The one-time industrial wasteland north of King's Cross station has been transformed by a hugely ambitious urban regeneration project. Grain Store occupies just one part of a vast former Victorian warehouse. Most of the rest of the building has been imaginatively transformed into Central Saint Martins, and so the forecourt, Granary Square, is now perpetually thronged with fashionably dressed students.
Book now
Read more
Whereas the original Caravan (on Exmouth Market) is a small space, with a neighbourhood vibe, this offshoot is an altogether bigger, more urbane operation. The large, industrial-looking room lacks intimacy, but has a laid-back buzz and great people-watching opportunities. The ethos is the same in both branches: welcoming, efficient staff and a menu of what they call 'well travelled food'.
Book now
Read more
Real Greek founder Theodore Kyriakou's latest Greek restaurant, this time just north of King's Cross
Book now
Read more
The 2011 reopening of architect George Gilbert Scott's former Midland Grand Hotel has resurrected one of the most visually arresting edifices in London; its former 'Coffee Room' is now home to this relatively casual venture from chef Marcus Wareing. His mark is evident in the well-drilled, personable service and flawless cooking. As with the rest of the hotel, the space is nothing short of spectacular – this is Victorian embellishment at its most exuberant, with pillars, gilt, cornicing and huge windows.
Book now
Read more
Venue says: "Karpo grill offers great steaks from Britain, aged a minimum of 28 days, complemented by fun dishes from far and beyond."
A hypercoloured graffiti mural covering the top four floors of the building sounds warning bells. Is Karpo going be a style-over-content kind of joint? Thankfully, no – the food delivers innovative flavours, the staff are friendly, and the location is ideal for an easy-going dinner date or catching up with friends near King's Cross.
Book now
Read more
The King's Cross area is scrubbing up nicely – so nicely that you need to look hard to find a discarded cardboard cup of builder's tea. With the opening of this little outpost of a royalty-endorsed tea room inside St Pancras station, the gentrification is being buffed to a shine. Signature loose leaf teas, posh preserves and hamper goodies make a fetching display in the international terminal's gift shop, while the café – a crown jewel of refined light bites – is the perfect setting in which to put the world to rights over the clink of fine china.
Read more
Venue says: "Brighten up your weekend with the 'afternoon jaunt' at GNH Bar. Two-for-one drinks on selected drinks every Saturday, 2–7pm."
The Great Northern Hotel takes its signals from the King's Cross railway station that surrounds and dominates it. The livery looks swanky; the prices are high. It successfully evokes the glamour of travel rather than the drudge of commuting. The GNH even hired an ex-Ramsay celebrity chef back in the spring. Yet Mark Sargeant's arrival was later than a First Capital Connect service – months, in fact, after the dining room opened to the public.
Book now
Read more
A trip to Paris on the Eurostar might be the best way to indulge yourself in a French café experience, but what's the next best thing? A trip to King's Cross for this endearing little café, a mere boule's-throw from the Eurostar terminal. Aux Pains de Papy already has a loyal following of office workers seeking their daily bread and satisfying lunchtime sandwiches, but it's also worth seeking out patisserie and boulangerie.
Read more
Show more
See our full King's Cross area guide
Sponsored listing
Tsunami
No sign of a recession at Tsunami: on our weekend visit, smartly dressed thirtysomethings packed the place. This suburban sushi restaurant and cocktail bar has found a recipe for success and is sticking to it. The international waiting staff were warm and welcoming, the dining room glam but not intimidating, and the menu packed with modern Japanese crowd-pleasers. We began with a salad of beef tataki: seared slices of tender beef layered over rocket, beansprouts and red onion, dressed with sesame seeds and tangy, yuzu-based vinaigrette. Next, golden tempura-battered vegetables came in all textures, from soft sweet potato to chewy shiitake mushroom or crunchy lotus root. Sushi arrived beautifully presented on glazed earthenware, with slightly sweet, melt-in-the-mouth white tuna sashimi best enjoyed unadorned; dragon roll maki, combining sweet eel, avocado and tempura prawns, showed off the chefs' skills. The larger 'main course' section, dominated by meats in wasabi-based sauces, is somewhat tacky – head instead for the specials, where you might find crisp-skinned sea bass on a bed of braised gai lan (chinese broccoli). The small adjoining cocktail bar is a safe bet for pre- or post-prandial drinks.
Venue says: "Open lunchtimes, Tuesday to Sunday, offering a set menu from £12, ramen from £9.50 and sushi wraps from £6.50."